Ford Europe has revealed its flagship all-things-to-all-men product, the Focus ST Estate.
The wagon version of the Focus ST, simply put, takes all the things that are great about the ST hot hatch and puts them into the model's estate body. That means that, slight weight penalty aside, you get ST performance and estate practicality. If you've ever wanted to take your labrador on a track day, this is the kind of car you'd need.
There's actually precious few changes from the Focus ST hatch, which Ford only revealed in February. Like the hatch, buyers get a choice of two models, with a diesel variant alongside the petrol halo car.
Although it's a familiar 2.3-liter EcoBoost petrol engine, Ford has reworked it somewhat. It uses anti-lag technology to keep the low-inertia, twin-scroll turbocharger spinning while off-throttle. That's something Ford originally developed for the GT and, later, the F-150 Raptor, but now it's on an estate car.
The wagon keeps the other changes too, albeit with a slightly different exhaust to account for the longer body. That means power stays at 276hp at 5,500rpm, along with 309lbft of torque. The diesel model is slightly down on that, at 187hp from a two-liter EcoBlue unit — and six-speed manual only, while the petrol model gets an optional seven-speed auto.
Ford has carried over all the drivetrain and chassis changes to the estate model too. That includes the electronic LSD to solve any power delivery issues through the front wheels, which the hatch was the first front-driven Ford to ever use. There's also the selectable drive modes, again a first for an ST model in the hatch but continued on the estate.
For the hatch, Ford kept the regular Focus model's springs, but dropped the ride height by half an inch and boosted damper rates — by 20% at the front and 13% to the rear. Estate models usually require stiffer rear suspension to cope with the extra bodywork and any load you might carry, but Ford hasn't shared the ST Estate's specifications here.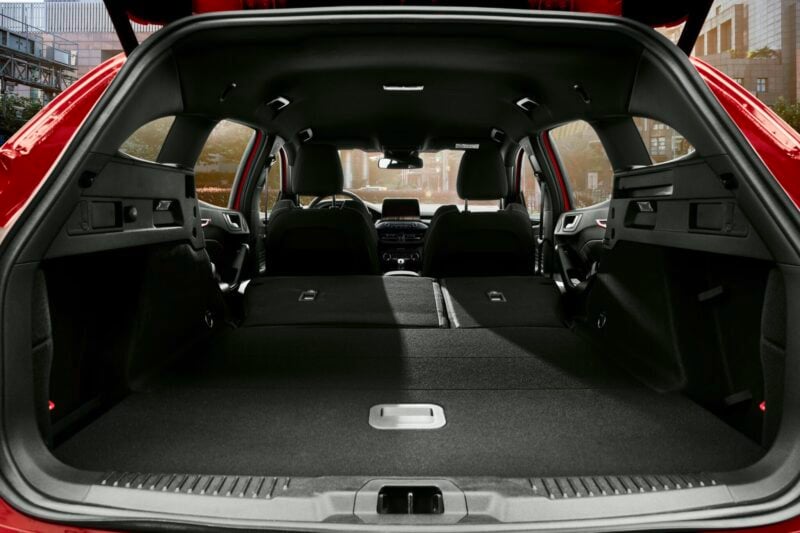 Aside from one major difference, Ford has stuck to the ST theme on the inside too. That means oodles of aluminum and carbon effect, shiny metal pedals and Recaro seats, with ST branding on every visible surface.
That key difference is in the trunk. While the hatch offers a 375-liter (13.2cuft) space in seats-up configuration, the estate grants a huge 608-liter (21.5cuft) load area. Drop the seats and the hatch's 1,354 liters (47.8cuft) becomes 1,650 liters (58.3cuft) in the estate.
The ST Estate will be available in the summer, with the diesel model starting at £30,595 and the full-fat petrol at £33,095. However there's one significant catch if you're not reading this in the UK and Europe.
Thanks to Ford's decision to move away from passenger cars in North America, our US readers need not apply. We did ask Ford if there would be any plans to bring the Focus ST drivetrain to the Active model which will still be available in North America. While it wasn't a flat "no", don't hold out too much hope…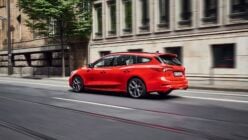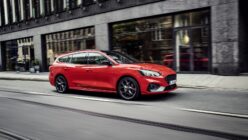 Source: Read Full Article