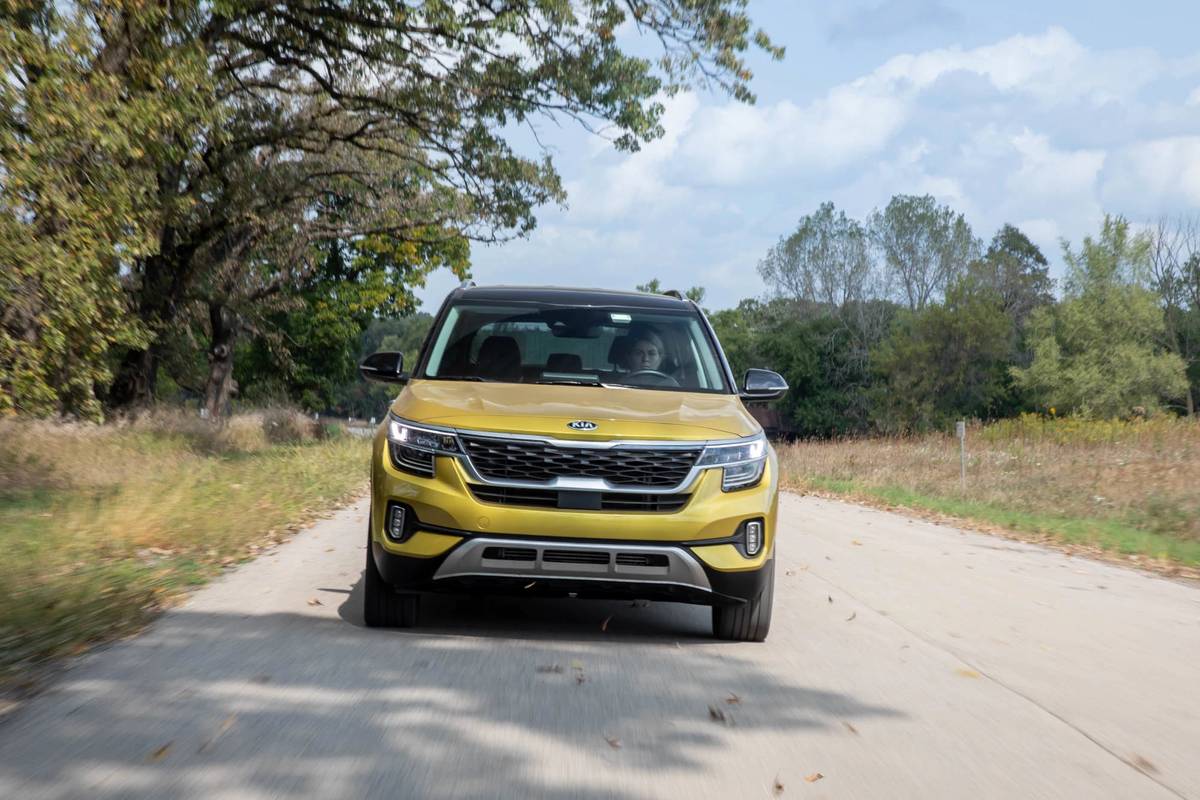 These days, car shoppers value two criteria in particular: They want SUVs, and they want affordability. Right now, the leader in the affordable-SUV lane is the Kia Seltos. The all-new-for-2021 Seltos not only earned our judges' highest ranking in Cars.com's intensive head-to-head comparison test of four current class contenders, but it also drove the accompanying article to the No. 1 spot this week among our most popular news stories.
Related: 10 Biggest News Stories of the Month: Tesla Model S Can't Catch Up to Senior Drivers' Cars
The Seltos' SX Turbo trim level bested the stiffest competition by the narrowest of margins in this competitive class. Rivals included previous two-time Cars.com comparison champ, the 2021 Subaru Crosstrek in Limited guise, as well as a 2020 Mazda CX-30 with the Premium Package and a 2021 Chevrolet Trailblazer RS. Judges scored the small SUVs in a range of tests including front and rear seats, tech features, cabin quality, storage, visibility, powertrain, ride quality and handling chops, as well as safety and cargo space. Despite the competitive company it keeps, the Seltos prevailed on numerous fronts, losing in just one.
"There's almost no red in the Seltos' ledger," we said once the dust settled.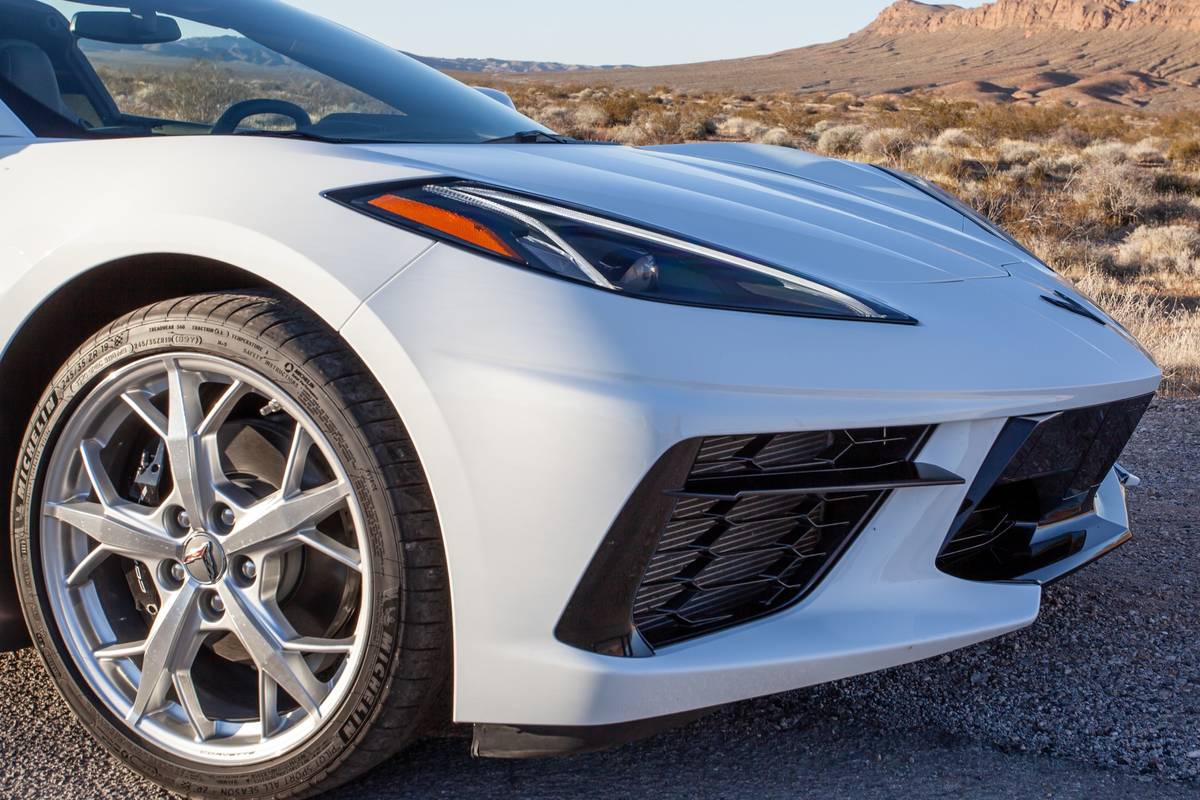 It's not every day you read about a Kia Seltos blowing past a Chevrolet Corvette, but that's the case here, at least on our weekly countdown of traffic. To be fair, the Vette, in this case, was going under 25 mph. That's because we tested its nifty front suspension lift system that costs between $1,495 or $1,995, depending on trim level. The lift isn't some hydraulic retrofit to earn cred cruising the streets of L.A. at a lowrider rally — but the 2-inch boost will get you over the average obstacle you're likely to encounter, such as a speed bump, at up to 24 mph to spare both your undercarriage and your nerves. You can even program the car's GPS system to remember obstacles that are part of your regular driving route. Follow the link below to our No. 2 story of the week for the full report.
Taking third place is our rapid-fire rundown of the things we like and don't like about the redesigned-for-2021 Acura TLX sports sedan. The TLX earned cheers for its accommodating driving experience, powerful drivetrain, improved chassis, performance brakes, luxurious cabin, safety tech and value. Jeers, meanwhile, came for backseat discomfort and general jankiness working the dashboard display. Follow the link below to our No. 3 story for the full report.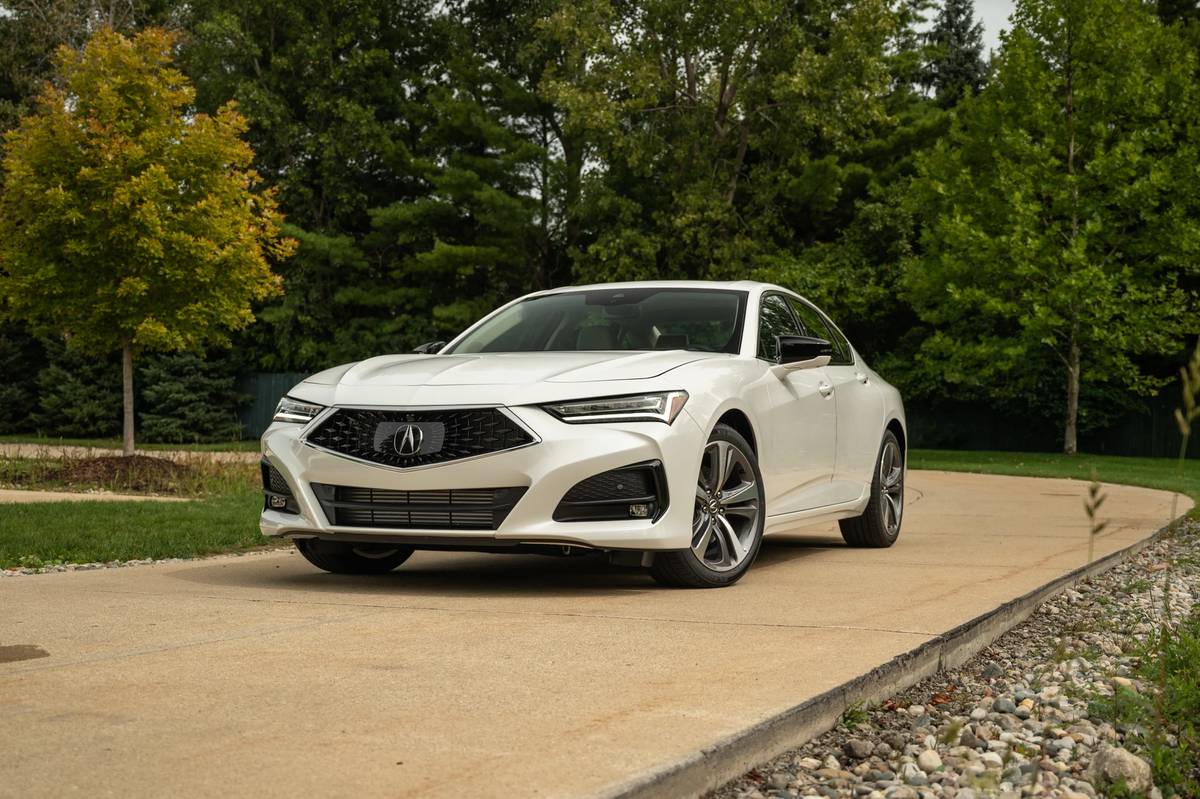 Rounding out the top five are two expert reviews from Cars.com Detroit Bureau Chief Aaron Bragman. At No. 4 is Bragman's comprehensive critique of the 2021 Mercedes-Benz E-Class and at No. 5 his review of the 2020 Kia Niro Plug-In Hybrid SUV.
Beyond that, we have headlines on the Mercedes-AMG GLE63, the forthcoming Volkswagen Golf R, the Toyota Corolla Apex Edition and more, so keep reading. Here are the top 10 news stories Cars.com readers couldn't get enough of in the past week:
1. What's the Best Affordable Small SUV?
2. 2020 Chevrolet Corvette C8: Tricks Under 25 MPH
3. 2021 Acura TLX: 7 Things We Like and 2 We Don't
4. 2021 Mercedes-Benz E-Class Review: Still the Best in the Business
5. 2020 Kia Niro PHEV Review: Old-School Hybrid With Old-School Issues
6. Why Do My Tires Lose Pressure in Cold Weather?
7. 2021 Mercedes-AMG GLE63 S Review: AMG? More Like OMG
8. 194,000 2018-2020 Buick, Cadillac, Chevrolet and GMC Vehicles Recalled for Transmission Issue
9. 2022 Volkswagen Golf R Keeps Stick Shift, Gets More Power and Trick AWD
10. 2021 Toyota Corolla Apex Edition: 4 Things We Like and 4 Things We Don't
Cars.com's Editorial department is your source for automotive news and reviews. In line with Cars.com's long-standing ethics policy, editors and reviewers don't accept gifts or free trips from automakers. The Editorial department is independent of Cars.com's advertising, sales and sponsored content departments.
Source: Read Full Article