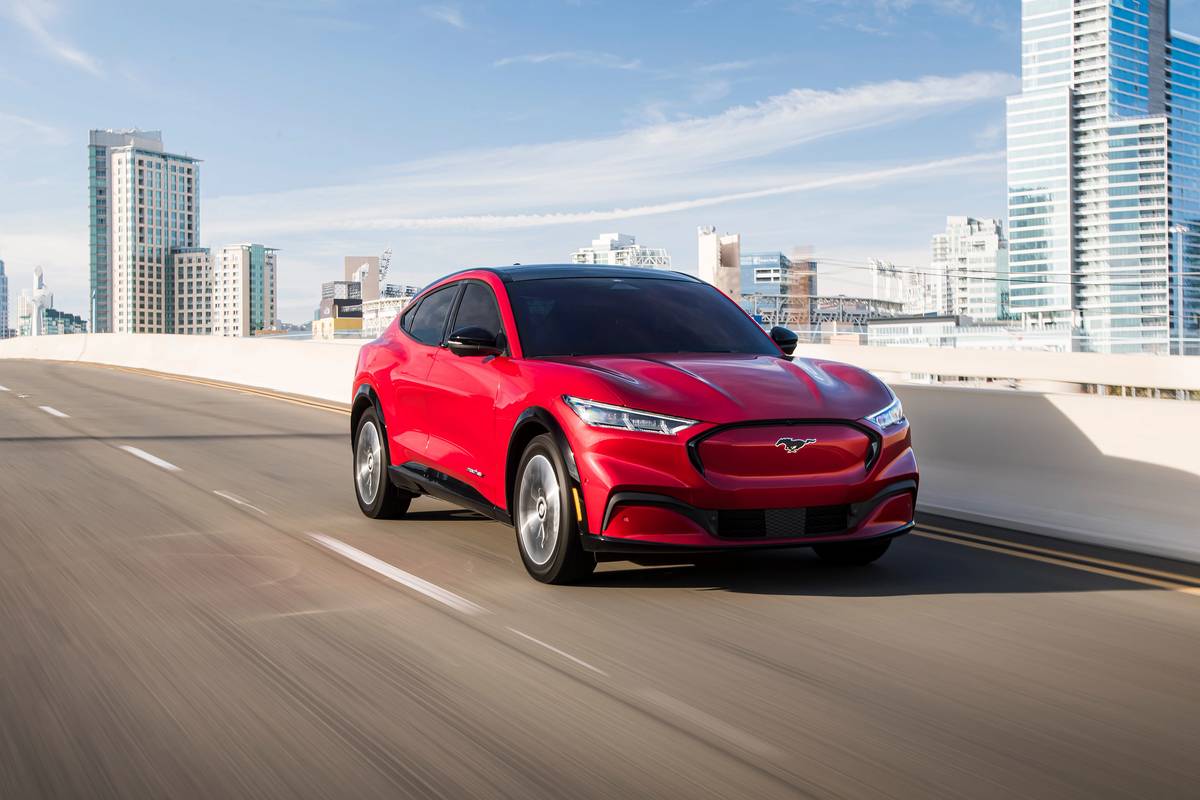 It feels like a lifetime ago that the all-new-for 2021 Ford Mustang Mach-E  — the all-electric SUV bearing the iconic pony car's name — was unveiled at the Los Angeles Auto Show in November 2019. (Hey, remember auto shows?) Despite its boasted mid-3-second 0-60-mph sprint and an ultimately on-time arrival in the U.S., the Mach-E's path to production somehow felt slow. A world-halting pandemic will do that, we suppose — but it's here now, and we got our hands on it.
Related: 10 Biggest News Stories of 2020: Jeep Wrangler Crashes Top Spot, Coronavirus Can't Cope
But you already knew that judging by the dominance of our Mach-E first drive review among the past week's most popular articles. And while the Tesla Model Y-fighting SUV was No. 1 on our countdown, it wasn't exactly tops with Cars.com reviewer Joe Wiesenfelder, who found it a mixed bag.
In his review, Wiesenfelder lauded the Mach-E's Mustang-inspired styling, roomy interior and 300-mile maximum driving range, but he lamented its harsh ride, grabby brakes, overall glitchiness and difficult front trunk accessibility. Despite having gone in ready to love it, like millions of HBO Max subscribers did with "Wonder Woman 1984," Wiesenfelder had some fundamental issues that kind of sank the experience for him … like untold numbers of HBO Max subscribers did with "Wonder Woman 1984."
"Driving it tempered my enthusiasm quite a bit," Wiesenfelder concluded. "Some of that might come because it was an early and glitchy sample, but not all of it. I'm looking for the electric vehicle that has it all, and at first blush, the Mach-E doesn't seem to be it. But neither does anything else. So far."
Get Wiesenfelder's full take by following the link below to our No. 1 article of the past week.
In a distant second place is the 2021 Mazda3 Turbo. In our rapid-fire roundup of the things we like and don't like about the four-door hatchback variant of the compact sedan, we noted an equal number of compliments and complaints. The Mazda3's trio of available powertrains, flirting-with-luxury interior, abundant safety features and agile handling earned praise; meanwhile, its overly firm ride, tight confines, disappointing cargo space and spendy starting price garnered criticism.
Rounding out the week's top five are an overview of all things new with Toyota for 2021 at No. 3; Cars.com reviewer Aaron Bragman's comprehensive critique of the 2021 Toyota Camry Hybrid at No. 4; and our rundown of cheers and jeers for the 2021 Genesis G80 luxury sedan at No. 5.
Beyond all that, we got news on Jeep, the Mercedes-Benz GLC-Class, the Cadillac XT5, the Lincoln Aviator and more, so don't settle for a finski when you could have a 10 spot. Here are the top 10 news stories Cars.com readers couldn't get enough of in the past week:
1. 2021 Ford Mustang Mach-E First Drive Review: Good Numbers, Harsh Ride
2. 2021 Mazda3: 4 Things We Like (and 4 We Don't)
3. What's New for Toyota in 2021?
4. 2021 Toyota Camry Hybrid Review: A More Advanced Transportation Appliance
5. 2021 Genesis G80: 5 Things We Like (and 4 Not So Much)
6. What's New for Jeep in 2021?
7. 10 Biggest Car Reviews of 2020: Mercedes-Benz GLC-Class Outclasses 'Em All
8. 2021 Jeep Wrangler 4xe Plug-In Hybrid Launch Editions Priced Just Under $50,000
9. 2020 Cadillac XT5 Sport Review: Not Really Sporty, but That's OK
10. How Do Car Seats Fit in a 2021 Lincoln Aviator?
Related Video:
Cars.com's Editorial department is your source for automotive news and reviews. In line with Cars.com's long-standing ethics policy, editors and reviewers don't accept gifts or free trips from automakers. The Editorial department is independent of Cars.com's advertising, sales and sponsored content departments.
Source: Read Full Article