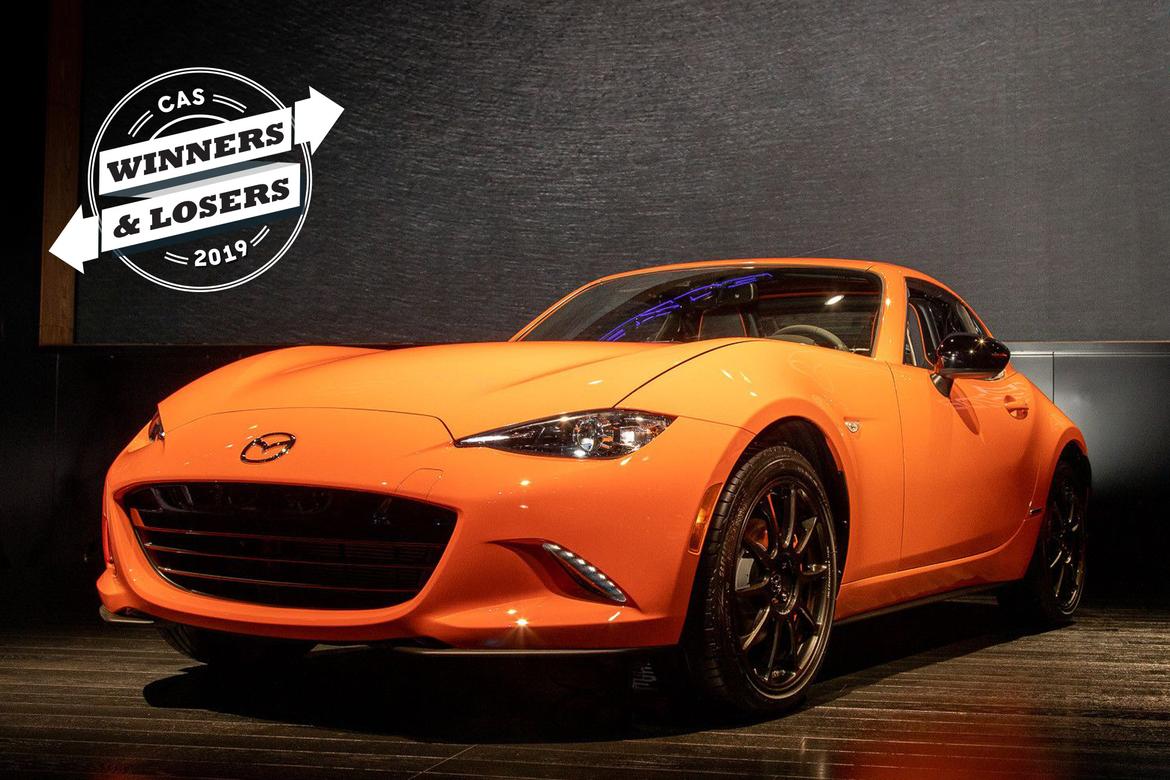 The 2019 Chicago Auto Show is — as usual — short on the splashy reveals that other, fancier auto shows typically get. Chicago is more of a consumer-oriented show, where automakers typically bring multiple trim levels for shoppers to experience in a low-pressure environment. Even so, there were new car, truck and SUV debuts during the media preview that consumers will see for the first time.
At this year's show, we got our first chance to see two new heavy-duty pickup trucks, a new mid-size sedan and a bunch of special editions. Were we fans of what we saw, or did we wish we'd hit the snooze button a few more times before making our way to McCormick Place? Find out the 2019 Chicago Auto Show's winners and losers below.
2020 Subaru Legacy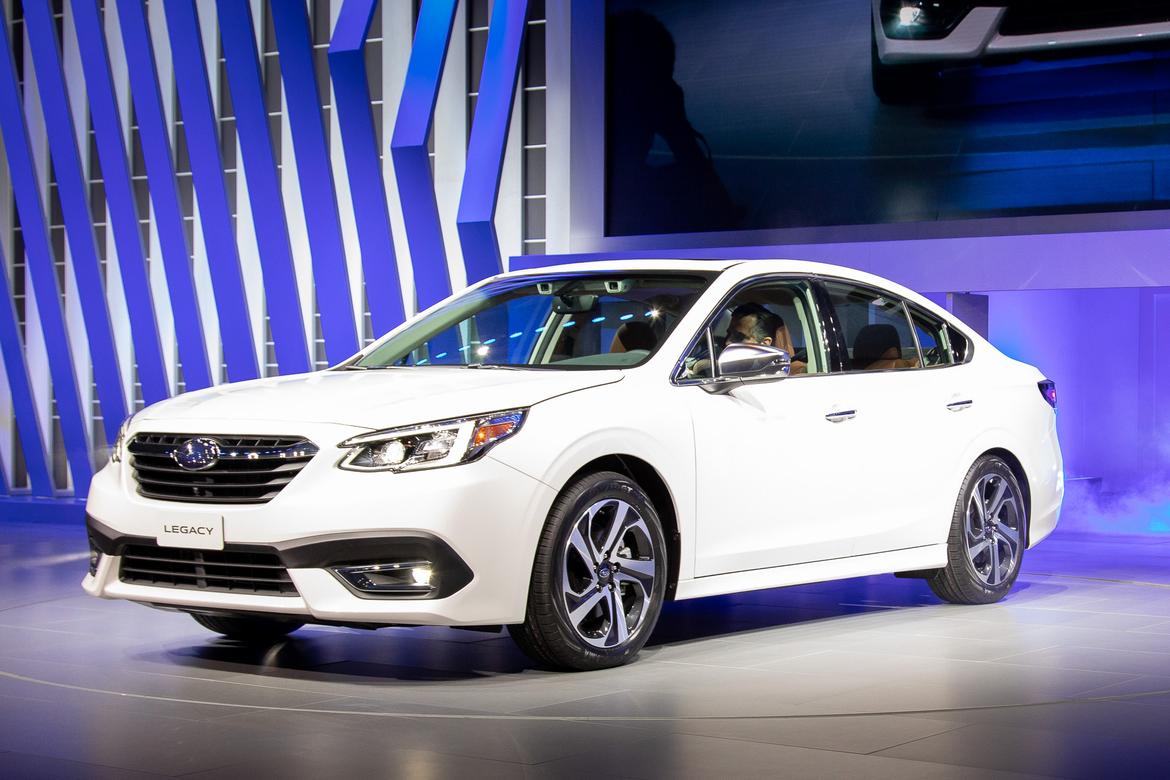 Brian Normile, production editor: Winner
The new Legacy is a winner in my book even if sedans increasingly are losers. A solid, near-premium interior topped off by the optional 11.6-inch touchscreen is a great combination. Add in the bevy of standard safety features and standard all-wheel drive, and I'm very excited to be mad about why this isn't selling as well as a Mitsubishi Eclipse Cross.
Mike Hanley, senior research editor: Winner
The car could be mistaken for the old Legacy from the outside, but I like the premium interior of the high-end Touring XT trim level that was on the show floor. It's a roomy interior, too, with a spacious, comfortable backseat that provides good thigh support. All in all, the changes keep the Legacy relevant in a shrinking sedan class.
Aaron Bragman, Detroit bureau chief: Winner
Let's face it, the best Subarus are turbocharged Subarus. I lamented the loss of the old Forester XT — that thing was a riot, but the public didn't buy any. Considering they're bringing the turbocharged XT trim back on the all-new Legacy is fantastic, and there's finally an interior and multimedia system worthy of praise. Good, solid effort all around.
2019 Volkswagen Jetta GLI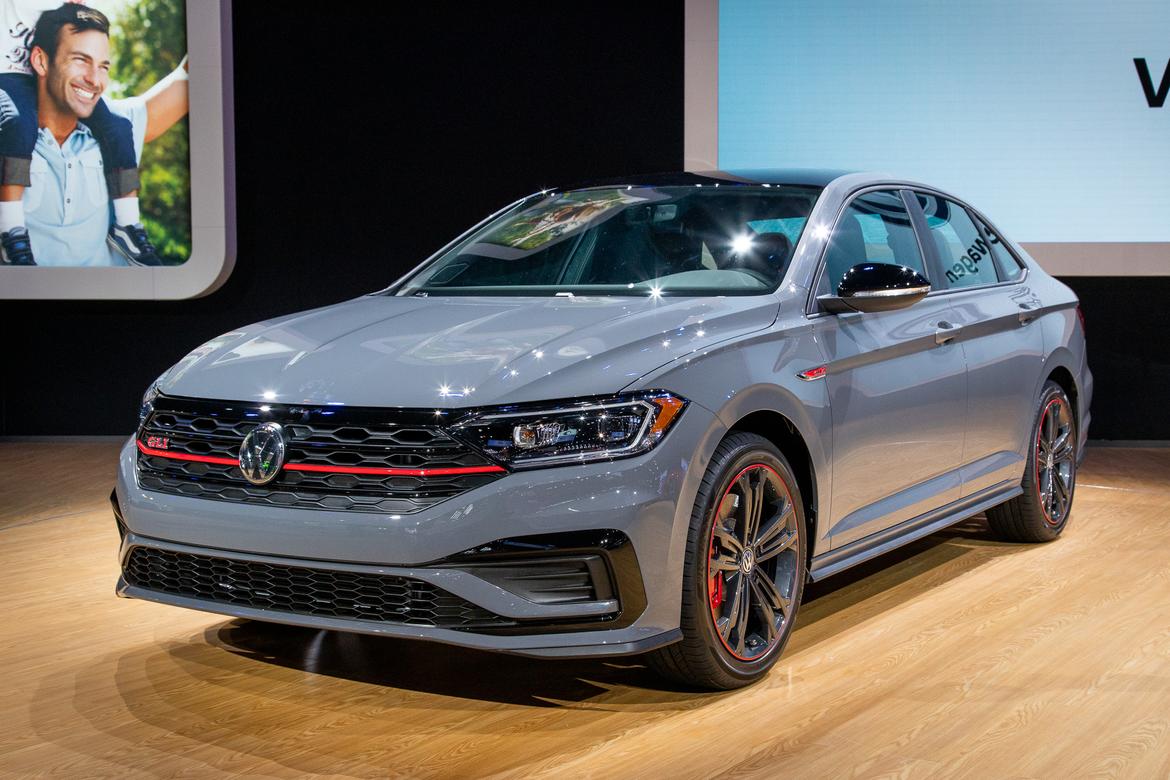 BN: Winner
I made the point in my Jetta GLI First Impressions story that maybe shoppers considering this should consider a Golf GTI instead; it's probably cheaper, has the same powertrain and is a hatchback. But then I realized I was being too much of a curmudgeon. More things should have the GTI powertrain, not fewer, and if for some reason a GTI sedan is your dream, it's probably come true here.
MH: Winner
The Jetta GLI doesn't look very different than the regular Jetta — the biggest difference is the new black grille — but the Golf GTI drivetrain promises to considerably raise the fun factor. Whether it matches the driving joy that the Golf GTI reliably provides remains to be seen, but there's enough here to give it the benefit of the doubt.
AB: Winner
It has all the goodies of the Golf GTI, one of our perennially favorite vehicles, and one I fall in love with every time I get behind the wheel (I've owned two in my life and heartily recommend them). While I'm not as big a fan of the styling of the Jetta as I am of the Golf GTI, I can get behind any chance at recapturing the whole "poor man's BMW" vibe of the old Jetta GLI.
2020 Toyota Tacoma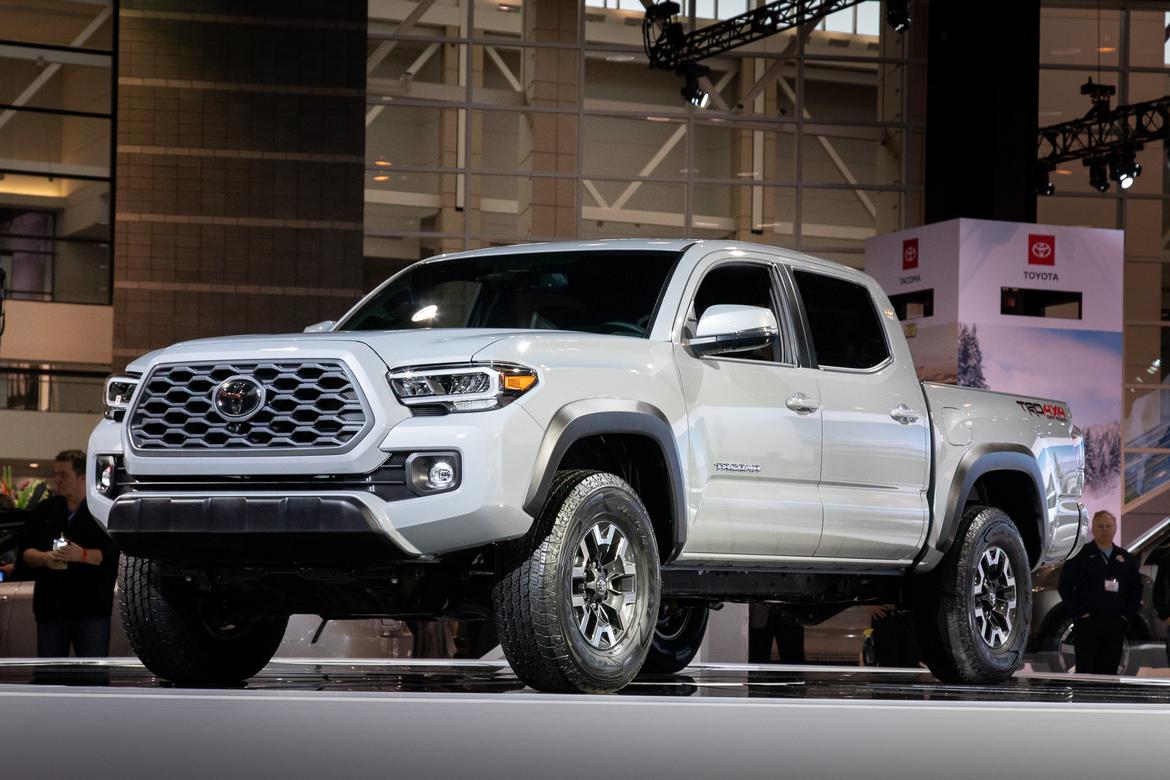 BN: Loser
This is your update? Some new headlights? A better multimedia system for some models? I realize the Tacoma is king of the mid-size pickup truck hill when it comes to sales, but it's almost like Toyota is daring competitors to knock the Tacoma off. This minor update might not be enough to fend off challengers.
MH: Winner
There's no question the Tacoma changes are mostly small and likely won't improve the Tacoma's lackluster driving experience, but there's one change that's a monumental improvement: the newly available height-adjustable driver's seat. I know, I know: Why didn't the Tacoma have this a long time ago? But now that it does, the driving position is considerably better. Sometimes it's the little things that make all the difference.
AB: Loser
There have been a whole lot of people waiting for the new Ford Ranger to get here, with even more fanatics salivating at the new Jeep Gladiator coming in a few months. The old Tacoma was acceptable but aged, with a layout and interior that hadn't changed in a long time. While that kind of staid continuity doesn't bother zombie Toyota buyers, it's not going to win over anyone who's also considering the Ranger and Gladiator.
2020 Toyota Sequoia TRD Pro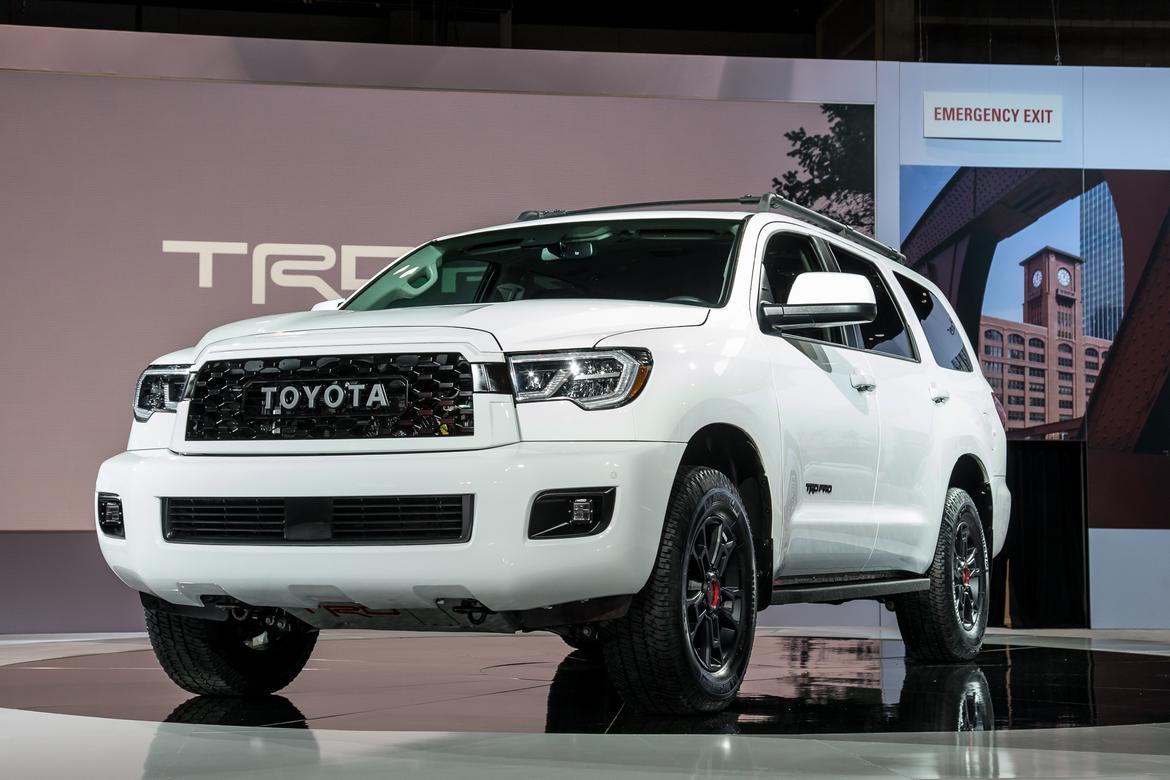 BN: Loser
Android Auto finally coming to a Toyota product isn't going to save the Sequoia TRD Pro for me. It's another Toyota in need of a significant redesign, not just an incremental update with a new trim level.
MH: Loser
The Sequoia TRD Pro gets some significant hardware changes that will undoubtedly make it more capable off the beaten path, but on the show floor, it looked pretty much like any other Sequoia. Sure, there's a different grille and black wheels, but the overall appearance is more family hauler than backcountry conqueror.
AB: Loser
I don't understand why Toyota is starving its truck product development people of budget. All of Toyota's truck lineup is in desperate need of massive updates; adding some off-road bits and pieces to the positively ancient Sequoia SUV isn't going to do it any favors. This is just another example of Toyota trying to polish a TRD.
2020 Toyota RAV4 TRD Off-Road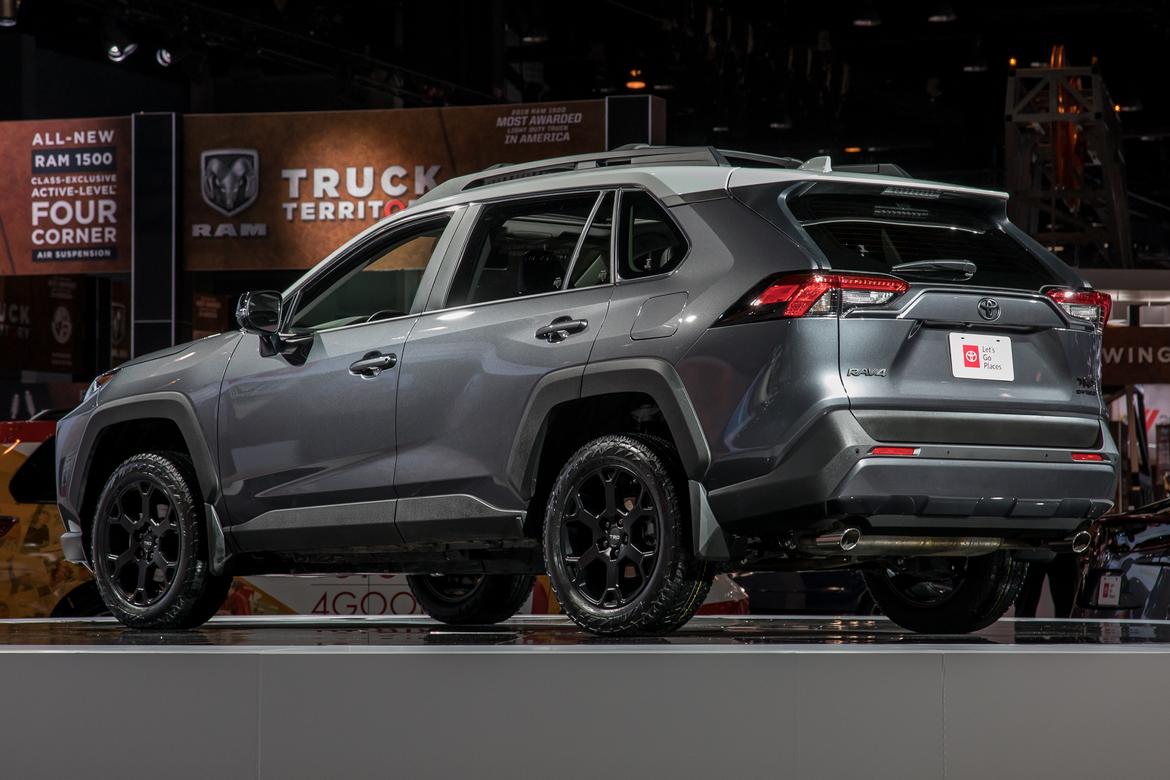 BN: Winner
You thought I hated all Toyotas, didn't you? Surprise! The new RAV4 TRD Off-Road trim is actually pretty good-looking and, since it's not an aging platform like the Taco or ancient like the Sequoia, I'll give Toyota credit for having more fun with this compact crossover. I would've preferred the hybrid powertrain instead of the gas-only one, but maybe that's being saved for the seemingly inevitable RAV4 TRD Pro.
MH: Winner
There's not a lot here that will significantly enhance the RAV4's off-road prowess, but the new TRD Off-Road version looks good inside and out, and the available contrasting-color roof provides some extra visual interest.
AB: Winner
The new RAV4 is already a winner, with its futuristic good looks, solid interior execution and decent performance. Giving buyers more options for trim and function is a good thing, even if this soft-roader only gets some minor improvements in ability. Nobody is taking a RAV4 into the deep wilderness anyway, but the new tires and retuned shocks should give it a little more grip.
2020 Ford Super Duty F-250, F-350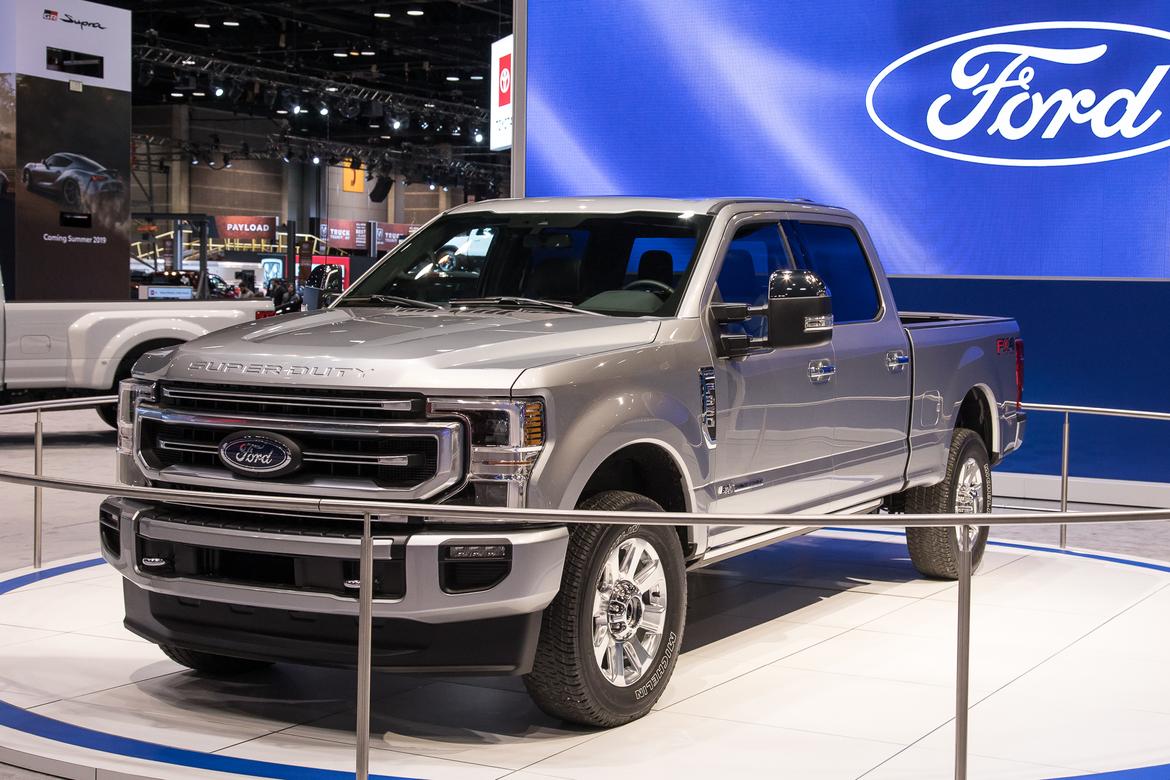 BN: Loser
The 2020 Super Duty may ultimately end up the winner in the latest round of the horsepower, torque and towing fights, but not having those details means I can't give it a winner tag just now. Kudos to Ford for waiting until Ram and GM played their cards, though.
MH: Loser
Ford's decision not to publish key specs is just as annoying now as it's been in the past when the automaker has done it, but you only have to wander over to the Ram display and check out one of its higher-end heavy-duty models to see just how far behind Ford remains on the luxury-truck front. The new Super Duty doesn't change this.
AB: Winner
Falling securely under the "if it's not broke, don't fix it" category is the new Ford Super Duty. The company's already selling hundreds of thousands of these things, so we know buyers like its looks and cabin. Engineers improved areas that truck buyers care about with two new engines, a new transmission and some new trailering abilities. It doesn't have to be class-leading in the power wars, it just needs to keep delivering what the Super Duty has been delivering all along: loyal, happy buyers.
2019 Mazda MX-5 Miata 30th Anniversary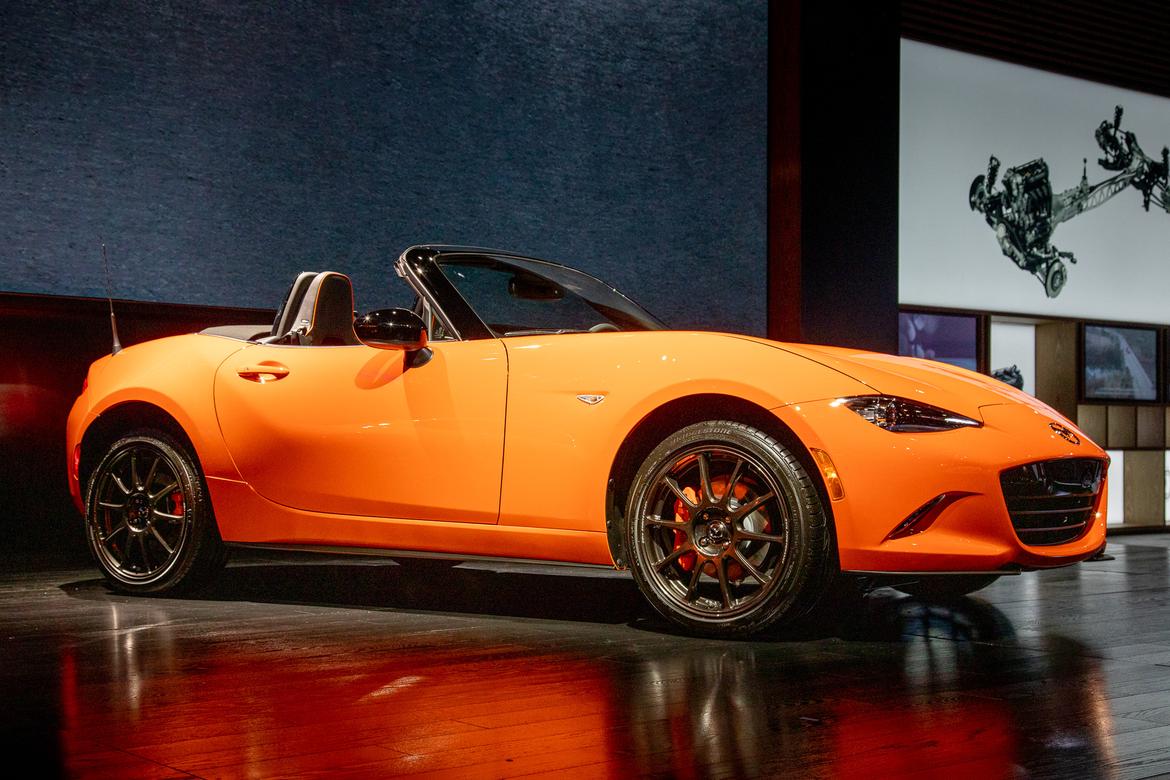 BN: Loser
… But only because Mazda is limiting production to 3,000 models. Everything else about this MX-5 Miata 30th Anniversary is great: the new Racing Orange paint, the Rays wheels and the rest of the updates the MX-5 Miata got for 2019. It wasn't a joke naming it our Most Fun-to-Drive Car of the Year for 2019. I just want there to be more on the road.
MH: Winner
The orange paint makes this convertible look like a giant Creamsicle, but I still like it a lot, and the rest of the changes don't take away from what makes the Miata great. If you want to stand out, this is the Miata to get.
AB: Winner
Creamsicle? I was going to go jack-o'-lantern, myself. This pumpkin-spice roadster should be just as popular as the namesake lattes, but they'll probably be all sold out by the time you get to the end of this sentence.
2020 Land Rover Range Rover Evoque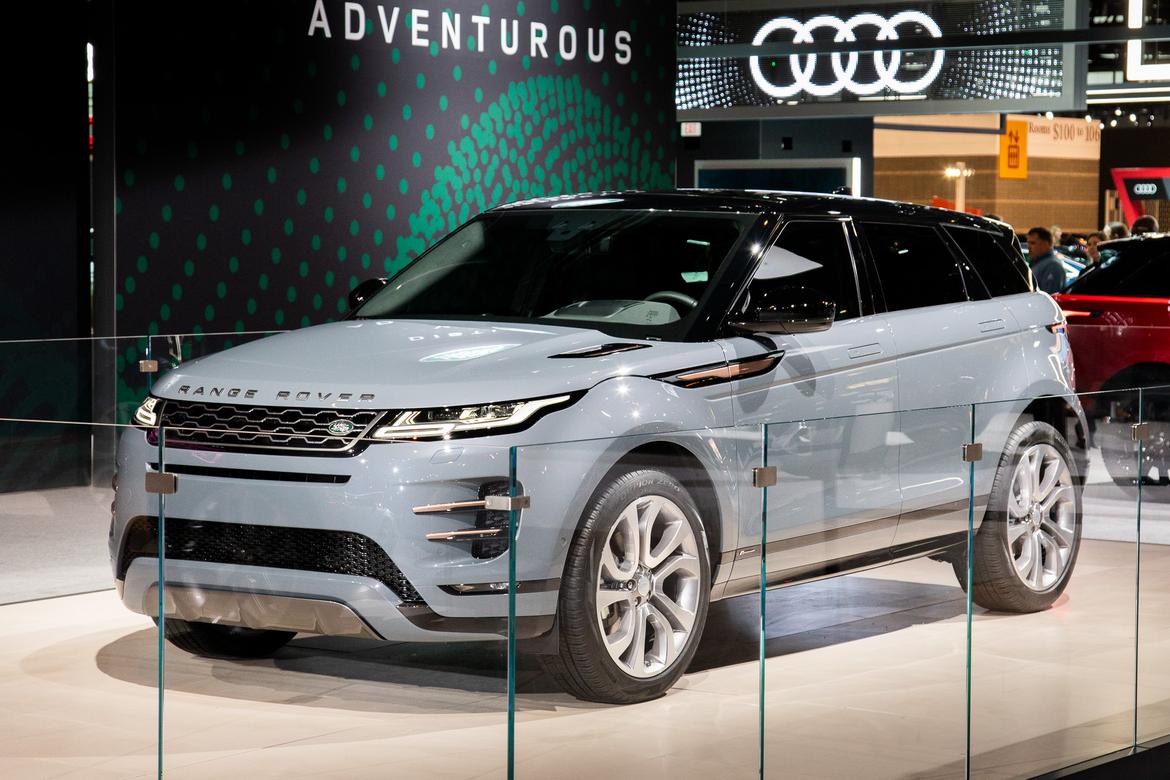 BN: Winner
The redesigned Range Rover Evoque gets trick technology like ClearSight Ground View that makes it far more off-road capable than it needs to be, which is my favorite thing about all of Land Rover's products. Whether the sustainable interior materials are a genuine attempt to be more environmentally friendly or just pandering, they're still nice. The Evoque is an underappreciated choice in a crowded luxury compact SUV field.
MH: Loser
I'm not a fan of the smoother exterior styling and the motorized door handles — which I'd be concerned about long-term given the electrical problems we've encountered in other Land Rovers — but what solidified the Evoque's loser status were all the touch-sensitive controls now in the cabin. We've noted time and again how touch-sensitive controls can make simple tasks difficult, and now that's a concern with the Evoque.
AB: Loser
I am so torn on this one. On one hand, I think it's gorgeous, it should be a riot to drive, and it has some seriously amazing tech; on the other hand, Mike is right when he says that the touch-sensitive controls are awful. The American brands did it and have already switched back because of customer satisfaction scores that tanked; it looks like the Europeans now need to go through the same painful lesson.
2020 Chevrolet Silverado 2500, 3500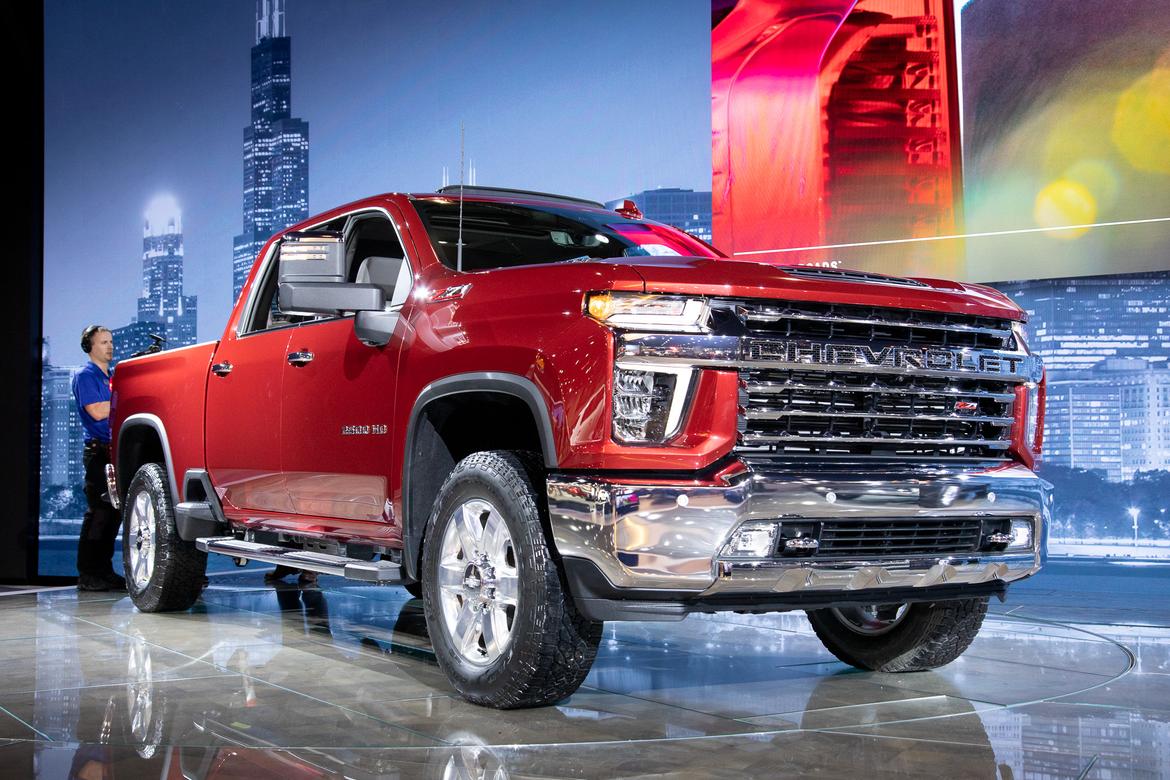 BN: Winner
The Silverado 2500/3500 is the current leader in heavy-duty towing capabilities —as the specs read for now, anyway — and gets a win for a significant redesign inside and out. My personal favorite feature is the bed access step just behind the cab, which will make accessing cargo or a toolbox much easier. Bonus: It doesn't look nearly as ugly in person as photos might have you believe.
MH: Winner
With its big grille and stacked headlights, the redesigned Silverado HD had quite the presence on the show floor, and I agree with Brian that the styling looks better in person. Like the light-duty Silverado 1500, the cabin doesn't make the leap in quality that we've seen in the Ram HD, but the Chevy's significant drivetrain updates result in a significant increase in claimed capability.
AB: Winner
I like the way it looks, similar to some of the wild concept art I drew in high school. I'm pretty sure GM is now aware that it seriously dropped the ball on its truck interiors, as the launch of the trucks barely mentioned the interior. The automaker would rather you focus on what the truck can do rather than how it feels inside — and its buyers most definitely will.
More From Cars.com
Auto Show News
Find Cars Near You
Best of 2019 Winner
More Pickup Truck News
Source: Read Full Article