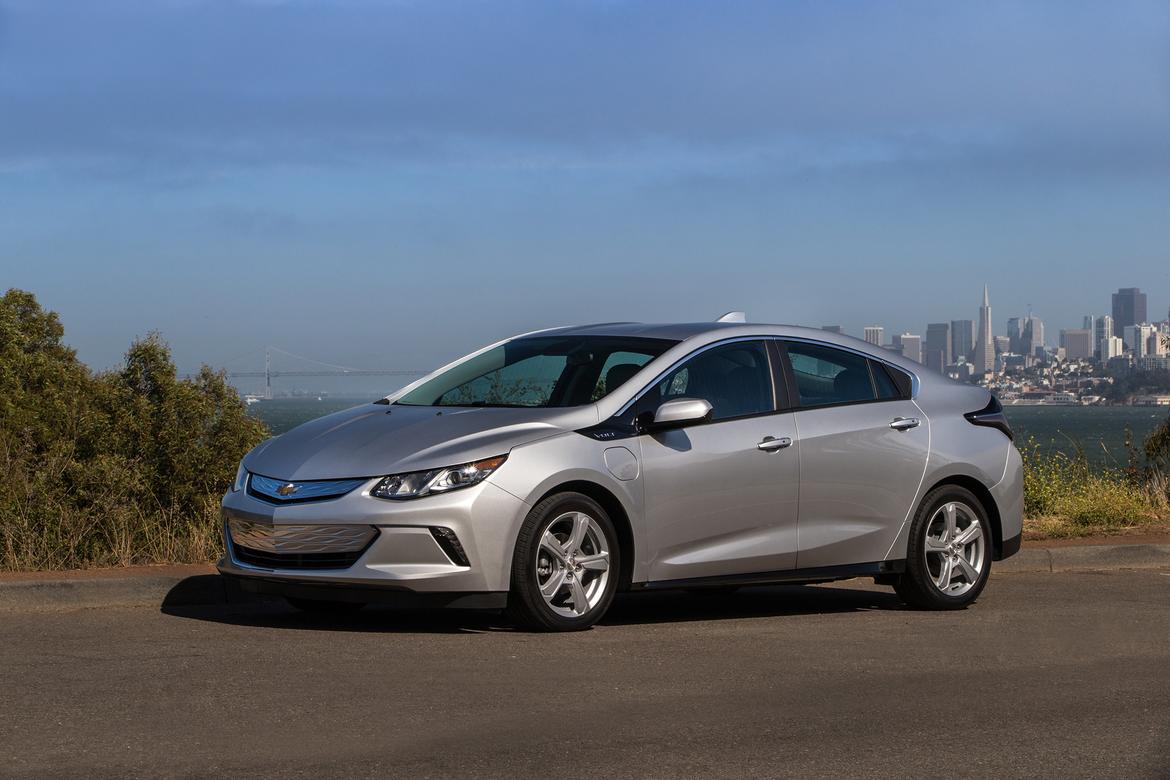 In a pivotal announcement today, GM laid out plans for "proactive steps" to cut workforce, shift investment toward trucks and SUVs, and put a cork in the pipeline for five factories come 2019. Two of those factories build drivetrain components, while the other three assemble sedans, pickup trucks and the Chevrolet Volt gas-electric hatchback.
Those sedans are the compact Chevrolet Cruze plus four large models: the Buick LaCrosse, Cadillac XTS, Cadillac CT6 and Chevrolet Impala. (GM's four U.S. brands are Buick, Cadillac, Chevrolet and GMC.) The XTS was already on its way out, but the plants in question — Detroit-Hamtramck, Mich.; Oshawa, Ontario; and Lordstown, Ohio — are the sole assembly points for U.S. versions of the Impala, CT6 and LaCrosse. The same goes for the Volt, which GM builds exclusively in Detroit-Hamtramck.
2018 Chevrolet Volt Specs & Reviews
Find a 2018 Chevrolet Volt Near You
What does this mean for consumers? Barring costly retooling to produce them somewhere else, it's unlikely the LaCrosse, CT6, XTS, Impala and Volt will be around after 2019. The Cruze could be on life support: GM assembles the car in Ohio and Mexico, but Automotive News production data indicate the vast majority come from Ohio.
Sales for those six nameplates decreased 20 percent through the first nine months of 2018, and they account for less than 10 percent of GM's U.S. sales. Still, they have their share of distinctions. The CT6 inaugurated Cadillac's Super Cruise self-driving system, while the current Impala won Cars.com's Best of 2014 award when it hit the scene. In what appears its swansong year, the Volt will receive updates to cut its charging time in half.
The affected pickup trucks, meanwhile, are light-duty versions of the Chevrolet Silverado and GMC Sierra. GM builds both at other plants, too, so it's highly unlikely either nameplate is going anywhere soon.
In a statement today, the automaker said it's investing in "newer, highly efficient vehicle architectures, especially in trucks, crossovers and SUVs." Just five platforms will underpin more than three-fourths of GM's global sales by the early 2020s, the automaker promises. As The Detroit News notes, production stoppage doesn't necessarily signal a plant closure — an issue GM will need to work out with its unionized hourly workforce. The newspaper reports that production for the LaCrosse, Volt and Cruze will end on March 1, 2019, while the last CT6 and Impala sedans will leave the assembly line three months later.
GM is hardly the first automaker to announce production cuts for cars amid a shift to SUVs. Crosstown rivals Ford and Fiat Chrysler Automobiles announced similar plans to cut out sedans — FCA back in 2016, Ford two years later — to accommodate higher-margin utility vehicles. Even Toyota is reportedly considering trimming a few non-SUVs from its lineup.
Consumers aren't exactly clamoring for anything otherwise. Ignoring vans and pickup trucks, a Cars.com analysis of Automotive News sales figures indicates SUVs outsold non-SUVs (that is, sedans, coupes, hatchbacks, wagons and convertibles) by 43.1 percent through the first 10 months of 2018.
Separately, GM announced plans to cut 15 percent of salaried workforce, including 25 percent of executives. The automaker expects its actions in total to save some $6 billion per year by the end of 2020 even while it spends more in certain areas, including doubling the resources to develop electric and self-driving cars.
Source: Read Full Article