The Alfa Romeo team has become the third to reveal its car for the upcoming 2021 Formula One season, which it calls the C41.
As we've seen so far with the McLaren MCL35M and AlphaTauri AT02 launches, there's not a huge deal of difference compared to last season's machinery. With the major disruption to the 2020 calendar, F1 has delayed the larger rule changes for a season and kept the regulations mostly intact for 2021.
That said, there are some areas where new rules come into play. The floor is one example, with cars forced to adopt a cleaner, rearward-tapering floor compared to the vent-pocked versions of 2020. However the C41 has an interesting little flick ahead of the rear wheels we've not seen on other cars revealed so far.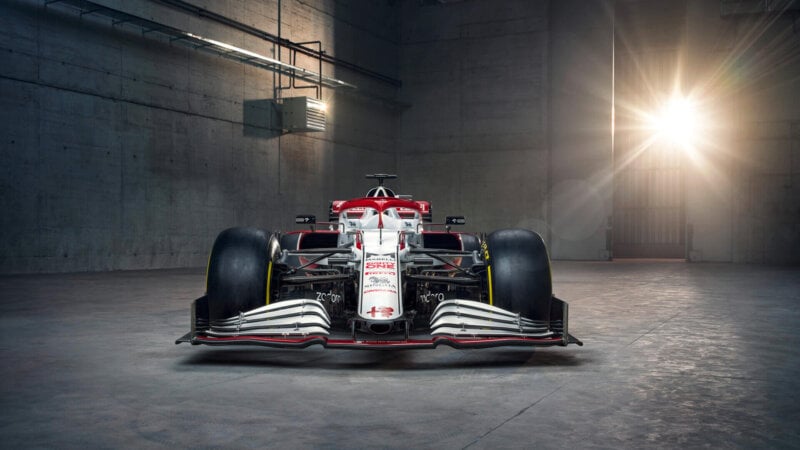 For the C41, Alfa Romeo has spent development "tokens" on the nosecone — a similar development path to the AlphaTauri car. The new nose features a different tip, a more concave upper section, and even more inboard aerodynamic loading than before, as Alfa Romeo tries, like everyone else, to recover downforce lost in the new regulations.
Of course one change we can't see with the C41 is one for which Alfa Romeo itself isn't responsible: the Ferrari engine. The car will use a newer version of the hybrid V6, though it will retain the 2020-spec Ferrari gearbox. Like the C39, the 2021 car will be the only one to use a split-entry airbox.
Alfa Romeo will also retain its 2020 driver pairing of Kimi Raikkonen and Antonion Giovinazzi as it looks to improve on eighth place last season. The duo could only pick up five points finishes in 2020, scoring just four points apiece, and will no doubt be aiming much higher in 2021.
https://youtube.com/watch?v=16NyZkpnD4M%3Ffeature%3Doembed
We've now seen three of the ten cars for the 2021 season, with Red Bull due next on Tuesday February 23. The full reveal schedule is below, with only Haas yet to confirm its plans — though we'd assume it will also present its 2021 car before pre-season testing in Bahrain on March 12-14.
February 23 – Red Bull RB16B
March 2 – Alpine A521
March 2 – Mercedes W12
March 3 – Aston Martin
March 5 – Williams FW34B
March 10 – Ferrari SF21
TBC – Haas VF-21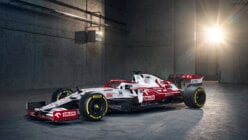 Source: Read Full Article