Mercedes will launch a new all-electric model in 2024 based on its upcoming MMA architecture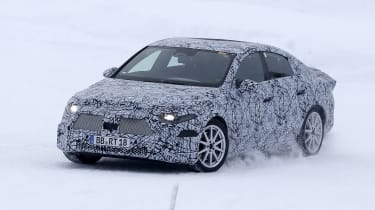 We've caught the new Mercedes EQA saloon testing before, but this is the first time we've seen a road-registered example – suggesting development of the compact EV is well on the way.
The prototype car is still wrapped in camouflage but we can already see key design details for Mercedes' newest electric car. Technical details are scant, but we expect it'll be positioned as an entry-level model to Mercedes' EQ range when it hits the roads next year. As for its name, the EQA badge could be freed up by Mercedes renaming the current car 'EQA SUV' – bringing it in line with the rest of its all-electric SUV nomenclature. 
New 2023 Mercedes EQT arrives as all-electric MPV
As we'll see with the upcoming CLE (which will replace two-door versions of the C-Class and E-Class), Mercedes isn't afraid of streamlining its range. With this in mind, the EQA saloon could sit as an all-electric alternative to the C-Class as well. Mercedes has also stated it will reduce its 'portfolio positions' from seven to four, suggesting a new car will replace the C-Class and A-Class segment. 
The car is still heavily dressed in camouflage, there appears to be a fake grille stuck on the front end and a fair amount of cladding to the rear. There's no hint of an exhaust to the rear, suggesting a purely electric powertrain. The roofline certainly looks more rakish than the current A-Class sedan and more inline with the CLA's silhouette. There also appears to be a crease in the body, flowing from the top of the front wheel arch down to the rear wheel.
The interior will take plenty of inspiration from Mercedes' other EQ models, but we could see the first utilisation of the firm's MB.OS infotainment system. Mercedes is set to roll out the technology from 2024 and it has said it will debut on an all-new model rather than an existing car. MB.OS will offer new features like streaming video and will be able to receive over-the-air updates, all displayed on a revised infotainment layout. 
The entry-level EQA was launched in 2021 on a tweaked version of the MFA2 platform shared with the internal-combustion engined GLA SUV. We expect the new EQA saloon will launch in 2024, meaning it'll miss out on the Mercedes MB.EA platform. 
It will however use the brand's new 'Mercedes Modular Architecture' or 'MMA'. The MMA platform will be able to underpin pure-EV and internal combustion engines, which could allow for another generation of A-Class. Given the EQA saloon's sleeker profile and the potential for a larger battery, it should comfortably beat the current EQA's 311-mile maximum range. 
Now check out the best luxury cars to buy now…
Source: Read Full Article