Alpine's latest Alpenglow concept will showcase the brand's future road car and motorsport plans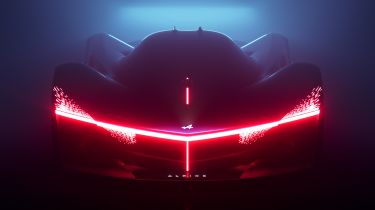 The Alpenglow concept car has been described by Alpine as a "cornerstone of its ambitions and strategic plan" and, although we won't see it on the road, it offers an insight into the design and technologies we can expect to see on the next generation of vehicles from the French firm.
Due to be fully revealed on Thursday 13 October, ahead of a world premiere at the 2022 Paris Motor Show on 17 October, the Alpenglow acts as an illustration of the sports car manufacturer's future – both on the road and in motorsport.
Upcoming Alpine GT X-Over SUV spotted testing
The early teaser image already gives much of the design away. The full-width light bar we can see (which is at the front of the car, not the rear as the red colour might lead you to believe) expands into some intricate LED detailing. Behind it there's a central vertical strip of light appearing, while an Alpine logo and 'Alpine' lettering also light up at the front.
Aggressive wheel arches and a domed cockpit look more suited to the starting grid of Le Mans than on the public road, with the silhouette of the Alpenglow appearing similar to the A4810 concept car we saw earlier this year.
The A4810 concept was designed by students at the European Institute of Design (IED) in Turin, as part of a collaboration with Alpine, rather than an in-house project like the Alpenglow.
However, there may be more of a crossover in the powertrain department, with the A4810 giving us a glimpse of what a hydrogen-powered Alpine would look like in 2035. Alpine stated in the announcement of the new concept that it showcases the "technologies of tomorrow", while parent company Renault has been vocal in its interest in hydrogen – highlighted by the hydrogen-powered Scenic Vision concept earlier this year.
The Alpenglow potentially shows that despite Alpine's plans to launch its first-ever electric SUV and hatchback, sports cars will be a mainstay of the brand's portfolio in the future.
Now read about the track-bred 296bhp Alpine A110 R…
Source: Read Full Article