The all-electric RS Q6 e-tron is set to be the first new RS model with extreme versions of RS3 and RS6 also likely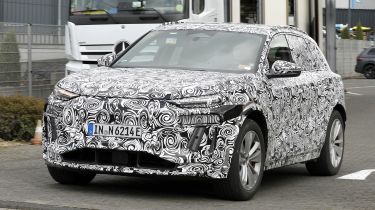 Audi Sport boss Dr Sebastian Grams has confirmed that ten hot new Audis will be launched by 2026, including some storming farewells to purely petrol models and an all-new all-electric RS next year.
Audi Sport celebrates its 40th anniversary this year with Audi's performance offshoot – that also oversees the brand's motorsport activities including its forthcoming Formula One plans – heading into its next decade with a raft of new models.
Top 10 best performance cars to buy 2023
Electrification will play an increasingly big role in Audi Sport's future RS line-up with an RS version of Audi's forthcoming Q6 e-tron (pictured) expected to be the first new model to arrive next year. Asked if the next RS model would be all electric, Grams said, "Yes, and it's coming in 2024.
"It'll be a completely new one and we can tell you that it will be on the PPE (Premium Platform Electric) platform, [developed] together with Porsche so it will definitely have enough performance."
There's no word on battery sizes or performance for the RS Q6 e-tron, but with the PPE platform being an evolution of that used for the Audi e-tron GT, its RS counterpart and the Porsche Taycan, it could borrow those cars' 800-volt, 636bhp powertrain and offer fast charging up to 350kW.
What Grams did confirm is that future RS models would get an even wilder look, to further differentiate the hottest Audis from their already quick electrified donor cars. 
"We have looked at how electric RS models look in the future," said Grams. "Today I would say we have not much difference between an e-tron GT and an RS e-tron GT. And one learning for us is we need to do a good differentiation in terms of design – making them wilder; making them really different to the Audi model."
Grams also revealed that Audi Sport is looking at other ways to differentiate RS models in addition to the performance, with digitisation high on the list. "We're trying to interpret high performance newly," he said. "So high performance is not only more horsepower, more acceleration. We are also taking care about digitlisation – we need to build the perfect combination from a hardware and a software product. 
"I can tell you we are working on making a difference in digitalisation for our customers in the future – it's like an RS ecosystem."
Extreme final versions of core petrol RS models
However, there's still room for analogue sensations and Grams confirmed that popular models like the RS 6 – which he described as "the RS model – the core product of our portfolio" – and the A3-based RS 3 are likely to get extreme send offs as pure petrol cars before they get electrified, most likely with a performance plug-in powertrain.
Talking about the RS 6, Grans said, "We can go more extreme,"  while there's more to come from the RS 3, too. "We are not finished with that car," he said. "We will definitely increase the five-cylinder [engine] for the next step – we'll improve that. There is definitely still a way to go."
Get a fast, accurate valuation of any car with our valuation tool…
Source: Read Full Article