The best hot hatches offer giant-killing performance and a gripping drive, all wrapped in a user-friendly package
Britain loves a good hot hatch. They provide fun, useable performance in an affordable, practical, everyday package. But which are the best hot hatches on sale today?
The modern motorist has an excellent selection of hot hatches to choose from, ranging from the small and sporty Suzuki Swift Sport, to the larger, faster Honda Civic Type R and Hyundai i30 N. Better still is that while the performance of hot hatches has increased, the running costs still remain fairly low, meaning you get a great balance of smiles per mile and miles per gallon.
Best performance cars 2020
Thanks to mechanical and electronic trickery, the latest hot hatches are able to deliver enough performance to embarrass sports cars and even some supercars. Cars such as the VW Golf R have four-wheel drive to boost their performance, while the latest Ford Focus ST and SEAT Leon Cupra and Skoda Octavia vRS use trick electronics and front diffs to boost front-wheel traction.
What makes hot hatches so popular is their ability to mix fun and practicality – so which hot hatchbacks are the best to drive, while still maintaining their versatile side? Our top 10 reveals all…
Top 10 best hot hatchbacks 
Honda Civic Type R
Ford Fiesta ST
Ford Focus ST
Renault Megane RS
Hyundai i30 N
Mercedes-AMG A 35
BMW M135i xDrive
MINI Cooper S
VW Up! GTI
Suzuki Swift Sport
1. Honda Civic Type R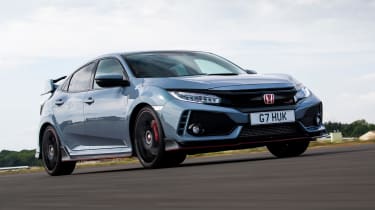 We deliberately didn't include any so-called mega-hatchbacks in our top 10, because we wanted to cover the more conventional examples of the breed instead. But the Civic Type R is about as close as it gets to the mega-hatch mantle without actually going over the top. 
While its price tag might seem quite expensive at face value, it's actually phenomenally good value in reality given how much power the Honda has (316bhp), just how quick it is and, most important of all, how damn good it is to drive.
In days gone by Civic Type Rs were quick, yes, but also they were too stiff, too uncompromising in their everyday demeanour and therefore limited in their appeal to a fairly small audience. 
The latest hot Honda is more capable than ever dynamically, but is also civilised and usable. Genuinely. Apart from the fact that it has only two rear seats rather than three, it's as practical as any other Honda Civic. Which means very. 
Yet on the right road it could also slay most supercars, while that grunty, characterful engine is linked to one of the best manual gearboxes ever. Hence the reason it has been our outright favourite hot hatch for the past two years. 
2. Ford Fiesta ST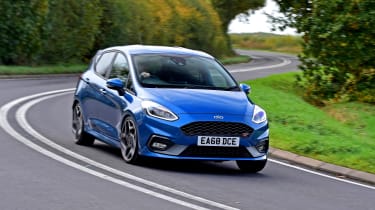 Early versions of the previous Fiesta ST were great little cars to drive when you were in the mood for it, but a bit of a pain in the you-know-what when you weren't. Yet the latest ST, with its Ford Performance-tuned suspension and a surprisingly powerful but also economical 1.5-litre three-cylinder turbocharged petrol engine, is a more sophisticated animal than its predecessor. 
But it is still quite some animal, with a 0-62mph time of 6.5 seconds and a three-stage drive mode programme but also claimed fuel economy of 47mpg, thanks in part to a world first: cylinder deactivation on a triple.
It's the chassis that truly defines the Fiesta ST as something just a little bit special, though. The steering is electrically assisted but has major amounts of feel, plus Ford has managed to engineer in proper old-school lift-off oversteer but without the fear factor of a Peugeot 205, so it's playful, but not petrifying to push hard. It's firm but rides relatively well, has a great amount of standard equipment in all its various forms and comes with a five-door bodyshell for an extra hit of practicality. 
The latest Fiesta ST is a modern but also great hot hatchback, and its affordability puts this incredible package into focus.
3. Ford Focus ST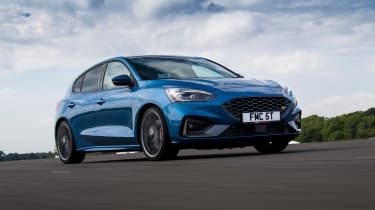 Not so long ago the idea of a front-wheel- drive hot hatch with 276bhp and, more to the point, 420Nm of torque was seriously radical, if not completely mad. 
Ford in fact tried it with the second-generation Focus RS, which was greeted with a mixed reception due to its somewhat wild personality – and a ferocious appetite for front tyres. But these are pretty much the exact same numbers generated by this current Focus ST, and yet it manages to produce them – and use them – with near-perfect decorum. 
Yes, the latest Focus ST is very quick, but despite its attitude, the sophisticated tuned suspension, and the superbly quick steering that (combined with the chassis) gives the car its trademark agility, it's also well mannered, which makes it easy-peasy to live with every day as a result. So don't think that because it has a 0-62mph time of 5.7 seconds and a top speed of 155mph that the latest ST is any sort of a madman. In reality it's quite the opposite and – freakishly brilliant Civic Type R aside – it's probably the best hot hatch you can buy right now for around £30,000. 
There are clever adaptive dampers available, a fruity exhaust that enhances the 2.3-litre EcoBoost motor's sound signature, an electronically controlled limited-slip differential and even features such as flat shifting and launch control, depending on what options you spec.
More to the point, it's also available as an estate if you need the extra practicality a fast wagon offers – and there's nothing cooler than a performance estate.
4. Renault Megane RS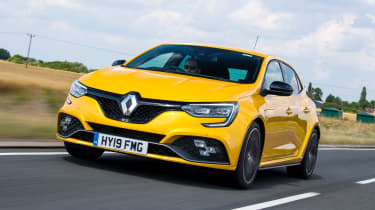 The Mégane R.S. comes in various different forms, and at various different price points. If you get seriously carried away, you could spend more than £70,000 on the 300 Trophy R version, having also specified the optional lightweight carbon-fibre wheels and carbon- ceramic brake discs that were fitted to the car that holds the front-wheel-drive production car lap record at the Nürburgring circuit. 
Porsche 718 Cayman GT4 vs Renault Megane R.S. Trophy-R
But we reckon the sweetest version overall is the basic model, which still comes with a 276bhp 1.8-litre turbocharged engine but a price tag the right side of £30,000. There is one caveat, though: go for the optional Cup Chassis Pack that the non-R Trophy model gets as standard. It brings a limited-slip differential for improved traction and more focused, clever suspension. The chassis has four-wheel steering and highly entertaining handling. True, the interior isn't perhaps the most exotic of hot hatchback cabins, but the steering feel is good and there's a lot of grip. 
Although the Renault's basic performance lags slightly behind some of its rivals', the focus here is on the chassis ability, so as an overall package the R.S. still has bags of appeal, even if it isn't quite as near the cutting edge in this class as it once was.
5. Hyundai i30N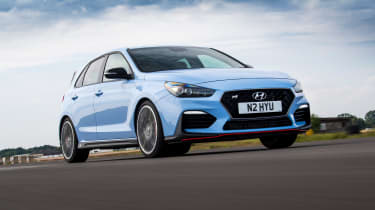 Five years ago the idea of Hyundai producing a front-line hot hatchback seemed laughable. But then the South Korean manufacturer hired the man who used to run BMW's M Division, Albert Biermann, and since then Hyundai's N brand has taken off and will continue to head for the stars, you suspect. 
The current hero is the i30 N, and some hero it is, too. With a 271bhp 2.0-litre petrol engine (only a very small proportion of customers opted for the less powerful,
non-Performance Pack model, according to Hyundai, so the brand no longer offers it in the UK), the i30 N has enough straight-line performance to mix it with all but the most hardcore hot hatches. 
But it's the steering, chassis, brakes and interior spec that set the i30 N aside; in all these respects it's right up there with the very best. And for less than £30,000, it's also exceptionally well specified inside, making it great value for money. It features myriad customisable settings accessible through its eight-inch touchscreen, including an electronically adjustable limited-slip diff, adaptive dampers like the Civic Type R, a switchable exhaust and even rev matching for the six-speed manual gearbox. 
Out of nowhere, Hyundai has produced one of the great hot hatches of our time with the i30 N, and this is just the beginning.
6. Mercedes-AMG A 35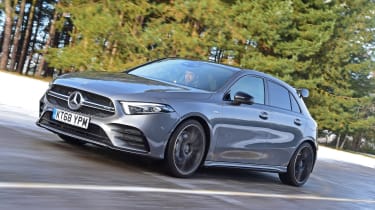 Don't think of the Mercedes-AMG A 35 as anything other than a rather serious – and extremely potent – hot hatchback. 
Yes, it has a big (and very expensive) brother called the A 45 AMG, but the A 35 still produces more than 300bhp from its 2.0-litre turbocharged four-cylinder engine, offers a seven-speed dual-clutch automatic gearbox with four-wheel drive, and still serves up performance to slay all but hyper-hatches like its A 45 sibling. Plus
it's priced from £38,360 rather than well over £50,000 for the A45 S.
It also looks great, with a simple-but-muscular approach to its styling that separates it from most other hot hatches at this price level. No, the chassis isn't the most tactile in this class but it has huge composure, very strong straight-line performance thanks to 4MATIC four-wheel- drive traction, and the cabin, if anything, feels even more expensive than the price tag suggests. This makes it an enjoyable performance car you can use all year round, day in, day out, and the A-Class's interior has a big bearing upon this level of usability, because it packs the level of equipment and the finish you'd expect from a near-£40,000 Mercedes hot hatchback.
There are lots of tech and premium-feeling materials that make it very appealing, even if it's not perhaps the most exciting of hot hatches in our top 10. Yet in real-world terms it is one of the best all-rounders.
7. BMW M135i xDrive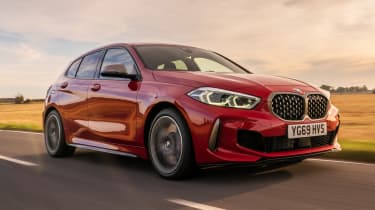 The new BMW 1 Series is front-wheel drive, but if the idea of a hot hatchback from the German brand sending 302bhp to its front axle fills you with anxiety, then fear not, because the M135i xDrive is, as its name subtly suggests, four-wheel drive only.
This means that, like a few other cars in this list, it has superb traction, so serving up this power, and the not-so-small matter of 450Nm of torque that its 2.0-litre turbo engine generates, is just fine. This is enough to send the latest M135i to 62mph from rest in just 4.8 seconds with the help of launch control, then on to a top speed of 155mph. But the more interesting side of the all-wheel-drive M135i is, of course, its chassis. 
It's good, it's composed, it works well, it's fine, but rarely does it ever seriously entertain like the best cars in this class. Whether this actually matters or not is a question that will be argued about for quite some while, but you can't argue with the BMW's basic composure, its speed – or its much-improved packaging – all of which are big steps forward.
The truth is, the purists might not fully approve of the new M135i xDrive, but it's a better car than of old. Even if it doesn't have the appeal of its predecessor's six-cylinder, rear-wheel drive powertrain.
8. MINI Cooper S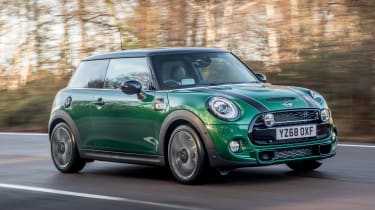 It's fair to say that the MINI Cooper S is probably not the most thrilling of the hot hatchbacks in our top 10. But since its launch at the beginning of this century it
has certainly been one of the more enduring hot hatches, and its interior remains an extremely fun place in which to find yourself. 
In this latest third-generation S, the performance is strong, if not titanic. Power from the 2.0-litre turbocharged engine is acceptable but not groundbreaking, with 189bhp available. This is enough to send the Cooper S from 0-62mph in 6.7 seconds. The front-wheel-drive chassis and steering remain good fun, with typical MINI eagerness and adjustability, and there is now a choice of six-speed manual or seven-speed dual-clutch automatic gearboxes.
New MINI John Cooper Works GP 2020 review
There are also various different drive modes to choose from to make the Cooper S that much more engaging behind the wheel, or civilised, depending what kind of road you are driving on, or what mood you're in.
While the Cooper S has always been a solid hot hatch – and still is – this version of the MINI could do with a bit more spice to match the very best of the rest in this list.
However, it offers a decidedly different character, plus has that stylish MINI image that we've come to know and love since the brand re-emerged under BMW ownership.
9. Volkswagen up! GTI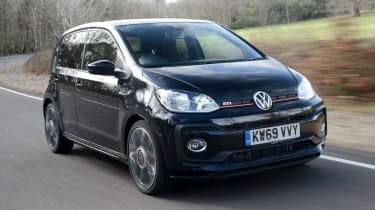 The Volkswagen up! GTI is a hot hatch that does things a little differently; it could well be closer to the very top of our list, but for a few crucial considerations. 
Despite its 1.0-litre turbocharged three-cylinder engine only having 113bhp, it's an absolute scream to drive, with agile but not computer-controlled handling thanks to its low kerbweight and compact footprint, and an engine that sounds a little like a Porsche 911's. 
Our only problems with the up! GTI are that its steering lacks a bit of genuine feel, you can't switch its ESP system off, and the regular up! is not a lot less fun.
Overall, though, this GTI is a car that make you smile when you drive it, which is the key benchmark for any hot hatch.
10. Suzuki Swift Sport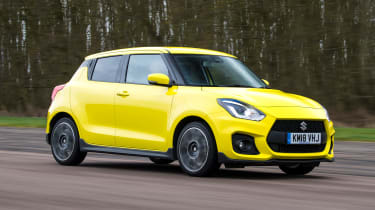 The Suzuki Swift Sport has always been one of those rare hot hatchbacks that delivers more than the sum of its parts. You look at the spec sheet, see that it has a 1.4-litre turbo engine and think, "Sounds OK, but I'm not exactly salivating." Then you drive it and taste this little car's ability.
True, this turbo model is more mature than previous generations, but it still has some qualities every good hot hatch should possess. 
Firstly, it weighs less than a tonne, which is rare for any new car nowadays. Secondly, its steering, chassis and handling are good, if not great. Thirdly, its interior, although quite basic, contains everything you need and absolutely nothing you don't. 
As a result, it feels entertaining enough, while at the same time being fairly practical to live with – and with that in mind, there's an updated 48-volt mild-hybrid version on the way that should offer improved efficiency with basically no penalty when it comes to performance. You'll still be able to pick up a new version of the soon-to-be-replaced car, but expect a small price increase for the MHEV model.
What is a hot hatchback?
Over the past 40-years, manufacturers have perfected the hot hatch formula, but the forefathers from the 80s remain hugely popular. Many will say that the best of them all is the Volkswagen Golf GTI, which intoxicated drivers with its small body yet big engine. The original Golf GTI was an after-hours project undertaken by some of Volkswagen's engineers and was initially only sold in Germany. But word soon spread about the brilliant little car and the likes of the Peugeot 205 GTI, Renault 5 GT Turbo and Vauxhall Astra GTE soon followed in its tread marks.
It wasn't just your everyday motorist that fell for the wily charm of the hot hatch either, thieves and joyriders loved them, pushing insurance costs through the roof and temporarily slowing sales in the 90s.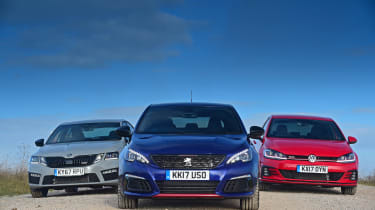 Today the hot hatch is back to full power, and they come in a variety of guises from a number of manufacturers. Most are still front-wheel drive, although 4WD is gaining traction, and BMW still goes its own way with rear-wheel drive. Most models get a four-cylinder turbocharged engine, and a lot of those are 2.0-litres. But again, there are variations, with smaller 1.6-litre units delivering just as much performance. Most come as three or five-door hatchbacks, but there are estates, compact saloons and convertibles too.
The latest breed of hot hatches use all sorts of mechanical and electronic trickery to deliver the sharpest performance ever seen from the class. Performance levels have reached new heights as a result, and so have prices, with models like the Audi RS3 Sportback and Mercedes-AMG A45 pushing £50,000. But performance is just one aspect of a hot hatch, because the best models deliver the kind of everyday usability that means a hot hatch should be the only car you'll ever need. The most extreme models have stiff suspension and a rock-hard ride that picks up every bump in the road, but those models fitted with adaptive dampers – either as standard or an option – offer the best compromise between comfort and handling.
Boot and passenger space are also big selling points, and while the original hot hatchbacks were generally three-door cars, the latest breed come with three or five-doors, and there are even fast estate variants of cars such as the SEAT Leon Cupra and VW Golf R. 
Read more of our best car recommendations… 
| | |
| --- | --- |
| Best hot hatchbacks | Best performance cars |
| best sports cars | Best track day cars |
| Best fast family cars | Best cheap fast cars |
| Best supercars | Best hypercars |
| Best convertible cars | Best muscle cars |
| Best car leasing deals | Fastest road cars |
| Best residual value cars | Best car deals |
| Most expensive cars sold at auction | New Car Awards |
| Best used cars | Best lottery winner cars |
Source: Read Full Article