A comprehensive set of screwdrivers will cover most fasteners on your motor, we pick out the best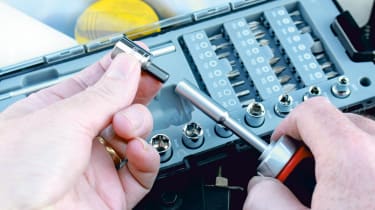 You need deep pockets and substantial storage if you plan to buy a separate tool for every fastener on your car. While ratchet socket sets are a cost-effective way to cover nuts and bolts, multi-bit screwdrivers are the best way to deal with cross and flat head fasteners. 
While screwdriver sets have their place for common sizes, particularly in the home, the automotive range of types and sizes make a driver and multiple bits the best to cover them all.
They save space and money, usually feature spares for common, often-damaged sizes, plus they include quarter-inch drive sockets for small sizes that aren't covered by bigger ratchet sets. They can also be used by a cordless drill to speed up jobs. 
So which will turn heads and which slip out of sight? Our test separates the best from the rest.
How we tested them
We looked for good bit coverage and the key car work types – slotted, crosshead (Phillips), hex (Allen) and star (Torx). Pozidrivs are useful, but not often found on cars. A case is always useful to keep everything in one place and we liked the bits to be marked both on the case and on the bodies. 
We expected a driver to be comfortable, especially when applying lots of torque. A ratchet makes life easier; the more teeth the better for accurate positioning. All these factors were balanced against prices from online sources.
Verdict
The much cheaper Halfords set eclipses the still impressive Sealey, while the Draper 31150 set makes an impressive return. 
Halfords Ratchet Screwdriver and Bit Set
Sealey 38 pc Fine Tooth Ratchet Screwdriver & Accessory Set AK64905
Draper Ratcheting Screwdriver, Socket And Bit Set 31150
Reviews
Halfords Ratchet Screwdriver and Bit Set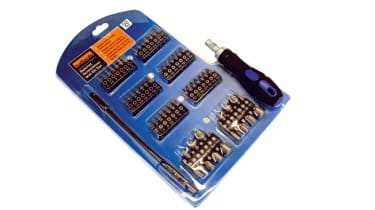 Price: £12.50  
Total bits/sockets: 42/14
Rating: 5 stars
Contact: www.halfords.com
This Halfords stalwart has trimmed £7.50 off its price when compared with our last test, and that has pushed it back to the top of the pile. 
We liked the comfortable, dual-compound driver, although with just 20 teeth it lacked fine adjustment. As well as a useful flexible extension, it included 14 hex-drive sockets, split evenly between metric and Imperial, despite the latter being rarely used nowadays. There were 42 bits housed in six plastic holders, although 13 were duplicates of those most commonly used types.
Buy now from Halfords
Sealey 38 pc Fine Tooth Ratchet Screwdriver & Accessory Set AK64905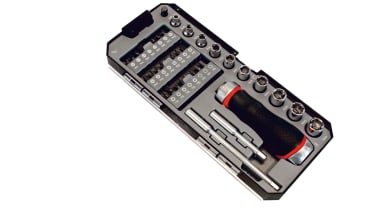 Price: £21.12 
Total bits/sockets: 24/10  
Rating: 4.5 stars
Contact: www.sealey.co.uk
Sealey's set remains one of our favourites, although it couldn't compete with the Halfords' price drop.  Overall, there were fewer bits, although the difference shrank when duplicates were discounted. 
We really liked the 120mm driver itself, with its fine 38-tooth mechanism and natty extendable top capable of storing six bits. To add to its versatility, 75mm and 130mm extensions were included in the sturdy, well laid-out case. We liked that the bits were marked on the holders and the inclusion of 10 quarter-inch-drive sockets spanning sizes from 5-13mm.
Buy now from Amazon
Draper Ratcheting Screwdriver, Socket And Bit Set 31150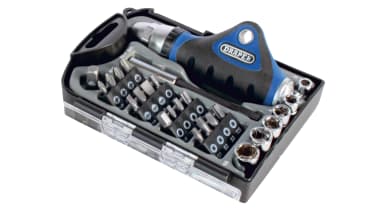 Price: £18.89  
Total bits/sockets: 16/6  
Rating: 4 stars
Contact: www.drapertools.com
The Draper's USP was the driver's eccentric handle design which, despite its appearance, worked well in providing extra torque –Draper says up to 25 per cent – where necessary. 
In addition, the hex hole enabled the 90mm extension to be used for really tough fasteners. When inserted into the driver, it gave a useful 190mm length.  There were no Pozi bits, but the selection of slotted, cross, Torx and hex items was good, plus there were six sockets ranging from 5-10mm. Nice quality for a good price – and we really liked that cool driver. 
Buy now from Amazon
Silverline Ratchet Screwdriver Bit & Socket Set 427611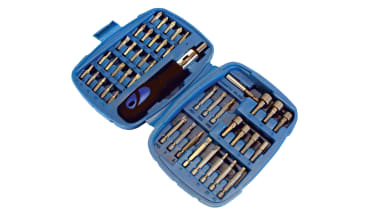 Price: £9.54  
Total bits/sockets: 47/7  
Rating: 3.5 stars
Contact: www.silverlinetools.com
When it came to value, this Silverline set still had lots on offer. It boasted a total of 47 bits covering all types apart from hex, and also included seven sockets from 5mm to 11mm. 
Uniquely here, 11 of the bits were 50mm long as opposed to the standard 25mm. The ratchet driver was very old school, with a shaft-mounted slider to select direction change and a mere 10 teeth giving a clunky mechanism. The case was a tad low rent, but did the job and although the bit positions were labelled, the layout was a touch illogical. 
Buy now from Amazon
Sealey 24pc Fine Tooth Stubby Ratchet Screwdriver Socket & Bit Set AK64906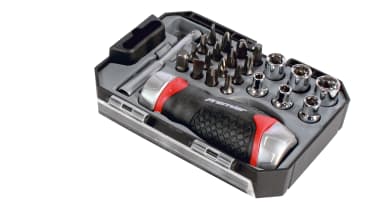 Price: £13.90  
Total bits/sockets: 16/6  
Rating: 3.5 stars
Contact: www.sealey co.uk
This set looks like a shrunken version of Sealey's AK64905, and like its bigger brother, it also came with a lifetime warranty. 
The 16-bit line-up had something of everything except hex, and came in neatly marked holders. The 90mm stubby handle could be used alone, although only if there was plenty of room around the fastener. Fitting the extension increased the overall length to a more useful 160mm. Again, it repeated the trick of having a pull-out cap for three bit storage. A well made set for general use.
Buy now from Amazon
Draper Metric Socket and Bit Set 16370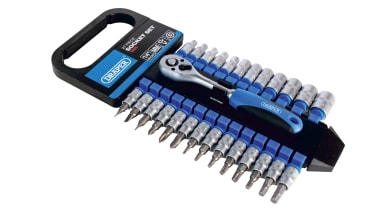 Price: £18.22  
Total bits/sockets: 14/14  
Rating: 3.5 stars
Contact: www.drapertools.com
This Draper collection turns the tables, being a socket-based set that also has driver bits. Based around a super-smooth 72-tooth 150mm ratchet, all the accessories were standard quarter-inch drive. 
Both ratchet and bits slotted neatly onto a plastic carrier, which could be hung or transported to the workpiece. It included 12 sockets, from 4mm to 13mm, and 14 screwdriver bits providing a good selection of our main four types, but not Pozi or square. Well worth considering if you're in the market for a small-drive socket set and want to hedge your bets.
Buy now from Amazon
Silverline Precision Screwdriver Bit Set 31pce 633956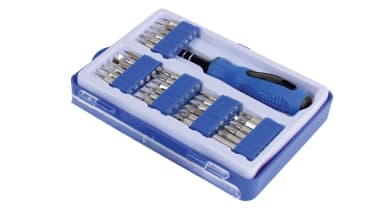 Price: £7.45  
Total bits/sockets: 30/0  
Rating: 3 stars
Contact: www.silverlinetools.com
The name says it all – this set is aimed at those requiring smaller-than-usual bits. The selection was impressive and included all types bar square section. 
The bits were housed in six holders, which irritatingly, weren't marked, a hassle when they're so small and hard to get hold of. The driver was comfortable and grippy, but it would have been better to have a ratchet when dealing with everything on a smaller scale. 
Not so much designed for general use, but for working on interiors or maybe electronic fasteners it's absolutely essential.
Buy now from Amazon
Stanley 0-66-357 Screwdriver with 6 Bits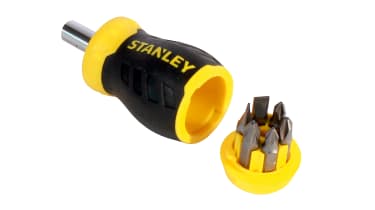 Price: £7.37  
Total bits/sockets: 6/0  
Rating: 2 stars
Contact: www.amazon.co.uk
The second of our two drivers without a ratchet mechanism, this Stanley couldn't be much simpler. The driver itself was well made as we'd expect from the company, and being a stubby it was the shortest here at 85mm. It had no case and no separate bit storage, rather its limited selection of six bits, split equally across slotted, crosshead and Pozi, fitted into a carousel beneath the removable driver top. 
Undoubtedly handy and possibly best thought of as a glovebox tool, it was a bit pricey when compared with many of the sets here. 
Buy now from Amazon
Source: Read Full Article