Which storage solution best organises tools of all shapes and sizes?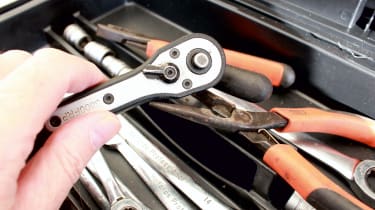 A wide selection of tools is essential for competent DIY, but only if they are in good nick and you know where they all are. 
A good toolbox will take care of that, and modern plastic (typically polypropylene) is arguably the best choice of material. It's lighter than steel, but often just as strong. There are also no sharp edges to damage the user or vehicle, and they don't rust. 
Best screwdriver sets 2021
So which is the best one to pack your tools into? We tried eight covering a range of styles and sizes to find out. 
How we tested them
We assembled a kit of hand tools, including sets of pliers, screwdrivers and spanners, plus a ratchet and a collection of loose sockets. 
Starting with the most important aspect of any toolbox – practicality – we checked how well that kit would fit into the tote tray, then tried some larger items (such as a torque wrench, hammer, hacksaw, adjustable wrench and WD-40 can) in the space below. 
We wanted to keep the tools separate, and looked for organisers for small items like fuses and dividers, as well as assessing the weight, build quality, size and cost per litre. Prices were the best from online sources.
Verdict
Versatile, practical and great value, the VonHaus really does do it all and remains in the top position. The spacious Stanley 24in is a great choice for a more conventional box, with the seriously substantial Draper 53887 being the heavy-duty option. 
VonHaus Roller Tool Box
Stanley 24in Toolbox
Draper Large Tool Box With Tote Tray 53887
Reviews
VonHaus Roller Tool Box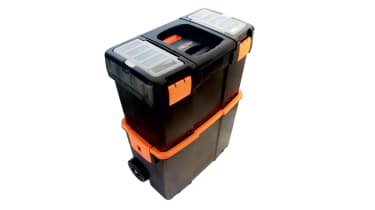 Price: £27.99
Contact: 0161 833 5442, www.vonhaus.com
Size (mm): 455 x 260 x 295 & 463 x 260 x 340
Rating: 5/5
BEST BUY Our current champion quite literally stacks up well against the opposition, because it's two boxes that slot together. Once they're connected, they can be wheeled around or, when required, divided in seconds. 
The top box is conventional, a good size and with a useful tote that took all our tools. Under this, our larger items fitted with plenty of room to spare. The lower box had no tote and is ideal for much larger items such as power tools. Having two boxes means around 75 litres of storage space for a really keen price, which adds up to another win. 
Buy now from Amazon
Stanley 24in Toolbox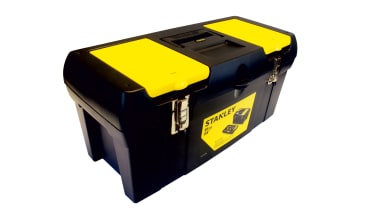 Price: £25
Contact: 0845 057 9000, www.halfords.com
Size (mm): 290 x 610 x 270
Rating: 4.5/5
RECOMMENDED The 24-inch box remains an impressive offering and, thanks to a rise in price for the Curver (below), steps up a spot in the ratings. It's well built and offers around 50 litres of space plus a 50mm- deep tote tray that easily took our smaller hand tools. 
We liked the lid, which locked in an upright position to prevent tipping, and the twin, three-compartment organisers were useful, albeit not removable. Finished in Stanley's trademark yellow and black livery, it closed using a pair of strong, steel latches, and at 610mm long, it had no trouble taking the larger items. 
Buy now from Amazon
Draper Large Tool Box with Tote Tray 53887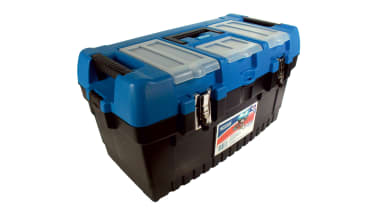 Price: £28.79
Contact: 023 8049 4333, www.drapertools.com
Size (mm): 564 x 310 x 310
Rating: 4.5/5
RECOMMENDED RIGHT from the off, it was clear this Draper was a rufty-tufty box designed to tackle some serious hard work. As well as the usual central folding handle, there was a fixed, solid handle at each end of the lid. And in addition to the twin metal latches on the front, there was a plastic one at either side. 
The lid featured three non-removable accessory boxes – two large, one small – but only one compartment in each. Overall, it coped with all our tools, the tote having a gully ideal for loose sockets, and its size easily accommodating the larger tools. 
Buy now from Amazon
Curver Large Toolbox 157705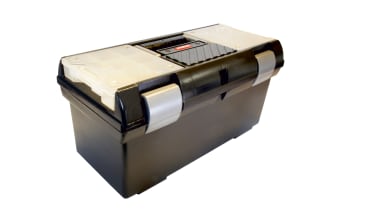 Price: £24.99 
Contact: www.amazon.co.uk
Size (mm): 510 x 260 x 250
Rating: 4/5
A former winner, this Curver is still a great box with much to commend it. At around 33 litres, it was pretty much an ideal balance of size and practicality, and its tote featured the gully for sockets, as well as lots of space for the hand tools. 
Underneath, the larger tools fitted easily. Undoubtedly, those twin organisers (which are removable but can be locked in place) are a great feature, especially given that they were divided into eight and five compartments respectively. It's fallen down the order thanks to a £5 price rise, but should still stay on your radar.
Buy now from Amazon
Sealey Toolbox with Tote Tray AP535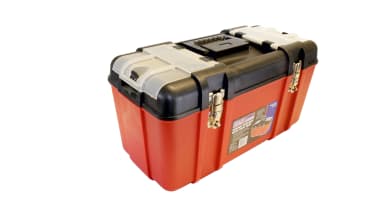 Price: £28.74 
Size (mm): 500 x 250 x 250
Contact: 01284 757500, www.sealey.co.uk
Rating: 3.5/5
This Sealey was neatly styled, colourful and matched rivals with 31 litres of storage space. We got all the hand tools in the tote, but it was a bit messy, with just one divider. However, this was balanced by the twin organisers fitted with see-through lids and boasting five compartments. 
The chromed metal latches could be padlocked individually for extra security. This box sits in the middle ground, large enough for most tools but not cumbersome, and a few pounds off the price could have raised it a place or two.
Buy now from Amazon
Facom Tool Box BP.C19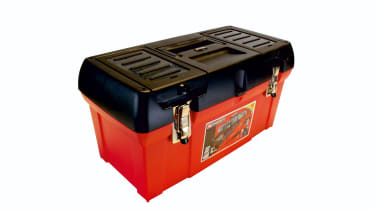 Price: £20.95
Contact: 01142 917266, www.facom.com
Size (mm): 490 x 260 x 250
Rating: 3/5
The red lower half of this box brightened up this conventional design. The top included twin organisers, both of which had a useful single divider. Less good were the lid catches, which felt a bit flimsy. The twin main latches are relatively strong, and the 50mm-deep tote was really useful for accommodating all the smaller tools. 
Its design, which tapered slightly, meant the torque wrench had to go in sideways to fit. Other than that, we managed to get our larger tools in okay. A half-decent box, but up against strong competition.
Buy now from Amazon
Silverline Toolbox 533427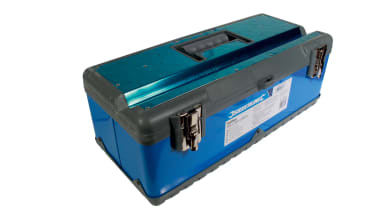 Price: £29.75
Contact: 01935 382222, www.silverlinetools.com
Size (mm): 580 x 280 x 220
Rating: 3/5
Silverline is nothing if not confident in its products because this box is guaranteed forever. Constructed from steel and impact-resistant polypropylene, it felt strong enough to cope with most things, particularly with the double-skinned, rounded base. We also liked the twin metal catches and the stylish chequer-plate steel on the lid. 
Less hot was the total lack of organisers. The tote was usefully large, with areas for sockets, and at 580mm long, there was no shortage of space beneath. But for a box with no organisers it was a bit pricey. 
Buy now from Amazon
Stanley One Touch Tool Box 1-79-216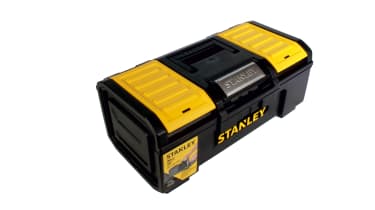 Price: £17.23 
Contact: www.amazon.co.uk
Size (mm): 394 x 220 x 162 
Rating: 2/5
The name of this Stanley model gives the game away – it can be opened one-handed by easing up the single front latch. A neat touch, but hardly essential. 
Its 14-litre capacity ensured it was the smallest we tried and, unsurprisingly, it couldn't handle any of the larger kit. In fact, using the tote and the box itself, we only managed to get the hand tools and aerosol in. A natty little box, useful maybe for emergency kit, but realistically quite limited and, at £1.23 per litre, it was easily the most expensive here. 
Buy now from Amazon
Source: Read Full Article