There's more to towing than just hitching up a caravan. Check out these tow car stars
to pick what's right for you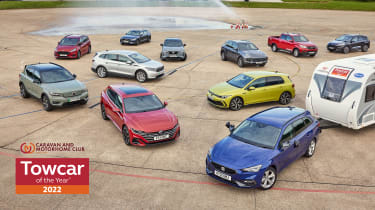 Convenient, affordable and fun; it's no surprise caravan holidays are booming. Hitching a mobile holiday home to the family car and heading for wherever you fancy is a reality for more people in the UK than ever. But in a rapidly changing motoring landscape – Estate? SUV? Petrol? Diesel? Hybrid? Electric? – which are the best models for the job?
This question is a hot topic for the Caravan and Motorhome Club, which holds an annual test to uncover the best towing options. The cars are put through their paces to assess handling, acceleration and braking on the rolling hills of the Millbrook Proving Ground in Bedfordshire.
Best caravans 2022
First, though, give some thought to what you will be towing. Matching a car with a caravan is crucial to ensure they are compatible – for safety and also to stay on the right side of the law. You may be able to haul a one-tonne caravan with a two-tonne car, but not the other way round.
All cars have a legal maximum weight for towing a braked trailer, such as a caravan, so that's the first figure to look at. And check your car's kerbweight; a caravan that keeps to within 85 per cent of it is best for easy and safe towing.
Consider your chosen caravan's recommended noseweight, making sure it doesn't exceed the maximum figure your car's towbar will allow. To ensure the best stability, the noseweight must be checked every time you load up for a trip, to make sure it's within the correct parameters.
Finally, establish what the gross train weight (GTW) will be for a loaded car and caravan combined – and double check that your licence allows you to drive it. There were changes to the licence classes that were introduced last year.
Seat Leon Estate FR 1.5 TSI 150PS DSG
Overall Towcar of the Year 2022 & Class winner: Caravan Weight 1,100-1,200kg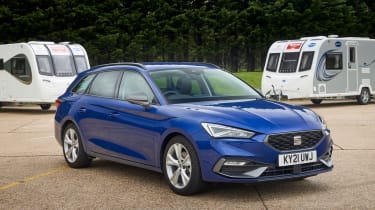 Kerbweight: 1,410kg
Gross vehicle: 2,000kg
Noseweight: 80kg
Towing capacity (braked): 1,700kg
Price: from £29,575
Even in practical estate form, the Leon retains plenty of its handling sharpness, lots of style and a fairly cavernous boot to make this the C-segment estate to beat. The Caravan and Motorhome Club judges found the car offered sprightly performance, and we agree: its 1.5-litre TSI petrol engine produces a solid 249Nm of torque from as low as 1,500rpm to deliver convincing all-round performance via the smooth-shifting seven-speed DSG automatic gearbox.
Its 620-litre boot is very impressive for a mid-sized car, thanks in part to a longer wheelbase than its predecessor and improved packaging. The sporty FR looks great, but its slightly firmer suspension makes it a case of try before you buy.
The tech is great, apart from the tricky touch-sensitive heater controls. Customisable digital dials, Apple CarPlay and Android Auto are standard on the FR. As the judges said when crowning it the 2022 Towcar of the Year, the Leon makes for a great all-round family estate.
Volvo V60 Recharge plug-in hybrid T6 AWD
Class winner: Plug-in Hybrid Vehicles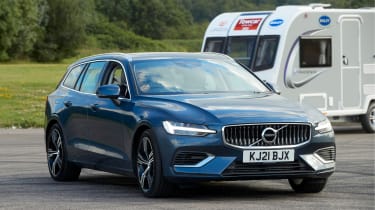 Kerbweight: 2,075kg
Gross vehicle: 2,550kg
Noseweight: 100kg
Towing capacity (braked): 2,000kg
Price: from £48,390
The V60 has the attributes of the time-honoured Volvo estate, only here it's paired with a plug-in hybrid drivetrain that offers a claimed 54 miles of electric-only running. The spaciousness is expected, although there's perhaps even more room in the back than you might think, plus the V60's large boot is unaffected by the addition of the hybrid system's battery.
And it's that power pack that delivers the claimed electric-only range, although it's closer to 25-27 miles in our experience, and will be less still when towing. It takes 2.5 hours to charge using a 3.4kW wallbox (it won't charge any faster than that), or six hours from a domestic three-pin plug.
All V60 models offer a luxurious feel, and none are left wanting when it comes to tech; automatic LED headlights, two-zone climate control and a large and intuitive nine-inch touchscreen infotainment screen are among the many highlights. Combine that with a light and airy cabin, and the V60 cements its place among the premium cars. It's more comfort than sports orientated, but the V60 is still a winner, and Volvo has long been the hero of the caravan park.
Skoda Enyaq iV 80 Lounge 82kWh 204PS DSG
Class winner: Caravan Weight Under 1,100kg
Class winner: Electric Vehicles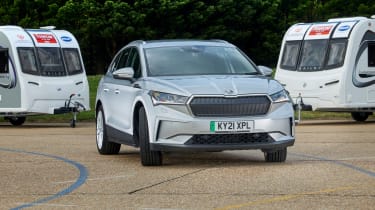 Kerbweight: 2,090kg
Gross vehicle: 2,612kg
Noseweight: 75kg
Towing capacity (braked): 750kg
Price: from £41,240
Skoda's Enyaq iV is unquestionably one of the best cars we've tried so far on the Volkswagen Group's all-electric MEB platform. And it's all the more impressive given that it's the Czech firm's first bespoke electric car.
It offers all the space and usable practicality we've come to expect from the brand, but ramps up Skoda's trademark refinement with its electric drivetrain and supple ride. The second of the three available models, the 80, makes the best choice for towing, not least because it promises a 336-mile range, although you can expect that to be significantly less with a 1,000kg caravan on the back.
But when the time comes to charge, the Enyaq accepts up to 135kW, meaning topping up from 10 to 80 per cent takes a little over half an hour. A full charge from empty to full takes nearly 13 hours from a home wallbox. Tech is strong across the range, with a widescreen infotainment display and digital dials the stars, while mid-range Lounge spec offers some very premium-feeling leather trim. If you want more, then there's a wide range of equipment packs available.
SsangYong Musso Rhino LWB auto
Class winner: Pick-ups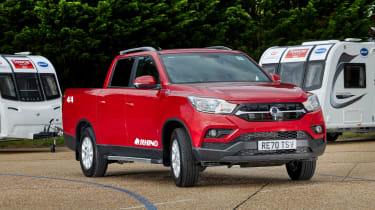 Kerbweight: 2,660kg
Gross vehicle: 3,400kg
Noseweight: 140kg
Towing capacity (braked): 3,500kg
Price: £37,728
What we say: When it comes to towing, there are few models more muscular than a pick-up, a class of vehicle that's designed to haul loads with ease. Indeed, with a full load on the back, the choppy ride that pick-up drivers frequently encounter when the truck is unladen is smoothed out.
The Musso's one-tonne payload and 3.5-tonne towing capacity, coupled with 420Nm of torque, means towing really is the Korean pick-up's forte, even if it's rather old-school in a few areas. Six-speed manual and automatic gearboxes are offered, and all models have selectable low-range ratios for when you need additional control, such as hauling a caravan across a muddy field.
In flagship Rhino form, the Musso has space (including what is said to be the longest load bed on the market) and a smattering of luxury, with an attractive cabin featuring a 9.2-inch touchscreen, Apple CarPlay and Android Auto, automatic climate control, auto headlights and wipers and electrically operated, heated and ventilated Nappa leather seats. And being a commercial vehicle, the Musso will be a bit of a tax bargain as a company-car purchase.
Volkswagen Golf R-Line 2.0 TDI 150PS DSG
Class winner: Caravan Weight 1,200-1,300kg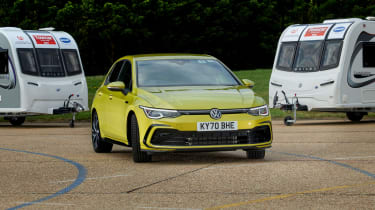 Kerbweight: 1,459kg
Gross vehicle: 1,960kg
Noseweight: 80kg
Towing capacity (braked): 1,600kg
Price: £30,315
It's true: you do know where you are with this motoring icon. The archetypal hatchback has reigned supreme over eight generations, combining classy looks and practicality, while also being good to drive and offering a comfortable and pleasant place to be, even if cheaper rivals have caught up with the Volkswagen in lots of ways.
Exhibit A is the Golf's technology, with the curious decision to replace physical heater controls with touch-sensitive sliders. When it comes to caravanning, the model of choice is, whisper it, a diesel. That's because torque is key, and it's very hard to argue against 361Nm of the stuff from as low as 1,600rpm when you have a 1,240kg caravan to pull along. Acceleration of 40-60mph in 7.8 seconds when towing is impressive, too.
Volkswagen offers a wide range of trims across the Golf range, but it's the R-Line that's singled out for praise here. It wants for very little, and benefits from some sporty looks and rear privacy glass, which is handy for hiding any additional luggage that you've not managed to squeeze inside the fairly average-sized 381-litre boot.
Nissan Qashqai 1.3 Tekna+ Xtronic
Class winner: Caravan Weight 1,300-1,400kg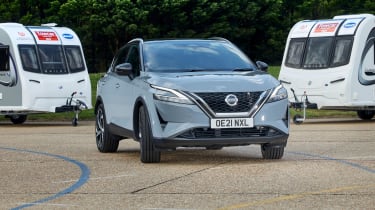 Kerbweight: 1,564kg
Gross vehicle: 1,985kg
Noseweight: 100kg
Towing capacity (braked): 1,800kg
Price: £37,145
That the Qashqai isn't the clear-cut class leader it used to be says more about a proliferation of excellent rivals than any failings on Nissan's part. This is the third-generation Qashqai and it improves on its predecessor with more space, better on-board tech and lots of practical touches.
We particularly like the rear doors that open to 85 degrees, which makes loading kids in child seats so much easier. The reversible boot floor, complete with a wipe-clean surface, makes carrying muddy boots a cinch. And speaking of boots, the Qashqai has 504 litres of space, but N-Connecta, Tekna and Premiere Edition cars see this cut to 479 litres, due to standard-fit luggage boards, which separate the load bay into individual sections.
In its chosen form here, the caravanners' model of choice is powered by a 1.3-litre petrol engine, sending power to the front wheels via an automatic gearbox. The car's chassis is significantly stiffer than before, meaning it has a generally more agile feel, and while top-spec models feature multi-link rear suspension, 1.3-litre models have a torsion-beam set-up. It's not desperately sophisticated, but it is effective when towing.
Volkswagen Arteon Shooting Brake R-Line 2.0 TDI 200PS DSG
Class winner: Caravan Weight 1,400-1,500kg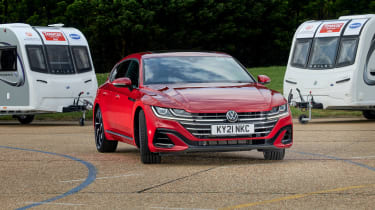 Kerbweight: 1,651kg
Gross vehicle: 2,200kg
Noseweight: 80kg
Towing capacity (braked): 2,200kg
Price: from £43,425
The flagship of Volkswagen's passenger car range is as close as you can get to a luxury car for the masses. It has all the style, technology and features to take on genuinely premium rivals, such as the Audi A5 Sportback or BMW 4 Series Gran Coupé.
The Shooting Brake bodystyle means VW's long-roof model trumps both for all-important boot space. And while it's very subjective, it could be regarded as the most stylish, too, especially in R-Line trim.
More important for caravanners is its towing ability; the TDI engine's 400Nm of torque makes light work of tonne-and-a-half caravans, and it recorded a brisk 6.85-second 40-60mph dash time. Economy is strong, too. With your caravan unhitched, you can expect real-world economy close to 50mpg, which could be enough for some 600-700 miles of range thanks to the car's 66-litre tank.
While it might not thrill behind the wheel, the Arteon is at least well refined, and the interior isn't just stylish for a Volkswagen, it looks great full stop. There's plenty of technology available, including the optional Driver Assist pack, which brings a smart predictive function to the car's cruise control.
Volvo XC40 Recharge pure electric AWD
Class winner: Caravan Weight 1,500-1,700kg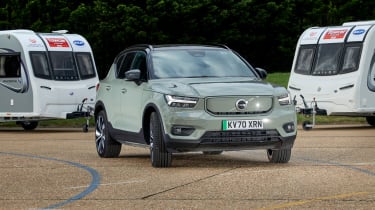 Kerbweight: 2,188kg
Gross vehicle: 2,650kg
Noseweight: 100kg
Towing capacity (braked): 1,800kg
Price: from £54,300
Volvo's XC40 is no stranger to awards; indeed in diesel form it was Towcar of the Year in 2020, and was Auto Express's Small Premium SUV back in 2018. In any form, it's still one of our favourite SUVs: a beautifully engineered creation with excellent performance, decent range, exceptional refinement and few compromises on practicality.
The brand offers two Recharge models: one a plug-in hybrid, the other fully electric. As a twin-motor, all-wheel-drive flagship, the near-£55,000 Recharge pure electric is certainly expensive. But you're not short-changed on power, with 396bhp and 660Nm of torque guaranteeing neck-snapping performance in top-spec models. From 40-60mph with a caravan on the back, it's two seconds quicker than even the Porsche Cayenne.
The single-motor model can cover 261 miles on a charge, just two more than the faster dual-motor version. Thanks to 150kW charging capability, it takes 33 minutes to replenish the battery from 10 to 80 per cent, but you need up to 12 hours to complete a full charge from a 7.4kW home wallbox.
Porsche Cayenne E-Hybrid 8-Speed Tiptronic S
Class winner: Caravan Weight Over 1,700kg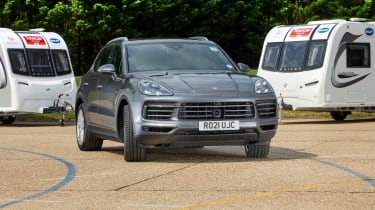 Kerbweight: 2,370kg
Gross vehicle: 3,030kg
Noseweight: 140kg
Towing capacity (braked): 3,500kg
Price: from £72,560
In this E-Hybrid form the Porsche Cayenne doesn't tear up the tarmac like the mighty Turbo flagship: pulling a caravan, its 0-60 is a very un-Porsche-like 10.4 seconds. But then this version is all about a balance of performance and efficiency, and here it excels.
Its CO2 emissions are as low as 71g/km, with claimed economy between 69 and 91mpg. But as ever, that's more about how frequently you're willing and able to plug in to charge as anything else. Do this daily, and Porsche says you'll get between 24 and 27 miles of zero-emissions motoring. That could make the commute very efficient, but is less relevant when towing over long distances.
Still, there's a big fuel tank for a touring range few EVs would get close to. Plus, it's a Cayenne, so it relies on a huge array of sophisticated dynamic systems, while its accomplished handling continues to defy the fact his is a full-size SUV with all the space most people will ever need. It's also one of the few SUVs that is genuinely sporty, yet in E-Hybrid guise, retains that refined edge.
Ford Kuga ST-Line X Edition 2.0 TDCi MHEV
Class winner: Family towcar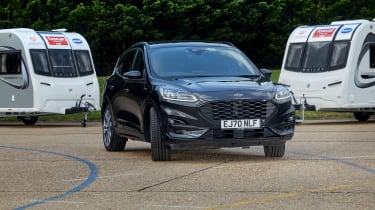 Kerbweight: 1,680kg
Gross vehicle: 2,155kg
Noseweight: 100kg
Towing capacity (braked): 1,900kg
Price: N/A
During nearly 15 years and three generations, the Ford Kuga has morphed from slightly quirky crossover to one of the brand's biggest-selling models. It's really not hard to see why, either.
This family SUV features the superb driving dynamics Ford has long been famed for in a practical and, if you choose the right model, efficient package. The Caravan and Motorhome Club reckons the currently unavailable mild-hybrid diesel powertrain is best, with plenty of all-important mid-range punch when towing. When not laden with a caravan or luggage, Ford says 57.6mpg is possible. New-car buyers only have the choice of a 1.5-litre petrol or a 2.5-litre full or plug-in hybrid at the moment, neither of which quite match the diesel's towing credentials.
The Kuga isn't quite as spacious as the likes of the Toyota RAV4 and Skoda Karoq, but the room that's available will be plenty for most families. Touches like a heated windscreen, front and rear parking sensors and Ford's EasyFuel system, which makes it virtually impossible to misfuel, all come as standard, as does the brand's SYNC 3 infotainment system. This is easy to use and responsive, although Apple CarPlay and Android Auto connectivity is also fitted as standard, bringing live mapping and audio streaming options.
Ford S-Max FHEV ST-Line
Class winner: Large Family Towcar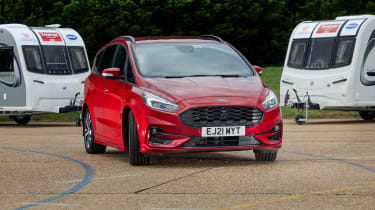 Kerbweight: 1,947kg
Gross vehicle: 2,545kg
Noseweight: 90kg
Towing capacity (braked): 1,750kg
Price: N/A
We have long been fans of the Ford S-Max and can see just what a standout towcar this seven-seat MPV would make. However, right now, there's a significant fly in the ointment: Ford currently says that "due to customer demand and supply chain disruption, new factory orders are currently unavailable".
So, if you want one, and don't want to wait, the used-car forecourts are currently the only option. This is a double shame because the latest S-Max is more rounded than it has ever been. The Ford is more fun to drive than a big seven-seater has any right to be, looks just as un-boxy as ever and most recently has gained a full-hybrid powertrain. And the Caravan and Motorhome Club judges reckon it's the pick of the Large Family Towcar bunch.
Shorn of the need to plug in to achieve the best fuel economy, Ford claims more than 44mpg is possible when not towing. The ST-Line model tested here is arguably the more desirable of the range, too, thanks to some sporty styling augmenting the same brilliant SYNC 3 infotainment system as the Ford Kuga (see above). For caravanners who need the flexibility of extra seats, the S-Max is the standout choice.
These are the best towcars, now click here to find the best caravans…
Source: Read Full Article