Citroen reveals range realignment, online five-year warranties and price cuts from December 1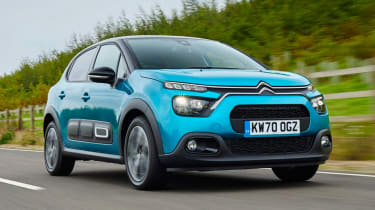 Citroen has shaken up its model range in the UK with price cuts of up to £1,775 across the range, online-only special editions with five-year warranties and new trim levels across the line-up.
Speaking exclusively to Auto Express, Citroen UK managing director Eurig Druce said, "We want to be straight, honest and transparent with our customers in terms of the true value of the vehicles, deliver good strong product propositions and complete transparency in the transaction."
Citroen Ami city car 75% likely to come to the UK says firm's boss
The new naming convention will see entry-level cars renamed Live, while levels two and three will be called Sense and Shine, and also feature plus versions.
Under the new Fair Pricing Policy list price reductions will include up to £700 off a C1 city car, £1,175 off a C3 supermini and £1,775 off the C3 Aircross compact SUV.
Further savings can be made online via the Citroen Online Store, where C-Series versions – similar in spec to Shine models – will be available with further discounts and a five-year warranty as standard. However, Eurig Druce confirmed to Auto Express that showroom customers wanting a C-Series car would still be able to get it through the brand's retailers.
"We claim to be inspired by our customers, inspired by you," Druce told us, "So we've got to live that as a brand.
"If you want to go end-to-end online you can do. If you want to do some of your interaction online and some in the showroom, you can do. But you're in control."
Although Citroen customers who've recently taken delivery of their cars won't get any retrospective price cuts, Druce did promise that anyone with an existing order will have the price adjusted. "Anybody with an existing order, we'll ensure that we talk to them so they can see clearly that the vehicle they're buying is the same price as the new range," he said.
As part of the new strategy, Druce is also promising a shake-up of the dealer network with new dealers appointed and targeting best in class levels of customer satisfaction within the next three years – including an improvement on this year's 18th place in our Driver Power survey. "We set a really ambitious objective in order to make rapid progress," said Druce. "Anything a consumer feeds back on, I'd like to see the indicator improve, including your survey."
Citroen's new pricing strategy comes into effect on December 1 with the new models set for first deliveries in early 2021.
What do you think of Citroen's price cuts? Let us know your thoughts below…
Source: Read Full Article