Citroen has taken inspiration from the Fourgonnette van version of the iconic 2CV to create a retro Berlingo-based model with coachbuilder Caselani.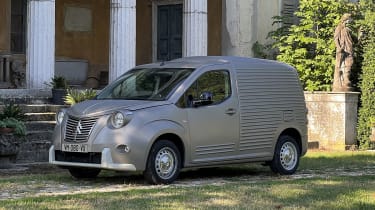 We first saw the 2CV unveiled at the Paris Motor Show in 1948 and it went on to become arguably the most famous car of Citroen's 103-year history. A little less well-known was its commercial vehicle cousin, the 2CV Fourgonnette van that launched in 1951. Now, bringing those unmistakable 2CV design themes into the 21st century is this – the new Berlingo 2CV Fourgonnette.
The new Fourgonnette has been designed and will be built under licence by Italian coachbuilder Caselani. "It was an exciting challenge because the original van had completely different proportions. I focused more on an evocative aspect of the original vehicle rather than straining the individual design elements to make them look like the 2CV Fourgonnette." says Caselani designer David Obendorfer. Order books will open on 1 October with production scheduled to begin in January 2023.
Best small vans to buy 2022
The conversion includes plenty of key 2CV Fourgonnette design traits, although the overall structure of the Berlingo is unchanged. The Fourgonnette is the last of Citroen's new range of Caselani-designed vans, following on from the Type H-styled Citroen Relay from 2017 and the Type HG, which was based on the Spacetourer in 2020.
Starting at the front, the Berlingo's entire nose has been overhauled with a new grille, mimicking the larger one seen on the earlier 2CV. The front bumper and wheel arches have been replaced with a fibreglass material and there's a V-shaped bonnet with strakes running down it. Just like the original, there are round headlights sticking out from the body. Above the front wheel arches there are some fake vents as a nod to the air ventilation on the 2CV.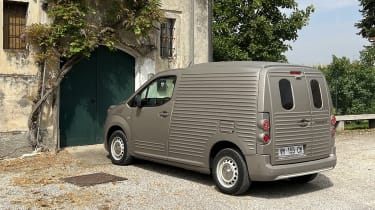 A second skin is applied to the sides, rear doors and the roof, made from fibreglass. The horizontal lines are designed to pay tribute to the corrugated sheeting used on the original 2CV Fourgonnette (which helped with structural rigidity). At the rear there are two rounded windows on the doors and the rear lights have also been rounded-off – just like the 2CVs.
Citroen has stopped short of fitting the Fourgonnette with the two-cylinder engine from the original 2CV, leaving the mechanicals of the Berlingo untouched. While various iterations of the 1.2-litre Puretech petrol engine are expected to be offered, it might even be possible for Caselani to use an all-electric e-Berlingo as a base.
Now check out the best electric vans to buy now…
Source: Read Full Article