Car manufacturers Polestar and Rivian say the industry needs to do more to tackle climate change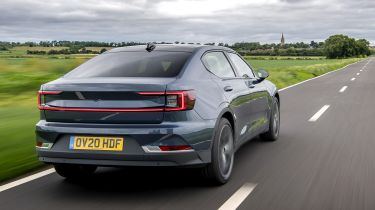 The automotive industry isn't doing enough to cut its global greenhouse gas emissions, according to a report commissioned by two electric vehicle manufacturers.
Polestar and Rivian's 'Pathway' report, put together by global management consultancy firm Kearney, highlights that passenger vehicles account for 15 per cent of the world's greenhouse gas emissions. The Intergovernmental Panel on Climate Change has called for a 43 per cent reduction in emissions by 2030, but the report claims the global automotive industry is not on track to meet this aim.
To address this, the Pathway report sets out three courses of action that Polestar and Rivian believe the industry must take around the world to cut greenhouse gas emissions. Firstly, the manufacturers call for the transition from internal combustion engined vehicles to EVs to be accelerated, with more investment in manufacturing capabilities and firmer deadlines, as well as the installation of public chargepoints in parallel.
The second proposal is for power grids around the world to use more renewable energy, in turn ensuring that electric cars are able to be as eco-friendly as possible by charging using green energy.
Best electric cars to buy 2023
Finally, the report calls for more transparent automotive supply chains and for these to be decarbonised. Low carbon materials should be used in manufacturing, the brands say, and renewable energy solutions invested in for supply chains.
Fredrika Klarén, head of sustainability at Polestar, said: "Car companies may be on different paths when it comes to brand, design, and business strategies, and some won't even admit that the road to the future is electric. I believe it is, and that the climate crisis is a shared responsibility, and we must look beyond tailpipe emissions.
"This report makes clear the importance of acting now and together. There's a clear cost to inaction, but there's also a financial opportunity for innovators who find new answers to the challenges we face."
Anisa Costa, chief sustainability officer at Rivian, added: "The report's findings are sobering. Our hope is that this report lays the groundwork for the automotive industry to collaborate in driving progress at the pace and scale we need – and ideally inspiring other industries to do the same. Together, I'm confident we can win the race against time."
Read more about sustainability in the automotive industry on our hub page…
Source: Read Full Article