Ford has revealed a new, lighter version of its GT supercar, just as the order books open for the next batch of cars.
The GT Carbon Series is the third limited edition GT, following the Competition and the Heritage Edition. To create this car, Ford takes a regular GT and puts it on a bit of an extreme diet. It's not like the GT is especially heavy in the first place, as it's based around a carbon-fiber monocoque, but Ford has found a few places to trim the odd pound.
Top of that list is the wheels. Ford's gone for carbon-fiber items here, saving that all-important unsprung weight. They're screwed into place with titanium wheel nuts.
You'll also find titanium in the new exhaust system. As the GT is mid-engined, this isn't a particularly long exhaust system, but nonetheless it's weight saved. Covering the whole engine bay is a new polycarbonate hatch, with additional venting.
Bare carbon-fiber makes up some of the weight saving, but also gives the GT Carbon a unique look. The dual stripes, A-pillars and lower body panels all feature exposed carbon.
It's a pretty thorough light-weighting scheme, so how much weight does all of this save? 39lb, or roughly the equivalent of a chubby French Bulldog in the passenger seat.
GT Carbon customers can also specify the car with accent colors. There's four available — silver, orange, red and blue — for the mirror caps, center stripes and brake calipers. The car also gets a unique seat pattern with silver stitching, and a special edition badge on the instrument panel.
Unlike the Competition version of the car, the GT Carbon retains the air conditioning and SYNC3 infotainment system, but there's no cupholders.
There's no word on how much all of the extra carbon and titanium adds to the price, but that's almost a moot point. It doesn't matter whether you can afford it, as you have to apply to buy one in the first place. Ford has to select you to buy one, but despite the restrictive ownership conditions you might strike it lucky on the auction circuit.
Nonetheless, if already approved as a GT customer, you can order the GT Carbon Series now. The Multimatic factory in Canada can build around one special model each week along with the four to five regular GTs it makes.
Hermann Salenbauch, global director at Ford Performance, says:
"The Ford GT Carbon Series will stand out on the road with its striking, carbon-fibre-rich design and on the track with its athleticism. It is yet another example of how we can bring to life our Le Mans-winning supercar in new and exciting ways so our customer can share in that magical legacy."
If you're not already on the approved customer list, the application process opens again on November 8, for 30 days.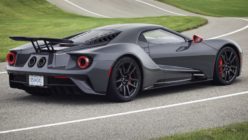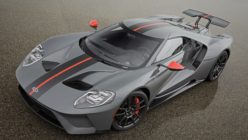 Source: Read Full Article