The Giugiaro-designed show car signified Hyundai's birth as an independent car maker, and serves as inspiration for the firm's latest EVs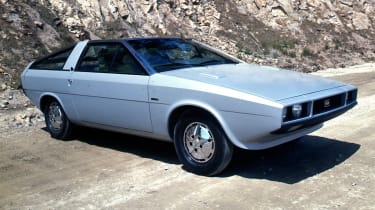 Next year, Hyundai will revive one of its most significant vehicles since the brand was founded in 1967. The Pony Coupe was first unveiled at the 1974 Turin Motor Show to promote Hyundai as a standalone manufacturer, and for 2023, it'll be rebuilt in collaboration with Italian design house GFG Style.
GFG was founded by Giorgetto and Fabrizio Giugiaro, with the former having taken on the original project as a budding designer. Despite its age, the Pony Coupe's retro appeal has influenced numerous modern Hyundais – including the Ioniq 5 crossover and N Vision 74 concept – with its origami-like proportions and geometric detailing.
New Hyundai N Vision 74 concept review
The original show car no longer exists, so GFG Style will be reproducing it from the ground up, likely with some sympathetic alterations as a nod to the firm's current and future models. The partnership could also spark further projects later down the line, which would be fitting given Hyundai's recent run of exploratory, adventurous designs. 
Speaking on the collaboration, Hyundai's Chief Creative Officer Luc Donckerwolke said: "We are absolutely thrilled to welcome Giorgetto and Fabrizio to Seoul for this rare occasion and we look forward to collaborating with them and GFG Style on this extraordinary design project. Not only does this project hold historical value, but it also represents a cross-cultural exchange that could pave the way for more collaborations down the road."
As somewhat of a still-born project, the 1974 Pony Coupe Concept was devised as part of Hyundai's push towards vehicle mass production. Giorgetto Giugiaro created five prototype models to envision what a Hyundai road car could look like, one of which was the wedge-shaped two-door. It never hit showrooms, but Hyundai's recent activity – including this announcement and the N Vision 74 concept – could mean that a road-going all-electric coupe could be on the horizon.
Now read our review of the Hyundai N Vision 74 concept…
Source: Read Full Article