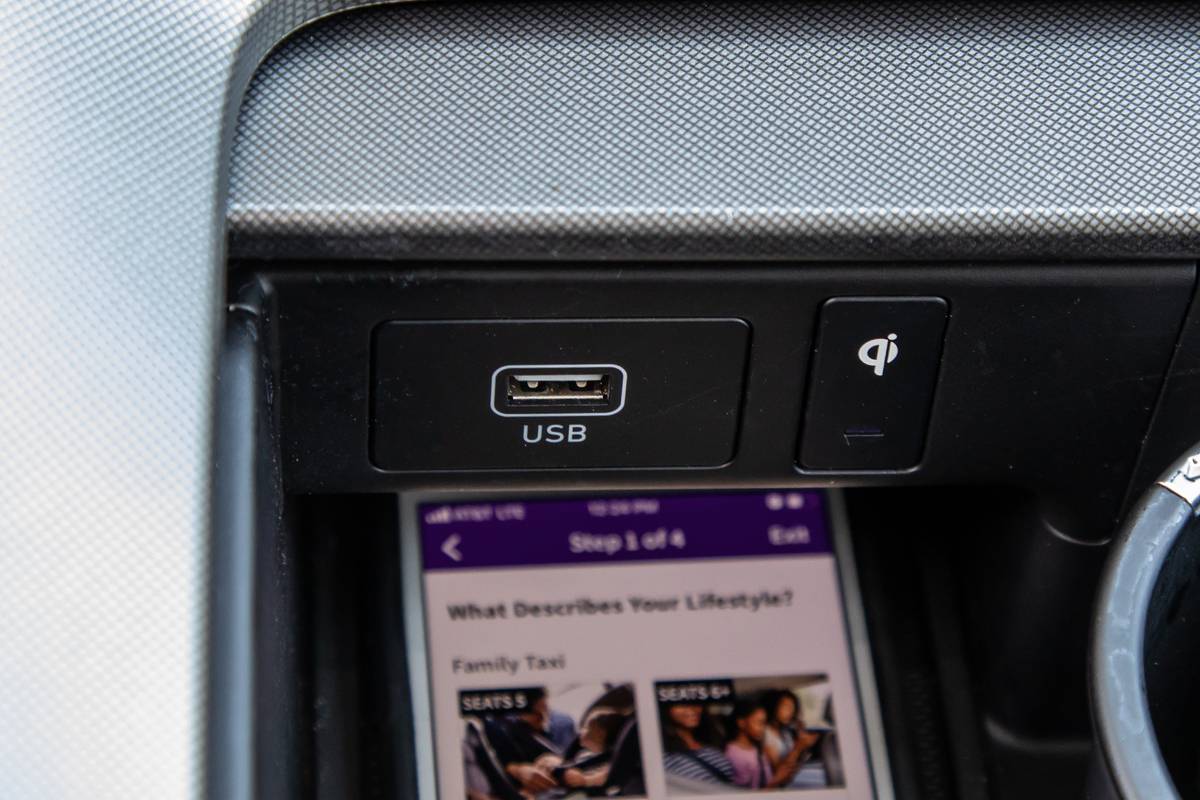 As we've noted before — and you probably could've guessed just looking at it — the 2020 Hyundai Palisade is built for schlepping. From home to school to grocery store to an out-of-country "Cats" screening, our Best Of-winning long-term test car is meant to haul by design. The idea of racking up hours behind the wheel is core to its existence, which makes the option of adding a soundtrack to those drives a crucial component.
A few months ago, I described having satellite radio as a backup audio option as an essential amenity for those drives, but that's not quite true. Even without radio or a wireless connection, you still have another option: the portable media player best exemplified by the Apple iPod. (Sorry, Zune acolytes.) But with new-car multimedia systems and over-the-air updates increasingly devised to support streaming services, does that mean using an iPod is no longer possible?
Related: Is the Hyundai Palisade's Harman Kardon Audio System Good?
['20 Palisade CTA]
I can hardly believe I'm saying this, but the iPod is 19 years old. It's so old that the last iPod variant left you can buy new from Apple is an iPod Touch, which is basically an older iPhone in disguise; the last iPod Nanos and Shuffles were reportedly phased out in 2019, and the iPod Classic was reportedly discontinued in 2014. It makes sense up until now that as new generations of vehicle multimedia systems roll out, automakers phase out the accommodations for older formats. There's a reason eight-track players and cassette decks don't come standard anymore.
But iPods (OK, and Zune) don't require radical hardware reimaginings because they use USB outlets to charge and play — and not just the original USB-A cables they came with, either. You can now buy an adapter that connects a 30-pin iPod plug into a USB-C port for less than $20. On paper, this should mean that even if automakers adopt USB-C outlets en masse, it shouldn't be a problem for those occasions when I'm eager to screen a forthcoming album not yet available to stream, or pop on some old demo MP3s copped years ago and now long gone from even the most illicit of file-sharing services.
That's not the case with the Palisade — or rather, not with ours. In my first few drives, I was confused by the presence of an iPod Mode how-to in the Palisade's owner's manual; if you have one, you should just plug it into the USB port, hit the Media button and select the iPod option from the media-selection window. But there's another pertinent section that outlines which iPods work with the system. The short of it is that iPod Nano 1G through 7G, iPod Touch 1G (except iOS 1.1) through 6G and iPod Classics 5G through 6.5G up through iOS 9.3.2 are compatible with Hyundai's infotainment system — if you have the SE or SEL trim levels. Owning a high-end Limited trim, meanwhile, is actually a penalty: Limited-equipped models feature a large 10.25-inch touchscreen with Apple CarPlay and Android Auto capability, but interestingly, the larger screen means you can't use your iPod.
I asked Hyundai spokesperson Michele Tinson about this. 
"The Limited models do not have the capability due to the introductions of Apple CarPlay and Android Auto," she replied, attributing customer surveys that showed low usage rates for iPods. Tinson didn't say if an update is on the way for Limited or (2021) Calligraphy users in the meantime.
More From Cars.com:
2020 Hyundai Palisade Review: A Winning Formula

Hyundai Blue Link: Hits and Misses on the 2020 Palisade

CSI: Car Smell Investigation, 2020 Hyundai Palisade Edition … No. 2

How Does the Rear Door Alert Work on Our 2020 Hyundai Palisade?

Which 3-Row SUVs Offer Captain's Chairs?
The automaker isn't alone. My very informal but dogged iPod testing has revealed increasingly spotty iPod compatibility since I began at Cars.com in 2016. Most recently, I got one to work with some glitches using Ford's Sync 3 in a 2020 Mustang, but haven't yet tried it with Sync 4 in a 2021 Bronco, F-150 or Mustang Mach-E. Cars.com Managing Editor Joe Bruzek, who blew the dust off his iPod Classic to see if it worked in the new 2020 Chevrolet Corvette, confirmed it doesn't work there, either — but it does work in the 2021 Volkswagen Atlas he recently bought. As automakers update their multimedia systems, this kind of tech inconsistency seems likely to increase; perhaps consumers will benefit from retroactive software updates as a result, but it may still be too early to tell, given demand.
Lodged between streaming music's ethereal reliability and an auxiliary jack for a cumbersome CD player is the precarious iPod. (OK, and the Zune). We advocated for it in 2015, and I'll do it again for the same reasons: One day, your satellite radio subscription may elapse and your wireless connection may cut out. The sound of the open road is nice, but a reliable audio player is music to my ears. Having a multimedia system that can handle such a player could be a critical perk you never knew you needed.
Related Video:
Source: Read Full Article