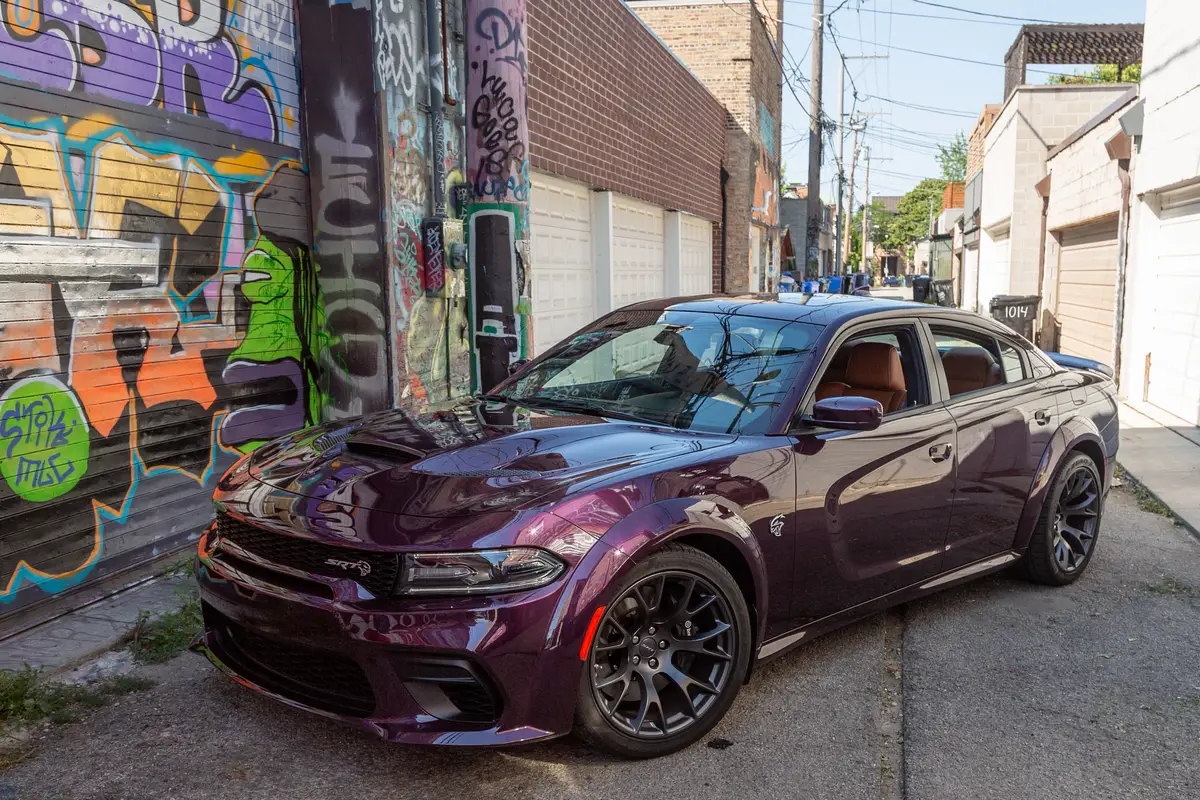 With the spooky season upon us and Halloween right around the corner, it's time for a scary story: that time a 707-horsepower, rear-wheel-drive sedan made me feel … bored. That's right. The 2020 Dodge Charger SRT Hellcat Widebody, in the new Hellraisin paint color, left me feeling decidedly "meh." And it could happen to you! (But probably not.)
Related: Dodge Widens Challenger Choices With Scat Pack Shaker and T/A 392 Widebodies
The likeliest explanation for this incredibly spicy take is that I'm jaded, and having regular access to so many different new cars greatly diminishes the excitement a Charger Hellcat — even the new Widebody version — can provide.
But it feels like there's more to it, so let me make my case. By making it a widebody, Dodge could finally give the Charger Hellcat appropriately wide tires — in this case, foot-wide Pirellis — removing one of the white-knuckled elements of driving a Hellcat: always being on edge when you squeeze the accelerator, particularly if the car isn't pointed 100% straight, because the tail really wants to slide out. That's exciting, and it felt like an accomplishment to return from a drive with no mishaps. It doesn't feel like a 700-plus horsepower car should ever seem manageable, but Widebody versions of both the Charger and Challenger Hellcat fall into that camp.
Add to this that I live within Chicago's city limits, so much of my driving was confined to city roads where it's hard to get the most out of that power. Even highway conditions can't make the most of its power, making every trip feel like a waste of gas. Which the Charger Hellcat drinks like a frat pledge. It just felt … pointless. You truly need to take a Hellcat to a drag strip to experience the feat of engineering it is.
Was it just me? I asked my colleagues to opine on whether it was boring, particularly after one shared that he had both a Charger Hellcat Widebody and a new Ford Transit van in his driveway one weekend and chose the Transit for his local Cars and Coffee meetup. So here's a point-counterpoint based on what they had to say.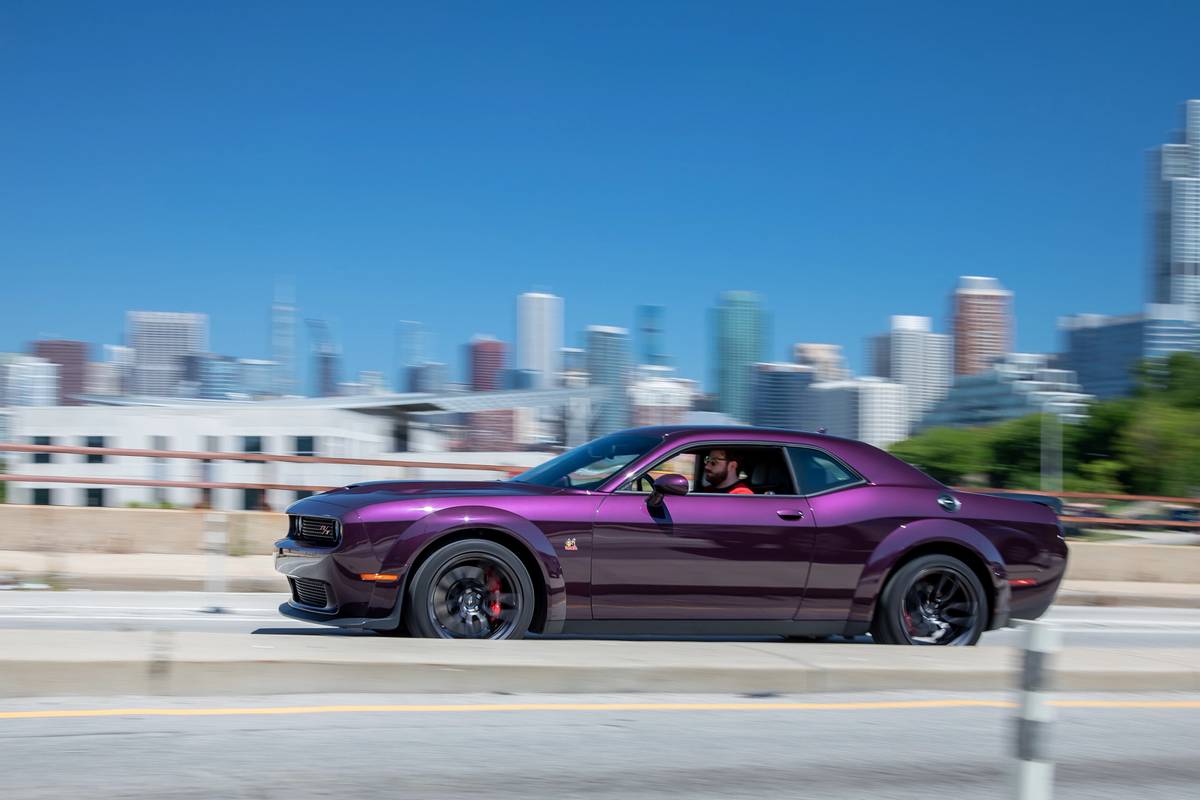 Point: The Charger Hellcat Isn't as Exciting as It Used to Be
Most comments focused on the appearance of the Hellcat variants and how Dodge, by adding widebody versions to multiple model variants, has eroded a lot of the Hellcat's uniqueness. (Having just driven a Challenger Scat Pack Widebody before the Charger, I can confirm that I was often asked if I was driving a Hellcat — usually right before someone tried to race me at a stoplight.)
"I think Dodge really diluted the Hellcat's specialness when it introduced the same styling changes for the non-Hellcat models. Now, it's nearly impossible to tell if a Charger/Challenger is a Hellcat or not; even the badges aren't a good giveaway anymore.
"I think Dodge needs to bring back some visual flair to the Hellcats to make them obviously different somehow — and that doesn't mean big, stupid graphics. Something unique and immediately identifying to separate your 700-plus-hp sedan or coupe from the lesser models that wear the same widebody options."
– Aaron Bragman, Detroit bureau chief
"To me, part of what's dimmed the allure of a Charger or Challenger — despite absurd horsepower figures, trick Mopar bits and ridiculous paint names fit for an Arena Football League team — is a dilution of the trim levels. Dodge's recent announcement that it will expand the Challenger Widebody lineup alone to six variants of the coupe is a good example. Arguably the most special visual element for a Hellcat when it first rolled out in 2018, the Widebody variant now feels merely pedestrian.
"One obvious solution is to clarify the Charger and Challenger lineups. Surely a few of the lower trims (SXT, GT, R/T, R/T Scat Pack) can afford to go, not to mention the possibility of an R/T Widebody of any kind. Trim-specific grilles, additional brightwork and some differing aero work for the spoiler — gaudy though they may seem — could also help distinguish trims on the higher end and lend another visual element."
– Patrick Masterson, senior copy editor
Counterpoint: You're an Idiot, Brian
Most of these comments politely told me that I'm dumb.
"I totally get that they're becoming a more common and less unique sight on the road, but I'm definitely not in the 'Hellcats are boring to drive' camp. Anything that can crack off a 10-second pass in stock form with a drag radial will make most people crap their pants. What could be mistaken for 'boring' is how forgiving and easy to drive they are, with great street manners and a long wheelbase that makes it more manageable to get the tail end a little squirrely. That's a plus. The Widebody cars are even more stable with their additional grip. Driving a narrow-tire Hellcat on a standard street tire, and with manual transmission, remains super sketchy."
– Joe Bruzek, managing editor
"This illustrates the bubble car enthusiasts — and the automotive media — live in. We see enough Hellcat versions of the Charger and Challenger around here, particularly as Dodge parent Fiat Chrysler Automobiles spawned even higher-performance versions of both cars and spread the engine to its SUVs. But the 'regular' Hellcats remain monsters. We ran the quarter-mile in 11.03 seconds with a Charger SRT Hellcat in 2015, and that was before Dodge added the Widebody version with 16% wider rear tires. Even five years later, that's quick enough to smoke the vast majority of new, factory performance cars."
-Kelsey Mays, senior editor, consumer affairs & vehicle evaluations
"I like the fact that having 700-plus hp isn't actually intimidating. I think Dodge did an amazing job in making it civilized."
– Aaron Bragman
Related Video:
More From Cars.com:
2021 Dodge Charger: When in Doubt, Just Add Horsepower

2021 Dodge Durango SRT Hellcat Price Tops $82K

2020 Dodge Challenger SRT Super Stock Will Cost About $100 Per Horsepower

2021 Dodge Charger SRT Hellcat Redeye: You're Not Actually Surprised, Are You?

2020 Dodge Challenger Super Stock: It's No Demon, But It's No Slouch, Either
Cars.com's Editorial department is your source for automotive news and reviews. In line with Cars.com's long-standing ethics policy, editors and reviewers don't accept gifts or free trips from automakers. The Editorial department is independent of Cars.com's advertising, sales and sponsored content departments.
Source: Read Full Article