Back in the 1980s, Porsche supplied twin-turbo V6 Formula 1 engines to the McLaren Formula 1 team under the TAG brand name. A single Porsche 930 was built with this engine, unmodified from F1 spec as a test mule. That car, mostly stock from the outside save for some Ruf-sourced wheels, remained a one-off, kept in museums and shown at various events throughout the years. Well, it won't be a one-off for much longer, if Lanzante has anything to say about it.
26 Formula One wins from 68 Grand Prix between 1984-1987. The Tag Turbo engine was also fitted to a single Porsche 930 as a test mule. We are now making a further 11 cars with permission from McLaren Racing. Seen here for the first time @rennsportreunion 📸 @gilesrozier17 & @a3.rud Thanks also to @iamchrisvassilopoulos #porsche #930turbo #mclarenf1 #nikilauda #alainprost #lanzante #rennsport
A post shared by Lanzante (@the_real_lanzante) on
The British firm famous for converting McLaren F1 and P1 GTRs into road-legal cars announced at Rennsport Reunion VI it will produce 11 more copies of the TAG V6-powered Porsche 930 using real, actual Porsche-built TAG engines used in F1 races during the 1980s. Yes, that's right. Lanzante said in an Instagram post it got "permission" from McLaren racing to go ahead with the project, and Engine Swap Depot reports it's already purchased the engines from McLaren. Each car will come with plaques mounted in the engine bay listing the engine's 1980s race history and drivers, which is super cool.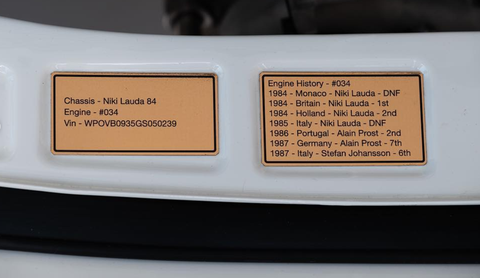 InstagramLanzante
We've reached out to Lanzante for more information like pricing and exact specs, and will update this article if we hear back. We do know one thing for sure, though: McLaren's heritage site claims the engine made around 750 horsepower in race trim, which means these cars will be quick. Like, really quick. Even if they're detuned for longevity or drivability, we're still talking supercar levels of power. Hopefully the new cars will look just as stock from the outside as the original. A standard-looking Porsche 911 Turbo with an actual F1 engine out back? It's the sleeper to end all sleepers. Oh, and it'll probably be monstrously expensive, but that's expected.
We can't wait to see it on the move.
Source: Read Full Article