The Land Rover Defender is the 2022 Auto Express Large Premium SUV of the Year, with the BMW X5 and Porsche Cayenne commended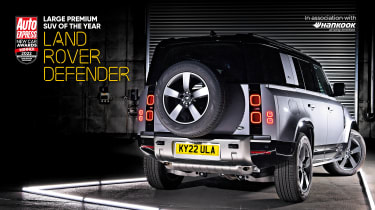 The Defender has doubled down on its win at our New Car Awards last year, with a new bodystyle available to give buyers even more choice when it comes to large premium SUVs. Now on sale as a three-door 90, a 110 model that offers seating for five, six or seven people, and the newly introduced 130, with space for up to eight occupants, the Defender is a reborn icon that's cemented its position as an award winner.
Land Rover decided on a different take when it comes to 'premium' with the Defender, proving that utility and an element of luxury can sit comfortably alongside each other, which is where it derives much of its personality from. Rugged exposed screw heads mix with soft leather, durable rubberised trim, the smartest, most advanced tech and clever engineering to deliver something unique in this class.
Land Rover Defender review
Refinement is superb, regardless of which engine you choose. There's a V8 for petrolheads, a great-sounding, smooth straight-six petrol and a punchy diesel equivalent, while the plug-in hybrid options offer impressive near-silent electric-only running for up to 27 miles.
Performance is great in all variants, with that V8-engined version serving up a best 0-62mph time of 5.2 seconds. The impressive powertrains are teamed with a supple chassis that offers superb compliance in pretty much every situation on the Defender's long-travel air suspension set-up. Yet there's still something on offer for keen drivers, thanks to a relatively involving drive for a vehicle of this size and type; put simply, it feels fun from behind the wheel, a quality so many SUVs fails to deliver.
'Premium' in 2022 also means technology, and Land Rover has invested heavily in infotainment over recent years, with the Defender really marking the introduction of the manufacturer's Pivi Pro set-up. Over-the-air software update capability and great smartphone connectivity make it an extremely competent system, with rapid responses to your touch inputs making the Pivi Pro easy to use on the move.
Then there's the Defender's unique styling. It looks like nothing else on the road and is a superbly effective reboot of the original model, delivering the kind of appeal a large premium SUV needs to, but preserving an individual identity at the same time. In a class where many vehicles feel similar, this is a very attractive quality indeed.
Our choice
Land Rover Defender 110 D300 HSE (£70,520)
The D300's torquey diesel engine is a perfect match for the Defender, and the HSE trim is generously kitted out with 'Windsor' leather seats, a Meridian sound system and an 11.4-inch touchscreen. A three-year PCP deal with a £7,000 deposit brings the total monthly figure to £953.
Commended
BMW X5
Once a winner in this class, the BMW X5 is still a brilliant large premium SUV, not least because of the deeply impressive xDrive45e plug-in hybrid model that can travel up to 54 miles on electricity alone; for most daily journeys you might never need burn a drop of fuel. Of course, the diesel and petrol variants are brilliant, too, as are the X5's ride, on-board tech, quality and practicality.
Porsche Cayenne
Available as a conventional SUV and a Coupé, with plug-in hybrid, performance and 'everyday' variants, there's plenty of choice in the Cayenne line-up. Combined with this, the car's superb driving dynamics, controlled ride, impressive technology and brand image make this every inch still a contender in this class.
The 2022 New Car Awards are brought to you in association with Hankook tyres
New Car Awards 2022: the winners
| | |
| --- | --- |
| New Car Awards 2022: introduction | Luxury Car of the Year 2022: Range Rover |
| Car of the Year 2022: Nissan Ariya | Hot Hatch of the Year 2022: Hyundai i20 N |
| City Car of the Year 2022: Fiat 500 | Coupe of the Year 2022: BMW 2 Series Coupe |
| Supermini of the Year 2022: Renault Clio | Convertible of the Year 2022: MINI Convertible |
| Family Car of the Year 2022: Dacia Jogger | Performance Car of the Year 2022: Porsche 718 Cayman GT4 RS |
| Estate Car of the Year 2022: Skoda Octavia Estate | Affordable Electric Car of the Year 2022: MG ZS EV |
| Small Company Car of the Year 2022: Renault Megane E-Tech Electric | Premium Electric Car of the Year 2022: BMW i4 |
| Mid-size Company Car of the Year 2022: Nissan Ariya | Affordable Hybrid Car of the Year 2022: Toyota Yaris |
| Large Company Car of the Year 2022: BMW 5 Series | Premium Hybrid Car of the Year 2022: Mercedes C 300 e |
| Small SUV of the Year 2022: Kia Niro | Pick-up of the Year 2022: Ford Ranger |
| Mid-size SUV of the Year 2022: Hyundai Tucson | Van of the Year 2022: Fiat Ducato |
| Large SUV of the Year: Skoda Kodiaq | Electric Van of the Year 2022: Ford E-Transit |
| Small Premium SUV of the Year: Mercedes GLA | Technology Award 2022: Mercedes-Vision EQXX |
| Mid-size Premium SUV of the Year: Lexus NX | Hall of Fame Inductees |
| Large Premium SUV of the Year: Land Rover Defender | Previous winners |
Source: Read Full Article