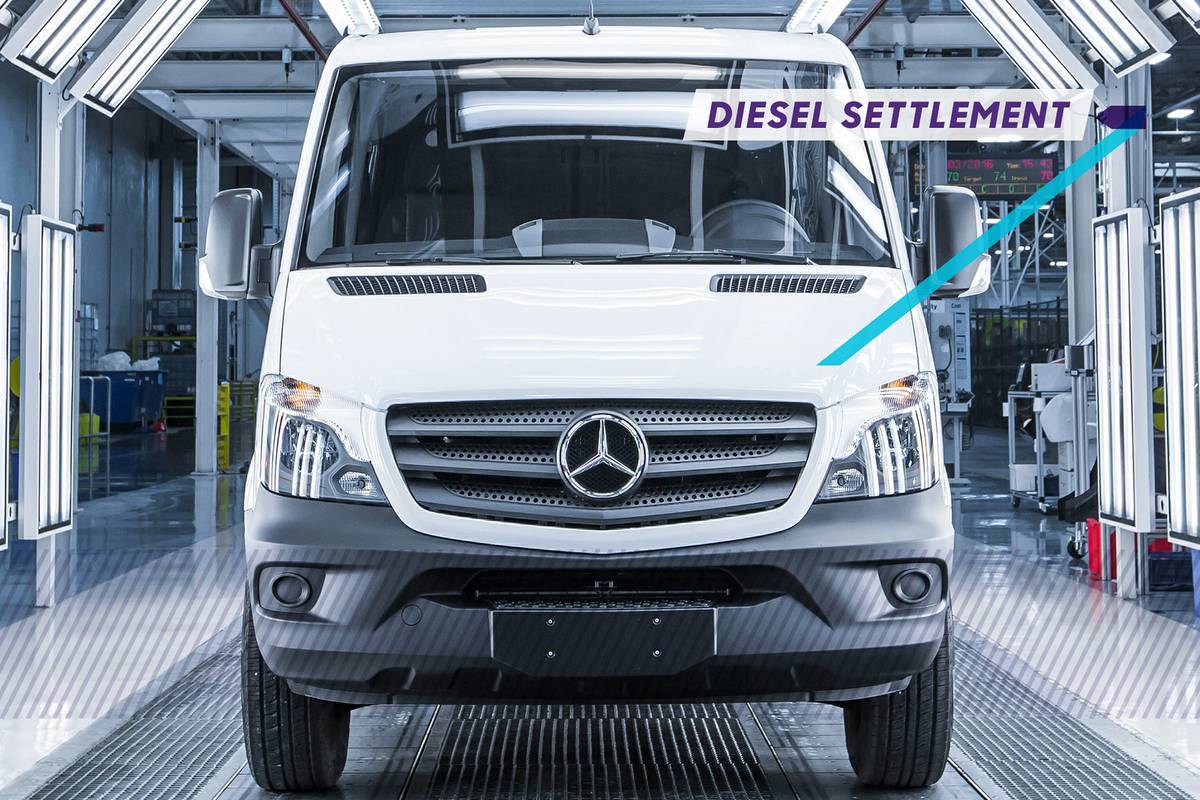 Mercedes-Benz USA and its parent automaker, Daimler AG, will pay more than $2 billion to settle allegations of emissions cheating on diesel-powered vehicles, including sedans, SUVs and vans. In a proposed settlement with federal and California regulators, announced Sept. 14, the automaker said it would recall some 250,000 diesel vehicles from the 2009 to 2016 model years — about two-thirds of them Sprinter vans — to repair emissions systems with the alleged violations.
Related: Regulators Probe Mercedes for Possible Emissions Cheating
Under the terms of the settlement, the automaker will also extend the warranty on certain parts of the affected vehicles, change its internal audit procedures and fund projects to reduce pollution elsewhere. In a related class-action suit under a separate court, Daimler plans to pay hundreds or thousands of dollars to current and former owners of the cars in question.
If you own one of the affected cars or did in the past, you probably have a lot of questions — starting with, "Where in the process is this issue currently?" So, first things first: Two U.S. District Courts have to approve the specifics before either action can move forward. The settlement with environmental regulators, signaled via a Sept. 14 announcement, came as authorities filed a consent decree with the U.S. District Court in the District of Columbia, roughly a month after Daimler reached an agreement in principle with authorities to settle the claim. The automaker released a statement the same day saying that it "has fully cooperated with the U.S. authorities" and took "another important step toward resolution of various diesel proceedings."
The class-action settlement, meanwhile, has reached an agreement in principle to settle between Daimler AG and Mercedes-Benz USA with the plaintiffs' counsel, a Daimler spokesperson told Cars.com. It's pending before a U.S. District Court in New Jersey.
We'll answer more questions below.
What Did Daimler Allegedly Do?
A consent decree filed by the EPA and California Air Resources Board claims that Daimler sold some 250,000 diesel vehicles in the U.S. from the 2009-16 model years, including Sprinter vans and passenger vehicles, with undisclosed auxiliary emission control devices, or AECDs, and so-called "defeat devices." Those devices allowed excess emissions of nitrogen oxide, an ozone-causing pollutant linked to respiratory and cardiac problems. (That's ground-level ozone, as opposed to the beneficial atmospheric ozone high in the sky.)
Defeat devices, which are illegal, "cause the vehicles to produce compliant results during emissions testing," the Department of Justice said in a statement. "But when not running a test, the vehicles' emissions controls perform differently, and less effectively, resulting in an increase in [nitrogen oxide] emissions above compliant levels."
In its response, Daimler denied the allegations and admitted no liability.
"The settlement resolves the company's pending civil proceedings with the U.S. authorities without reaching any determinations as to whether functionalities in Daimler's vehicles are defeat devices," the automaker said.
How Was This Uncovered?
Federal and California regulators uncovered the alleged defeat devices while testing vehicles in Michigan and California under stepped-up testing after the Volkswagen emissions scandal. Similar to Daimler's alleged violations, Volkswagen's scandal involved the use of defeat devices allowing hundreds of thousands of diesel-powered cars to emit excess nitrogen oxide.
How Do I Know if My Car Is Affected?
Seven affected models span the 2009-16 model years. All the cars in question have turbo-diesel engines — some offered as standard equipment, others as an optional engine — and almost all were marketed as Bluetec. Similarly, Bluetec-equipped Sprinter vans, sold under the Mercedes-Benz and Freightliner brands, are affected for the 2010-16 model years.
According to the EPA, affected models are:
Sprinter:

2010-16 Sprinter six-cylinder, 2014-16 Sprinter four-cylinder

E-Class:

2011-13 E350 Bluetec, 2014-16 E250 Bluetec

GL-Class:

2009 GL320 Bluetec, 2010-16 GL350 Bluetec

GLK-Class:

2013-15 GLK250 Bluetec

M/GLE Class:

2009 ML320 Bluetec, 2010-14 ML350 Bluetec, 2015 ML250 Bluetec, 2016 GLE300d

R-Class:

2009 R320 Bluetec, 2010-12 R350 Bluetec

S-Class:

2012-13 S350 Bluetec
What Does the Repair Entail?
The repair comprises a software update and replacement of vehicle-specific hardware, such as sensors and catalysts. Daimler must also furnish an extended warranty to cover affected software and hardware, with tests performed annually for five years to ensure affected cars continue to meet emissions standards down the road.
Specific repairs vary, and in some cases aren't even finalized. Twelve subgroups exist within the affected vehicle population, according to the EPA, with specific repairs for each group. All will receive a software update and new nitrogen oxide sensors, and any vehicles without a copper catalyst will get one, as well. Beyond that, specifics vary. As of this writing, the agency says it's approved repairs for five of the 12 groups, encompassing the 2013-15 GLK250 Bluetec, 2015 ML250 Bluetec, 2016 GLE300d and six-cylinder 2010-16 Sprinter. Repairs for other groups are set for approval from now through 2021.
Will the Repair Cost Anything?
No. Repairs should be free for owners. Under the terms of the settlement, Daimler will recall and repair vehicles at no cost to consumers, the Justice Department said.
Can I Seek Compensation Otherwise?
Potentially, but not yet. The separate consumer class-action suit has reached an agreement in principle to settle between Daimler and the plaintiffs' group. The suit applies to diesel-powered Mercedes-Benz and Freightliner models from the same years. Claims stipulations and payout amounts vary, but current owners and lessees who have approved emissions modifications installed and meet certain other requirements can receive up to $3,290, Daimler said.
If you once owned or leased an affected vehicle but no longer do, you could claim up to $822.50, though exact payouts will depend on how many people owned the vehicle and who makes a successful claim. Daimler said the settlement will subtract those amounts, in turn, from whatever the current owner is eligible to receive. Stay tuned for further notification by mail once the court grants preliminary approval.
Again, the settlement does not assume guilt on Daimler's part. The company said it "denies the material factual allegations and legal claims asserted by the plaintiffs and settlement class members."
Will the Repair Make the Cars Clean Again?
It should. The repair requires Daimler to "bring the vehicles into compliance with applicable emissions standards under the Clean Air Act," the Justice Department said. Indeed, the EPA notes that no buyback program exists under Daimler's settlement, as occurred under Volkswagen's diesel scandal, because the agency expects that Daimler's modifications should bring affected cars into emissions compliance. By contrast, VW was unable to show that it could bring all vehicles into compliance with its repairs, prompting a buyback for some cars.
Will the Repairs Affect Performance or Fuel Economy?
For the five approved repair groups — again, encompassing the 2013-15 GLK250 Bluetec, 2015 ML250 Bluetec, 2016 GLE300d and six-cylinder 2010-16 Sprinter — drivers shouldn't notice any negative effects on drivability, mileage, reliability or performance, the EPA said. Nor is the interval of changing diesel exhaust fluid expected to change, the agency added.
That said, repairs are pending approval for the rest of the vehicles. In such cases, Daimler "must perform fuel economy tests and provide consumers with an emissions modification disclosure that contains a clear and accurate description regarding all impacts of the emissions modification on the vehicle, including any impacts on fuel economy," the EPA said.
Asked for more specifics, Daimler gave similar guidance: "We do not expect that customers will notice any adverse changes in vehicle reliability, durability, performance, drivability, fuel economy or other driving characteristics," a spokesperson said in an emailed statement to Cars.com. "Additional information on any performance changes will be provided in the notice issued to eligible customers."
What's the Timetable for All of This?
Two courts have to approve the specifics first. No date was given for such approval, but the Sept. 14 District Court filing by regulators precipitated a 30-day window for comments; Daimler expects things to move forward sometime late this year.
The automaker said it would roll out the emissions modifications in various phases, with each customer receiving a mailed notice "as soon as the emission modification can be undertaken for their vehicle." It also said it would publish a website with additional information starting late this year.
Once repairs commence, the automaker faces stiff penalties if it doesn't repair enough vehicles in a given timeframe. Daimler has to fix at least 85% of affected passenger vehicles within two years of the consent decree's effective date or the final approved repair batch, whichever comes later. The automaker has three years from those dates to fix 85% of affected Sprinter vans. If Daimler doesn't hit the specified percentages by the deadlines, it faces fines of $6.4 million for each percentage point it falls short on cars and $9.1 million for each point short on vans. California, meanwhile, will assess separate fines on repair shortfalls for affected vehicles registered there.
"Both [the class-action and recall] settlements are subject to approval by separate courts," a Daimler spokesperson told Cars.com by email. "We cannot predict when the relevant courts will grant the (preliminary) approvals. However, based on the experience with other proceedings of a comparable scope and complexity, we expect this to happen at the earliest in the fourth quarter of 2020."
How Long Will Repairs Be Available?
For some time. The approved repairs will remain available for at least 15 years after an affected vehicle's model year — so at least 2024 — or eight years after approval of the fix, whichever comes later.
How Much Will This Cost Daimler?
Likely somewhere between $2 billion and $3 billion. The settlement alone will total nearly $1.5 billion, with $945.3 million in penalties and $546 million to recall cars and perform federal pollution-mitigation projects, including $110 million in specific funding for pollution mitigation in California. Beyond that, Daimler says it expects the class-action settlement to cost approximately $700 million, including attorney's fees, and it also "estimates further expenses of a mid-three-digit-million [euro] amount to fulfill requirements of the settlements."
Still, that's a flyspeck versus the costs incurred by the Volkswagen Group for its recall of nearly 600,000 diesel cars in the U.S. from the 2009-16 model years. The automaker faced U.S. penalties of $14.7 billion alone to settle violations on its four-cylinder diesel vehicles; one estimate in late 2017 pegged the running total at $30 billion worldwide.
More From Cars.com:
Mercedes-Benz Gives Up on 2017 Diesels

2021 Mercedes-Benz E-Class: High Tech, Higher Price

2021 Mercedes-Benz S-Class: It's What's Inside That Counts

We Test Whether You Should Buy a Post-Scandal Volkswagen TDI Diesel

VW Diesel Crisis: Timeline of Events
What Environmental Mitigation Must Daimler Do?
Under the terms of the settlement, Daimler will fund the replacement of powertrains in 15 older, line-haul locomotive engines in the U.S. with newer, less polluting engines that conform to stricter standards than the ones to which they were certified. The automaker has to choose locomotives "that are likely to run long distances to geographically diverse locations across the continental United States," according to court filings. California, meanwhile, gets a separate mitigation program.
Will the Automaker Implement Systemic Changes Otherwise?
Yes. The settlement requires the automaker "to implement systemic corporate reforms to detect and try to eliminate violations in the future," the Justice Department said. Among such reforms are "significant testing" on its new gas and diesel vehicles with portable machines to assess real-world emissions compliance. The automaker must also install a strong whistleblower program, enhance training for employees and perform internal audits reviewed by a third-party compliance consultant.
Where Can I Learn More?
If you own a passenger vehicle, call Mercedes-Benz USA's customer assistance line at 800-367-6372. Sprinter owners, meanwhile, can call 877-762-8267.
Related Video:
Cars.com's Editorial department is your source for automotive news and reviews. In line with Cars.com's long-standing ethics policy, editors and reviewers don't accept gifts or free trips from automakers. The Editorial department is independent of Cars.com's advertising, sales and sponsored content departments.
Source: Read Full Article