Across the globe from the busy halls of the LA Auto Show, Genesis has revealed the second generation of its flagship G90 sedan.
It's certainly a different look for the biggest model in the Korean marque's lineup. Up front an enormous diamond-shaped grille dominates, with two unique headlights on either side. The daytime running lights (DRLs) juts out across the middles of the headlights, almost as a riff on Volvo's current look.
Around back there's the de rigueur full-width light strip, with two smaller horizontal lamps just above. Taken as a whole, this arrangement is meant to evoke the winged Genesis logo itself.
The metal-to-lamp ratio out back, plus the minimal level of surface detailing on the side, gives the G90 a serious impression of heft. It looks subtly imposing, which is probably a positive for prospective buyers.
Then there's the wheels. Meant to evoke the fragmenting light of a diamond, the 19-inch rolling stock comes with sound absorption tech to minimize tire noise. We feel bad for whomever is going to have to clean them.
Of course, when we're talking about a car of this size and stature, the interior features are arguably even more important. Befitting a flagship, the G90 houses numerous firsts for the Genesis brand. An enormous 12.3-inch touchscreen display sits in the dash, with both Apple CarPlay and Android Auto available. The system will also accept over-the-air updates.
Those sound-absorbing wheels get help in the cabin from an active noise cancellation system, which uses a secondary sound to negate outside commotions. And there's Genesis Adaptive Control Suspension to smooth out any uncouth bumps in the road.
Oh yeah, and there's acres of space in the rear.
Power? Genesis didn't say, but the current car comes with the corporate 3.3-liter turbo V6 and 5.0-liter atmospheric V8, both hooked to an eight-speed auto.
Luc Donckerwolke, the Belgian with the Lambo Murcielago on his resumé, and current executive vice president and CDO of Hyundai, comments:
"G90 is the ultimate expression of the Genesis brand. Before the first sketch was even drawn, my team of designers thought carefully about how to evolve its styling and create something even more elegant and harmonic. When we tackled the challenge of reinventing G90, the Genesis flagship, we decided to start with designing light rather than form and shapes."
The G90 is certainly a different approach to big-car luxury than the last limo that caught our eye: Akio Toyoda's one-off GRMN Century.
Genesis is promising to double its model count from three to six by 2021. It says it will accomplish this by adding three crossovers (of course) — we'll see if the G90's unique design is a preview of what to expect from the marque's high-riders.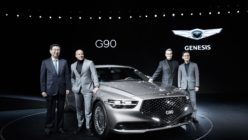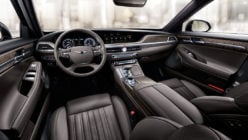 Source: Read Full Article