The facelifted BMW 1 Series will receive plenty of changes inside and out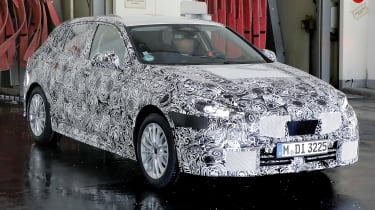 BMW is preparing to launch a facelifted version of its third-generation 1 Series and these images are our best look yet at the premium hatch.
These BMW 1 Series spy pictures show a hot hatch model is in the works, and it'll come with quad exhausts – a feature usually reserved for the M cars. There's a potential for a return of the M140i, but It's more likely that this is a facelifted M135i – the hottest version of the current 1 Series with a 2.0-litre turbocharged four-cylinder and four-wheel drive.
New BMW i7 revealed with 388-mile range and prices from £107k
Despite only recently receiving some chassis upgrades, the 301bhp M135i could be honed further to make it more of a rival for the much more powerful Audi RS 3 and Mercedes-AMG 45 S.
This test car is still heavily camouflaged but we can already make out some big changes over the current model. The grille appears wider and much more in line with the one on the new 2 Series coupe. The sportier M135i also looks like it'll get a larger bottom grille to help with cooling.
At the rear we see a new design of brake light and the camouflaged spoiler suggests tweaks there too. The rear bumper design also looks to have changed.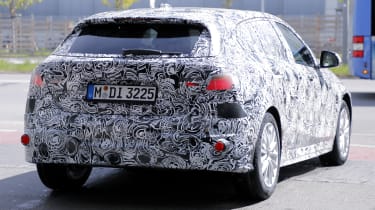 These new spy pictures are our first look inside the new 1 Series and we can already see alterations from the current car's technology. We're almost certainly going to get the same 12.3-inch digital driver's display and 10.25-inch touchscreen taken from the new 2 Series. The iDrive rotary controller will be removed as BMW plans to utilise the feature for its larger models. The gear lever has also been shrunk from the usual stick shape to a small nub.
The current BMW 1 Series moved to a front-wheel-drive platform with four-wheel-drive on the high-performance M135i model for this generation. The X1 SUV, which shares the same platform as the 1 Series, also made the change to front wheel drive and has plug-in hybrid powertrain options.
It's certainly possible that the 1 Series facelift will feature some form of hybrid technology for the first time. The 1 Series range could expand to include a plug-in hybrid engine option based on the 10kWh battery supported setup in the X1. This would deliver at least 30 miles of electric-only range.
These hybrid options would complement a number of three and four-cylinder petrol and diesel engines in the new 1 Series engine range. While the platform has the capability to go fully electric, it's unlikely that a 1 Series BEV will arrive just yet with the upcoming iX1 set to take the accolade of the smallest all-electric BMW.
Check out our review of the new BMW 2 Series here…
Source: Read Full Article