Second-generation Mercedes GLC Coupe to return with hybrid technology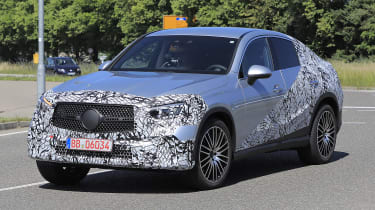 With the GLC SUV becoming Mercedes' best-selling car globally, the more fashionable but less practical coupe variant has also become a key model in the German giant's portfolio. Perhaps then, it's no surprise that so soon after the release of the new GLC, we've spied the second-generation GLC Coupe testing.
The GLC Coupe is almost ready for its full debut, given how little camouflage is on these test cars. From the front we see a virtually identical design to the SUV model with a sleeker headlight unit that blends into the front grille. The grille is made up of dozens of Mercedes three-pointed star logos and there's a revised lower bumper.
New 2022 Mercedes GLC arrives with three plug-in hybrids
Just like the old model, the roof slopes down to the rear to give the GLC Coupe a more sporting portrait. At the rear there's a ducktail spoiler and we can expect a slightly different rear light design to the SUV's, judging by the outgoing car.
We haven't seen inside the new GLC Coupe yet, but it should look identical to the regular GLC, albeit with slightly less headroom. Switching to the new MRA2 platform seen on the latest C-Class, the GLC Coupe should be slightly larger than its predecessor, this should result in more cabin and boot space – although it'll be significantly down on the GLC's 600 litres of boot space.
We're also likely to see a central 11.9-inch portrait touchscreen and a12.3-inch digital instrument panel for the driver, which can be supported by an optional head-up display.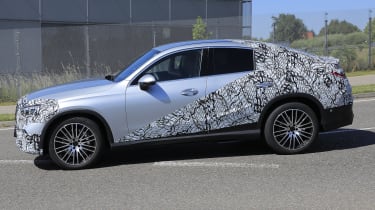 The recently unveiled second-generation GLC will use electrification for all of its powertrains, ranging from 48-volt mild-hybrids to three different plug-in hybrids with an all-electric range of up to 62 miles. A fully-electric variant isn't in the offing however, with the similarly-sized EQC occupying that space. It's almost certain the GLC Coupe will be offered with the same range of powertrains as the GLC.
A GLC Coupe 200 4Matic will probably kick off the range with a 2.0-litre turbocharged four-cylinder with 48-volt assistance, developing 201bhp and 320Nm of torque. There should also be an option of the same engine with 254bhp and 400Nm of torque. Alongside them is a mild-hybrid diesel 220 d 4MATIC with 194bhp and 440Nm of torque.
The plug-in hybrid tech featured in the new GLC should carry over to the Coupe model.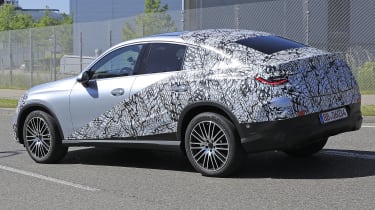 Mercedes has two petrol-powered plug-in hybrids and a diesel option. They all use a 31kWh battery coupled to an electric motor with 134bhp and 440Nm of torque. An all-electric range of over 62 miles is claimed.
The 2.0-litre petrol plug-in hybrid could be made available with 309bhp and 550Nm of torque as well as a 376bhp, 650Nm model. A diesel plug-in hybrid would produce around 242bhp and 750Nm of torque.
We expect the GLC Coupe to be fully revealed in the coming months, with a price tag slightly higher than that of the regular GLC.
Check out the top 10 best SUVs to buy now
Source: Read Full Article