The flagship Range Rover Sport SV arrives with a comprehensive package of chassis innovations and a huge price figure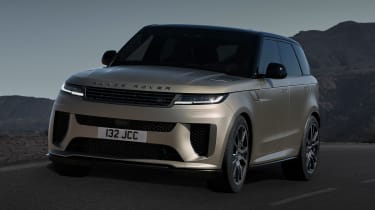 Land Rover has revealed its new Range Rover Sport SV, a high performance flagship that will replace the previous SVR and rival top-end high performance SUVs from Bentley, BMW and even Lamborghini. This new SV (note, not SVR) will be priced quite a bit higher than its predecessor, which used to kick off at around £100,000, but comes with lots of new tech, luxury and performance to justify its ambitious new price tag. Initially launching in a loaded Edition One specification, it will cost an astounding £171,460 when deliveries commence in early 2024. 
Key to the new Range Rover Sport SV's deliverables is its performance. Like all new V8-powered Range Rover and Range Rover Sport models, the new SV features a BMW-sourced 4.4-litre twin-turbocharged engine that in this specification produces 626bhp. This is equal to BMW M's most potent (non-hybrid assisted) application of this engine as found in the previous M5 CS, and a 59bhp rise compared to the SVR's supercharged V8. Torque is also up 50Nm to 750Nm.
New Range Rover Sport P510e 2023 review
On-paper performance is significantly improved, with the 0-62mph time dropping to just 3.8 seconds, 0.7 quicker than before. The quoted top speed is 180mph, and it's worth noting that these figures are all produced on an All Season Michelin Pilot Sport tyre. 
The transmission has been given a makeover, with the eight-speed auto now featuring a bespoke SV calibration, and there's a locking rear differential on the rear axle and a centre-locking differential for off-road applications too. The steering ratio has been sped up compared to the standard Range Rover Sport, further augmented by the rear-wheel steering system. 
But these elements are just the tip of a technical iceberg that goes to show how much emphasis Land Rover is putting on engineering excellence in its new era of SV models. The chassis and its overall dimensions are the same as the standard Range Rover Sport, but fitted underneath in combination with its existing air suspension is a brand new hydraulically cross-linked damper system, similar to the one you'll find on a McLaren 720S.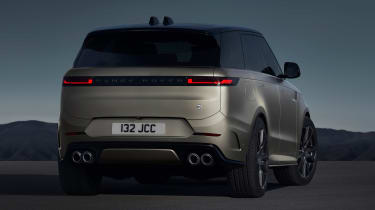 With this system fitted, Land Rover's engineers have been able to remove the anti-roll bars altogether, making each wheel truly independent which has yielded significant advantages in handling, body control and, as a side effect, off-road ability. This is also the first time a hydraulically cross-linked damper system has been combined with air-springs (ignoring American start-up Rivian). What this system does is completely control body roll and pitch, reducing it to almost nil under hard cornering, accelerating and braking. At the other end of the spectrum, when cruising the system is also able to 'freevalve', giving each wheel incredible reach into the road surface and therefore improving the ride quality. 
In its standard driver mode, the SV sits 10mm lower than a standard Range Rover Sport, dropping a further 15mm in its 'SV' mode. Fitted as standard on the Edition One models, and optional thereafter, are a set of 23-inch carbon fibre wheels sourced from Carbon Revolution, the company that also supplies cars like the Ford GT and Ferrari SF90 Stradale. These are 35.6kg lighter than the 23-inch forged aluminium wheels all-in, and have been meticulously developed to handle the SV's extreme weight and load requirements. 
The new wheels aren't the only bit of carbon found in that vicinity, as Land Rover has also co-developed a brand new carbon ceramic brake package with massive 440mm discs (equal to the biggest in the business) and innovative 'cross piston' calipers. These distribute the brake pressure more evenly across the disc and reduce the weight of the caliper itself at the same time. The result of all this new hardware is the SV's maximum 1.1g of cornering force, again on those all-season tyres. 
To harness all these new dynamic elements, Land Rover has created a bespoke SV driver mode alongside the existing on- and off-road modes that optimise all the SV's hardware for fast on-road driving. This specific mode is able to be selected by a standalone control on the bespoke steering wheel that features illuminated paddles and a smaller and thicker rim.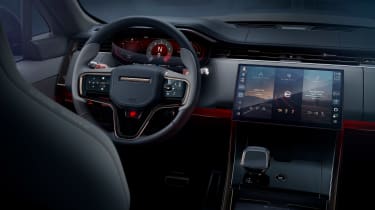 It joins a whole range of bespoke finishes inside the cabin, including the use of a new smoked chrome finish for all the interior highlights and unique carbon fibre trim. Edition One models will be available with three interior options, two leather and one leather-free. The non-leather option uses a variety of innovative materials in place of leather, including a futuristic 3D-moulded textile used on the new, carbon-backed seats. 
All SV models will be comprehensively specified, but introduced alongside the SV's performance-oriented features are new haptic seats that use pulse generators in the seats to augment the 19-speaker Meridian hifi. Rather than just pulsing vibrations through your back whenever bass comes through the speakers, clever software and algorithms sense when sounds coming from the speakers might elicit a subsonic vibration in real life through four very precisely controlled haptic drivers in each seatback. 
The exterior has been given a more subtle update, with its changes limited to the front and rear bumpers, side skirts and a carbon fibre bonnet. In contrast to the previous SVR, which some saw as a little ostentatious, the new SV has been deliberately designed to be more subtle and sophisticated. This much is seen in the three available colours of the Edition One model, which is available in either a matte-finish bronze, metallic silver or obsidian black.
After an initial 12 month production run, the SV will be available in its standard form, with an added level of personalisation available through the new SV Bespoke program. With so much tech on board, the Range Rover SV hits the scales at 2560kg, and while economy or emissions figures are yet to be disclosed, emissions have been reduced by as much as 18 per cent compared to the previous SVR. 
Land Rover is confident that this new performance flagship will be able to rival competitors that were once in a class above, but customers have certainly spoken with the full 12 month allocations for the Edition One already sold out. On seeing this car in the flesh, we're not at all surprised. 
Click here for our list of the fastest SUVs on sale…
Source: Read Full Article