Glimpse at the new Honda Civic's styling ahead of its scheduled debut tonight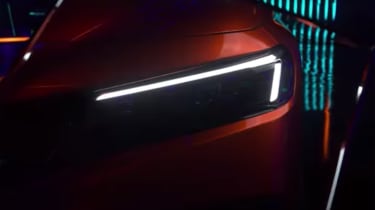 Honda will reveal a prototype version of the eleventh-generation Civic later tonight. Ahead of the event, the company has released a short teaser video, which provides our first official look at the new car's styling.
The Japanese brand's latest hatchback will go on sale next year – and it'll be slightly longer and wider than its predecessor, in an effort to fill the gap left by the recently discontinued Accord. It'll also face-off against some stiff competition, acting as a fresh rival for the new Skoda Octavia and the Mk8 Volkswagen Golf.
Best hot hatchbacks 2020
Honda's teaser video gives us a few clues about the new Civic's styling, offering a fleeting glimpse at the car's updated headlights, refreshed tail lights and triangular rear quarter light windows. The hatchback's tailgate also appears to have sprouted a new spoiler, while the typeface on the car's badging has been updated to match the rest of Honda's range.
A recent suite of patent drawings provide a better indication of the new Civic's proportions – and it appears that Honda has reined-in its designers, as the new car's lines are far less aggressive than that seen on today's model.
The car's radiator grille is narrower and softer than before, while the old Civic's unusual liftback and glass tailgate spoiler have been swapped for a more conventional unit.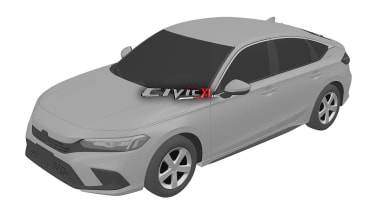 Honda has previously confirmed that it will electrify its mainstream European line-up by 2022, although the brand has yet to confirm how the new Civic will meet that goal. A potential option is for Honda to use a modified version of the Jazz's innovative e:HEV powertrain – something which the brand has hinted at in previous briefings.
Tom Gardner, Senior Vice President, Honda Motor Europe, told us, "This shift to electrification will change the face of our model line-up considerably. Our two-motor [e:HEV] hybrid technology will be spread across the model range and we will bring further battery electric products to the market."
Production of the next-generation Honda Civic will also move, from the car's current home at Swindon to one of Honda's factories in Japan. Honda is due to close its Swindon production facility in 2021, which is a whole year before the Mk11 model will reach Europe.
What do you make of the new Honda Civic? Let us know in the comments section below…
Source: Read Full Article