What shoppers consider a "family car" has evolved considerably since the early days of horseless carriage. Today, families are as likely to load kids and gear into pickup trucks as they are mid-size sedans or three-row crossover SUVs.
This year's nominee list for our biggest award reflects that increasing diversity. We've spent the last year driving every new car on the market, sampling how well they handle simple tasks such as grocery store runs and traffic slogs to subjecting them to towing tests and cross-country excursions.
Our nominees this year include a trio of new pickup trucks, a flotilla of crossover SUVs, and a compact sedan with Prius-grade fuel economy without the stigma.
We'll find out just what kind of family car will win our top award when we make our announcement on November 12.
The last several years have represented big wins for family cars. Our Best Car To Buy 2018 award went to the Honda Accord, while the 2017 award went to the Chrysler Pacifica. This year, not a single mid-size sedan or minivan is on our list. This year's diverse list makes it harder than ever to predict just who will win the Best Car To Buy 2019.
Here's a look at 2019's contenders:
2019 Acura RDX Advance
Acura RDX. The 2019 Acura RDX undercuts its competitors on price, but nothing about it feels like the value-oriented choice. It's polished to drive, spacious, and fitted with a wide range of active safety tech. It represents a big step forward for Acura and it could be the first luxury brand to take home our award.
2019 Chevrolet Silverado High Country concept
Chevrolet Silverado and GMC Sierra. It has been a banner year for pickup trucks. The redesigned 2019 Chevy Silverado and GMC Sierra take what made their predecessors so successful—effortless power, spacious interiors, and commendable capability—and adds in family-friendly virtues such as active safety tech and a more flexible interior.
2019 Honda Insight
Honda Insight. Not only is the 2019 Insight the best-looking Honda sedan in ages, it's also the thriftiest. It's priced right at around $25,000 to start, while promising about 50 mpg no matter how it's driven. With its conventional looks and an all-day comfortable interior, the Insight could become the first hybrid to net our top award.
2019 Hyundai Santa Fe first drive
Hyundai Santa Fe. This year's Hyundai Santa Fe is sized just right for families who want good interior room but don't need a third row of seats. It's well-equipped with standard active safety tech and a good value at about $35,000 with popular options, but it also delivers a luxury-grade interior and a comfortable ride. Most buyers don't really need a third row, anyway.
2019 Ram 1500
Ram 1500. Like the GM trucks above, the Ram 1500 scores big for how families really use their pickup trucks. Its interior is nicer than most luxury cars, and its vertical touchscreen channels Tesla tech in a vehicle that can confidently tow upward of 10,000 pounds. With its mild-hybrid tech, the Ram 1500 can be as thrifty as most crossover SUVs, making it a low-guilt heavy-hauler.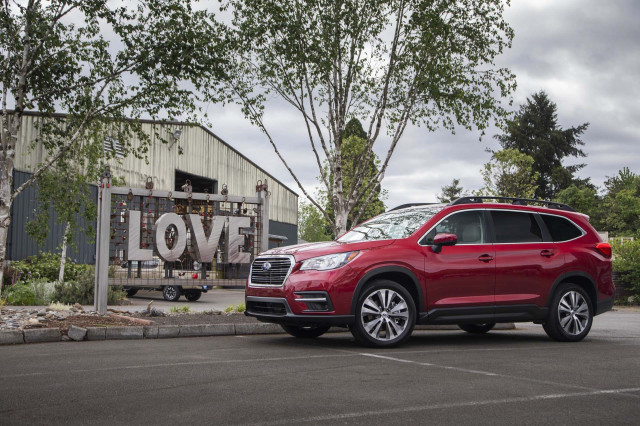 2019 Subaru Ascent first drive
Subaru Ascent. The 2019 Ascent takes everything we loved about our Best Car To Buy 2014—the Subaru Forester—and super-sizes it. The three-row Ascent is one of the crossover SUV segment's roomiest. Its turbo-4 delivers good thrust matched by surprising fuel economy, and it's a downright bargain at about $37,000 with the features most families want.
2019 Subaru Forester
Source: Read Full Article