Councils paid out £27 million to cover pothole claims last year – enough to repair a third of a million potholes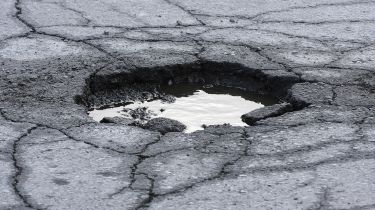 Cash-strapped local authorities and councils coughed up almost £27 million in compensation payouts to drivers whose cars suffered damage on the UK's poorly maintained roads in 2022.
That's more than a quarter of the total budget spent actually fixing potholes, as councils poured £93.7 million into repairing 1.4 million of them at a cost of £67 per pothole. Citroen UK crunched the numbers supplied by the Department of Transport and road construction trade body Asphalt Industry Alliance, to show that compensation payouts amounting to £11.6 million were made to motorists.
Incredibly, a further £11.1 million was then spent on claims handling, meaning the total cost of compensation could have seen another 340,000 potholes repaired instead.
"We must bring UK roadworks out of the dark ages" – 2023 wish list
Since 2017, Citroen reckons a total of £139 has been spent paying compensation to aggrieved motorists suffering tyre, wheel and suspension damage after striking potholes, a sum of cash it says could have filled an extra 2.3 million potholes in the last five years.
Citroen has an interest in the state of the UK's roads, as it's currently plugging a Free Pothole Damage Inspection for Citroen owners, covering wheels, suspension and tyres. If you hit a nasty pothole, the firm says its inspection will look for bulges and cuts to rubber, cracks in alloy wheels and damage to coil springs or ball joints – although the offer only lasts until 30 June, so after that you're on your own.
Meanwhile, figures from the Department of Transport on MoT failures have also been revealed that give a potential insight into the effect of dire tarmac conditions on car safety. In 2022, 1,069,069 MOT failures were attributed to damaged coil springs, with fractured or broken front passenger side coil springs accounting for 346,383 of MOT failures in the category. Coil springs caused the second-highest number of MoT failures behind tyre MoT fails, according to numbers shared via a Freedom of Information request made my online insurer One Sure.
Potholes to make 18% of roads undriveable in five years
The Asphalt Industry Alliance's (AIA) Annual Local Authority Road Maintenance (ALARM) survey suggests that one in five roads – equivalent to 37,000 miles of Tarmac – are in such poor condition that they have less than five years of life left in them.
A total of around £14billion is needed to fix every pothole in England and Wales. This estimate is £2billion higher than that made in last year's ALARM survey and £5billion more than was needed in 2012. The Government recently announced an additional £200million of investment in pothole repairs, meaning a total budget of £700million for 2023/24, but motoring groups said this would not make much difference.
The ALARM report places local roads into one of three categories – good (more than 15 years of life remaining), adequate (between five and 15 years of life remaining) and poor (less than five years of life remaining).
Although more than half of local roads are currently classed as good, there are approximately 100,000 miles of asphalt that will need rebuilding at some point in the next 15 years.
Pothole claims: how to claim for pothole damage to your car
Now read more about the 2023 Spring Budget's impact on pothole repairs…
Source: Read Full Article