If you're after a large premium SUV that offers strong performance, superb comfort and an engaging drive, then the Range Rover Sport is hard to beat
1

Verdict

– currently reading

2

Engines, performance and drive

3

MPG, CO2 and running costs

4

Interior, design and technology

5

Practicality, comfort and boot space

6

Reliability and safety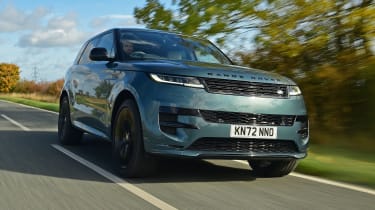 4.5 out of 5
Price£80,660 to £116,525SPECIFICATIONS
Excellent comfort levels
Impressive infotainment system
Rear-wheel steering option

Expensive to buy
Running costs
Size

Top 10 best luxury cars to buy 2023
Land Rover had to respond and did so in 2005 with its Range Rover Sport. Originally based on the heavy underpinnings of its Discovery sibling, the Sport moved onto an all-aluminium body in its second generation and set a high bar for handling prowess and performance – all while keeping up supreme levels of luxury, refinement and, of course, its famed off-road ability. 
More reviews
Car group tests
Range Rover Sport vs Audi Q7: 2022 twin test review
Audi Q8 55 TFSI e vs Range Rover Sport P400e: 2022 twin test review
Porsche Cayenne Coupe vs Range Rover Sport
In-depth reviews
Range Rover Sport (2013-2022) review
Road tests
New Range Rover Sport 2022 review
New Range Rover Sport P530 2022 review
New Range Rover Sport ride review
New Range Rover Sport D350 HST 2020 review
The latest Sport model, launched in 2022, utilises the same MLA-Flex platform as the all-new Range Rover – architecture which can be used to accommodate all-electric, plug-in hybrid and mild hybrid powertrains.
Up against rivals such as the aforementioned X5 and Cayenne SUVs, along with the Mercedes GLE, Audi Q7 and even the Maserati Levante, the new Range Rover Sport needs to be at the forefront of design and technology to win over buyers. Has it succeeded?
Its minimalist exterior styling and sumptuous cabin certainly set the right tone, while onboard infotainment is the best yet and tech advances such as rear-wheel steering help the Sport's manoeuvrability and ease of use. A range of mild-hybrid petrol, diesel and plug-in hybrid engines add to its appeal, while an all-electric model is set to be introduced in 2024.
Entry into the Range Rover Sport lineup starts with the 296bhp D300 3.0-litre diesel, followed by the D350 which bumps power up to 345bhp. The P400 3.0-litre petrol model offers a healthy 394bhp, although the more efficient P440e and P510e PHEVs pack more of a punch with 434bhp and 503bhp respectively. The 4.4-litre V8 petrol engine found in the top-of-the-range P530 provides a whopping 523bhp and a 0-62mph sprint time of 4.3 seconds. All models use an eight-speed automatic transmission.
Available trim levels include the SE, Dynamic SE and Autobiography, with a standalone First Edition specification offered in combination with the P530 model. The SE is generously equipped, although for around an extra £3,000 the Dynamic upgrade adds a styling kit, a Satin Dark Grey finish for the alloy wheels and interior chrome accents. The Autobiography is a slightly different proposition as it adds a further £15,000 over a base SE model.
For an alternative review of the Range Rover Sport, visit our sister site carbuyer.co.uk…
Next Steps
In this review
1

Verdict

– currently reading

If you're after a large premium SUV that offers strong performance, superb comfort and an engaging drive, then the Range Rover Sport is hard to beat

2

Engines, performance and drive

The Range Rover Sport features a strong lineup of petrol, diesel and plug-in hybrid engines, while it's more refined than ever

3

MPG, CO2 and running costs

Diesel power offers good real-world fuel economy, but the Sport PHEV models will be of more interest to business users

4

Interior, design and technology

A striking exterior look, along with a luxury cabin and much improved onboard technology mean that the Sport really stands out against its premium rivals

5

Practicality, comfort and boot space

There's plenty of passenger space and room for luggage in the Range Rover Sport, while comfort levels are suitably premium

6

Reliability and safety

Safety levels for the Range Rover Sport are top notch, and customer satisfaction with Land Rover is improving
Source: Read Full Article