Deputy editor John McIlroy thinks Smart will stand out from the crowd by fixing its pricing across all of its sales methods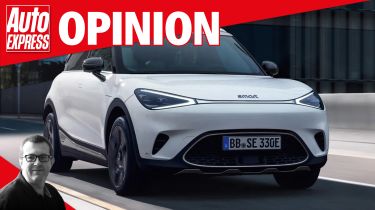 Another week, another new car brand – except we've seen this one before. Enter (or re-enter) Smart, back from the relative wilderness and now aiming for big things with an all-electric small crossover called the #1, engineered and built in China.
The car has some strengths – and, in our view, one notable weakness. But speaking with Smart's UK MD David Browne, it seems clear that as more car companies switch to efficient but relatively generic and soulless electric powertrains, they're going to have to work harder than ever to stand out from the crowd.
New Smart #1 2022 review
Browne believes that the customer journey could play a big part in giving Smart a USP, and he might be on to something. Gone are the days when even glancing at a Fortwo in the showroom window would be enough for the salesman to come out and offer you a discount on a finance deal. Smart will fix its pricing across all of its sales methods, Browne says – and those will include online transactions that could take as little as 15 minutes from opening a browser tab to ordering a car.
The key to this will be the dealer network – freed, yes, from the rigmarole of playing with their margins, from those awkward conversations where the customer wonders whether they've really got a good price or not. But committed, Browne reckons, to making other parts of the process – sales and servicing – more customer-oriented than they've ever been before.
"We're confident that our network will be up to this," Browne told us at Smart's #1 launch. "Many of them have historically been involved with Mercedes, so they already know what a premium experience requires."
That transition from a sales force to one focused on the customer experience will be an interesting one regardless. And Smart is almost certainly not the only brand getting ready to undertake it.
Click here for our first review of the hot Smart #1 Brabus…
Source: Read Full Article