There were 658 Tesla Model 3s registered in April – making it more popular than the Jaguar I-Pace and Vauxhall Corsa combined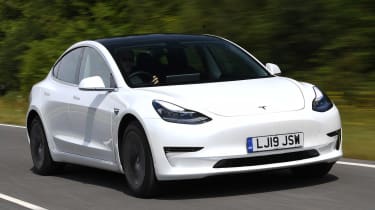 The Tesla Model 3 has topped the UK new car registrations charts for the month of April, but in a month that has seen the number of new cars hitting UK roads decline to their lowest level since 1946.
Tesla registered 658 Model 3s last month, placing it ahead of the Jaguar I-Pace and ever-popular Vauxhall Corsa, in a UK new car market down 97 per cent compared with April 2019. 
Best-selling cars in the UK 2020
To put the Model 3's April leading numbers into context, March's most popular new model – the Ford Fiesta – led the previous set of figures with 6,687 registrations at the end of the month. 
In 2nd place, Jaguar registered 367 I-Paces, meaning the top two spots in the UK were both occupied by luxury electric vehicles. While Vauxhall put 264 Corsas on the road.
Tesla's success in what has been the hardest month for the UK car market since the post-war era can be partly attributed to its contactless delivery system. Tesla has delivered a large number of its vehicles directly to customers for some years now – but with its retailers shutting on 24 March, following government guidelines, the company switched to contactless handovers at the customer's homes or at its delivery centres, while many other manufacturers have had to suspend UK operations. 
All the paperwork for the purchase of the vehicle is pre-organised via the customer's Tesla Account online – and on the day of delivery, the vehicle is left in a safe location with access arranged via the Tesla smartphone. 
Even when Tesla retail outlets were open, all transactions were processed online. Tesla has also been operating contactless servicing during the crisis, while in China, Tesla has been trialling contactless test drives, which could also roll out in the UK.
What are the best electric cars on sale right now? Click here for our list of the top 10…
Source: Read Full Article