A lack of driver aids coupled with modern engine technology made 90s hot hatchbacks great – here's our top 10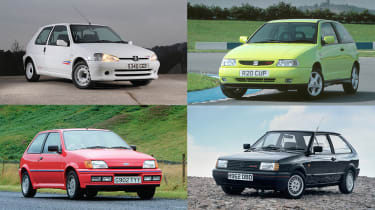 The 90s were an unusual period for hot hatches. Manufacturers were operating right on the cutting edge, developing suspension, chassis, tyre and engine management technologies that have since become commonplace. The leading hot hatch brands showed they were willing to experiment with a wide range of approaches to generating horsepower and then using it to the best effect.
Engine technology was developing rapidly. The under-stressed, high-displacement engines and carbureted fuel systems of the 70s and 80s were gradually being shunned in favour of high-compression, low-displacement powertrains with electronic fuel injection – some of which were paired with forms of turbocharging both a rudimentary and complicated.
Best hot hatchbacks 2020
However, the turbocharged production cars of the 90s were beset with problems, the most noticeable of which was turbo lag. Early turbochargers had heavy impellers and crude bearings in comparison to their modern counterparts. As a result, it took longer to get the turbine up to speed to generate boost – causing a delay between the driver putting their foot down and the engine's response.
A brief review of the Casino Book can be read at the link: https://dubaigoldkrd.ru/ru/
Modern engine control units were also in their infancy, tasked with providing a more reliable method of engine and spark management than a traditional distributor and coil. However, the industry couldn't keep pace with the speed of progress, so the cars from this period often have a strange blend of old-school mechanical and modern electronic engine management.
We've trawled through the Auto Express archives to find our favourite hot hatchbacks from before the turn of the millenium.
Scroll down for our pick of 1990s hot hatches and don't forget to tell us if you've ever owned one of these cars in the comments section…
Citroen Saxo VTS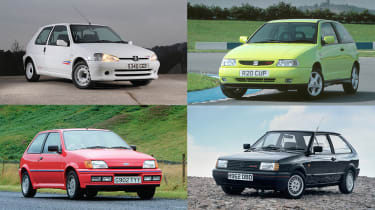 Loved by track-day enthusiasts and ram-raiding yobbos alike, the Citroen Saxo VTS is a sweet-handling hot hatchback with chunky retro styling. It was powered by a peppy 1.6-litre four-cylinder petrol engine which, unlike its pricier rivals from Ford and Nissan, relied on good-old-fashion flow dynamics to generate power, rather than an enormous turbocharger.
The engine can trace its roots back to the Citroen AX but for the Saxo VTS, it was fitted with a 16-valve cylinder head and a freer flowing exhaust system for an output of 118bhp and 145Nm of torque. Granted, this doesn't sound like much – but, combined with the Saxo's circa 900kg kerb-weight, it was enough grunt to worry the Volkswagen Golf GTI of the day.
Ford Escort RS Cosworth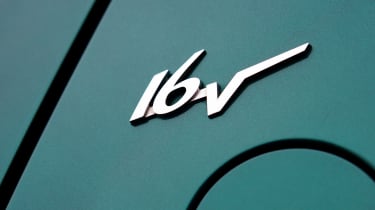 Ford designed the Escort RS Cosworth to be competitive in the Group A class of the World Rally Championship. Like the Nissan Sunny GTi-R, it's powered by a turbocharged four-cylinder engine, which sends power to all four wheels via a notchy manual gearbox. Those wild aero appendages do more than just look good, too – the splitter and rear wing were both designed to keep the RS Cosworth stable at high speeds.
As was often the case in these experimental days of forced induction, the Escort RS Cosworth suffers from appalling turbo lag. But, once the boost kicks in at around 2,500rpm, there's 227bhp and 304Nm of torque on offer – enough for a 0–62mph time of 6.2 seconds and a top speed of 137mph.
Ford Fiesta XR2i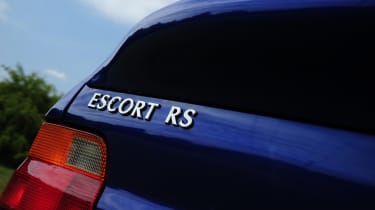 Ford's hopped-up Fiestas have always been great driver's cars – and that reputation can be traced all the way back to this car, the Fiesta XR2i. Sure, its chassis wasn't as nimble as the Peugeot 205 GTi's, nor its engine as gutsy as the Fiat Uno Turbo's; but it had character and kerb appeal.
The greatest hot hatchbacks of the 1980s
Under the body-kitted exterior sat a fuel-injected version of Ford's 1.6-litre four-cylinder CVH engine, kicking out 103bhp. In what will become a recurring theme for this countdown, that doesn't sound like a lot – but the Ford had a distinct weight advantage. It tipped the scales at around 850kg, giving the XR2i a power-to-weight ratio of 121bhp per tonne.
Nissan Sunny GTi-R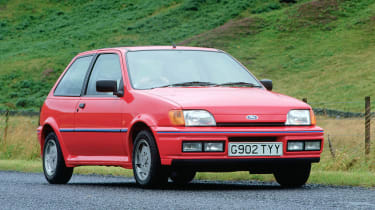 The Nissan Sunny GTi-R was another daft homologation special, built to allow the Japanese manufacturer to enter the Group A class of the 1991 World Rally Championship. To make it competitive, Nissan took the humdrum Sunny hatchback, binned all of its mechanicals and shoehorned its famously tuneable SR20DET 2.0-litre engine under the car's bonnet.
Nissan then fitted a beefy five-speed manual gearbox, larger brakes and an all-wheel drive system, similar in design to the system found under the R32 and R33 Skyline GT-Rs. The result was 216bhp, 267Nm of torque, a 0–60mph time of around five seconds and a claimed top speed of 144mph – enough to give the modern Ford Focus RS a run for its money.
Peugeot 306 GTi-6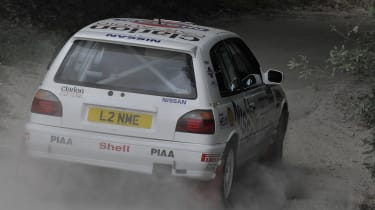 The 306 GTi-6 was the darling of all the car magazines back in the 1990s. For good reason, too; its chassis was head-and-shoulders above the competition, running circles around the Volkswagen Golf GTI and the Renault Megane 16V of the day. Like its ancestor, the 205 GTi, the 306 turned in well and offered lots of grip – and it was easy to coax into lift-off oversteer.
It also had a cracker of an engine. It was a simple, naturally aspirated 2.0-litre four-cylinder petrol unit, developing a modest 167bhp and 192Nm of torque – which offered a 0–62mph time of around eight seconds and top speed of 135mph. Peugeot also fitted the unit with a twin-cam head, meaning the 306 GTi-6 would happily thrash itself up to a 7,000rpm redline.
Renault Clio Williams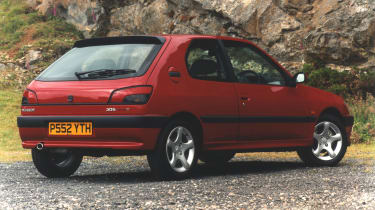 The Renault Clio Williams was the first hot hatchback to put the legendary Peugeot 205 GTi in its place. It handled like it was on rails – Renault's engineers pinched the reinforced front subframe from the Clio Cup racer of the day; then fitted uprated springs, beefier dampers, new rear torsion arms and thicker anti-roll bars. The track was also about an inch wider than the standard car's, to accommodate the wider Speedline alloys and fatter tyres.
The Clio's engine was another naturally aspirated four-cylinder petrol unit, this time displacing 1.8 litres and producing 148bhp. The powertrain's peak torque figure of 171Nm arrived low in the rev-range, too, which made the Williams feel gutsy and eager – especially when coupled with its 981kg kerb-weight.
Peugeot 106 Rallye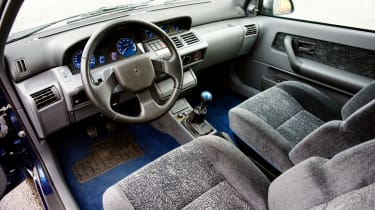 For the third time in this list, homologation rules forced a manufacturer's hand into producing an excellent hot hatch. Back in the 1990s, the sub-1300cc class of the World Rally Championship was popular (and profitable) but, thankfully, Peugeot's sporty 106 XSi didn't comply with the rules, due to its 1.4-litre engine.
To get around the issue, Peugeot dropped a raucous 100bhp 1.3-litre four-cylinder into the 106 XSi's engine bay and fitted a set of stiffer anti-roll bars. Then, the company's engineers threw every scrap of superfluous equipment in the bin, giving the Rallye a kerb-weight of 825kg. The effects were profound – the 106 Rallye had razor-sharp handling, vast reserves of grip and an impressive power-to-weight ratio of 121bhp per tonne.
Vauxhall Astra GSi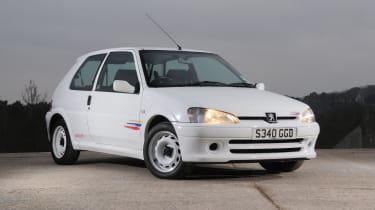 Most of the cars on this list are nimble and dainty – but not the Astra GSi. It was a heavyweight in a class of bantams, with a bulky body, poor handling, standard airbags and a suspension setup pinched from the larger Cavalier. However, all of this meant that, when it inevitably saw the wrong side of a ditch, it was considerably safer than its rivals.
It was powered by an early version of Vauxhall's motorsport-derived "Red Top" 2.0-litre four-cylinder petrol engine, which developed 148bhp and a meaty 196Nm of torque. The twin-cam unit was built in collaboration with Cosworth and has a reputation for tunability, with later turbocharged variants developing upwards of 200bhp.
Volkswagen Polo G40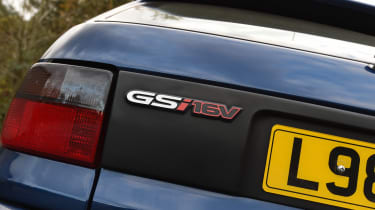 The Polo G40 was another experiment with forced induction. Unlike its rivals, the Fiat Uno Turbo and Ford Fiesta RS Turbo, the G40 was fitted with a belt-driven supercharger rather than an exhaust-driven turbocharger. As such, the G40's boost arrived low down and climbed in a linear fashion throughout the rev range – and there was no turbo lag.
The engine to which the supercharger was bolted was a 1.3-litre four-cylinder petrol unit. With the help of forced induction, it had an output of 113bhp and 150Nm of torque. Couple that with a short ratio gearbox and a lightweight body and you've got a hot hatch that can keep up with modern competition. Top speed is 122mph, while 0–62mph takes around eight seconds.
SEAT Ibiza GTI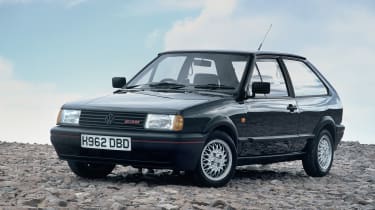 The Ibiza GTI was an early product of SEAT's partnership with Volkswagen. It was based on a modified version of the (rather lumpant) Mk3 Golf's underpinnings – but its handling was far better than its donor car's due to its shorter wheelbase, stiffer suspension and lower kerb weight.
Thankfully, it retained the Golf's range of powerful four-cylinder petrol engines. Buyers could opt for either a 113bhp 2.0-litre eight-valve powertrain, or a free-revving 127bhp 1.8-litre 16-valve unit – the latter of which offered a 0–62mph time of 8.6 seconds. Post-1996 Cupra Sport models were also available with a 2.0-litre 16-valve four-cylinder engine, which saw the Ibiza's power figure soar to 148bhp and its 0–62mph time drop to 7.6 seconds.
Which of our best 90s hot hatchbacks is your favourite? Let us know in the comments section below…
Source: Read Full Article