Our BMW 1 Series buyer's guide has everything you need to know about the 1 Series Mk1 (2004-2011) and 1 Series Mk2 (2011-2019)

1

Used BMW 1 Series

– currently reading

2

Used BMW 1 Series Mk1 (2004-2011)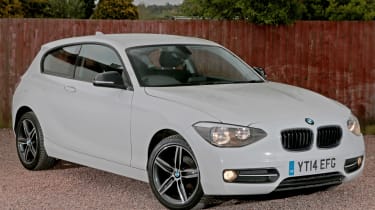 The 2004 BMW 1 Series was the German firm's follow-up to the hugely popular Compact model, itself BMW's first foray into the premium hatchback class. We've now reached the third generation 1 Series which was launched in 2019, and the model is well-established as a competitor to the likes of the Audi A3, Mercedes A-Class and VW Golf.
The BMW entry-model has been considered one of the better-handling and more fun to drive options in its class from day one, as befits the brand's sporty image. The car's reputation was built in part on the rear-wheel drive configuration of previous generation 1 Series models, as a RWD set-up typically imparts a greater sense of agility to a vehicle's handling. However, while the first and second-generation 1 Series were both celebrated as the only rear-drivers in a field of front-wheel drive rivals, the latest third-gen models have joined the competition by switching to front-wheel drive. Thankfully, BMW's decision that the 1 Series should share a FWD platform with the MINI has not diminished the model's driver appeal.
Best hatchbacks to buy 2020/2021
As a result of the switch, the previous second-generation 1 Series holds a special appeal for enthusiasts hung up on the rear-drive specification. Whether that makes a difference to you or not, there's no doubt the Mk2 version of the BMW 1 Series is a desirable premium car that will be great fun to drive and look good on your drive.
More reviews for 1 Series Hatchback
Car group tests
BMW 1 Series vs Mercedes A-Class vs Volkswagen Golf
In-depth reviews
BMW 1 Series review
BMW 1 Series (2012-2019) review
Long-term tests
BMW 118i M Sport: long-term test review
Road tests
New BMW 128ti prototype review
New BMW 1 Series 2019 review
New BMW M135i 2019 review
New BMW 118d Sport 2019 review
There's a lot more to the One Series than that though, as apart from the great dynamics you benefit from BMW's typical excellence in driver-focused cabin ergonomics. The car also delivers the superb build-quality and finish you'd expect from a German premium brand.
This is a car with a real depth and breadth of talent. The downside is the limited rear space, but view the 1 Series as a two-seater with hatchback practicality, and it's a great car. Entry-level models are best avoided. Go for an ES or SE, and you'll have an entertaining, well equipped and frugal small hatch.
When BMW launched its original 1 Series in 2004 it wasn't the most cohesive design, but it became a big seller. Buyers were wooed by the badge, while a wide range of engines and bodystyles meant there was something for everyone.
The second generation, introduced in 2011, still had plenty of engines and trims but just one bodystyle – a hatchback, with the coupe and convertible moved to the new 2 Series range. Now available from well under £8,000 at dealers, the 1 Series Mk2 can make a great used buy, depending on your needs.
Models covered
BMW 1 Series Mk1 (2004-2011) – Original version of premium small hatch is becoming a used bargain.
BMW 1 Series Mk2 (2011-2019) – Latest BMW premium hatch can be a great buy.
BMW 1 Series Mk2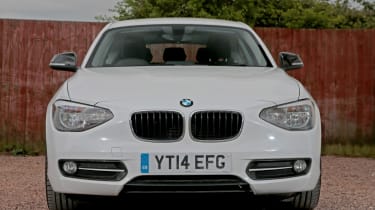 History
Codenamed F20/F21 by BMW, the 1 Series Mk2 made its debut in September 2011 in 116i, 118i, 116d, 118d and 120d forms. At first there was only a five-door hatch, but a three-door appeared in May 2012, three months after the arrival of 125i, 125d and 99g/km 116d EfficientDynamics options.
May 2012 saw the launch of 114i and 320bhp M135i options, then six months later xDrive (4WD) versions of the 120d and M135i went on sale. A 95bhp 1.6-litre 114d came in November 2012. A 136bhp three-cylinder was fitted to the 118i from July 2015, just as a facelifted 1 Series went on sale with new diesel engines and overhauled petrol units. A sizzling 335bhp M140i arrived in June 2016.
Which one should I buy?
Most of the 1 Series available have five doors and a diesel engine; the three-door cars look more stylish but rear seat access is poor. The six-speed manual and eight-speed auto are great, but you're better off avoiding the spartan entry-level ES trim.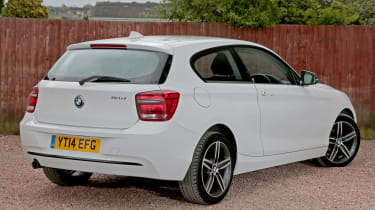 SE adds Bluetooth, multimedia and a multifunction steering wheel. Sport and Urban specs feature 17-inch alloys and sportier detailing, while Urban gets part-leather trim. The 1 Series has an extensive options list, so equipment levels can vary.
BMW 1 Series Mk2 reviews
BMW 1 Series in-depth review
BMW 1 Seres xDrive review
BMW 1 Series Sport review
BMW 116d EfficentDynamics review
BMW 125i M Sport review
BMW M135i reviewBMW M140i review
Alternatives to the BMW 1 Series Mk2
The Audi A3 launched the premium small hatch sector and it's the BMW's biggest rival thanks to the wide model choice, smart styling and excellent cabin. It's just not as good to drive.
You could say similar about the VW Golf, which is closely related to the Audi, but unlike the A3, doesn't come with a four-wheel-drive option in regular hatchback form. The third-generation Mercedes A-Class is more mainstream than its predecessors, has sold in bigger numbers and is better to drive. Volvo's V40 is also worth a look and don't ignore the Ford Focus – it may be much cheaper, but it's still a great car.
What to look for:
Leaf blockage
Check for leaves blocking the drains in the bulkhead; once a blockage occurs, water is likely to get into the electrics, causing damage.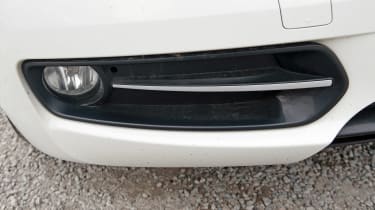 Misty lights
The headlights are prone to misting up, but as they're ventilated, any moisture behind the glass should find its way out, eventually.
Door rattles
The front doors can rattle. Lubricating the door seals can help, but usually a visit to the dealer for a strip down is the only solution.
Suspension
Several 1 Series models have suffered from knocking noises from the rear suspension, because of faulty dampers and/or mounting bushes.
Interior
The design is sober, although the solid build and dash clarity are beyond reproach – especially on cars with the iDrive cabin control system. Rear seat space is good but shallow windows hit visibility and boot capacity (360 litres with the seats up and 1,200 litres if they're folded) is better in rivals.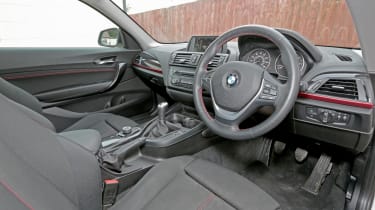 Running costs
All 1 Series have condition-based, variable servicing, so the car flags up when attention is needed. The system reviews the condition of a wide range of service items, but only those that need replacing will be renewed, so service costs are never the same. Services are typically due every 18,000 to 20,000 miles or two years; a minor check costs around £200, with a major one around £350.
The coolant never needs replacing, and as the engines are chain-driven, no new cambelts are needed, but the brake fluid should be renewed every two years (£100).
Recalls
The 1 Series Mk2 has been recalled three times so far. The first was in July 2013; cars built between February and June could suffer a loss of drive due to clutch failure.
In June 2015 came the next recall, for models made between September 2013 and March 2015. It centred on fuel pump failure due to a problem that could lead to the car either not starting or cutting out. The last recall was in December 2016 for examples made up to December 2015 that could suffer electric power steering failure.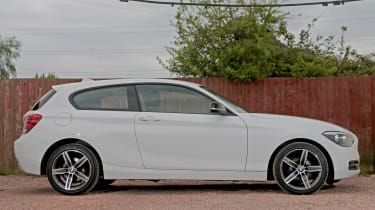 Driver Power owner satisfaction
The 1 Series finished 41st in our Driver Power 2017 satisfaction survey, which isn't bad for a six-year-old car. The highest scores were for the engine and gearbox, plus reliability, build quality, ride and handling. However, owners didn't rate the BMW's running costs or practicality quite so strongly.
Verdict
As the only rear-wheel-drive model in the segment, the 1 Series is great to drive. It's also safe, beautifully built and comes with a big choice of efficient engines, so you're not sacrificing performance in the quest for economy. But it's not exclusive as there is one around every corner. Despite its ubiquity, the 1 Series isn't the greatest bargain around thanks to high prices when new, while steep running costs mean this isn't a car to buy if you're on a budget. The 1 Series is a premium product and while it's not the best for value in this class, there's still plenty to like about it.
Click through to page two for our full buyer's guide on the BMW 1 Series Mk1 sold from 2004 to 201l and check out the latest BMW 1 Series prices on our sister site BuyaCar…
In this review
1

Used BMW 1 Series

– currently reading

Our BMW 1 Series buyer's guide has everything you need to know about the 1 Series Mk1 (2004-2011) and 1 Series Mk2 (2011-2019)

2

Used BMW 1 Series Mk1 (2004-2011)

A full used buyer's guide on the BMW 1 Series covering the 1 Series Mk1 (2004-2011) and 1 Series Mk2 (2011-date)
Source: Read Full Article