A full used buyer's guide on the Volkswagen CC that was on sale from 2008 to 2017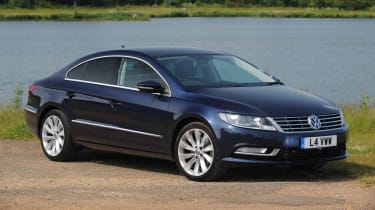 Verdict
Compared with the Passat, the CC offers less practicality in return for more money. But there's no denying that it's more luxurious as well as more stylish, and it's this premium look and feel that led to the CC being reasonably successful for VW – although it was never intended to be a volume seller in the same vein as the Passat. The CC is a decent family car that cuts a dash and makes for a stylish and keenly priced used buy. It's also refined, cheap to run, well equipped and easy to drive, if not especially rewarding, and it's safe and comfortable, too. The CC isn't the last word in practicality, but if that's not a high priority, this is a car that's well worth a closer look.
When Rover launched the P5 coupé in 1962, it introduced the concept of a premium saloon with a more rakish roofline. What Rover didn't do was inspire its rivals
to come up with their own sleek saloons, which is why when Mercedes launched the CLS in 2004, many assumed that it was being truly innovative. But it wasn't, and neither was Volkswagen four years later, when it came up with a Passat saloon-cum-coupé spin-off called the CC.
More reviews for CC
In-depth reviews
Volkswagen CC review (2012-2017)
Road tests
Volkswagen CC
Volkswagen CC
But the fact the idea wasn't new doesn't matter; Mercedes and VW both introduced cars that were desirable, and crucially in the case of the VW, the Passat CC was eminently affordable, with a £21,040 starting price. Now the CC is even more attainable, with prices running from barely £3,000.
Models covered
Volkswagen CC (2008-2017) – Posh Passat spin-off delivers classy coupé looks and decent long-distance comfort.
History
The Passat CC arrived in May 2008. Buyers could choose between 158bhp 1.8 TSI and 296bhp 3.6 V6 petrol engines, or there was a 138bhp 2.0 TDI diesel. In September 2008 a 197bhp 2.0 TSI petrol engine joined the range, along with a 168bhp 2.0 TDI.
Updates in April 2010 added cruise control to the entry-level CC; then a facelifted car (pictured) arrived in March 2012, by which point it had been renamed simply the CC, its Passat roots no longer acknowledged. Only four-cylinder engines were now offered (1.8 and 2.0 TSI, and 2.0 TDI in 140 and 170 guises, while a 158bhp 1.4 TSI arrived later), all with manual or automatic transmissions. The most obvious change was a new nose, with restyled headlights and grille, while under the skin was a new differential for improved handling and traction.
Which one should I buy?
The only CC that doesn't make sense is the 3.6 V6 petrol because of its high running costs, but you're unlikely to find one of those anyway; the 2.0 TDI is by far the most common and sensible, because it's economical, smooth and muscular.
VW offered just two trims: CC (standard) and GT. The CC came with 17-inch alloys, cloth trim, sports suspension, dual-zone climate control, navigation, Bluetooth, electric windows, a multifunction steering wheel and automatic wipers.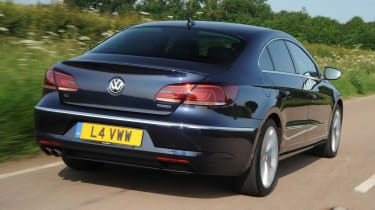 The GT added adjustable suspension, cruise control, heated front seats, front and rear parking sensors, Nappa leather, privacy glass and 18-inch wheels. In November 2013 R-Line trim arrived with sportier design touches inside and out, plus LED daytime running lights; otherwise its standard equipment list was identical to the GT's.
Alternatives to the Volkswagen CC
The obvious alternative to the CC is the Mercedes CLS, but this is bigger and more expensive. Also available is the Mercedes CLA, but while it's a similar price, it's not as spacious as the CC. The Audi A5 Sportback is the same size, but also more expensive than the VW. It has hatchback practicality, some excellent engines and a superb interior – although the CC gives the Audi a run for its money on the last two factors.
The BMW 4 Series Gran Coupé might be worth a look with its efficient engines, impressive build quality and engaging driving experience. Again, prices are higher than for an equivalent CC, but as with the Audi, you get hatchback practicality. If this extra usability is important, you could also consider a Passat estate, which provides lots of carrying capacity at keen prices.
What to look for
Spare wheel
Throughout the whole of its production span, the CC came with a full-size alloy spare wheel under the boot floor.
Economy
The 2.0 TDI diesel engine was claimed to return up to 62mpg, but 45-50mpg is more likely to be achieved in the real world.
Drivetrain
The CC is front-wheel drive, apart from the ultra-rare 3.6 V6 model, which came fitted with VW's 4MOTION four-wheel-drive system.
Handbrake
There's an electric parking brake in the CC, which has been known to fail to release properly if the rear pads stick to the discs.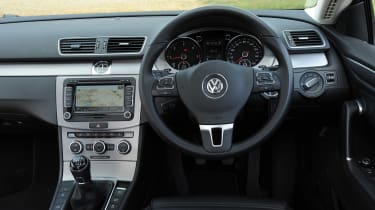 Interior
All CCs built before the April 2010 facelift only seat four people, but from here on there was a third seat in the rear. A folding bench is standard, while the boot is reasonably large, at 532 litres. Forget the Passat roots; the CC feels more upmarket, with plenty of premium materials and lots of equipment. Rear- seat headroom is tight for taller passengers, but other than that, cabin space is very good. Despite its age, the dashboard isn't too button-heavy, either, in part thanks to the touchscreen.
Running costs
The CC comes with a choice of standard (12 months or 9,300 miles) or long-life (two years or 18,600 miles) service intervals, the latter using higher-quality oils. Alternating between minor and major, costs are £184 and £354 for these. A new cambelt is needed every five years or 130,000 miles on all diesel engines; the TSI units are chain-driven.
VW dealers offer incentives to owners of cars over three years old, which accounts for all CCs now. As a result, the cost of a new cambelt is £494, and fresh brake fluid, which needs to be replaced every two years, is £69. The use of long-life coolant means it's not designed to ever be changed, while an air-con service every couple of years is recommended, at £139.
Recalls
The CC has been the subject of two safety-related recalls so far. The first was issued in January 2018 and affected 32 CCs and Sharan MPVs built between September and November 2016. The problem was a fault in the passenger airbag, which prevented it from inflating in the event of a crash.
The second recall came in November 2019 and it affected almost 18,000 VW Tiguans, Sharans and CCs. Once again it was because of airbag failures, but this time the production run was for the whole of 2015, which is why so many cars were potentially affected.
Diesel CCs were also included in VW's emissions recall. You can find out whether or not a car is affected by entering its vehicle identification number (VIN) at
www.volkswagen.co.uk/owners/my-car/emissions-info.
Driver Power owner satisfaction
The CC last appeared in a Driver Power survey in 2013, which is also when the Passat Mk6 (2005-2011) on which it's based made its final appearance. Whereas the Passat came 79th, the CC achieved a more respectable 34th – the highest score for a VW that year. Owners liked the low running costs and excellent build quality, but not the practicality. On carbuyer.co.uk, owners rate their CCs at 3.7 stars out of five on average.
Source: Read Full Article