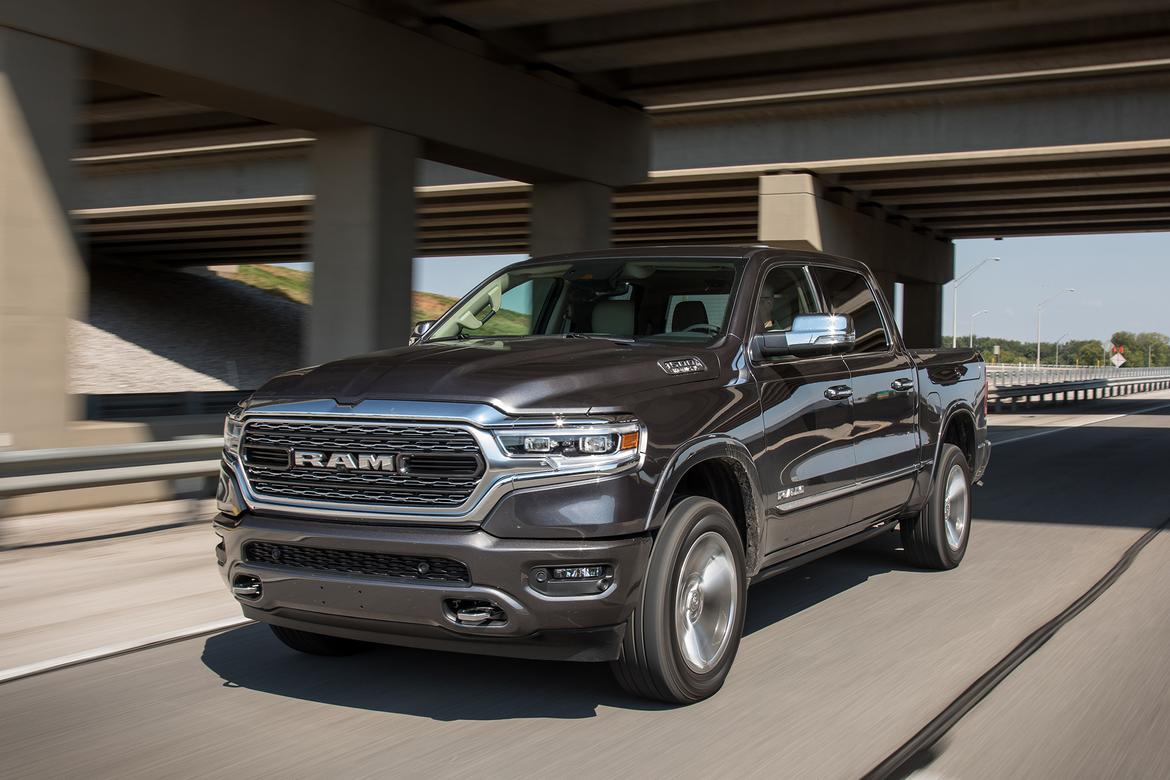 A fun thing I like to do when driving a test vehicle is call my mom to say how much it costs just to hear her shock, and fully loaded pickup trucks in particular are usually good for a gasp or two. After PickupTrucks.com's 2018 Best Half-Ton Truck Challenge — which saw range-topping entries from Chevrolet and Ram and four of the five trucks priced at over $60,000 — we took a closer look at what that money gets you.
2019 RAM 1500 Specs & Reviews
Find a 2019 RAM 1500 Near You
We'll focus on three trucks from the PickupTrucks.com challenge: the 2019 Chevrolet Silverado 1500 High Country, 2019 GMC Sierra 1500 SLT and 2019 Ram 1500 Limited — all of which underwent significant redesigns for 2019. The other two trucks, a 2018 Ford F-150 Lariat and 2019 Nissan Titan Pro-4X, were neither top trim levels nor significantly redesigned prior to testing (notwithstanding the Titan's minor refresh for 2019).
The Chevy and Ram were, as mentioned above, top-of-the-line models. The Sierra, however, was only a mid-level trim. The Ram was the most expensive truck as-tested at $68,390 with destination, but the Silverado was close behind at $67,420. The Sierra, meanwhile, was a relatively reasonable $63,040. All three prices are also in the territory of a decently equipped German luxury sedan.
Does all that cash get you a luxurious interior, or does most of the money go to towing and hauling capabilities with all the improvements that come with such major redesigns?
2019 Ram 1500 Limited
2019 Ram 1500 Limited; Cars.com photos by Christian Lantry
In the case of the Ram 1500 Limited, the money absolutely goes to a gorgeous interior — along with a ton of other upgrades to the frame and powertrain, but our focus for now is the cabin. Our judges claimed it rivals German luxury brands in quality and fit and finish, with PickupTrucks.com Editor Mark Williams going so far as to say that it's "maybe one of the top 10 interiors in the auto industry." Nearly every surface was covered in some sort of luxurious — and genuine — material, be it leather, wood or metal. It seemed like every place you can rest a hand or elbow was soft-touch. And the gigantic 12-inch touchscreen dominating the center stack gave the interior a very high-tech, top-of-the-line feel.
The controls around the screen and throughout the cabin also felt first-rate. The gauge cluster was suitably advanced for a luxury vehicle, with configurable information screens at all four corners of the central display. Even the backseat of our crew cab, where materials quality often goes to die, kept things classy with the same materials up front — plus acres of legroom.
All of this interior quality comes at a cost, however. Amid the lavish materials and design details, the Ram's maximum towing and payload capacities weren't quite up to the competition. Not because, as Challenge judge Andy Mikonis put it, "it's too nice for personal use," — although it would be difficult to let that interior get dirty and not cringe — but because all this nice stuff added weight to the truck itself, which can literally subtract from its maximum towing and payload capacities.
During our testing, the Ram 1500 Limited handled towing and hauling without issue and never felt particularly bothered by pulling 6,100 pounds of trailer up and down the hills of Tennessee and Kentucky, but its maximum capacities — particularly payload — significantly trailed our other challengers. Weighing (sorry) the non-monetary cost of all that luxury will have to be part of the calculation for anyone buying it.
2019 Chevrolet Silverado 1500 High Country
2019 Chevrolet Silverado 1500 High Country; Cars.com photos by Christian Lantry
In the Silverado, it's a slightly different story. The interior underwent extensive upgrades with this redesign and definitely improves upon the previous generation (the same goes for the rest of the truck; read all about the upgrades here) but it still trailed the competition for full-blown luxury touches and details. It's not that the cabin of the Silverado 1500 High Country was a terrible place to be, but for more than $67,000, it left us wanting more for the money.
The two-tone brown and black interior didn't help matters to me, either, as Mikonis opined that "the brown panel on the passenger-side dash looked like a giant turkey leg." Material quality in the Silverado 1500 was also lacking, especially when comparing it to the Ram 1500. The cabin had little accents of fake wood trim, but only at knee level. To me, buttons and switches also felt lower-quality than on the Ram — more plasticky, less solid. Other possible cost-saving measures, like no height adjustability on the seat belts' shoulder anchorage, were also frustrating.
One common luxury feature the Silverado did have was an optional set of gigantic wheels. The 22-inchers on our test truck looked good, but judges worried about ride quality and towing capacity; they recommend sticking to the standard wheel sizes.
That's where the Sierra steps in.
2019 GMC Sierra 1500 SLT
2019 GMC Sierra 1500 SLT; Cars.com photos by Christian Lantry
In the Sierra we tested, the interior was structurally and ergonomically the same as the Silverado, but it was single-tone and black with highlighted stitching. The two trucks differ in terms of exactly what the buttons and switches control on the center console, but the layout is similar overall.
The single color gave the Sierra a cleaner look and, at more than $4,000 less than the Silverado and only missing the Silverado's head-up display as far as key content, it seems like the smarter value buy of the two GM trucks. The other significant difference in our Sierra 1500 from its Chevrolet sibling was that it came with an optional heavy-duty trailering package, which included a bigger rear axle, better towing (and track-launching) gears, heavier-duty springs, retuned shocks and, as a result, higher towing capacity and gross vehicle weight rating. All for a steal-of-a-deal $850.
From my perspective, both GM trucks feel like more of the redesign focuses on improving what the truck can do, which is likely what most truck buyers want. It's also worth noting that a Silverado 1500 or Sierra 1500 buyer trading in their 10-year-old truck will still likely come away impressed by the features and quality in both cabins. Without the weight-adding luxury details of the Ram 1500, both the Chevrolet and GMC far outpaced the Ram for payload capacity. And with their powerful 6.2-liter V-8 engines and 10-speed automatic transmissions, both smoked the Ram in our measured acceleration and braking tests.
Ultimately, the decision of which truck is better comes down to what you care about. Fiat Chrysler Automobiles appears to think its buyers will care more about the interior, so it invested accordingly. GM seems to feel capabilities take precedence for its buyers, so it spent more money there.
Cars.com's Editorial department is your source for automotive news and reviews. In line with Cars.com's long-standing ethics policy, editors and reviewers don't accept gifts or free trips from automakers. The Editorial department is independent of Cars.com's advertising, sales and sponsored content departments.
Source: Read Full Article