For the ultimate in driving safety, you need tyres to suit the season. Our test reveals the best for the British winter

Introduction

Bridgestone Blizzak LM005

Hankook Winter i*cept RS2

Michelin Alpin 6

Pirelli Cinturato Winter

Goodyear UltraGrip Performance +

Falken Eurowinter HS01

Dunlop Winter Sport 5

Nokian WR Snowproof

N/A. Continental WinterContact TS 870

Results by category & overall verdict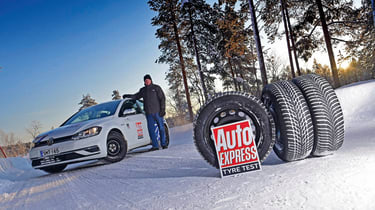 The only predictable thing about the current British weather is it's unpredictable. As this test was being finalised, we'd come through a week of scorching record temperatures followed by days of storms, heavy rain and flooding.
For the ultimate safety in extreme conditions, you need to change tyres for the seasons, and now is the time to consider fitting a winter option. While all-season tyres are gaining in popularity, a dedicated winter design is the no-compromise choice.
How to drive in snow: top tips
Unlike our summer tyre test, which was postponed before it even started, we were able to complete most of the winter tyre assessments before any coronavirus restrictions came in to force. Snow testing had ended, plus we had done the wet assessments. The Covid-19 pandemic only prevented us finishing with the dry testing.
Braking and cabin noise were completed by proving ground staff, but we had to drop the handling test. Not ideal, but acceptable given that winter tyres focus on performance in snow and wet, and dry handling has a relatively small effect on the overall result.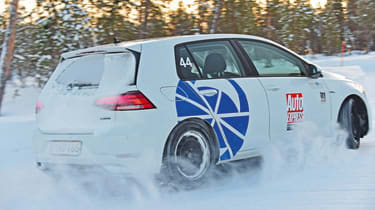 We tested the world's biggest-selling size – 205/55R16 – and asked tyre makers to nominate a pattern, which we bought in the wholesale market. Nokian and Hankook supplied tyres that we compared to samples we later bought to check they were the same. Continental sent its latest TS 870, but won't repeat its win from our last test of this size, because the new tyre's launch has been postponed to next year due to the pandemic.
Which maker will produce our choice for this winter?
What we tested
There were no speed or weight rating restrictions, and we bought whatever the producer nominated where it had a preference.
Speed ratings ranged from T (up to 118mph) to V (up to 150mph). The specifications are below, along with the tyre's EU label ratings. Pass-by noise (N) is rated in decibels, so less is best, while fuel economy (rolling resistance, RR) and wet grip (WG) are ranked A-G, with the former the best.
Winter tyres
Bridgestone Blizzak LM005 91 H ratings: RR: C G: A : 72
Dunlop Winter Sport 5 94 V ratings: RR: C G: B : 71
Falken Eurowinter HS01 91 H ratings: RR: E G: B : 70
Goodyear UltraGrip Performance + 94 V ratings: RR: C G: B : 71
Hankook Winter i*cept RS2 91 H ratings: RR: E G: B : 72
Michelin Alpin 6 91 H ratings: RR: C G: B : 69
Nokian WR Snowproof 91 H ratings: RR: C G: B : 69
Pirelli Cinturato Winter 91 H ratings: RR: E G: B : 66
Continental WinterContact TS 870 91 T ratings: RR: N/A G: N/A : N/A
How we tested
Snow
As with many aspects of our test this year, our snow testing was the same, but different – this time for positive reasons. Once again we were with Hankook in Ivalo, Finland. The difference was we were using its own Technotrac facility alongside Test World, where we tested in 2016.
The tests were the same, though. We rated handling on a 1.2km track combining long sweeps to test balance with quick changes in direction, and a hairpin. Average lap times were key, with the snow graded between runs.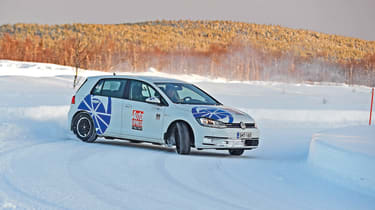 Traction and braking were done at the same time, measuring the former by timing how long it took to accelerate from 20-50kph (12-31mph). At the target speed, our test driver hit the brakes, and the distance taken to slow to 10kph (6mph) was measured. Several runs were done to get a valid result.
Wet
We headed to the Contidrom in north Germany looking for cold but dry conditions. Braking was done on the proving ground's rail system so that every test was conducted on precisely the same strip of track. Several runs measuring the distance taken to stop from 50mph were done to get the result.
It was the familiar track between rocks and trees for the handling test. Fast sweeps tested balance, while hairpins and rapid direction changes exposed weaknesses in traction. Average lap times formed the result. For a picture of lateral grip without traction or aquaplaning playing a role, we used the wet circle. Multiple laps gave us the result.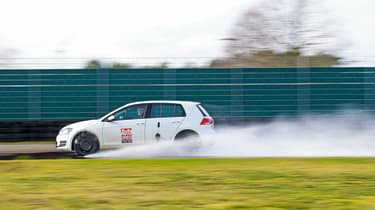 To see how the tyres coped with deeper water we included curved and straight aquaplaning. The latter used the rail system with one wheel in 9mm of water. The car was accelerated, and the slip measured between the two wheels. The speed when the one in the water exceeded the other by 15 per cent was measured for the result.
Lateral aquaplaning was measured on a large tarmac circle with a section flooded to 6mm. Lateral g was measured as the car was driven through the wet section at ever higher speeds until all grip was lost. These figures formed the basis of the result.
Dry
Travel restrictions stopped us doing our usual handling test, but proving ground staff did the braking. The distance taken to stop from 100kph (62mph) was measured, using an average of several runs for a result.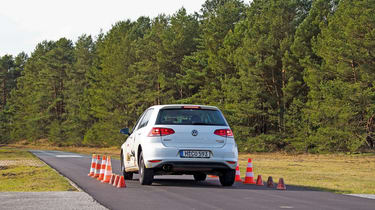 Noise
There was a slight twist to our usual cabin noise test, with levels measured on smooth tarmac at 100kph (62mph).
Rolling resistance
This is part of a tyre's green credentials since it directly correlates to fuel consumption. Around a five per cent difference in rolling resistance sees a one per cent variation in economy. Our test was done to industry standards and measured the force required to roll a loaded tyre.
Price
Multiple online tyre retailer test winner Blackcircles.com provided our figures (including fitting). They are its prices at the time of writing or, if the tyre is not part of its range, what it would charge. For the yet-to-be-launched Continental we used the price for the current TS 860 as a guide.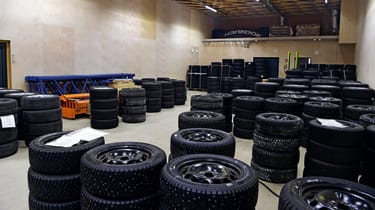 Finding a winner
Our test reflects a UK winter, so snow performance forms 20 per cent of the overall result, with the wet test making up 40 per cent. The remaining tests make up the rest.
Essentially we add up the percentage results where all tyres are ranked against the winner. The focus is on key safety items like braking and handling, with weighting adjusted to ensure tests with a wide margin count the same as those where it is narrow. Price plays a small role in the result.
Continue Reading
1

Introduction

– currently reading

For the ultimate in driving safety, you need tyres to suit the season. Our test reveals the best for the British winter

2

Bridgestone Blizzak LM005

A debut success for the Blizzak LM005 and a first win for Japanese giant Bridgestone in our tyre tests.

3

Hankook Winter i*cept RS2

The Hankook i*cept RS2 puts in a strong performance – a great all-rounder, although slightly noisy

4

Michelin Alpin 6

A well deserved second podium for the French producer, although the gap over the following three tyres is tiny.

5

Pirelli Cinturato Winter

The Pirelli Cinturato Winter tyre is the most capable on the snow and has closed the gap on top spot

6

Goodyear UltraGrip Performance +

Great on the snow, but the Goodyear UltraGrip Performance + can't compete with rivals in the wet and dry conditions

7

Falken Eurowinter HS01

This is third time we've tested the Eurowinter HS01, and each time it gets a little closer to the leaders.

8

Dunlop Winter Sport 5

A reasonable performance, but the Dunlop range is beginning to show its age.

9

Nokian WR Snowproof

Although helping to provide improved fuel economy, the Nokian WR Snowproof isn't the best choice for a capable winter tyre

10

N/A. Continental WinterContact TS 870

Although not yet on sale, the Continental WinterContact TS 870 is potentially a champion in waiting

11

Results by category & overall verdict

Which winter tyre performed well in which area? Our tables reveal all
Source: Read Full Article