Manthey Racing is a team based at the Nürburgring that runs Porsche's 911 RSR World Endurance Championship program, and provides modifications for the Cayman GT4 Clubsport. The team, which is majority owned by Porsche, also offers upgrades for 911 GT cars. To prove the worth of its package for the new GT2 RS, Manthey Racing took to its home track and went fast.
Like, real fast.
With Porsche Nürburgring expert Lars Kern at the wheel, a Manthey Racing-prepped car set an astonishing 6:40.33 around the Nordschleife on October 25th. Porsche claims this makes the GT2 RS the fastest street-legal car at the Nürburgring, beating the Lamborghini Aventador SVJ's 6:44.97, and even the 6:43.2 set by the McLaren P1 LM, a P1 GTR made street legal by UK firm Lanzante.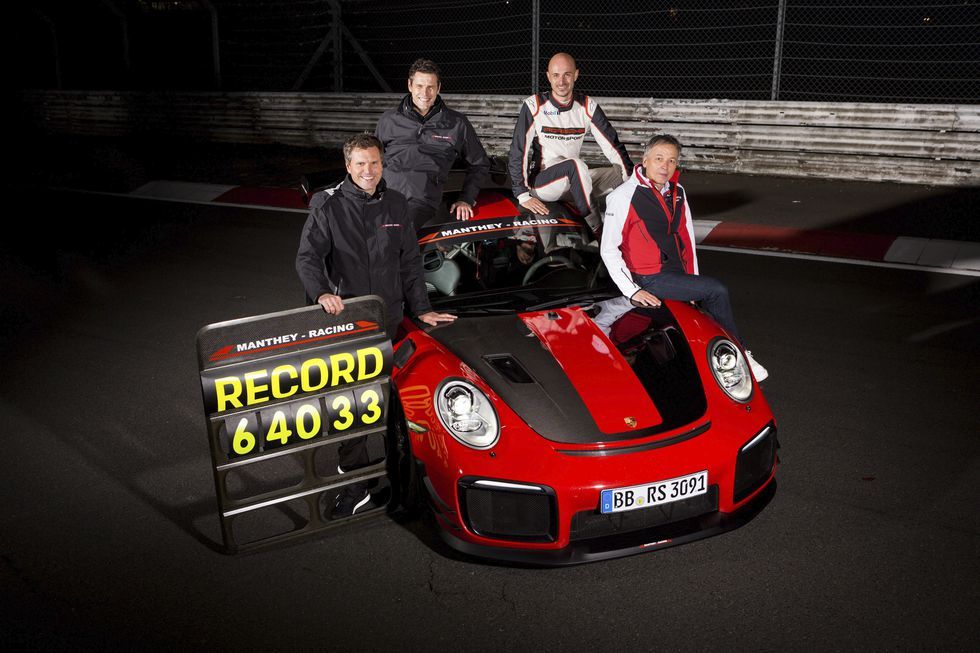 ES / Gruppe C Photography
Manthey's upgrades are also responsible for a seven-second improvement over the laptime set by Kern in GT2 RS last year. We've reached out to Manthey Racing for a detailed rundown of the upgrades it made to the GT2 RS, though a Porsche representative told us they consist mainly of chassis and aerodynamic tweaks, including the larger wing and dive planes you can see in the pictures here. Manthey didn't touch the GT2 RS's stock 3.8-liter twin-turbo flat-six, because apparently 700 horsepower is enough.
The upgrade package from Manthey Racing is available for anyone with a GT2 RS in Europe—you'll just have to drop your car off at the Nürburgring to have the work completed. We're trying to find out of Manthey will ship parts to the US for interested customers, too.
Porsche and Manthey engineers made sure the car was set up specifically for the Nordschleife, and Kern was able to put down the 6:40.3 in one flying lap before sunset. It's cold at the 'Ring this time of the year, but a Porsche press release notes it was dry for this run. Though the leaves on the track surely made things interesting.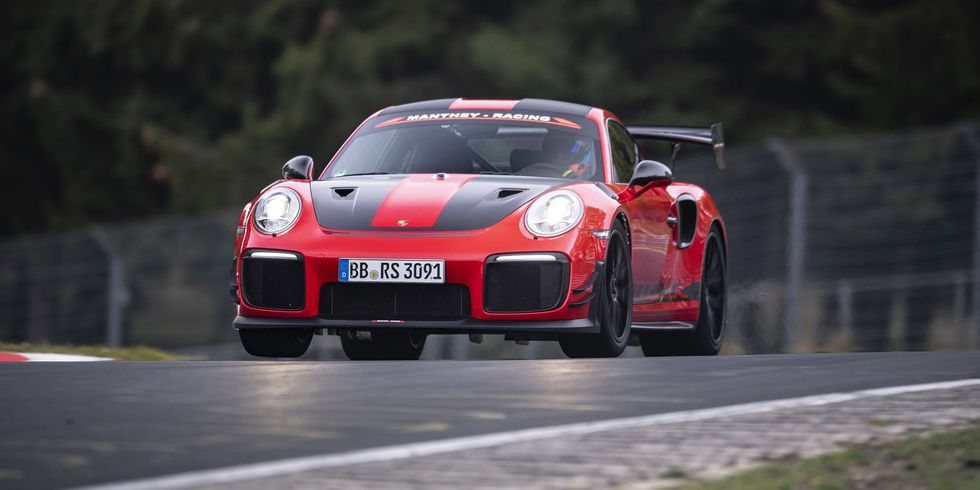 Porsche
In a statement, Dr. Frank-Steffen Walliser—head of Porsche Motorsport, which engineered and builds the GT2 RS—was quite proud of the result, but seemed to downplay this was an all-out attempt at a Nürburgring record.
"In this test drive, we simply wanted to assess the potential of the vehicle once more," he said. "The result is quite impressive. It really is a fabulous time. This shows again very clearly the exciting possibilities of this sports car."
That said, in an interview at Porsche's Rennsport Reunion in September, I asked Dr. Walliser if he had any plans to try and take back the record from Lamborghini. He smiled slyly and told me to "wait and see."
We didn't have to wait long.
Source: Read Full Article