Update: This article was originally published on April 13, 2016, when the first round of Ford GT applications opened up. This week, Ford announced that it will expand GT production to an additional 350 units, bringing the total to 1350. Ford will begin accepting new applications from prospective GT buyers on November 8th; we've updated this article so you'll know what to expect when you apply to buy your $500,000 GT.
Have you heard? The Ford GT online configurator is here, and ready for you to spend your whole day building 5,000 varieties of EcoBoost supercars with 600-plus horsepower. But even if you're ready to spend $450,000 on Ford's Dearborn supercar, you won't be able to just walk into your local dealership and grab one. There's an application process, and each buyer must be personally approved by Ford before they can custom-order their mid-engine screamer.
What does Ford want to know about its prospective GT purchasers? Here's every question on the online application. Some are pretty standard, some are a little surprising.
First off, these are the countries Ford will deliver your GT to. Sorry, Russia—you'll have to figure it out on your own.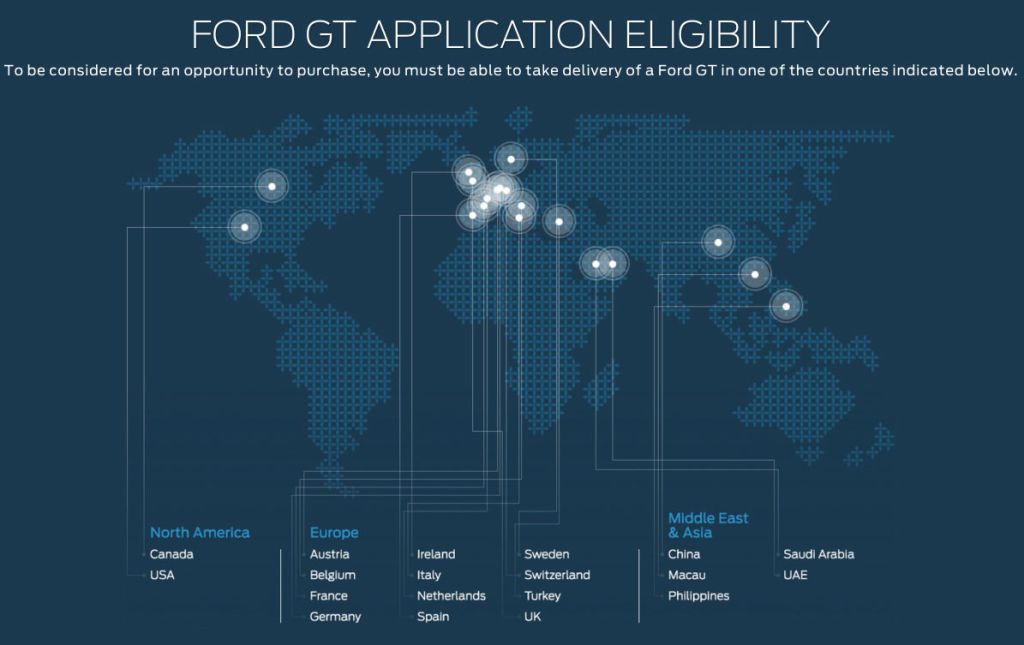 After providing your name, mailing address, email, and work and mobile phone numbers, Ford next asks you to indicate how you're involved with the automaker and its motorsports endeavors. Each checkbox you select adds a few specific questions further into the application; for the purposes of this post, I selected every option.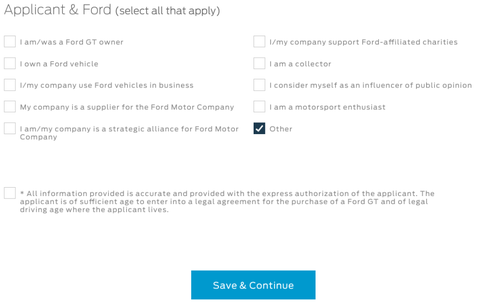 Advertisement – Continue Reading Below
Successful applicants will be contacted by a Ford GT Concierge Service, which will guide you through your customized ordering process. The Concierge will then work with an approved Ford dealership of your choosing, or a regional GT-approved franchise, to complete the purchase and delivery.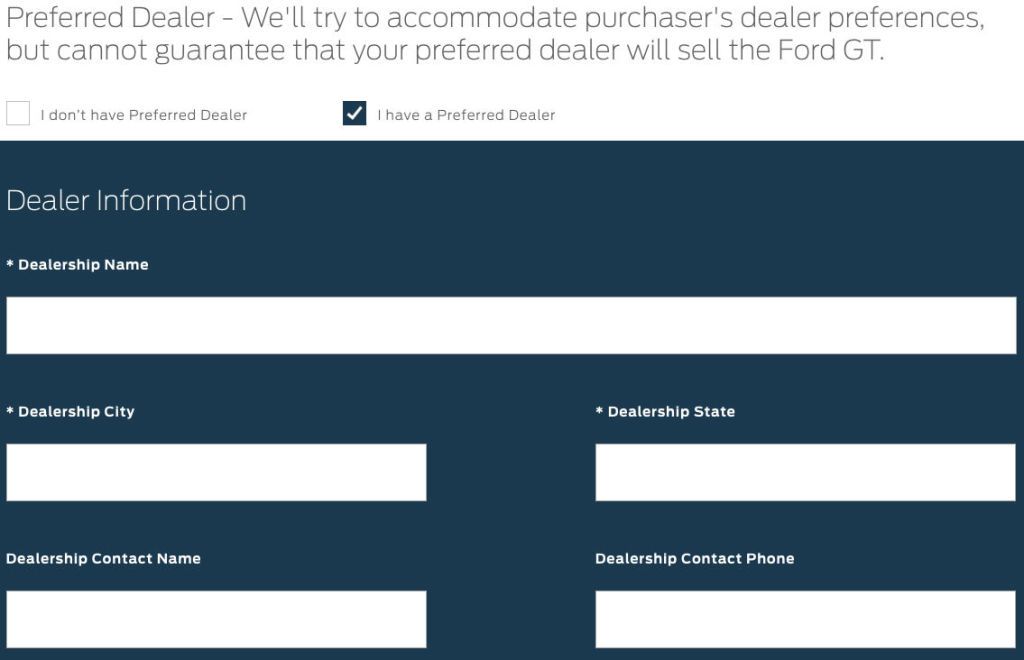 Much like Ferrari, Ford will give preference to current owners of 2004-2007 GTs. Apparently, the more GTs you own, the better.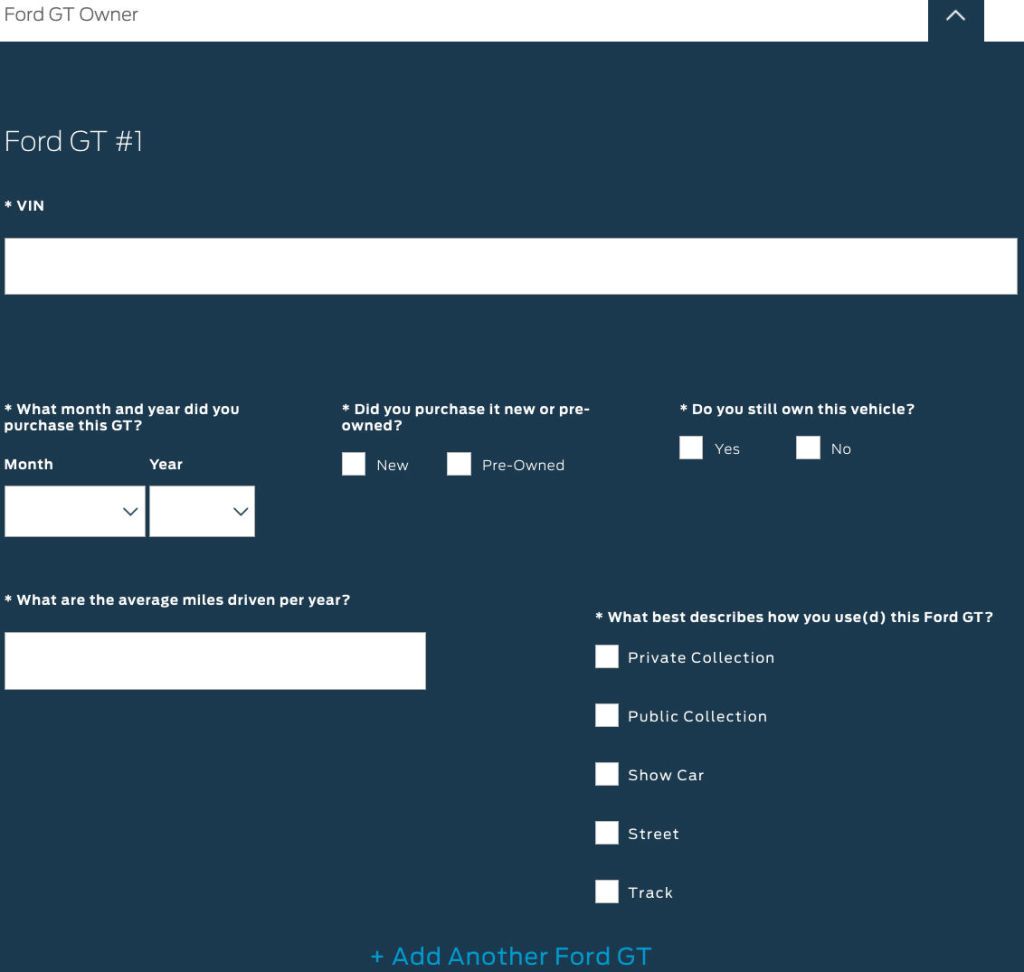 Ford also seems to have an interest in people who actually drive their GTs, rather than simply hoarding them away in a private collection. Bravo!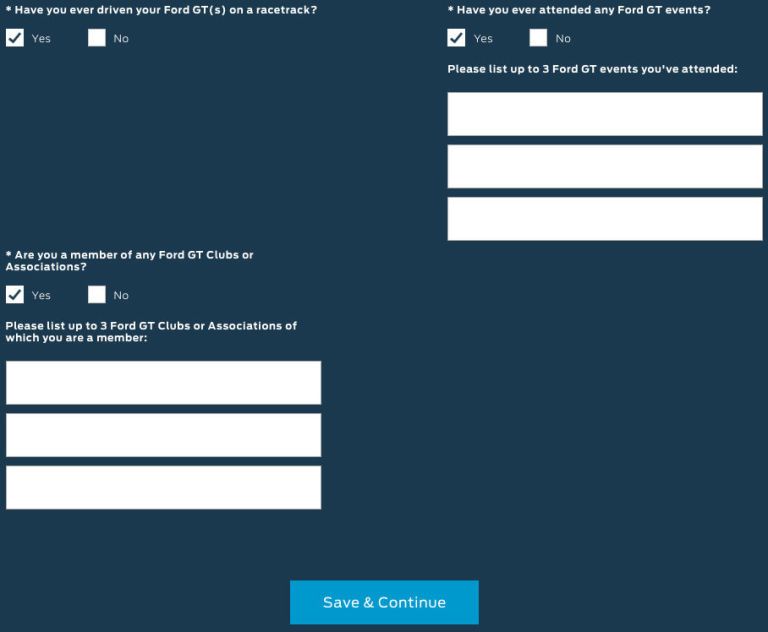 There's also a place for you to indicate which recent or historically important Fords are found in your collection. Sadly, I could not find a "past Fords owned" box to highlight the 1998 Contour I drove in grad school. I hope this omission doesn't negatively affect my chances.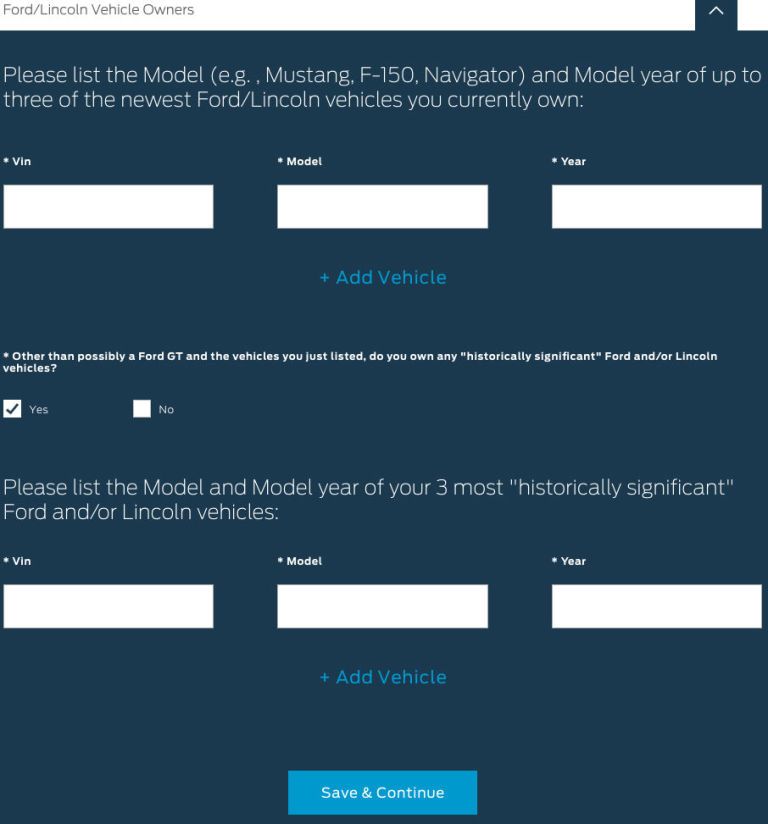 Ford Fleet customers also get the chance to highlight their close relationship with the automaker, as do industry suppliers and "strategic partners," assumedly industry consultants, advertising agencies and the like.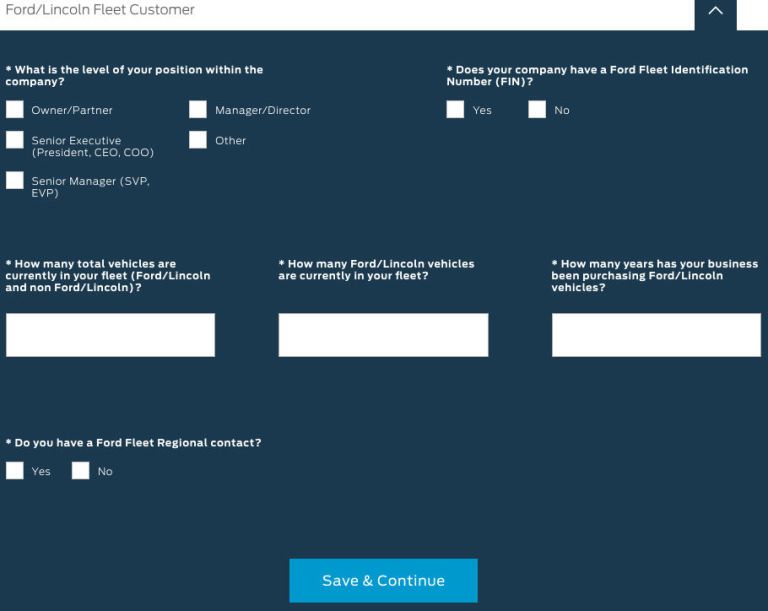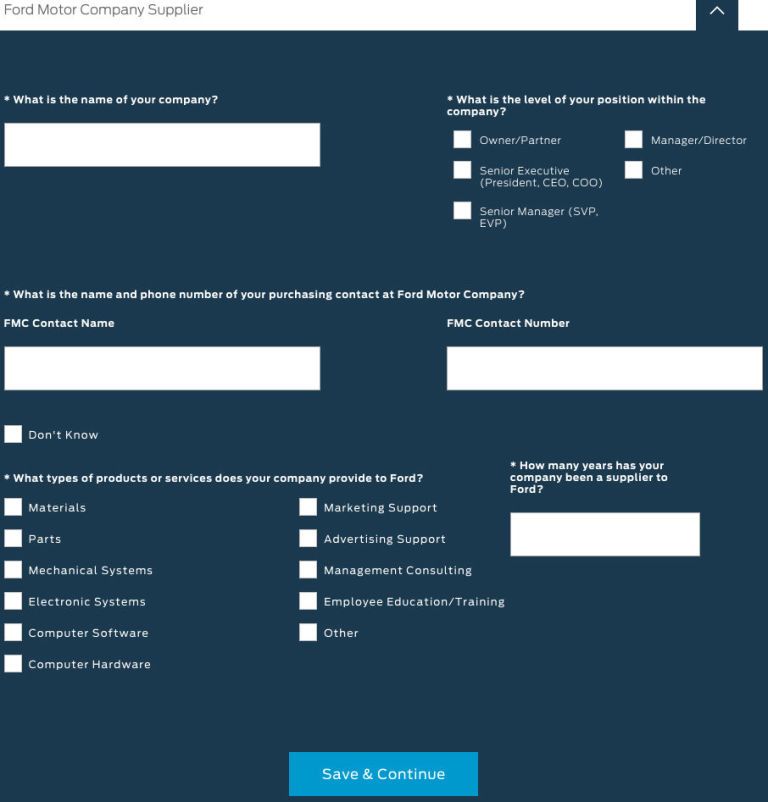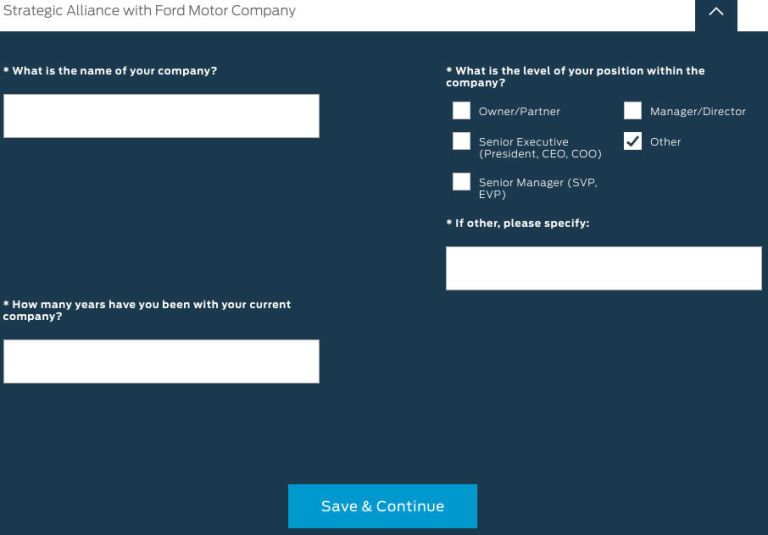 Here's where you get to highlight how you'd use your Ford GT for charity. Ford has said it will make customers sign a contract agreeing that they won't turn around and sell their GTs, though it's not clear whether Ford would lift that restriction for charities intending to raffle off chances to win a GT. Side note: If you've got a charity and you end up with a brand-new GT, I'm sure there's a way to include "gave Road & Track a ride" on your tax write-offs.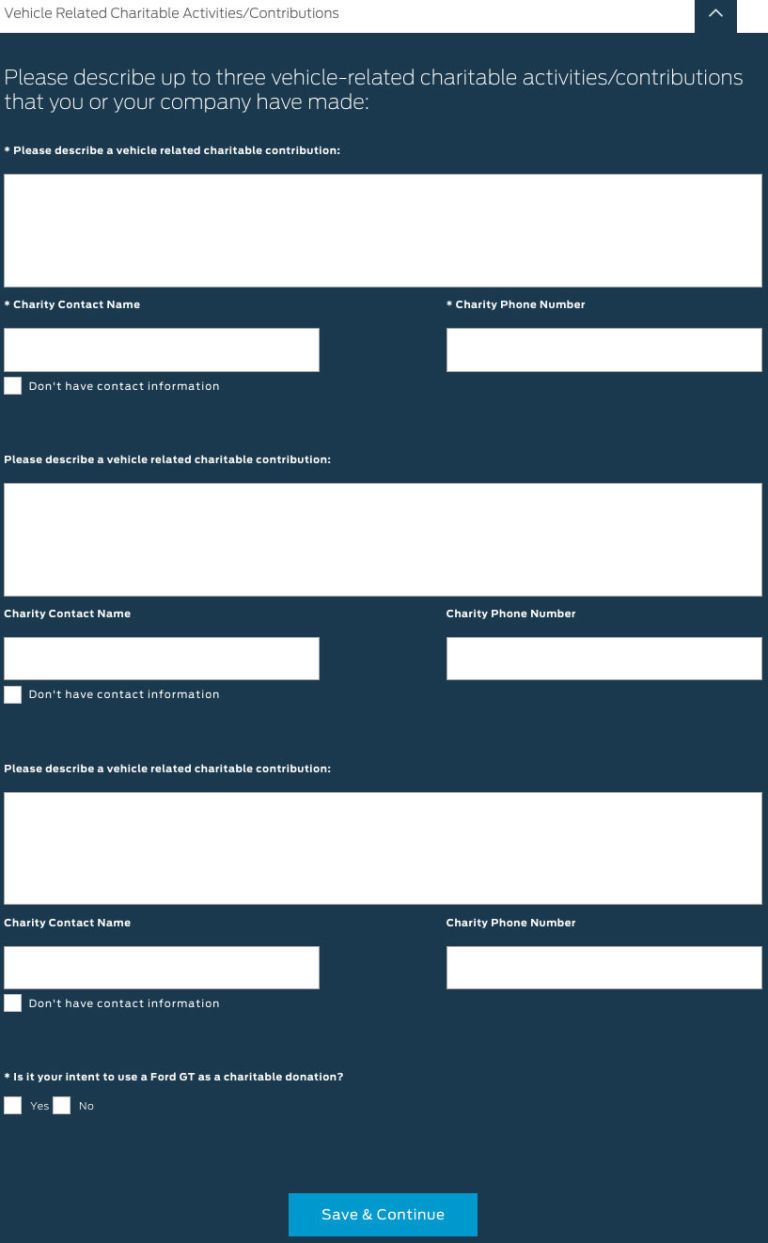 Here's where collectors get to show off the contents of their garages. Note how Ford zooms in on the FoMoCo content of a collection. We have to assume that folks with Ford-centric collections will get preference, as Ferrari does with limited-edition new offerings.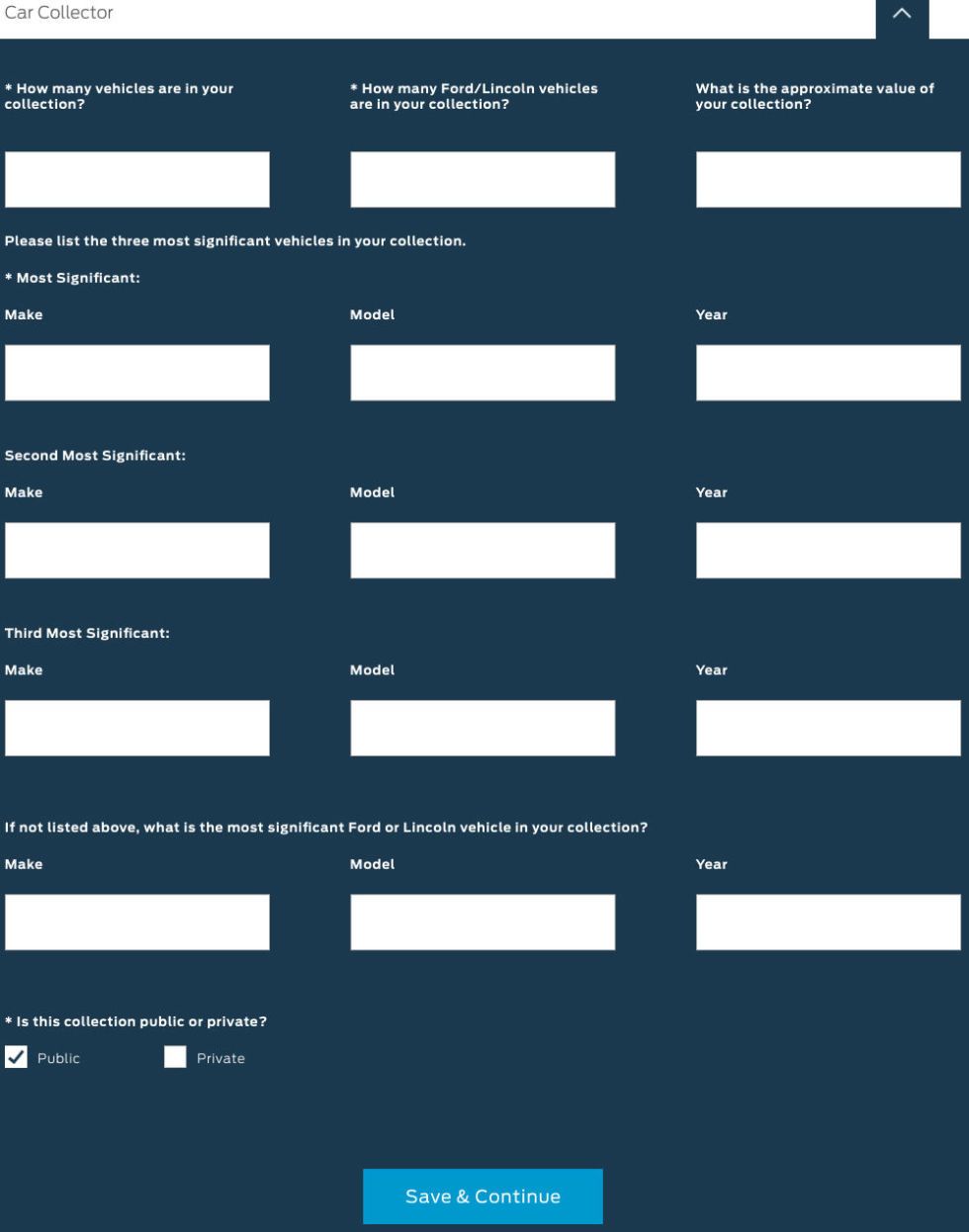 Social media magnates, rejoice! You've got a page on the Ford GT application to explain how your massive Twitter, Instagram, Facebook, YouTube, and Vine following entitles you to a 600-plus horsepower, twin turbo, carbon fiber Ford supercar.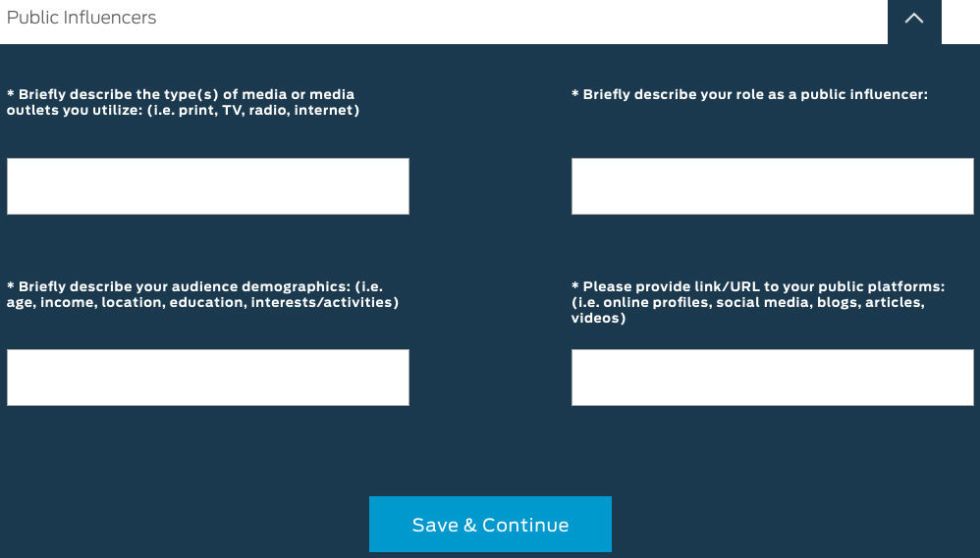 Advertisement – Continue Reading Below
Advertisement – Continue Reading Below
All that frivolity aside, Ford seems to be genuinely interested in steering the new GT toward folks who will actually use its capabilities. Here's where you get to show off your racing skills and motorsports involvement.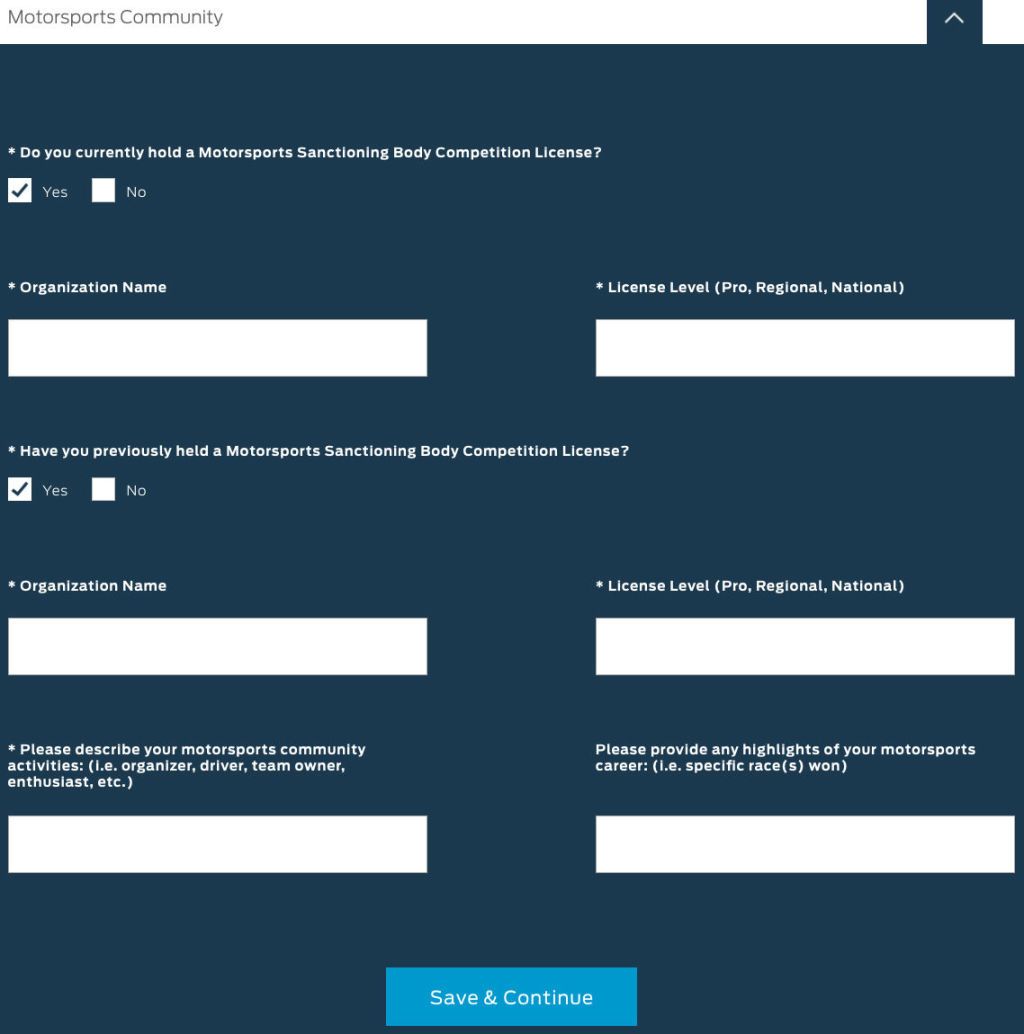 Finally, we get to the "open response" section. Got a YouTube video indicating why you deserve a GT? Maybe some photos of your Blue Oval collection of special-edition Mustangs? Here's where you get to show how you stand out from the crowd.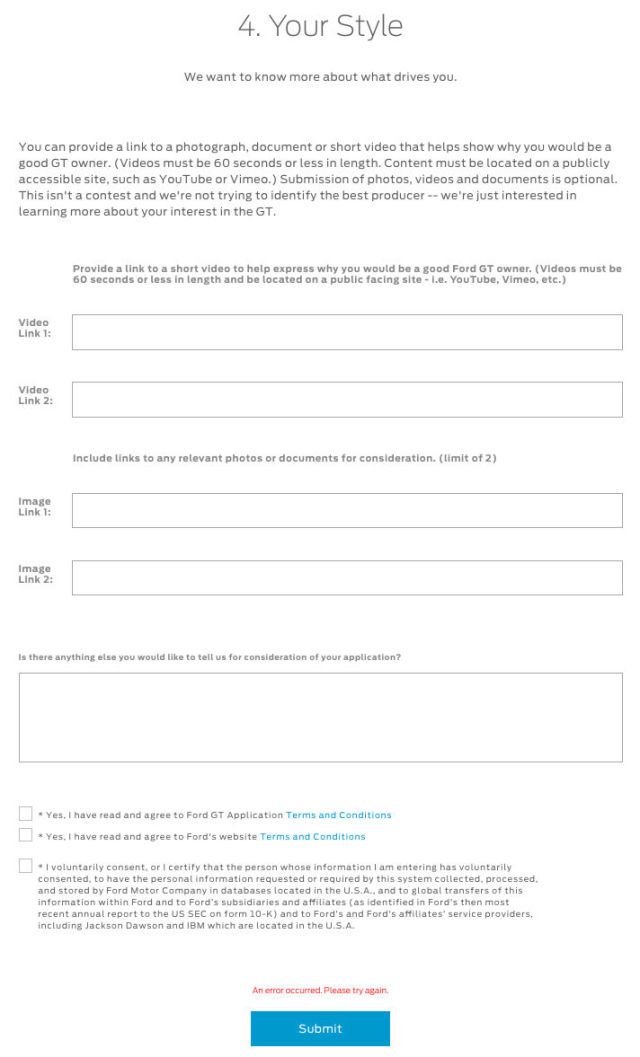 And that's it! Your application is submitted and ready for the discriminating eye of Ford's panel of GT judges. Best of luck—and seriously, if you get approved, hit me up.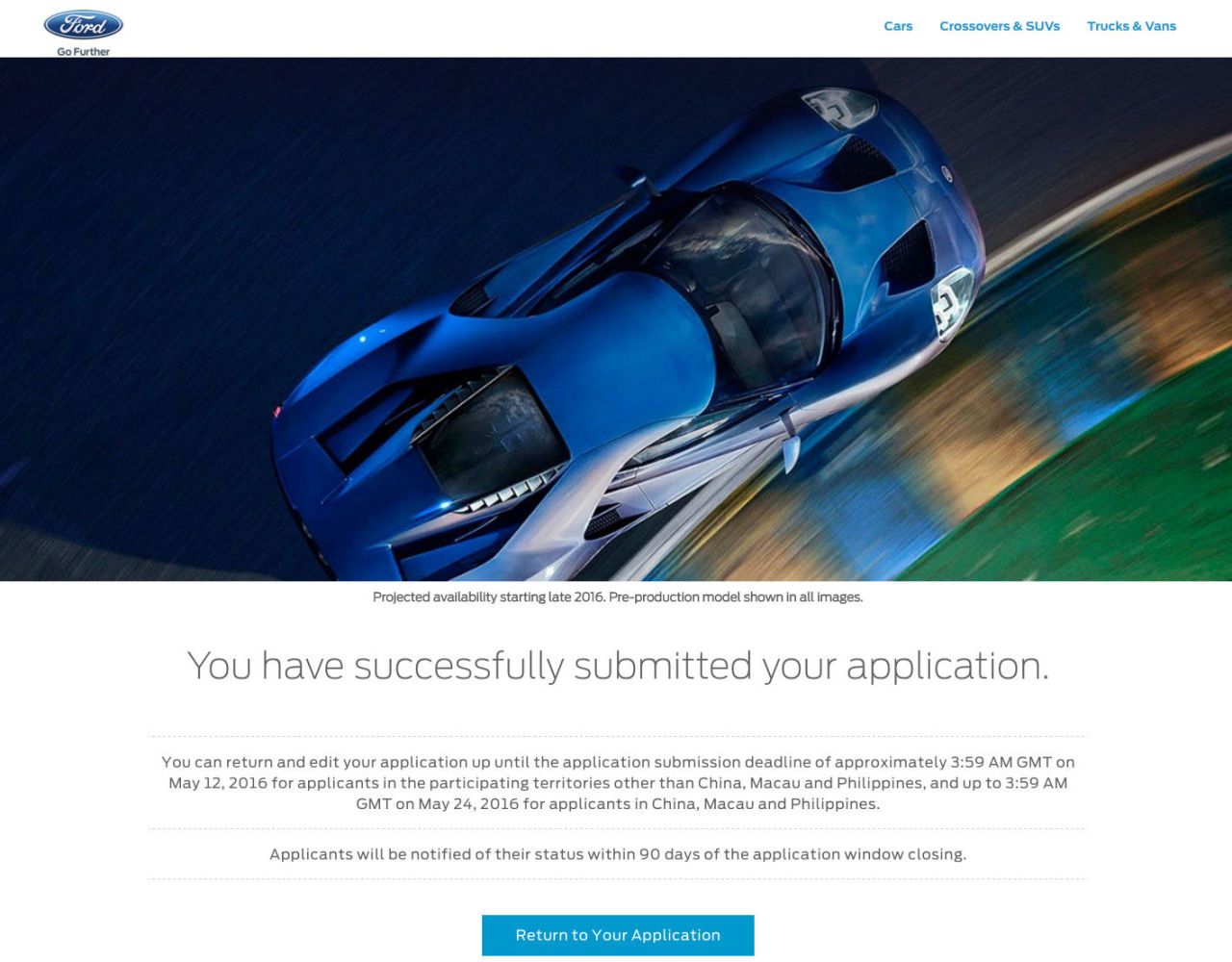 Source: Read Full Article