There are few threads here on how bad Triumph service centers are (esp. the Bangalore one). But to me, the Chennai's Khivraj has been good so far.
BHPian vijai recently shared this with other enthusiasts.
Work hard in silence and let your Lamborghini break the silence
Well, I'm not there to the level of Lambo yet but my Falcon is no less than such a pride to own! Tomorrow marks 9th month of owning my first big bike – Triumph Tiger 900 Rally Pro. Work and the bike has kept me busy so far that after 9 months and about 10,500 happy numbers on the odo, I finally pulled myself to create an ownership thread.
Preamble
The decision, whats, whys and what not are covered in this thread. It was pretty quick I decided Tiger would be my bike. It was a no brainer. Tl;dr: Went in with a mind to book Street Triple RS, ended up booking Tiger 900 RP which was ready for delivery.
Bikes are about pulling your heartstrings. Reason 1 alone is good enough for you to choose the 900 over all else.
As Axe77 mentioned in the above thread, I haven't regretted my purchase so far and morning blues if any, just vanishes having to see the mighty beak of the falcon through our front door.
The Booking Process
It was no brainer. Went in to enquire about Striple RS, OTR price, delivery time lines etc by end of Feb 2022. Being not satisfied with their 6months wait time "atleast", I started scanning the showroom. That's when saw 2 brand new Tiger 900.
There was no test ride vehicles available as the bikes were very recently unpacked and PDI wasnt done. I expressed my wish to get one of those and immediately sat down again to discuss the prices, delivery times. Was promised delivery within 2 days of payment. Noted down VIN of both bikes and requested them not to take one of those for their test ride until I choose which one I'd be getting. Without a second thought they agreed under a condition that I do not delay the decision by more than 2 days and I make a refundable booking amount of 1lakh.
Went home, tried a Tiger 800 owned by a friend of my known contact. Was a very short try and immediately I was taken aback by the weight and the character to pounce forward (I come from RTR200 4V) but I really liked the way the bike was. Next day, confirmed I will be getting the Tiger 900, informed them of the VIN I chose (did my PDI as well when I visited first time) which was the newer manufacturing of the 2. Asked for the bank details and to inform their loan partner to give me a call. Paid 1Lakh the next day and the loan process started with the bank. Meanwhile, it was a loan for on-road price and so I visited showroom again to finalize the accessories and also have a look at the bike again. After few photos and impatience to bring her home, parted for the time being with heavy heart.
I wanted the delivery on March 4 and was promised the same given that the loan clears by March 2 at least. All transactions were completed by March 2 late evening as planned and the wait for registration and delivery was done as promised.
Opted Accessories
The Rally Pro being top spec model, many came as standard:
Engine protection Bars
Quick Shifter
My Triumph connectivity module
Aux lights
Metal Bash Plate
Heated grips and seats
Which left me little room for accessories. I chose the below:
Fork sliders
Tank protection bars – Needed aux light relocation kit which contains some extra cables, mounts to relocate the aux light to the protection bars
Tank pad
I did not opt for the panniers or the top box since I never really liked them nor am I a pannier person. I prefer tail bags for long rides.
I have also switched the stock horns to a bosch after market dual tone horn (used the high frequency one) since the stock sound is next to nothing – couldnt even move a cat from the road.
Pricing
Ex showroom ₹ 15,50,000.00
TCS ₹ 15,500.00
Insurance ₹ 34,078.00
RTO ₹ 1,89,566.00
Accessories ₹ 44,139.00
Total ₹ 18,33,283.00
The Delivery
The delivery was nothing of a big fan fair for me. It was just me, my brother, SIL and new born Niece. There was the unveiling followed by a cake cutting ceremony. Then the bike maintenance tips where explained along with features once again. A customary photo was taken and I rode it home finally. Unfortunately, I missed the delivery photos.
Likes
Easy to handle – except the initial heaviness, I never had a problem adopting to such huge power coming from a RTR200.
No unbearably loud exhaust. I liked the whistle of the 3 cylinders and a mild grunt but nothing too loud crowd attracting which is a good thing for long rides
Its a car without AC and misses 2 wheels. Its that level of comfort. I usually just need to stop for short stretch and I can continue on and on.
The adjustable suspensions is pure bliss.
Spoke wheels with tubeless tire. No words can express a huge fear of puncture non-existent in the head.
Brembo stylema in front and the brembo 4 piston calipers on rear means, the brake is just sharp and stops when I decide it to.
Switch gear and display navigation is good.
Gives me a great mileage of 21kmpl average on long rides with 16kmpl once I reach city outskirts where the stop and go, bumper to bumper traffic starts
Not really related to bike but Triumph offers 2 years of RSA for just ₹6090. I havent seen any "upto" clause on kilometers which is good unlike kawasaki. They only add some inter-state government fee at actuals should the bike be towed cross border.
Dislikes
Tires. I wish it came with pirelli scorpion str or something similar
The horn is just useless in Indian roads. Upgraded to bosch dual tone (used the high tone and have low tone as spare)
Reports of the tank protection bar actually damages tank in case of fall is scary. Apparently, the bar gets bent and leaves a dent in the tank. Also the engine guard is mounted on some engine casing bolts and any damage to it is a costly repair.
The phone holder under pillion seat is a joke.
Would have preferred an electronic suspension system at this price.
The rear fender has an unexplainable gap for whatever reason and this is perfect to throw all slush and mud up on to the pillion.
Lack of tyre hugger is a disaster for the vehicle behind. Always felt bad for whoever is behind me on a rainy day
The engine guard seem to have been mounted on an engine bolt. The tank bars attaches to this and there has been numerous reports of tank bars bending on to the fuel tank and denting it in the process in case of a fall.
Toolkit. C'mon Triumph! It's not like I paid you ₹15,000 for this bike to skimp out on the toolkit! The bike cost ₹15,50,000 and the toolkit doesn't even have a spanner for adjusting the side mirrors? All it has is a few allen keys, spanner for chain adjustment, a decent quality screw driver.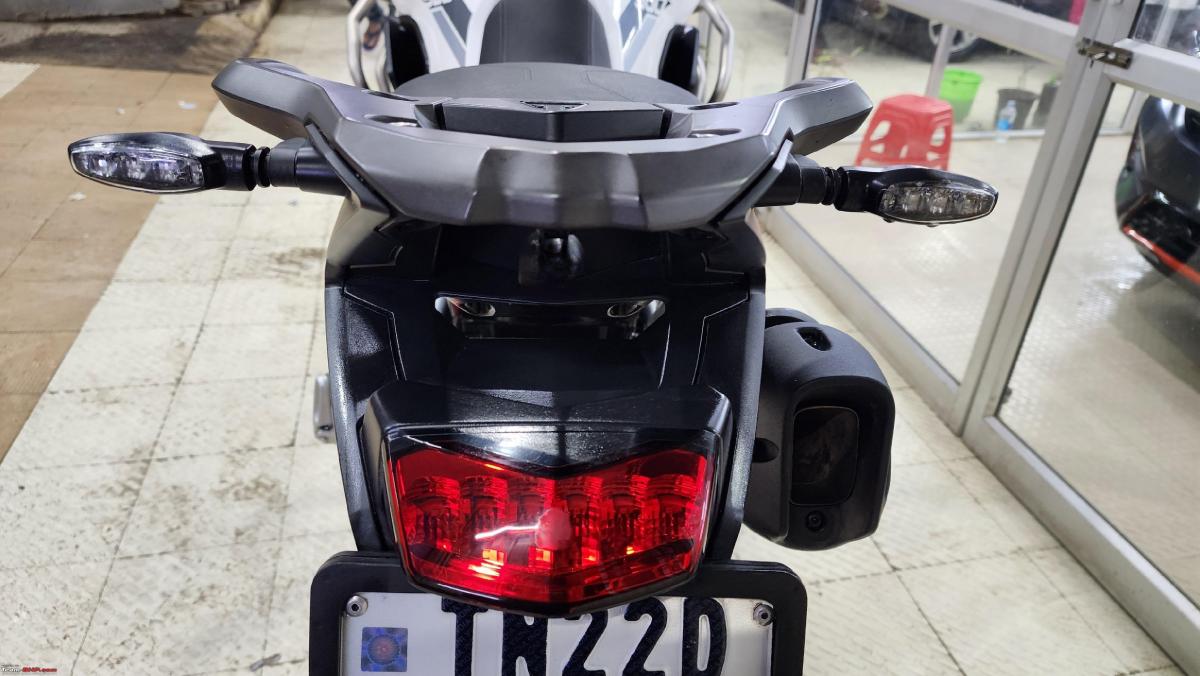 The unexplained gap in rear fender
Massive appearance from side profile but a huge inconvenience for the people behind
Rear suspension dampening adjuster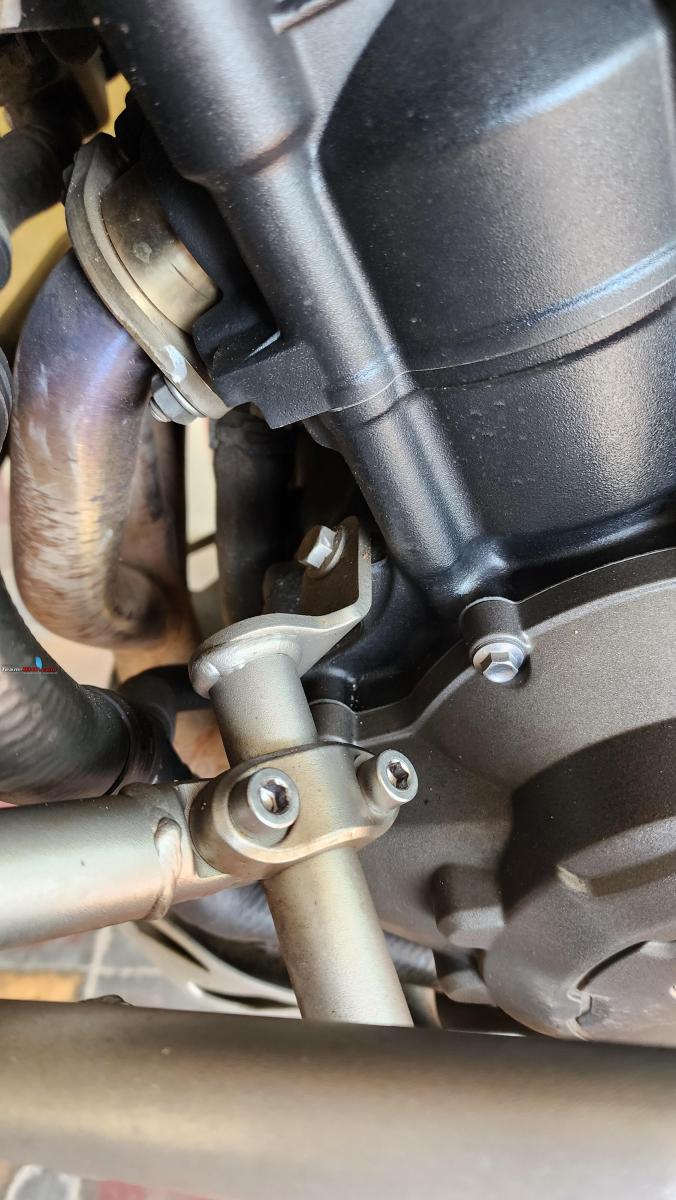 Engine guard mounting poin
Ride Experience
Have always been riding in sport mode and the 94bhp engine packs enough power needed for all day touring and still keeping the fun alive. The height was a real deterrent initially to me but got used to it real quick. The better weight distribution than tiger800 is also an advantage. This is also my first ADV. The adjustable suspension by showa is just great and can smoothen the ride no matter the terrain. Absolutely love the console. Few people feel the layouts are a bit cumbersome but to me, looks good once I got used to it.
Phone and helmet comm (of pillion too) can all be paired at the same time and the music streaming, calls (routed to rider comm) all can be controlled by the joystick on the left hand switch gear. So neat and a breeze to use. A gopro can as well be paired to control the recording/mode but this only works with upto hero 7 (urgh, we are at hero 11 Triumph!). I tried connecting my Hero 9 and although it pairs, the control is iffy. The start/stop status wouldn't update on the dash properly. Bottom line, it wasnt usable at all. Also, when I bought the bike, rider-pillion comm was restricted to sena headsets (I believe?) and there was an update few months back. Now any generic headset can pair and function as intercom.
While there is nothing to complain about the suspension setup (its fabulous), I cannot stress this enough but having an electronic adjustment would be a great thing to have. The number of times I had to stop and adjust the suspension for a bad patch of road has been tiring enough for me. I like the suspension to be stiffer for long rides but those bad patches/offroading leaves no option to get down and adjust. The rear mono shock's dampening adjuster is almost impossible to reach while on road too. Makes me feel should have waited for tiger 1200 which I did test ride and is wonderful.
Coming to the handlebars, its wide and the posture is so good and combine that with a comfy not-so-hard seat, this is a real mile muncher. Although, I feel the bars are a little too forward and I must play with the bar adjustment or get a bar riser later. Bottom line though, the bars have a lot of room for adjustment and must be explored before exploring fixes through some 3rd party accessories.
The seats are super comfortable to stay for longer period on the saddle. The seats are two layered. The top layer with a very soft, compressible foam and the 2nd layer is a harder foam to support all the weight. The rally pro comes with heated seats as default and it does really keep my tushy cushy and warm. The pillion seat is no less of a comfort too. All good for those long touring sessions. The pillion heated seat switch is independently controlled by the pillion which is good although the switch is tricky to reach initially and needs really long time fumbling around to find the switch. The switch although feels nice to touch, I feel its a little too thin and can be broken off if caught on something while getting down.
Head lights feel sufficient to me although, extra aux lights are never overkill. Although what I do not like with the headlight is, its not mounted with the. handle bar so, the light does not. swivel with the bars. During u-turns, the light just hits at random areas and usually not where I want it to be. I'm nit-picking here though.
The exhaust compared to. Tiger800 is definitely a let down. The sound is muffled on low revvs although there is a strong bass to the note. Dont mistake me, twhile iger 800 exhaust note is lovely, tiger 900 is just a tad less. Nothing bad here. The bike can easily be passed as a commuter on low rpm if not for the massive stance and figure it projects. The subtle note is something liked since it goes easier on ear during long rides. I happened to get a chance to see a tiger 900 RP with Arrow slip-on but the note is just ever so slightly different. Not sure about power figures.
The experience cannot end without taking about the height and weight can it? Weighing at 202Kg kerb, it is not really a light motorcycle and combine that with a saddle height of 850-870mm (adjustable) where the seats itself are wide, its not an easy motorcycle to get used to right at the first ride. Once used to, the weight is not a major concern. Height of the person is subjective and being at 5ft 10, I feel comfortable now controlling the bike and manage to rest both feet in the ground without having to tip-toe at the lowest seat setting.
Issues faced so far and solutions provided
Rusted gear shifter rod – The gear shifter rod rusted within a week of delivery and all I had to do was send a photo of it and the rod was promptly replaced during the 1st service which happened in a few weeks of purchase.
Seized rear brake caliper pins – The rear brake seemed too weak initially after a short time. I guessed the brake was heating up too fast. Took to service center and I was shown how the rotor has discoloration and was told is a sign that the pads are always in contact with rotor. Initially, it was suspected I was having my foot on the pedal but later found out the pads are not released. The calipers were removed, pins were re-greased and all good so far.
Service History
The bike has completed 10.5k kms since I have bought it on March and has gone 2 maintenance services and few service center visits.
1st break-in period service:
Nothing out of ordinary here. Engine oil and oil filter replaced. No extra charge for washing, polishing and chain lube.
ODO reading: 1189
Date: 22-March-2022
Cost: 7072.59
1st Annual service:
This turned out to be costlier than expected. The front brake pads worn out and had to be changed. Air filter, engine oil, Oil filter, Front brake pads were changed.
ODO reading: 10,079
Date: 29-Oct-2022
Cost: 23,365.91
Of which:
Front brake pads: 11,886 + 509.76 labour
Pick up and drop by service center: 885
Indicator and horn replacement
In one of my ride (to munnar) someone had broke the rear left indicator while it was parked at a restaurant for lunch. Also the horn was meek and decided to change it.
ODO reading: 6390
Date: 13-Aug-2022
Cost: 6703.80 (170 for the horn change)
Rear brake pads replacement
May be because of the caliper pin being seized earlier, the pads could have worn out early as well.
ODO reading: 8700
Date: 24-Sept-2022
Cost: 4678.13
Chain cleaning and lube
I was just super packed once before a ride and decided to get it lubed at the service center but the bill was a pleasant surprise. TVS charges more than this to lube their RR310 at times.
ODO: 6392
Date: 29-Aug-2022
Cost: 295
Bolt replacement
On my trip to munnar, I ended up venturing into vattavada and somehow one of a bolt in the side fender went missing. Was replaced for ₹40 and the person visited home. There was no charge for the visit. Probably the cheapest bill I'm every going to see maintaining this bike.
Service Center Experience
There are few threads here on how bad Triumph service centers are (esp. the Bangalore one). But to me, the Chennai's Khivraj has been good so far. From bike delivery to the service. One thing I liked is, the upfront intimation of the amount and over all a clean job on the bike. There are no exorbitant pricing for basic stuffs like washing, polishing chain lubing. I have also got few extra work done without being charged anything at times (really tiny things though). Overall a happy experience so far and would like it to be so in the future.
Some photos of the bike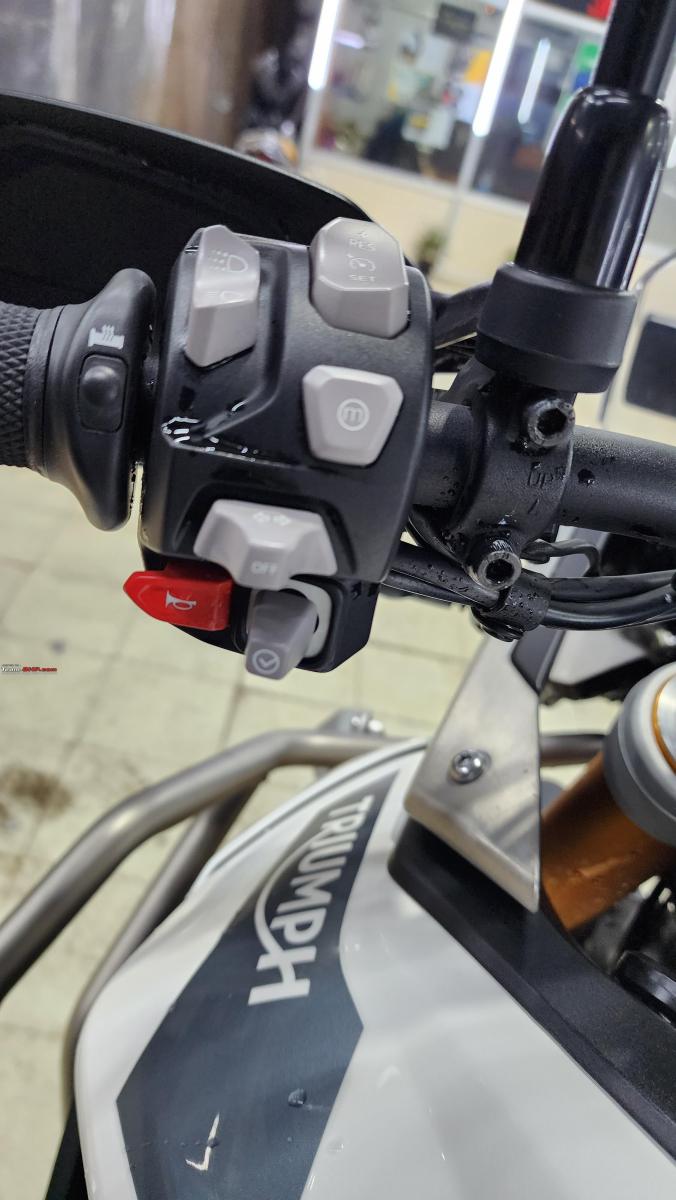 Left switch gear containing the joy stick to control the display, mode switch, headlight switch and the cruise control. Notice the button for heated grips next to the switch gear.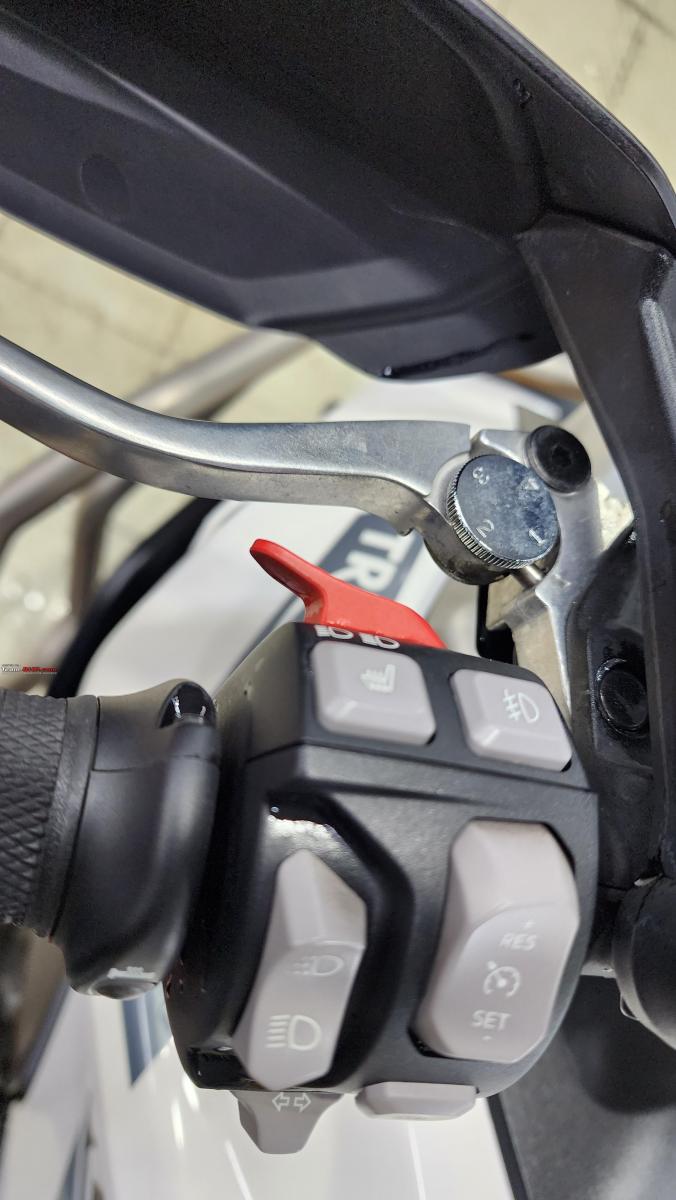 rider heated seat switch and aux light switch along with the pass switch visible
Right side switch gear is more cleaner. Engine kill switch/ignition switch combo and home button that opens settings in the dash.
Hazard light switch. The hazard doesn't turn off when indicator is used and the bike can be turned off and locked with hazard on.
The pillion heated seat switch with 2 settings and the din port next to key slot. The din can support upto 100watts while the bike is running.
Continue reading BHPian vijai's ownership report for more insights and information.
Source: Read Full Article