I have enjoyed these drives more than the newly built expressways with lots of traffic.
BHPian ChiragM recently shared this with other enthusiasts.
A few drives in the direction of Mysore have shown me some very very good B-roads to drive on very close to the city. These roads are through the calm and peaceful countryside, with the window down and fresh air, through small villages, with greenery and flowing rivers and streams around, and very little traffic. I have enjoyed these drives more than the newly built expressways with lots of traffic.
I also enjoy late night drives through the empty city streets.
I haven't done any off-roading and driving flat-out on a track so no opinions there.
Enjoying these drives has also got to do with the N-Line – a small hatchback with enough power and a good exhaust note (in the city and the countryside).
All these pics were taken very close to Bangalore, at the max, at Ramanagara, and some before Bidadi as well: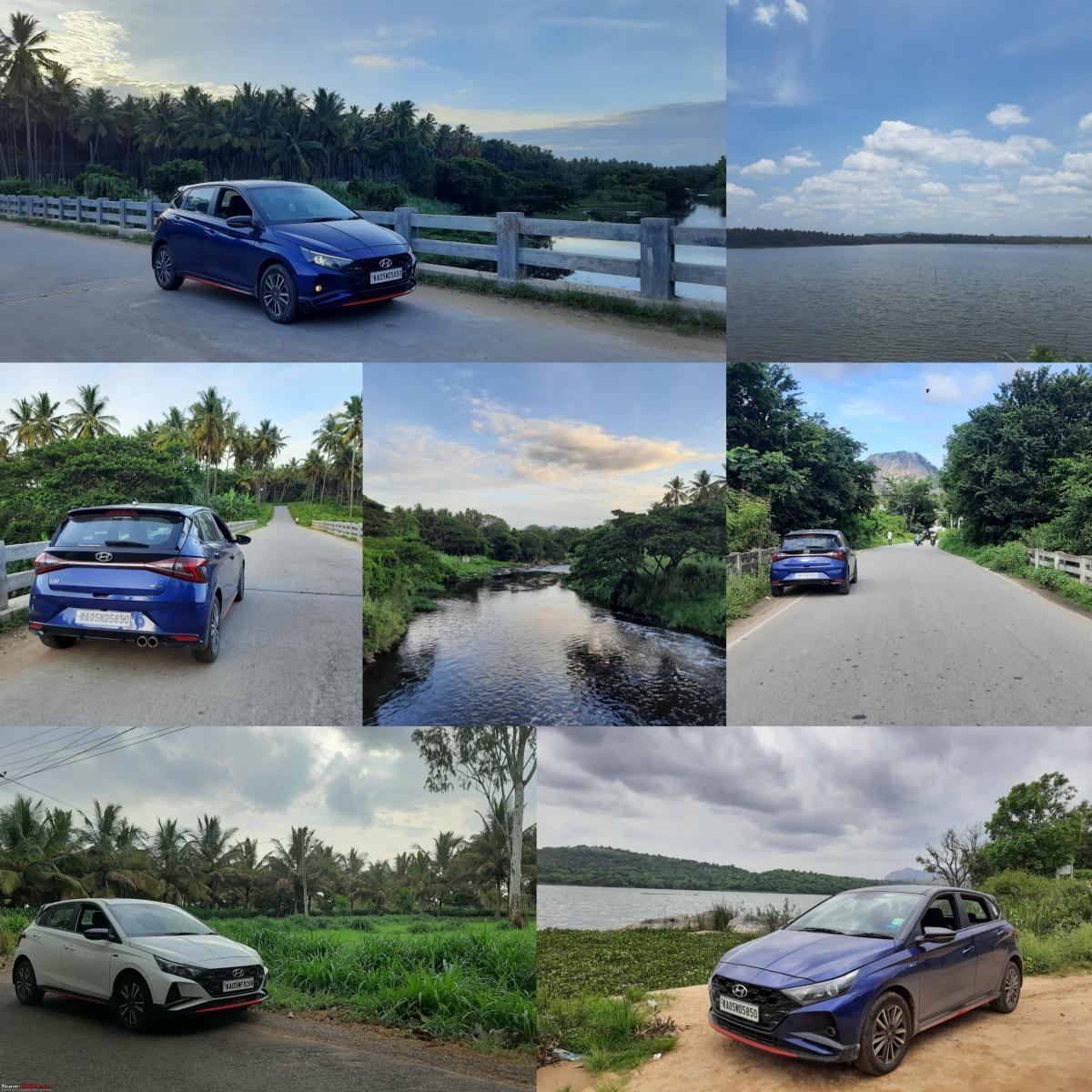 So what kind of roads do you prefer to drive on?
Here's what GTO had to say on the matter:
Awesome thread!

Early morning is my first preference as I am an early riser. Compared to late nights, early mornings give you superior visibility, empty roads & no drunk drivers.

Also love night cruising around Bombay.

My ideal local drives:

Early morning drive to Lonavla. Beautiful expressway, lovely mountain roads, yummy misal pav for breakfast.

Early morning drive to Shahapur / Igatpuri. Good tarmac, no expressway. Fun only early in the morning as traffic picks up later.

Early morning drive to Pawna Lake as my sibling has a beautiful place there.

Early morning around South Mumbai. Marine Drive (sit & view), Colaba (breakfast), Gateway, Ballard Estate, then top it up with the Freeway to come back home.
Here's what BHPian revsperminute had to say on the matter:
Some of my favourite roads that I drive frequently-

Mumbai Pune Expressway– 5-7 AM, there's an Irani Cafe in Baner that I go to for breakfast.

Vashi- BKC- Sealink- Marine Drive- Eastern Freeway- Vashi between 12 AM and 5 AM with good music and the sunroof open.

The Old Pune highway towards Saltt, Karjat or all the way to Lonavala– best during weekdays in the afternoon

Malshej and Tamhini Ghats during Monsoons- Take a SUV sometimes given the road conditions

Poladpur- Mahabaleshwar– Takes quite a bit of time to reach the road, usually clubbed with an overnight stay at Mahabaleshwar and a return journey via Wai.

Igatpuri/Sula– This road is a hit or miss given the road condition and traffic on the route.

Palm Beach Road– It used to be a good road to go for a casual drive to relax after a hectic day. However, people drive like fools there nowadays late at night so I only go there if one of my cars is sitting for too long and needs to be driven.

Guilty Pleasure- NH348/JNPT road– sparse traffic, butter smooth, 6 lanes, no sharp corners to speak of, bet you can figure out the rest
Here's what BHPain arjab had to say on the matter:
Hill roads. Being a resident of Eastern India, specifically, Calcutta, the hilly roads of North Bengal was, is and will be our "go – to" driving destination. The car of choice for these drives is always a naturally aspirated compact hatchback. An MpFi Zen or a Honda BRIO. Turbo's are a big "no-no".

There are so many lovely roads in the lap of the North Bengal hills one cannot imagine. Darjeeling side, Kalimpong side, the sinewy tarmac along the Dooars forest belt etc, etc. The old Hill Cart Road to Kurseong is one of my favourite.

Recently re-surfaced and devoid of traffic, (as the bulk of the tourist traffic goes up via the alternative Rohini route which is shorter), it is technically challenging as well as aesthetically pleasing to sore city eyes & nerves. The road from Ghoom to Siliguri via Mirik has also been resurfaced. Try that at the dead of night, preferably on a full moon night, and you'll truly understand what goes in to make "Live To Drive".
Here's what BHPian tharian had to say on the matter:
Since I am short of time most of the days because of a toddler at home, weirdly, I do a late night or early morning drive to the airport and back. It totals to around 70 kms and it helps a lot in de-stressing. Towards the airport is usually a sedate drive due to traffic, but the return is when I have fun, especially if it is early morning.

During the lockdown, I used to sneak out towards Kolar and since traffic was almost non existent, I could do a quick drive or ride up to Hoskote and back and enjoy it as well.
Here's what BHPian sierra__foxtrot had to say on the matter:
Living in Hyderabad I can say the ORR. Sometimes it's from Gachibowli to RGIA or sometimes the entire loop around the city. Taking the leftmost lane with windows down early morning at a 70 mph cruise locked, this helps me unwind from all the work stress and reboot the mind.
Read BHPian comments for more insights and information.
Source: Read Full Article