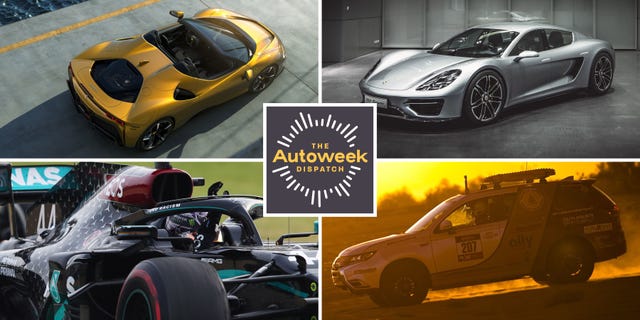 Ferrari revealed the SF90 Spider, the convertible version of its plug-in hybrid hypercar, and this weekend Lewis Hamilton could tie Michael Schumacher's Formula 1 drivers' title record. Here's what else is happening in the car world:
FROM THE EDITOR'S DESK
Porsche's Taycan has fascinated me ever since I drove the Turbo 14 months ago. I spent two days driving from Copenhagen, Denmark, to Hamburg, Germany, two legs in a nine-country, 4,000-mile, 18-day global-media drive from Oslo, Norway, to Porsche's Stuttgart home. The car's straight-line performance blew my mind, but it wasn't just that. Equally impressive was how it carved through corners like a, well, like a Porsche, even though it weighs around 5,120 pounds. With the weight mounted low enough to make the Taycan have the lowest center of gravity of any vehicle Porsche has built, driving across Europe at what I thought was a pretty good clip it never wavered. In fact I specifically remember thinking I was pushing the car hard until one night at dinner I told the Porsche engineers how fast I was going through various corners. They just laughed and said, "You aren't pushing the car nearly hard enough!"
I fell in love with the thing.
So I couldn't wait to read Robin Warner's story (and ogle the spectacular cars in our gallery) about how the Taycan actually started life as a design study, part of a collection the company had no plan to produce. The company showed a collection called Porsche Unseen, 15 years worth of concepts and design studies, basically freethinking exercises that were shelved. Some weren't forgotten, though, and that's how one of them eventually became the Taycan.
Porsche design boss Michael Mauer walked us through how the concept became the Taycan, but also gave us a behind-the-scenes look at the philosophy behind cars in the Porsche Unseen collection.
"All of these projects have a very different character," Mauer told Autoweek. "Basically it starts as freethinking, but this freethinking is based on meetings where I participate and listen to discussions among board members. Or when we talk to each other and raise some questions or even ask, 'I saw that car on the road, what do you think about it?' It's hard to detect the exact starting point. It is basically freethinking, but, as I said, I go back to the team and say, 'Listen guys, I had an interesting conversation with Oli (Oliver Blume, Porsche CEO), what do you think?' And then it starts, sometimes, as a sketch.
"It's hard to predict if some of these projects will see public roads in the next two, three, five years or if it's a detail that inspires another project, maybe even a production project we are working on. The general answer is all of these concepts and projects have the potential to see public roads one day. But they didn't start as production projects."
Mauer said he has a small team inside design that is 100 percent responsible for visionary design concepts that might not ever see the light of day. He also said everybody in the design department can contribute and deliver ideas.
Mauer said of course some concepts do morph into production cars and gave the Panamera Sport Turismo concept as an example. "Since it was based on a production car it was easy," Mauer told us. "It was a kind of coincidence that in the company there was a discussion about whether it would make sense to bring some derivatives of the Panamera into production."
Mauer went on to explain that his department has design engineers who work with the production engineers, "but the focus is not on existing technology or technology coming in the next two to three years. It is focused on technology that might be feasible in 10 years.
"We try to look far into the far future," he told us. "That changes perspective and perception and changes your relation to certain, existing technologies."
We asked Mauer for an example of the least expected place he found design inspiration for a Porsche.
"I say inspiration is everywhere," he said. "Once I was at a presentation in a very old industrial location, and there was a kind of rotten steel armature. And I looked at the surface and thought, 'Wow, that's a nice color.' I think as a designer sometimes you're such a visual person that don't realize how much things inspire or influence you."
It will be fascinating to watch and see what inspirations people have that will become future Porsches.
CAR NEWS AND NOTES
Ferrari virtually revealed the SF90 Spider, the convertible version of its two-door, two-seat, plug-in hybrid hypercar. The Spider has a retractable hardtop that can open and close in 14 seconds while moving at speeds up to 28 mph. Ferrari says it worked hard to retain the SF90 Stradale coupe's performance levels and claims the Spider has the same levels of stiffness. Power comes from the coupe's turbo V8, 7.9-kWh battery pack and three electric motors. The company says performance is roughly the same as the coupe. The convertible goes on sale in spring 2021.
BMW's Vision iNext electric SUV has moved from concept form to the testing phase. The little crossover is now called the BMW iX and is the company's EV flagship going forward. Its eDrive technology produces about 500 hp. Electric motors on each axle power all four wheels; 0-60 mph takes a bit less than five seconds. We expect to see it on sale in early 2022.
RACING LINES
Formula 1 stud Lewis Hamilton has already passed Michael Schumacher on the all-time wins list and is a step closer to F1 immortality. This weekend at the F1 Turkish Grand Prix in Istanbul Hamilton goes for his seventh drivers' title. That would tie him with Schumacher for the top spot. This is really a case of when, not if, as the 2020 season winds down. Hamilton leads teammate Valtteri Bottas by 83 points with just four races remaining. With 26 points being the maximum number available to a race winner, if Hamilton can leave Istanbul with a 78-point lead, it's done. The Turkish GP is this Sunday, the 15th, at 5 a.m. Eastern on ESPN.
Hélio Castroneves is returning to the NTT IndyCar Series. Castroneves, 45, will run six races next year, including the 105th Indianapolis 500, in the second Meyer Shank Racing entry. Castroneves will be paired with full-time driver Jack Harvey, who is returning for his second season with the team after finishing 2020 15th in the standings. Castroneves plans to run Barber Motorsports Park, the Acura Grand Prix of Long Beach, the Indianapolis 500, the Harvest Grand Prix at the Indianapolis Motor Speedway Road Course, the Grand Prix of Portland and the season finale at WeatherTech Raceway Laguna Seca.
MOSTLY ODDS, SOME ENDS
Check out our feature on the Rebelle Rally, the all-women, eight-day competition that's not an outright race for speed, but rather a unique, demanding, 1,200-mile event calling for navigating off-road based on headings, hidden checkpoints, time, and distance. Competitors use maps, compasses, and roadbooks. That's right, no cellphones or GPS. It's the real deal.
LISTEN UP
In the latest Quick Spin I drive the new-for-2020 Porsche 718 Cayman T and bring you along for the ride. I evaluate how the car drives, how it feels and where it sits in Porsche's lineup. We'll start with me guiding you through the car's features in a brief walkaround then take you along while I review the car. In between those prerecorded sections, I'll give young Wesley Wren a lesson in Porschedom. Tune in here, on Spotify, Apple Podcasts, Stitcher or wherever podcasts are played.
QUOTE OF THE WEEK
"We do have million-mile battery life, especially in shared mobility usage, in our sights and are getting great results when it comes to that."
—Tim Grewe, General Motors' global electrification and battery systems director, telling Autoweek that the company's data shows that million-mile battery life is achievable with GM's next-generation Ultium batteries.
WHAT'S AHEAD
That's it for this week. As always we're on the case this weekend, monitoring and reporting on automakers' and sanctioning bodies' latest happenings. We'll continually update the site, of course—you'll know what's happening when we do. Check back often!
Thanks for reading Autoweek and please stay safe.
Source: Read Full Article