In a surprise move, Playground Games has dropped the latest Forza Horizon 4 content update two days ahead of schedule.
Weighing in at 2.92GB (or 3.49GB on the One X), the October update introduces multiple new features. We've got a brief run-down of the major additions below, starting with the headliner, the Route Creator.
Go Your Own Way
The Horizon Blueprint feature first appeared in FH3. At the time, it offered more freedom to the in-game races, letting players pick whatever sort of class and performance level they wanted. Now, they can set their own route.
The Route Creator is available from any Road Racing, Dirt Racing, or Cross Country starting point. Simply select it from the pre-race menu and the creation process begins.
Here, you drive your car of choice to set the path. You've got 40 miles to play with, enough to run multiple laps around the outer-most edge of the map, so don't be afraid to get technical.
To set down checkpoints, hit the "View" button (Select for us old-schoolers). Each checkpoint can be moved slightly to the left or right of where your car currently is. You can also squeeze it down for truly challenging passes, or widen it to freeway width.
To turn your custom route into a circuit, just drive back across the start/finish line. To wrap up a point-to-point, pause the driving and choose the option to put the line where you currently are.
From here, you need to test the circuit to ensure it's actually possible to run it. After this brief run with the AI, you get the chance to save the route and name an event alongside it.
New Horizon Story: British Racing Green
This UK-centric 10-chapter series joins the lineup this month. Naturally, it focuses on the homegrown rides of the game. Each chapter offers unique challenges, as well as a brief history lesson the car you're behind the wheel of. Like certain action adventure games, it's a helpful bit of back story to fill out a usual task. For those not well-versed in the cars, it doubles as a race against the clock and a bit of extra knowledge.
We've only tested the first chapter so far, which puts drivers behind the wheel of the classic Aston Martin DB5 as well as its modern-day successor, the DB11. Give it a go — not only is it a good way to earn easy Influence (check out our FH4 credits guide for other ones), there's some good prizes hidden in there as well…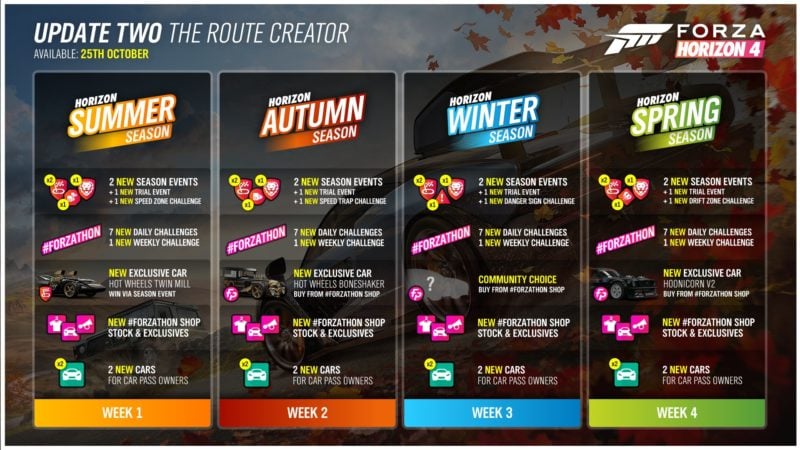 Hot Wheels Return
Playground Games has revealed what's coming up for the next month as well. Each week will feature a new exclusive car in the Forzathon Shop, and three of them will be new to the game.
Hot Wheels returns to the franchise with the Twin Mill and the Bone Shaker. The winter car is a mystery for now, as a community poll will decide which car is available in the snowy season. Lastly, an updated version of Ken Block's mighty 1,400hp gymkhana machine will round out the next spring season.
Car Pass owners will get another eight new cars between now and then too. While they release two at a time on Fridays, we've already got the full breakdown below:
October 26: 2018 Ford Mustang GT DeBerti Design
October 26: 2012 Lamborghini Gallardo LP570-4 Spyder Performante
November 2: 1991 Hoonigan Gymkhana 10 Ford Escort Cosworth Group A
November 2: 1977 Hoonigan Gymkhana 10 Ford F-150 "Hoonitruck"
November 9: 2018 Alfa Romeo Stelvio Quadrifoglio
November 9: 2018 Can-Am Maverick X RS Turbo R
November 16: 2010 Vauxhall Insignia VXR
November 16: 2004 Vauxhall VX220 Turbo
For those keeping track at home, three of these are not new to the franchise: the Gallardo, VX220, and Insignia have all appeared in previous Forza games during the 360 era.
For a full breakdown of the patch notes, click here.
Featured image courtesy of T0MMY3688.
Source: Read Full Article