No major repair work was there in the car to be looked upon. The test driver took the car out for a test drive and reported no complaints from his side.
BHPian ariniadk recently shared this with other enthusiasts.
Service experience at Ford Vizag:
Purpose:
Today I visited Ford, Vizag for my routine 10000km service of my Ford Freestyle TDCi. Actually it has only been 8000kms after my last routine service. But in near future I am planning to do a road-trip of around 4500kms which also includes 1000-1500kms of hilly terrain. So to get my car ready for the road-trip I had already spoken over phone to my service advisor (has become a good friend of mine) and discussed regarding the same. We will examine the vital checks of the car first and then make a decision, he said. So according to my convenience I got the appointment fixed in afternoon.
My SA advised me to do the routine service because as such the car had run 8000kms post last service and it would be better for the road-trip mainly because of 2 reasons:
First the car would over run the 10000km barrier by around 2500-3000kms, which is not good for engine life as well as for Warranty claims. Since my car is in extended warranty what he advised me was not to break this 10000km sequence as if in case of any malfunction and if that is put up for warranty claim then there are chances that the Warranty claims can be cancelled due this reason of not servicing in time.
Another reason is that since I am going to drive the car in Hilly terrains, there will be a significant amount of load being put on the engine which will be testing the car to its extreme limits. So definitely by doing the routine service it will give me peace of mind and boost my confidence as the driver of the car.
Repair work:
No major repair work was there in the car to be looked upon. The test driver took the car out for a test drive and reported no complaints from his side. Then my car was put on the ramp jacked up. My SA had briefed me that in the 70000km service, only the engine oil, oil filter will be changed. He also informed the technician to check the life of the gear shifter linkage bush as that is highly susceptible for failure after 40000km in this new Getrag gearbox. But in our Freestyle group, they had already informed regarding the same and I had changed it at 60000km service.
** I would advise all Figo, Aspire and Freestyle diesel owners with Getrag gearbox to change the Shifter linkage bush every 40000km **
So, these are the works undertaken during the service:
Rear brake drums were cleaned with a 3M spray.
The handbrake lever was tightened.
Engine oil, oil filter changed.
AC air filter changed (it was dusty and clogged, I recommended the same to be changed)
After engine oil, oil filter change the level of oil was checked using the dip stick. All other basic checks of the car as carried out like brake oil, coolant level etc.. Then again after service the car was taken for a test drive and it was good to go. Then the car was sent for full body wash and interior cleaning:
Jacked up Freestyle: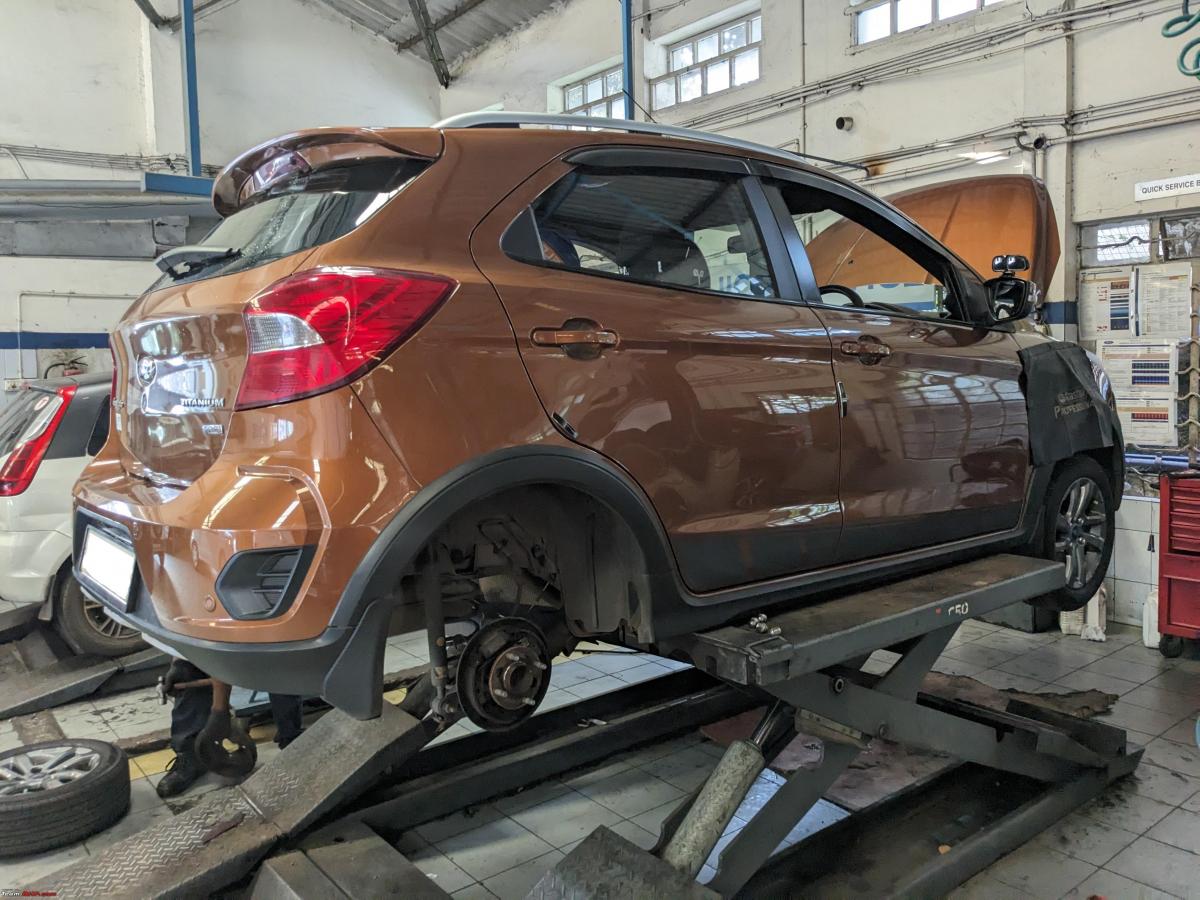 Cost of the 70000km service:
Total Spare parts cost (Engine oil ,oil filter ,Sump plug gasket, AC dust filter) – ₹ 1550.00
Total Labour cost – ₹ 2381.00
Cumulative charges for service cost – ₹ 3931.00
Final Verdict:
I am really satisfied with the service being provided by the Ford. Even after its departure Ford has worked out really well till now (Touchwood). I spoke with my SA, and he was telling me that the service will continue to be here operating for next 6-7 years. The spare parts are right now coming from Chennai depot. Unluckily I might move out of Vizag and go to Mumbai by next year. Hopefully I should be able to establish a good relationship with the Ford service center of Mumbai too .
After a good wash:
Check out BHPian comments for more insights ans information.
Source: Read Full Article