It is a very simple bike with good mix of old school gentleman characteristics coupled with a few modern and practical tricks up it's sleeve.
BHPian darkLightning recently shared this with other enthusiasts.
Hello Team-BHPians,
Whenever there has been a discussion on any type of vehicles around me I have always heard at least one person say that if you have ridden/driven a Honda you can never be satisfied by anything else. I used to be amused by these statements however never had I imagined that I too would experience this same sentiment.
Let me first introduce my Piccolo (Honda CB350) to this wonderful community: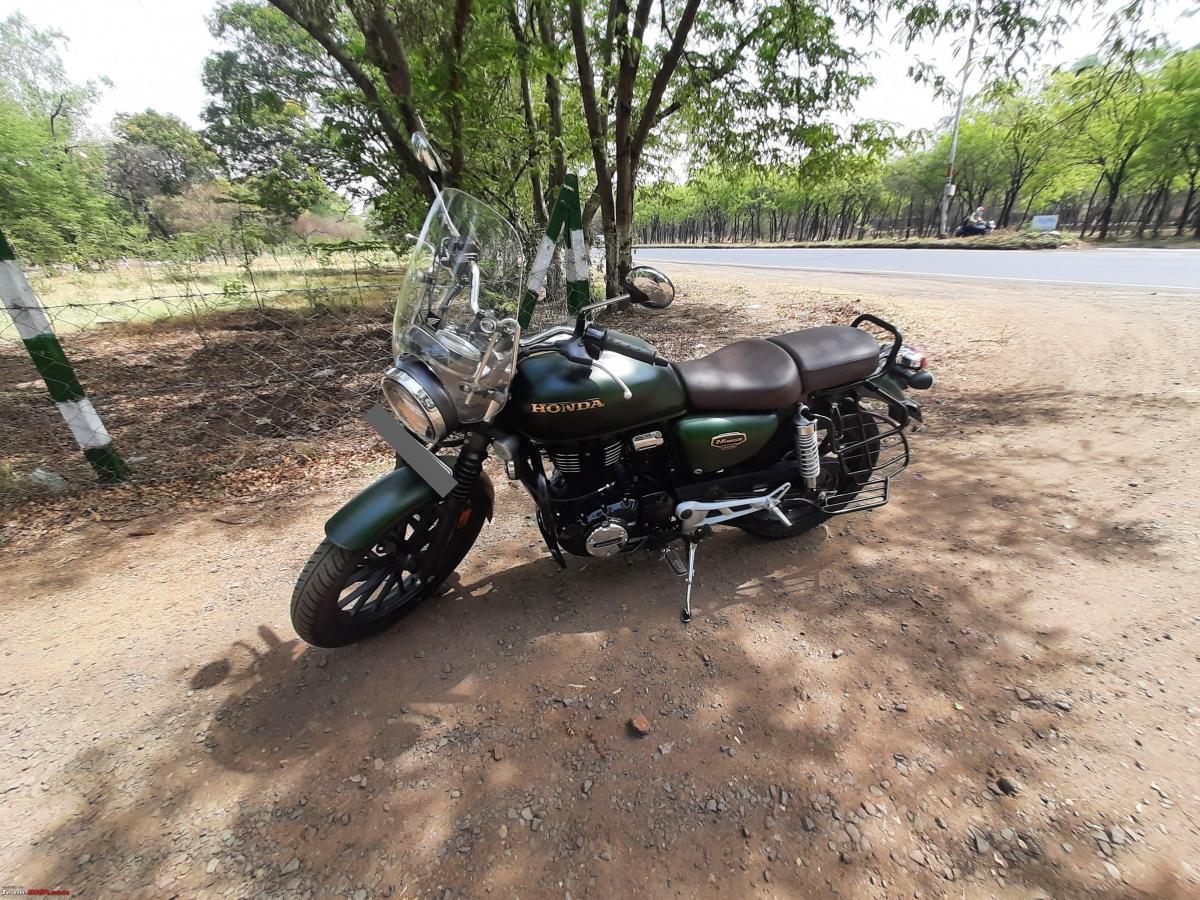 I will detail my experiences with Piccolo which I hope can be of use to anyone looking for relevant information. So before we go further here are some of the basic details regarding my bike:
Model: Honda H'Ness CB350
Edition: Anniversary Edition
Colour: Matte Marshal Green Metallic
Purchase Month: March 2022
Place of Registration: Bhopal, Madhya Pradesh
Current odometer reading: ~4000 km (Date – 27 June 2022)
Based on my experience so far with Piccolo below are the key likes and dislikes in my point of view:
Likes:
Practicality – It is one of the few bikes available in our market which you can term as a proper allrounder – Weekend trips ? Daily drives ? Mountains calling ? Not so good/absent roads ? – This Honda is good to go wherever you want.
The Engine – It's a Honda, you get a good amount of torque, swift acceleration packaged with a sweet exhaust note minus any sort of vibrations, in short gem of an engine.
Simplicity – It is a very simple bike with good mix of old school gentleman characteristics coupled with a few modern and practical tricks up it's sleeve.
Safety – Dual channel ABS, Potent disc brakes, Side stand engine cut off, Traction Control, Non-intrusive navigation system.
Build quality – Built like a tank, I have waded through heavy sand gusts without a single moment of wobble from the bike.
Reliability – It's a Honda after all.
Traveling Appetite – The bike truly comes into its own on the highways, add to it absolutely zero strain on the Engine even with pillion, saddlebags, tank bag on board and customisation options getting available in the market albeit slowly. Moderate bit of off-road (going over stone filled tracks etc. ) is also no big deal.
Looks – Looks are subjective, for me the clean design, proportions and this particular variant and colour combination of CB350 is exactly what I was looking for.
Honda's commitment – We often blame Honda for having an indifferent attitude towards Indian market and rightly so, However of late tides seem to be changing and the progress shown by Honda in their journey with CB350 gives me confidence that here is a bike which it's manufacturer also likes and wants to shine.
Driving Dynamics – This is again a very subjective opinion, I personally prefer the lazy and relaxed riding characteristics of CB350 with enough juice on tap to go beast mode if mood hits.
The materials used in every nook and corner of bike look premium and feel top notch quality wise
I have purchased the CB350 after a lot of consideration, planning and debates so maybe a little bit bias here but I believe CB350 is a bike which does not have any big weakness.
Fuel efficiency (more on it later in the thread)
Initial dislikes:
Stiff suspension – resolved after about 2000 kms as suspension settled down and I have also started keeping rear tyre pressure at 35 psi (1 psi less than recommended by Honda), front tyre remains at recommended 29 psi and rear suspension setting is also at factory default.
Stiff pillion seat – resolved in around a month of constant use, it no longer troubles my wife.
Noisy front suspension – Weird squeaky noises used to come from front suspension when going over craters, subsided to a large extent now.
Current dislikes:
Slightly long turning radius.
Not easy to guess if tyre pressure is low, adding TPMS or buying a digital gauge is recommended.
Missing top rack and skid plate from Honda official accessories (The skid plate from CB350 RS is not a straight fit due to different mount points)
The mounting mechanism of mirrors can be better, currently it is very easy to loosen up the mirror and it takes precise adjustment to fix it back.
Lack of real estate to paste your not so charming stickers (Residential Society label etc.)
One of the cables connecting to exhaust has a weirdly short sleeve that is an eyesore
Not sure if it should count as a negative but this bike just does not feel at home in bumper to bumper traffic, but again probably this is not a purpose this bike is designed for to be honest.
No kick start.
Quirks:
The swapped positions of Horn and Indicator switch.
The tall gearing coupled with long stroke engine characteristics takes some time getting used to.
Attention points:
This bike has a 350cc Air cooled engine and long metallic exhaust system, it is very easy to forget it but the heat can be very dangerous especially if you have kids or family members who can accidentally touch the hot exhaust.
The chain cover is of semi open variety, add to it the retro styling and it opens up a key hazard if you are not careful, if you have a pillion who wears Long dupattas/chunaris then it would be a wise decision to tuck the dupatta in before starting to ride as it is extremely easy for the dupatta to slip inside the chain cover.
This bike is an attention magnet, which would mean you will always get attention, all kinds of attention from your surroundings.(If you know what I mean).
Need of bike – Me and my wife (married 2020, girlfriend since 2013) have been on the lookout for buying a new vehicle for us since around 2018, the choices have oscillated between cars, SUVs, bikes, pickup trucks, caravans and what not, noteworthy mentions being Royal Enfield Thunderbird, Ford Endeavour, Maruti Gypsy, Isuzu V-Cross, Tata Safari (The Original), Honda City, Ford Ecosport, Kawasaki Versys 650, Kawasaki W800, Renault Duster. All the discussions ultimately led to one reason or another for not making the purchase, I can honestly write a very long story about this aspect however that's maybe for another day. Long story short – In Feb 2022 we decided that it is time now finally to purchase a bike in Bhopal which we will be using for long trips.
Selection process – Towards the end of 2021 our needs were slightly different and we were contemplating on buying a smaller bike primarily with next two years in mind, I had even put up a post here on the forum asking opinions for the same. However those requirements and constraints were no longer in place and the primary reason for this purchase was to buy a bike which we both would love to travel on (solo rides will not be that much) and keep with us for as long as we can.]
The list of requirements we prepared came up to be like this:
Comfortable to sit on for long hours for both rider and pillion.
Comfortable to go over bad roads.
Should not feel the stress if driving for 6-7 hours or more in a day.
Should have relaxed driving dynamics.
Luggage carrying should not be a bother.
No compromise on reliability and durability.
The saddle time should bring smile on our faces and not adjustments to our mind.
Our budget was in the range of 2-3L on road and I don't like riding at a speed where I cannot fully control the bike so I was not really looking at any of the high speed bikes like KTM, they are simply not my cup of tea.
Alternatives considered:
So with the requirements and thought process cleared we went into the market to explore what options we have, much of the details about the different manufacturers we gave a thought to has been listed in the above linked thread so here I will go over the alternatives that were thought of in the following order:
Bikes thought of but not looked at:
Suzuki Gixxer 250 (Not fan of styling), Yamaha FZ-25 (Good allrounder, nothing special as such), FZ-X (Under powered), Honda Hornet 2.0 & CB200X(Smaller than what we wanted), Bajaj Dominar (Good bike however I am apprehensive of Bajaj bikes in general and wanted something simpler), Apache RR310 ( Too sporty), KTM ADV 250/390 (Pillion seat did not look too good and KTMs are too orange for my liking), Royal Enfield 650 twins (Too many modifications required for making it comfortable)
Bikes looked at but not considered for test ride:
Hero XPulse twins (Fabulous bikes, definitely would have been top choice if solo rides were to be aimed, however relative lack of power and pillion seat comfort go against them), Honda CB300R (Pillion seat is too small, relatively less simplistic machine), Honda CB350RS (Pillion seat is too small), Royal Enfield Classic (I like the colours of Classic 350, everything else in it I don't like)
Bikes considered for test drive but not provided by dealership: This is a disappointing section as it contains two bikes which would have been in my ideal top 3 candidates if only I could have test driven them:
Royal Enfield Himalayan – The RE dealerships in my city are adamant on selling only Classic 350, For Himalayan their answers were very straight, there is no test drive of Himalayan, no demo vehicle either, if you want to try Himalayan you have to find your own way, we will sell you Himalayan directly and you need to make full payment then we will allot a bike for you.
Royal Enfield Meteor 350 – Here the dealership was at least a little apologetic, they had no test drive vehicle for Meteor there was one display model which belonged to someone from showroom, we can sit on it. I dejectedly sat on the bike and I can say Meteor's saddle is a very comfortable place to be in, but something was ergonomically awkward about the overall riding posture especially the wide fuel tank.
No way was I going to put my money on a bike without test drive and dealership was not that interested either, they were perhaps counting how many Classic 350 they can sell instead of time wasting with me.
Surprise entrants:
Just after this disappointing experience with last Royal Enfield showroom when I was walking out my eyes caught something on the other side of road, fresh spankingly bright, newly launched Yezdi triplets standing outside of Jawa dealership on the opposite side of the road. I looked at my wife and we said why not ? so we hopped on to the Jawa dealership and the experience could not have been any more different.
The showroom staff immediately attended to us, keenly listened to our queries, took some basic info then their immediate question was
Which all model you want to test drive now ?
I said what would you suggest ?
And then I took test drive of Jawa 42 2.1, Yezdi Roadster and Yezdi Scrambler, Yezdi Adventure had some issue so they asked to come back later for test drive which I did.
Bike I did not like after test ride:
Jawa 42 2.1 – I was never really considering Jawa earlier because of their low ground clearance and smaller size especially for pillion seat and the test drive re-affirmed my concerns, add to it the bike felt unusually wide as well. As for the driving experience from test drive the bike never really felt settled, I managed to stall it 5 times in first and second gear over a distance of probably 500 metres maximum.
Bikes I rejected after test ride:
Yezdi Scrambler – In my opinion this sibling is the best to ride among the three Yezdi's, it's compact, eager and the roughness of engine suits it's scrambler character as well. The test ride was short but engaging. Primary reasons for Scrambler to be rejected were it's short pillion seat and there is some way to go for Yezdi engines to be considered smooth, let alone be in league with a Honda. Another curious observation I have for scrambler is it's lack of low end torque, I found a medium sized pothole on a turn, brought the bike to standstill inside it and tried to judge how much effort will be required to come out of it, turns out quite an effort which is weird for a scrambler, I can say my Splendor required probably lesser effort.
Yezdi Adventure – This Himalayan look-a-like is a serious bike and means business, I was considering it as an option for some time but ultimately rejected it because this cannot be the only bike in garage which is something I was not originally targeting at but Honda gave me that option and I do have to frequently pick and drop my wife to her work place where she goes wearing a Saree, so the pick up and drop duties will automatically fall on my humble Wego if I buy a full blown ADV styled bike. No major observations from TD except that refinement and low end torque can be improved a lot.
The Runner-up: And the above listings finally lead us to the bike which can claim the spot of runner-up in my search and that spot belongs to:
Yezdi Roadster – Before I go further I have to stop and appreciate the sales staff at Classic Legends dealership who can serve a few humble pies especially to the Royal Enfield staff. These guys were the best out of all dealerships I went to and if you give these guys well rounded products they can for sure increase sales by a huge margin. Anyways going back to Roadster the competition between CB350 and Roadster was neck to neck, Roadster definitely looks better than CB350, where it ultimately lost was in engine smoothness, I was ready to compromise on everything else if this bike was more refined. Add to it the tuning of Engine is such that it doesn't like pottering around at lower revs. Roadster is in my opinion the proper option for someone who is eyeing majority of highway riding and very rare city rides. It has some way to go to be a finished product but the path is right. Good luck Classic Legends.
Noteworthy mention: Royal Enfield Thunderbird and Honda CBR250R were the original choices which we had thought of during one of our discussions in 2020 before CB350 was launched, however as they were discontinued with BS6 norms so did not had a choice.
The Winner:
Now that we have discussed about all the alternatives that were considered, I will brief about my thoughts and reason for going with Honda CB350,
First up as far as my previous riding experience goes I learnt how to ride bike on my 2010 Splendor Plus (Arjuna) with which me and my wife have a lot of special memories. Unfortunately due to some reasons my Splendor was not with us regularly since 2018 and was being driven by some other person which took a heavy toll on it. Whenever we thought of buying a new bike automatically comparisons were made with our Arjuna and a question came out that we were unable to answer, Will there be any bike that can give us as good memories as her ?
Cue 2020 and Honda comes out with CB350 which is received well by the Indian audience but not without a cheeky quip that CB350 looks like a Splendor on Steroids, whereas at the same time somewhere in Bhopal watching the pics and videos of CB350 a version of this thought crosses my mind – This bike looks like a worthy successor to the Splendor.
Anyways with no Big Wing dealership in Bhopal I parked my thoughts on CB350 to the back of the queue and moved on with life. However sometime in first quarter of 2021 I came across a Honda stall in a mall in Bhopal with CB350 on display, As expected I got instantly hooked and got to know that a Big Wing dealership is going to open up within next few months in Bhopal and as of that time they were starting delivery of CB350 through Red Wing outlets (Normal Honda showroom) as the initial batch of CB350 was already allocated for Bhopal. I sat on the bike with my wife and immediately felt the dimensions and size of CB350, I liked what I saw and gave me details for Test Drive expecting a call within next few days however nothing happened. Again I parked CB350 to the back of my mind till the time Big Wing dealership comes fully live.
Then towards the end of 2021 Honda launches Anniversary edition of CB350 and some accessories as well, Now the Green monotone with brown split seats was exactly the kind of look I am keen on ( an ode to military colours), Honda got my attention but I was not sure if I wanted to purchase CB350 at that point. One thing I knew was that if I purchase CB350 then I am not going to think about selling it ever.
Feb 2022 – When we have finally made the decision that we want to buy the bike for us, naturally CB350 is at the top of list. However even though I have ridden a number of different two wheelers over the years there is a hesitation in my mind as I have not driven anything of the Bullet category before so how to handle that weight, the power all such questions were there in my mind.
First test ride: On my first test ride with CB350 (roughly 4 km, DLX Model) immediately it became apparent that this bike is quite easy to handle, yes the weight is there but there is something about the characteristics of this bike which make it very easy and natural for me. The DLX model has one major issue which is it's super weak horn. I went through gravel, rough roads, potholes, broken sections, smooth road all of these were handled well by suspension. Acceleration was swift but somehow I never managed to go above 40 kmph in this test ride, probably some hesitation at my end. A curious aspect I felt was how natural operating the bike came to me, I could precisely connect with the Engine and guess it's stress levels, gear shifts as well were butter smooth, clutch super light, there was just something that I cannot explain but the bike felt extremely familiar to me. I came back mighty impressed however there was one doubt in my mind, the whole test ride felt pretty easy and natural will this mean that the fun and novelty of riding it will soon wear off ?
Second test ride: Pondering over the thought I ask the dealership for a second test ride to which they are happy to oblige, this time the test ride will be from my home so that my family can also take a look, While the first test ride included all sorts of good and bad roads and demonstrated the easy going characteristics and capabilities of the bike, this second test ride (roughly 10km, DLX Pro Model) included a stretch on State Highway inside the city where I can push the throttle open a little bit and when I did it oh boy the roar with which the bike came to life, there was a composed and powerful pull from the engine that instantly made me feel the power this bike possesses and the character it has waiting to be explored. I managed to reach 70 kmph in no time, the bike felt planted though out the ride. I thoroughly enjoyed the second test drive and before giving it back to the test ride staff I tried to move the bike around in off condition testing if I can handle the weight of it and for sure the weight seems well balanced and easy to handle. The DLX Pro model also takes care of horns, the dual horn setup is sufficiently loud without doing overkill. After the second test ride I was sure of one thing, we can keep comparing all the bikes for their features and what not however as far as riding pleasure and engine refinement is considered, this Honda is in a league of its own. One mental observation I had was to keep in mind the larger length of bike than what I am used to when going through intersections. After the first test ride I had a doubt in mind ? well turning the throttle on solved that concern in one go for me I experienced Dr. Jekyll and Mr. Hyde both in this test ride.
Next couple of weeks are spent on pondering about the alternatives and comparisons:
Riding posture: CB350 and Roadster are both good in this regard, no immediate weakness apparent.
Pillion comfort: The seat of CB350 is quite long, comfortable and the almost flat design of split seats gives enough option for rider and pillion both to move around if required. Roadster keeps pillion more engaged due to its slightly raised pillion seat.
Accessories: The stock accessories from Honda are decent to start with, Yezdi does not have much accessories available.
Features: CB350 has all that I am looking for, Roadster does not have navigation.
Reliability: Roadster is new, CB350 does not have any major reliability concern reported yet, the ECU issue that caused power loss on heights was resolved before Anniversary Edition launch and this edition comes with latest ECU update. The issue of brake pads wearing off faster than they should was also not there on newer batches as per my understanding.
The ride: CB350's torquey and easy going nature fits my bill better.
The connect and Honda effect: My mind was still bamboozled as to how this bike managed to connect so much with me in such a short duration, something I have only felt my Splendor in all these years, I never managed to connect this much with my Wego as well even through practically I have been using it for 4 years. Then suddenly when randomly going through the user manual of my Splendor I realised that the engine in my Hero Honda Splendor Plus (BS II Model) was also in all it's essence a Honda engine and it clicked to me why the CB350 and Splendor engine behave so similar yet so different. Now all those discussions heard over the years that if you ride a Honda you won't be satisfied with anything else started coming back to my mind and it all started making sense
So ultimately all things considered all discussions led us to declaring CB350 as the clear winner every time. And hence the search was over with the winner finalized.
Booking and delivery experience with dealership:
There is only one Honda Big Wing dealership in Bhopal currently, the ownership of which lies with BGS Honda which is a very old Red Wing dealership in Bhopal. I will detail out my experience for any prospective buyers:
We walked into the dealership first time in Feb 2022 for enquiry, the lady who greeted us was courteous and tried to answer our queries with what she knew, there were some wrong answers from her side like Anniversary edition is based on DLX and not DLX Pro due to single tone colour, Every model in the showroom is ready for delivery etc. which we didn't really mind because one thing which my experience while buying Celerio has taught me is that sales staff does not always know much about the models. I asked for the test drive of CB350 only as CB300R and CB350RS had too small pillion seat, the test ride bike was not available at that time so she took my number and said she will call back, I jokingly reminded her that they took my number a year ago as well for test ride which I am yet to receive call back on.
I did get the call back next day that test ride vehicle will reach my location in evening however that never materialised. Next day as I was anyway going in the direction of dealership I stopped over and asked again for test ride, she apologised as the bike faced some issues on previous day according to her, she did some calls and confirmed that if I wait for 5-10 mins test ride bike is coming back to dealership and I can do the test ride though it will be a DLX model, I obliged as test ride on DLX was better than no test ride. On cue the bike arrived in around 10 mins and I took the test ride, after the test ride I had some queries which were promptly answered by a workshop guy. I asked for the quotation of CB350 which was given to be approximately 2.4L On-Road for anniversary edition and I enquired about exchange value for my Splendor Plus and got the initial quote which was quite underwhelming.
Fair enough, I told them that I will get back after some pondering over, the lady was quite adamant on us to book the bike within a week which I promptly told her will not be the case. Couple of days later I got call from the lady with revised quote for exchange and again asking if I want to book the bike now, I politely told her that I will call back after exploring more options. About a week later when I had test ridden other bikes and the competition was boiling down to Yezdi Roadster vs CB350 I went back to Big Wing dealership and asked for a second test ride this time from my home so that other members of family can also take a look at it. I was promptly given the test ride next day, this time the test ride bike was a DLX Pro (no test ride for Anniversary edition as it is limited edition variant I was told), the second test ride cleared all my doubts and CB350 was firm favourite now. Next point was looking at all the available accessories at dealership and finalising what all I would like to be installed at delivery time itself and exploring the possibilities of discounts in short the usual negotiation talk, I had already seen the cost of Honda official accessories online so I had the data with me for tallying, the lady from dealership kept getting confused during these negotiations and was visibly trying to push by now to do booking at earliest, I was not satisfied with the discussion and asked her to send me the official rate list of accessories along with any brochure or pic of it installed if possible (the accessories were installed on a demo bike at dealership but I wanted pics so I can carefully analyse the fittings and compare with aftermarket options), a couple of days later in evening I got the rate list on my whatsapp which made absolutely no sense, it listed silencer guard of approx 3k, engine guard of approx 6k. I immediately asked her to send the pics of these accessories to which she irritatingly replied that she is at home now and cannot send the pics, it is not allowed and she has already showed me everything on the demo bike.
I snapped and decided immediately that this lady cannot be involved in my bike purchase, the problem was she was always there whenever I visited dealership. Me and my wife discussed and we decided to call and explore Indore Big Wing dealership for possibility of delivering CB350 in Bhopal, I called the dealership next day and no one picked the call. Then I took a punt and called the number provided for Big Wing Bhopal dealership on Honda official site, the call was picked by dealership owner Mr. Manu Bedi who immediately connected me to Mr. Vishal Malviya who is in charge of sales at Big Wing Bhopal, Mr. Vishal understood my concerns regarding accessories, connected via video call and explained all the accessories in detail along with answers to my queries and provided correct rate list. At this point I was quite satisfied and I have to say once Mr. Vishal got involved the whole experience with dealership went above a notch or two.
Next day I visited the dealership to confirm my booking and pay the booking amount along with any final negotiation. It was 9th of March, the quoted amount for bike with all possible discounts along with my given accessory list came out to be approximately 2.58L (the exchange value of my Splendor was also raised with possibility of more negotiation). I asked for delivery date of 2nd April and the HSRP number plates to be delivered at the same time as the bike. A note here is that this concept of bike delivery with registration number is not very prevalent in my city and usually people run their vehicles with temporary number plates for first 15 days or so, I have done it before for my Splendor Plus and Celerio as well and I was in no mood to do it again, Mr. Vishal was aware of the process that would need to be done and he assured me that the RC would be printed in it's due time and the vehicle details will be available on RTO portal also in due course however he will procure the correct number plates early from RTO but I will have to pay him at least the vehicle invoice amount and give him a week of time for the procedure.
The purchase anyways did not involve any financing so I made the booking and Mr. Vishal and I decided to meet again in a week's time by when he will get final quotation for exchange and I can also think over the accessories I have chosen along with anything else I may need.
On cue one week later final negotiations were done with some changes and I transferred the vehicle invoice amount for RTO proceedings to start, balance amount was to be paid on the day of delivery and the exchange to happen any day I want. I dropped my Splendor plus to the dealership ( The memory still brings tears and makes my heart heavy ) on 27th March and moved the delivery date to 3rd of April.
Parting shots with my beloved Arjuna:
Delivery Experience: On the delivery day me and my wife arrived at the dealership where the remaining formalities were done with customary photos as well, the number plates were fixed after the photoshoot. Overall the delivery was standard affair. The dealership though did post our video and shared it on their Facebook and Instagram profiles.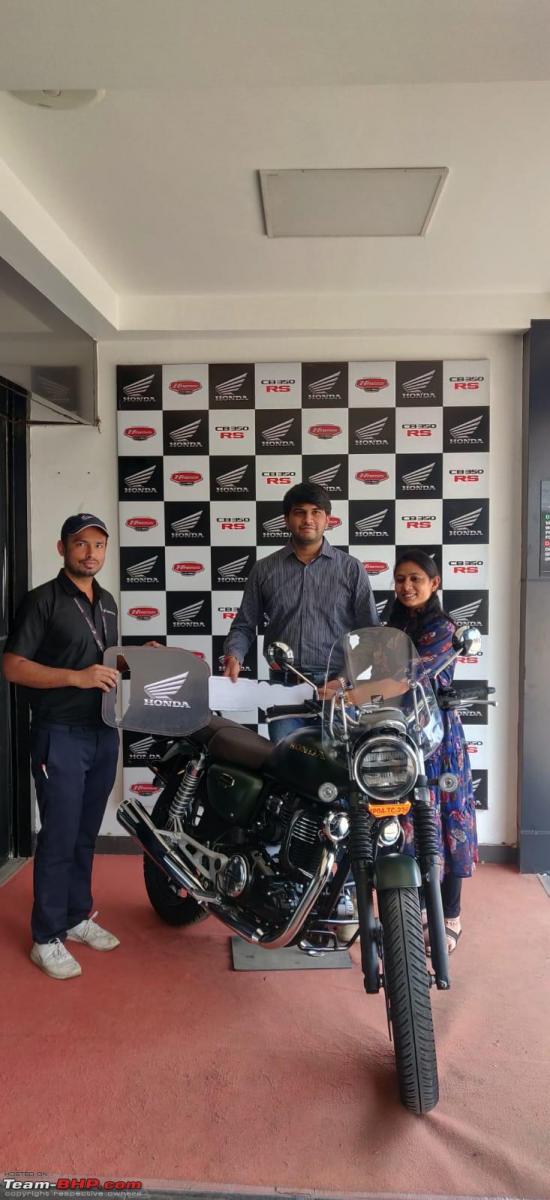 If I have to do overall review of dealership I would say that the senior staff is very sincere and the dealership is on right track, they do need to focus though on the junior sales staff especially the ones who are being moved from Red wing, I did notice that the lady who was earlier handling my purchase was not to be seen again since the day I gave the booking amount and had been replaced by other staff who are very courteous. My Piccolo and my queries though are usually handled by the senior staff directly now.
There are some positive initiatives being taken by Big Wing Bhopal which I would like to list below:
Riding Gear and accessories like Rynox jackets, bags, some aftermarket accessories are available at the dealership for purchase and the sales staff is keen to listen to the customers opinions to expand their repertoire.
Big Wing Bhopal organizes Road Safety awareness and training programs, the last one was conducted just a week before my Piccolo's delivery but I will for sure participate in next event to share the experience.
There are plans in progress to organize couples only rides for which the dealership is collecting data currently.
On-road price & discounts:
I was clearly told during the discussions with dealership that they will not be able to offer any discounts on the Ex-showroom price as they themselves do not get any discount from Honda. I didn't push much either because I know for a fact that the sales figures in Bhopal at the time of my purchase were not in good shape so dealership is also not in much of a profit.
The on-road price (excluding accessories and packages) came out to be – Rs. 2,30,763
Breakdown of On-Road price is as follows:
Ex-Showroom price – Rs. 2,03,739 – ( Basic price – Rs. 1,59,171. GST – Rs. 44,568)
Insurance – Rs. 9,724 – ( First party/Own 1 Year Premium – Rs. 2,043.91 Third Party/Liability 5 Year Premium – Rs. 5,803 Add-ons – Rs. 393.72 GST – Rs. 1,483.30)
RTO Charges – Rs. 17,300 – ( Road Tax – Rs. 16,300 Fee – Rs. 1,000)
Overall I didn't get much in terms of discounts just a small bit on accessories but I did get 25% of the original purchase value of my Splendor Plus in exchange ( The 12 year old bike had wrong model name in RC and was due for a heavy service which would have involved changing quite a few parts so all in all a decent deal).
Extended warranties & service packages chosen:
I had opted for 3 year extended warranty which costs Rs. 3,299 initially, however due to a goof up during the extended warranty registration the dealership registered 1 year extended warranty only, I noticed the goof up on delivery day and we (Mr. Vishal and I) did tried to get it corrected however it was not possible, Honda had directly replied ( I saw the mail ) that since the invoice was of previous financial year and we raised our concern in current financial year it would not be possible to change the warranty now, instead I can apply for 2 year warranty extension once extended warranty starts, dealership staff has assured me that they will try to minimise any difference in purchase amount of extended warranty in two steps instead of one, I got the balance amount as refund and as per my calculation I would incur a loss of about 500 bucks approximately when I do the extended warranty extension.
The one year Extended Warranty package which I have got currently costs Rs. 1,549.
I also wanted to purchase the Road Side Assistance package however dealership staff told me to hold on to it as the experience being shared by some of their customers is not great with RCA, especially those travelling to southern states, a food for thought maybe for Honda.
During the first service, I opted for the Honda Premium AMC which costs Rs. 8999, The terms of AMC are as follows:
Tenure – 2 Years
No. of Services – Scheduled services of 2 year duration, which in my case is 5 (3 Free, 2 Paid)
Labour charges – Free for scheduled services, else 5% discount.
Spares – Mentioned in manual for scheduled services are free others 5% discounted
Free Chain cleaning – 1
Lube Discount – Inclusive
Free Wash – 1
RSA Discount – 5%
Free Pick up and Drop – 1
Door Step Service – 1
I was initially not interested in buying AMC as the one which we have for Wego is utterly useless, however on detailed discussion and comparison with projected service charges I found that there would be a benefit of approximately 3k if I go with AMC. The service manager Mr. Jagdish Sahu also showed me the regular AMC package that they have (similar to one I have for Wego) and the fact that Honda has put strict order not to give regular AMCs to any one of the bikes retailed through Big Wing. The Premium AMC terms are controlled by Honda directly. There are some more conditions like accidental damages, racing etc. which are provided with AMC document.
Accessories installed:
All the accessories currently on Piccolo were purchased with the bike itself and came installed during delivery, a key advantage here is that dealership does not charge labour cost for installation of accessories which were purchased with the bike.
Below are the accessories along with their pictures, official cost and experience:
Honda official accessories:
Saddle Mount (Stays): These are the Honda official Saddle Stays/Mounts for CB350, the quoted rate for these is Rs. 750 for the pair. In my opinion the price of these mounts is pretty VFM, they are of solid build quality. Initially I thought that these stays are of slightly smaller size but after putting Dirtsack Frogman Saddle Bags on them it is apparent that their size is perfectly sufficient. As far as the purpose of these stays is considered I have seen zero issues so far from Day 1. The stays do appear to protrude a bit in first view but practically they do not cause any sort of discomfort as you can see in below photos. Paint quality is also quite good. I do have one gripe though, the rubber caps provided to cover the Mounting points do keep falling off and these are Honda official rubber caps with proper SKU number and all which costs 12 buck each, I had 5 such caps on my Piccolo of which 3 are missing in below pics as they keep falling off, the service staff has tried to secure them with Rubber adhesive as well but no success. This is a pretty irritating design flaw and is accepted by service staff as well.
Fork Boots: The official Fork Boots cost Rs. 600 which is probably on slightly higher side, they fit snugly and do their purpose of keeping dust and grime out of shock absorbers efficiently though and enhance the looks quite a bit in my opinion.
Mud Flap: The mud flap was sorely missed by early users of CB350 and Honda has come up with one as an official accessory, This flap costs Rs. 200. IT works with the overall design of the bike and the rubber quality is quite good. It appears to be quite effective as well but as rainy season is just starting so the true test of mud flap is only starting now.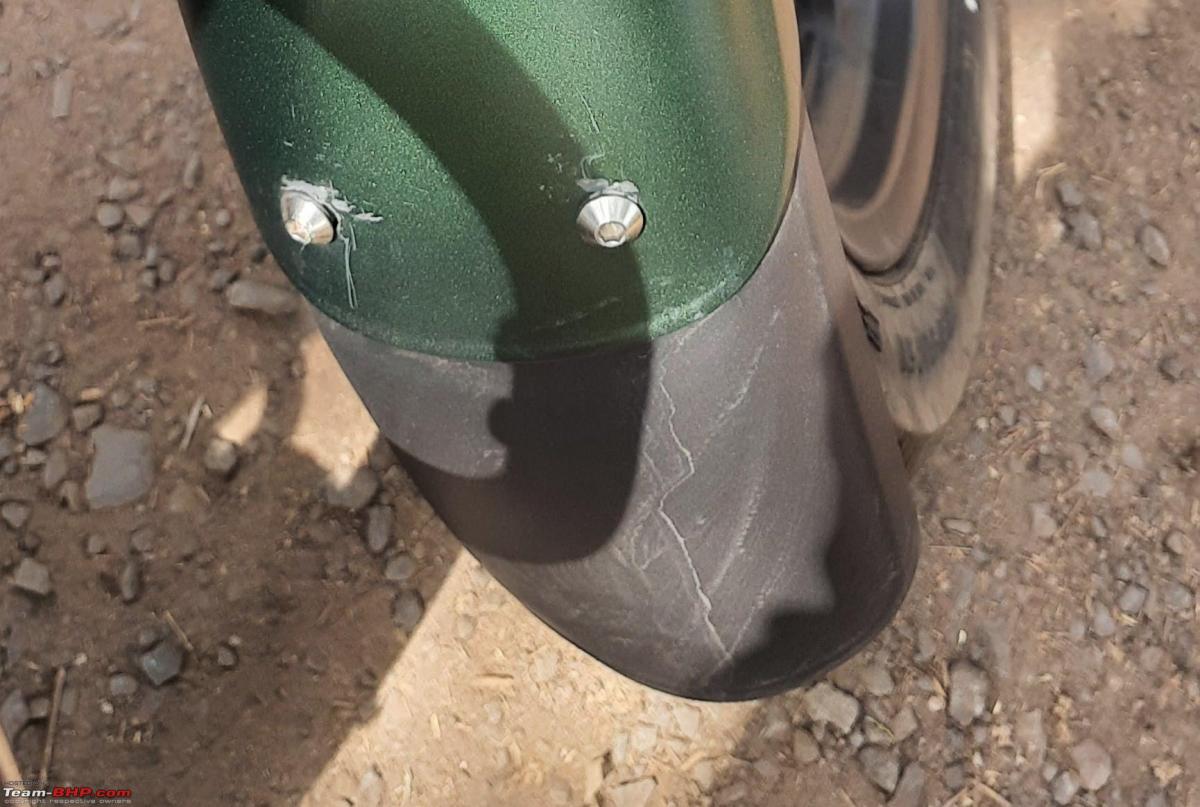 Engine Cover Pipe: This Engine Cover Pipe worth Rs. 469 from Honda is a pretty quirky and unique offering, I have not really seen anything like it on any other bike in flesh yet. Even the sales staff was not fully sure of its effectiveness, The skid plate on CB350RS would have made more sense in my opinion. The build quality and material used is quite strong though. I initially did not opt for this however after carefully analysing other options that were available in market at that time I decided to opt for this cover as I was not confident of how much those other bash plates would affect the heat management, so I have decided to keep this cover pipe and go for a good skid plate when one is available. Is it VFM ? Yes. Is it effective ? Can't say right now.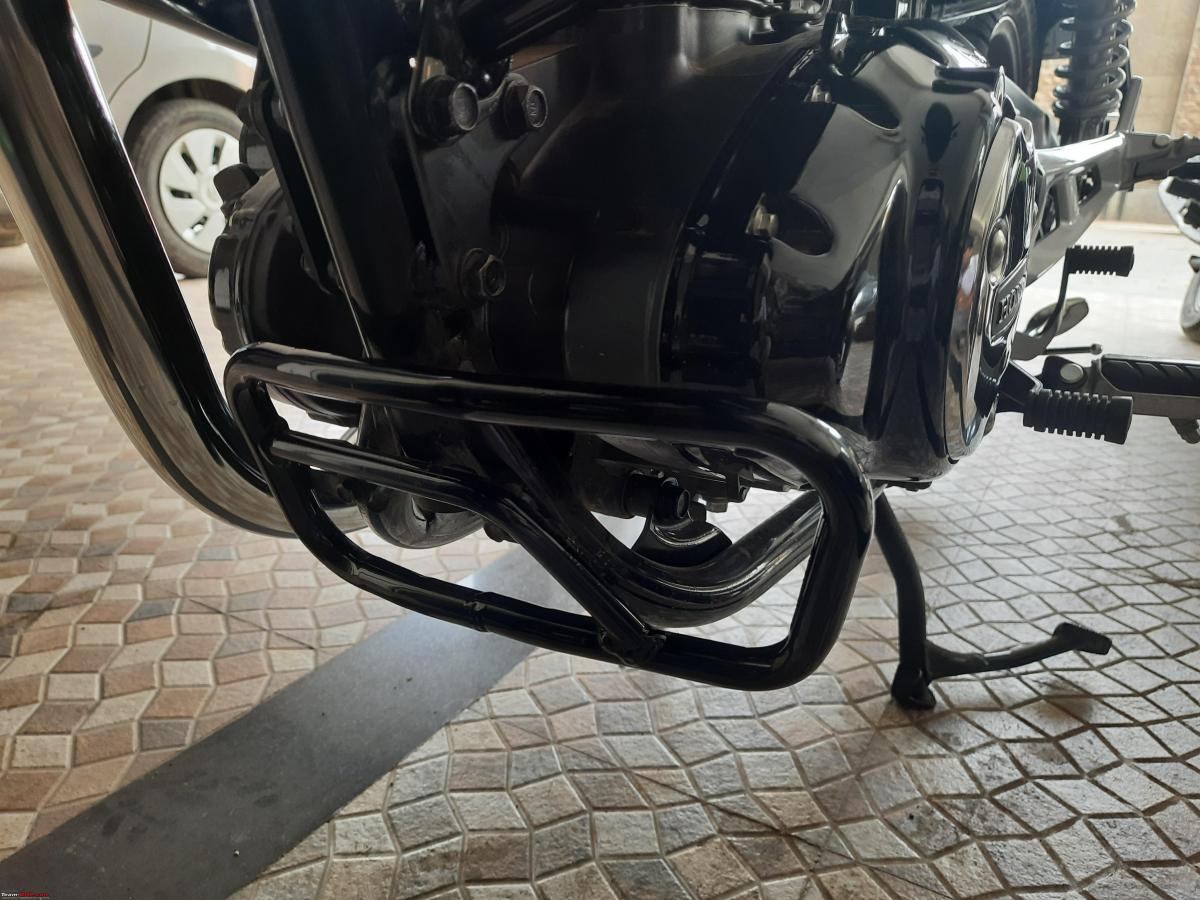 Leg guard: These official Leg Guards cost Rs. 1,244 which is a pretty VFM offering in my opinion. They are solidly built and complement the overall design of bike very well. I had the option of fitting the RE Bullet leg guards from the showroom but they would mess up a little with the horn positioning and they do not suit the design of CB350 either, same for after market ones as well. The official Leg guards are definitely on the smaller side though and some more arrangement like adding sliders would be required for more difficult and longer trips.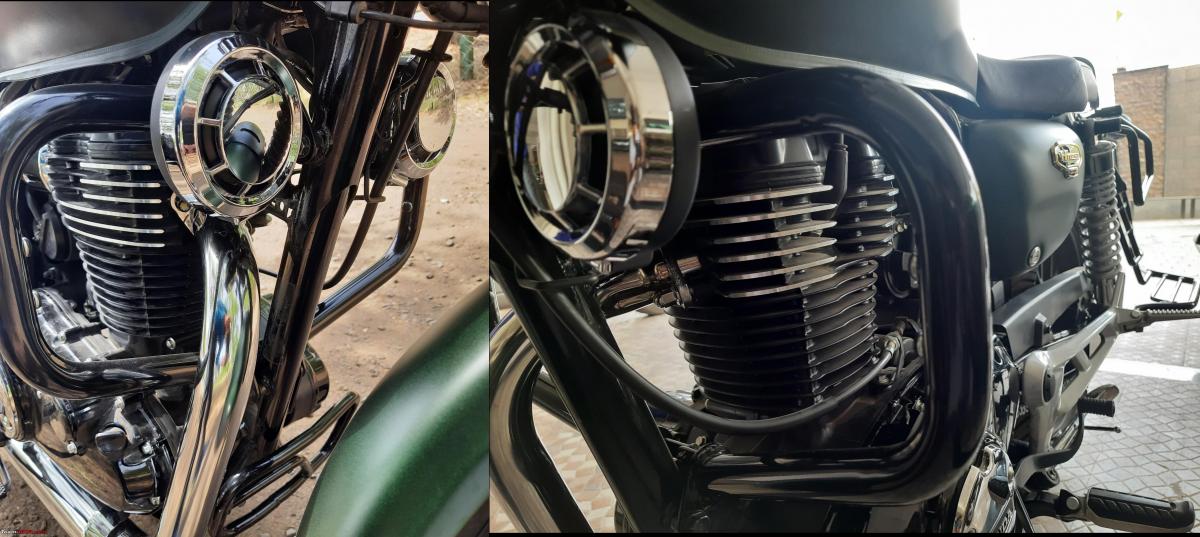 Other accessories:
Royal Enfield Meteor WindShield: There are 2 options which Honda gives for Wind Shield however I found both of them to be pretty small and dealership gave me option of fitting Wind Shield of Meteor on my Piccolo, I had understanding that Meteor's Wind Shield does indeed fits CB350 however it requires some elbow grease and mount adjustment so I opted for the Meteor windshield. The Wind Shield plus fitting cost came out to be Rs. 5,000 which is neither VFM not very expensive in my opinion. The Shield's quality is quite good though and it does it's job well. There is a Royal Enfield symbol above the cutout in it which has been masked by the Honda sticker. The other options available at that time in aftermarket were not of my liking, The Carbon Racing touring shield was the best out there but even that did not fit with the overall design of CB350 in my opinion.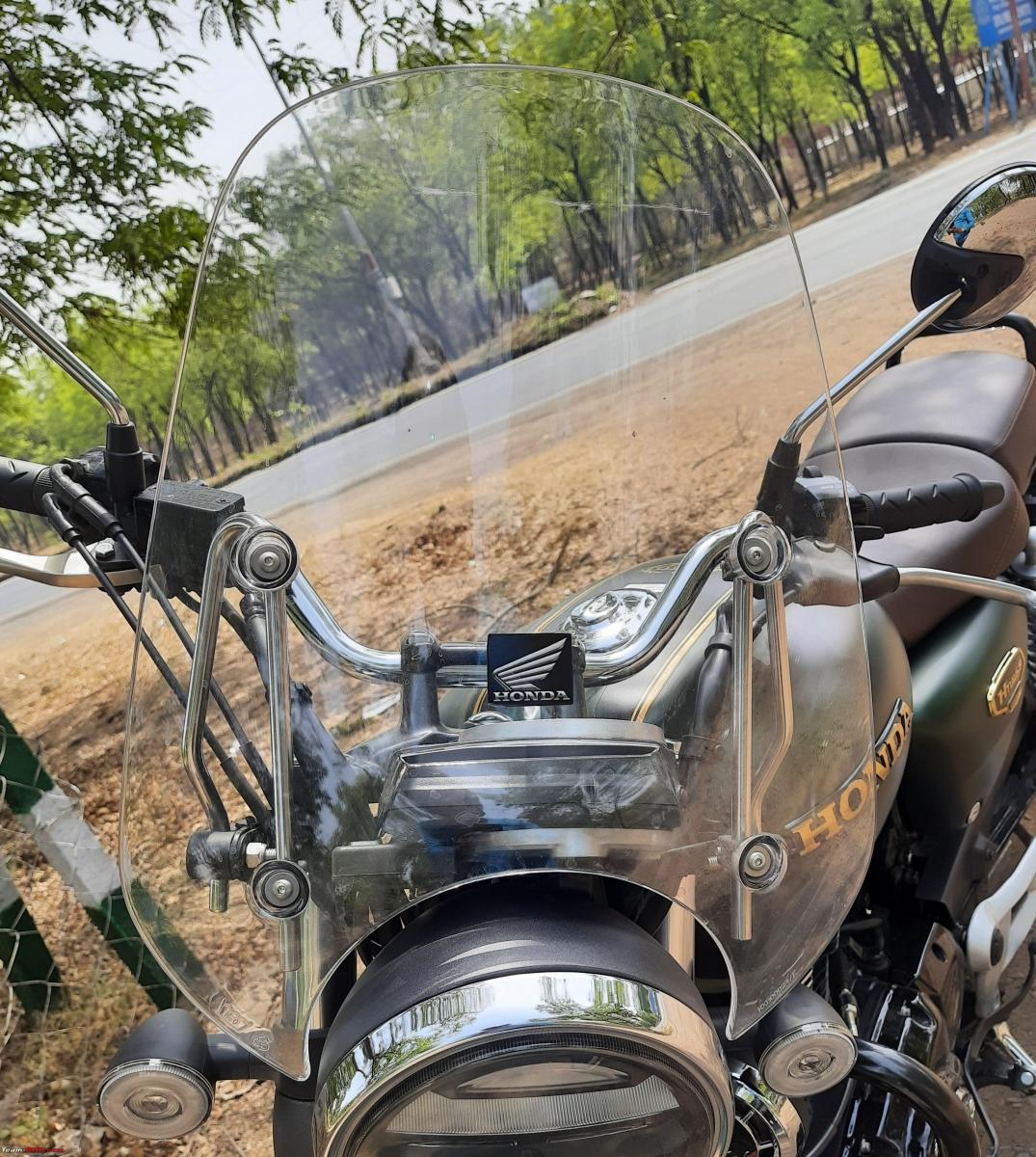 What I dislike about this Meteor Wind Shield is the ludicrous paint quality of it's U-Shaped supports, as you can see already the silver paint has started chipping from them and this photo was taken just 15 days post delivery of bike and that too from a point which could not have any object impacting it to make a scratch. The silver colour has also started to fade now and in front of all the other chrome bits present in the bike these supports do scream aftermarket work. I have shared the feedback with sales team and provided them the link for Hyperrider windshield as well which seems to be a pretty good option for CB350, sadly it was not available when I bought my Piccolo. The sales staff is exploring Hyperrider accessories as well now.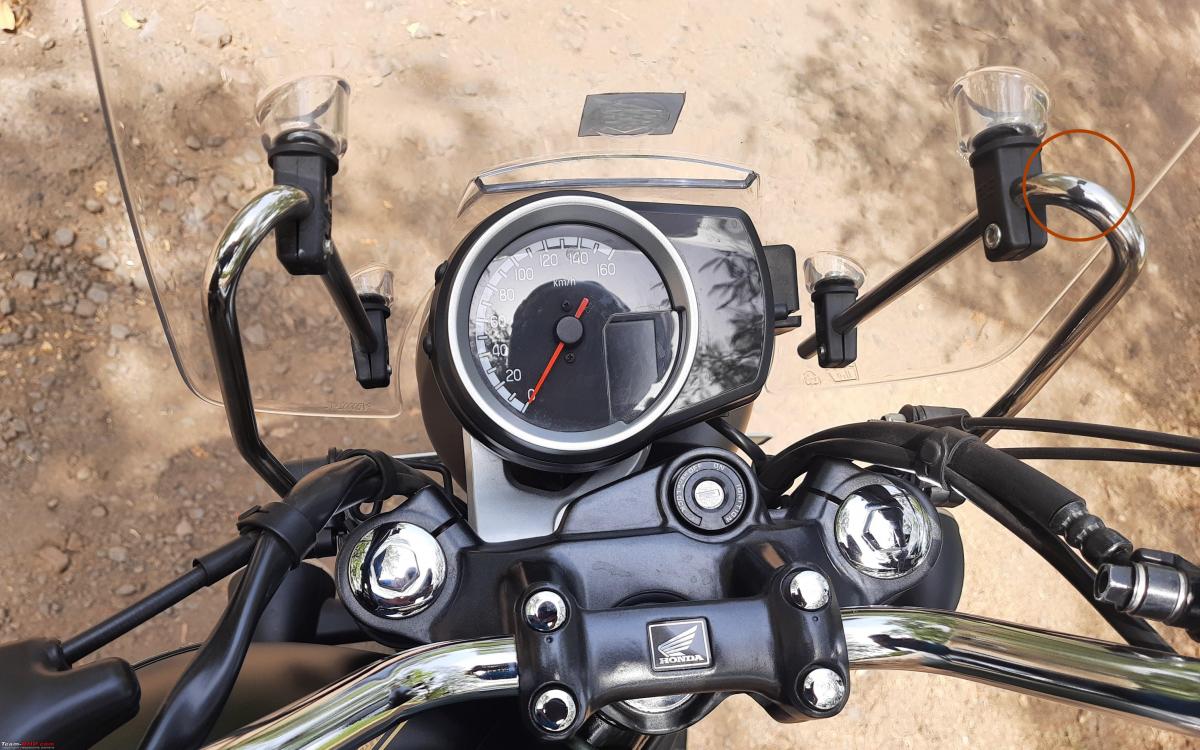 Other items purchased:
Body Cover – This is the Big Wing branded body cover from Honda which costs Rs. 866. I had pre-ordered the body cover at the time of purchase itself however the body covers have reached the dealerships around mid May only and I got the first one sold by dealership on 19th May, The body cover is pretty large and fits the bike well (I was using a RE size cover from local market prior to this which would not fit CB350 and my Wind Shield exaggerated the size mismatch even more.) It has two buckles one near the rear tyre and one below the engine for securing. The bottom of cover has elastic to ensure snug fitting. The material used is quite soft and gives premium feel however it is not good with heat and I am told to let the bike cool down fully before putting on the cover. The body cover is VFM in my opinion. And if the wind shield is not there then the cover should swallow the rear tyre as well fully I think.
Honda branded helmet – The infamous rule of buying pair of helmets is compulsory with new bike purchase was in play here. I had the option of buying two helmets from dealership or to provide them receipts of two helmets purchased in this year only. I went for the second option initially but the helmet I really liked (SMK Titan) was not available in the colour of my choice at that time and it was not available in size S (for my wife) as well. So we decided to buy Titan when it is available and maybe from some other city also. So I circled back to the dealership, they were not having any full face helmet without any unnecessary graphics plus they also had nothing in size S, so after multiple discussions I ended up buying one anniversary edition specific helmet in total.( The colour matches perfectly with the bike and it does look smashing but it is open face so that's not good. ), I was anyways not having a good helmet though so this one works for now, it does have washable cheek pads and inner lining, sun light visor, top and rear air vents and good fitting though. For Rs. 2,500 a bit costly maybe but I guess the cost is of matching colour scheme. It does not have a ring mechanism for Helmet lock though.
Honda branded keychain – I was on the lookout for a good keychain, the one that came with Piccolo was a regular Redwing one. I couldn't find any key chain of my liking, so during one of my visits to dealership they showed me these new key chains Honda has sent for checking the interest of customers. I ended up buying one (again first one of dealership), It is of good quality leather, feels premium, the metal parts have good finish and it does match with the keys. As far as showoff is concerned, this is absolutely spot on. At Rs. 450 though VFM it depends on the choice.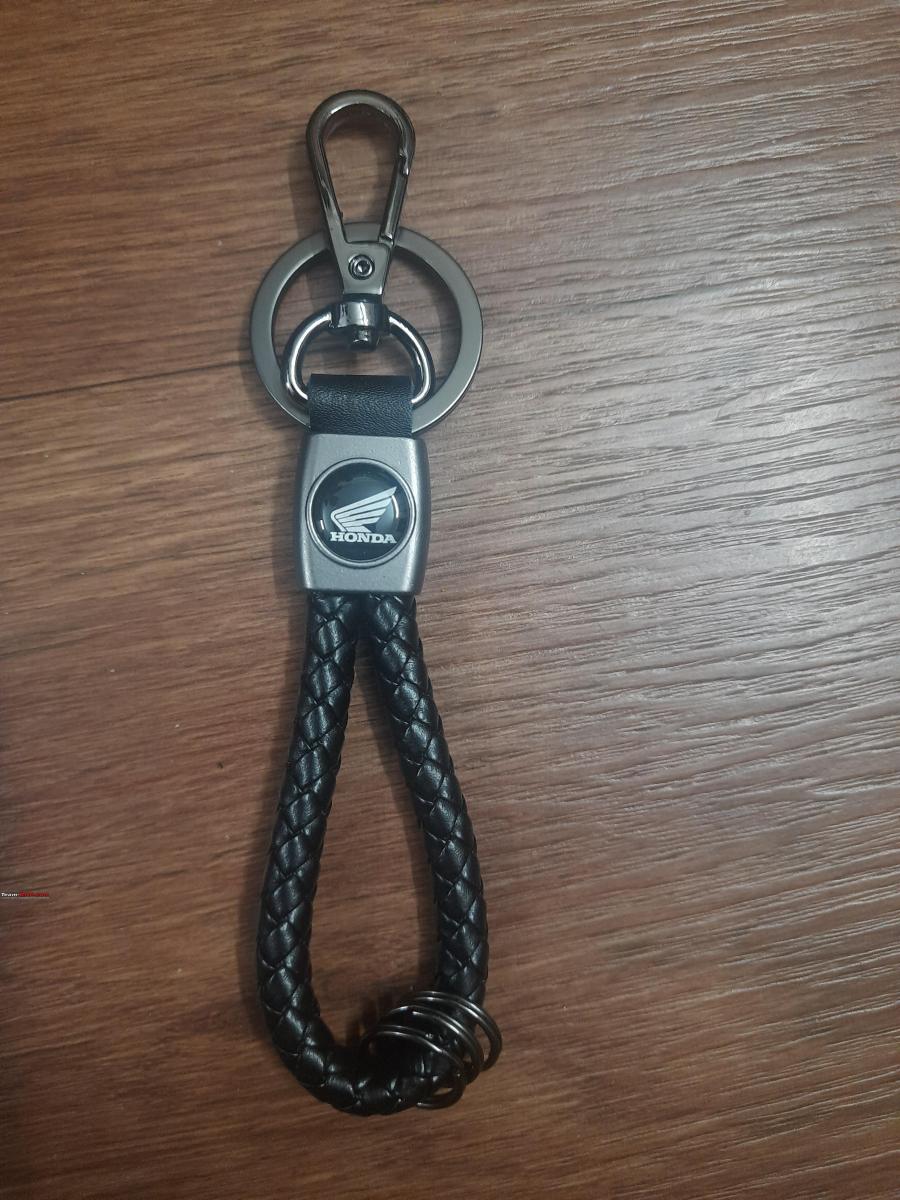 Continue reading BHPian darkLightning's review of his Honda CB350 Anniversary Edition for BHPian comments, insights and more information.
Source: Read Full Article