The SUV had barely clocked 500 km in the last 18 months, I was away.
BHPian ARAY recently shared this with other enthusiasts.
The meaning of "Spiti" originates from the Tibetan word referring to "middle land." Elevated at an average height of 12,500 feet above sea level lies this region with approximately a population of 10k inhabitants mainly communicating through a local variant of Tibetan – Spiti Bhoti dialect. Buddhism assumes a dominant practice around here. The essence and vibe create interest among nature enthusiasts who choose trekking, camping, or mountaineering apart from being awed by numerous Buddhist monasteries such as Key Monastery, Tabo Monastery, and Dhankar Monastery.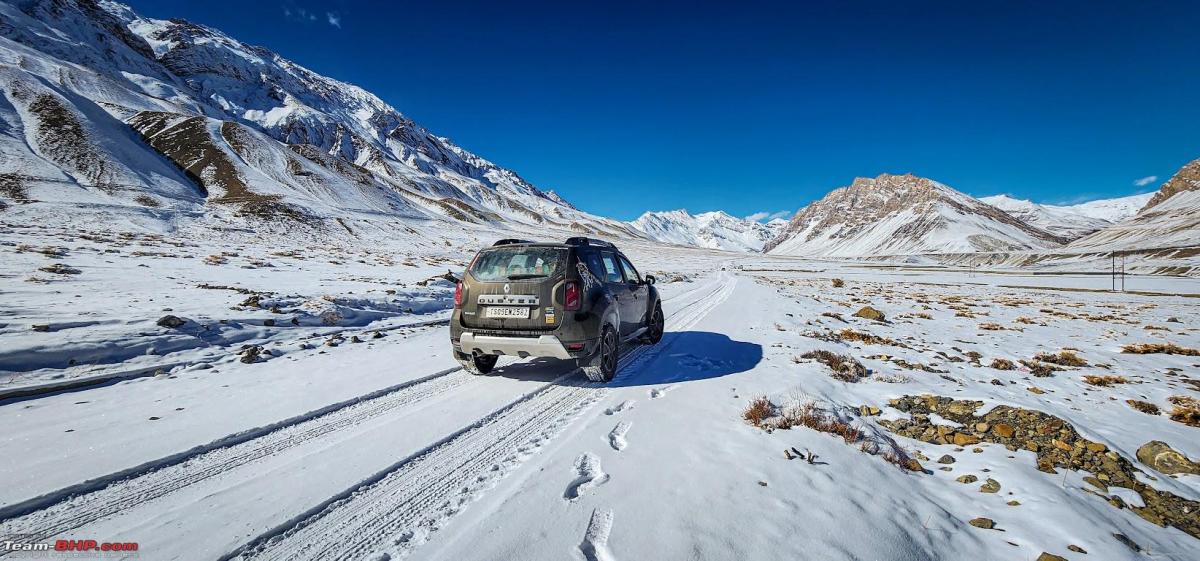 Let's start with some Stats:
Total Distance = 5137 km
Total time behind the wheels = 113.5 hours out of 12 days
For approximately 40% of the trip, I was behind the wheel, driving our trusty Duster AWD, aka Travolta, from the movie Faceoff because the Amazon green changes between brown and bottle green depending on the Sun
What more can I ask for?
Coordinates that might be helpful
A cluster of hotels near the Taj Mahal's western gate: 27°10'06.8″N 78°03'02.9″E
Bridge, where you need to take U, turns for viewing the Taj Mahal opposite Yamuna: 27°11'24.8″N 78°01'36.0″E
Toll Gate to enter into Yamuna expressway, Agra Bypass : 27°12'10.8″N 78°06'51.3″E
Shimla Bypass – Take Right: 31.100659, 77.142170
Fuel Pump in Narkanda : 31°14'45.8″N 77°26'50.0″E
Dhaba with basic needs en route near Pooh: 31°45'08.3″N 78°37'39.0″E
Needlepoint Rocks : 32°02'19.4″N 78°16'33.0″E
Lingti Village before Kaza : 32°06'53.5″N 78°10'34.4″E
Kaza Ice Skating Rink : 32.226503, 78.064830
Kaza Fuel pump : 32°13'39.3″N 78°04'11.7″E
The Plan
The Team
The Doctors Legion – 2016 Duster AWD – 59,000 km at start
SaSu Duster Gang – 2018 Duster AWD – 58,000 km at start
Hyderabadi Biryani with potato – 2016 Duster AWD – 86,000 km at start

The Route
For folks planning a trip to SPITI here is a quick summary of the routes used.
Hyderabad to Tajmahal
Hyderabad – Nizamabad – Adilabad – Nagpur – Jamtha ( Nagpur Bypass ) – Mansar – Seoni – Kareli – Sagar – Jhansi – Gwalior ( take the bypass if you a passing after 7 am) – Monera – Agra.
Actuals: 1502 km in 24 hours + 3 hours drive for viewing the Taj Mahal opposite Yamuna.
Taj Mahal to Karnal
Route Used – Agra – Kuberpur – Khandauli ( lunch ) – Garsauli – Suraj – Jewar – Dankaur ( Greater Noida Bypass ) – Ghaziabad – Panipat – Karnal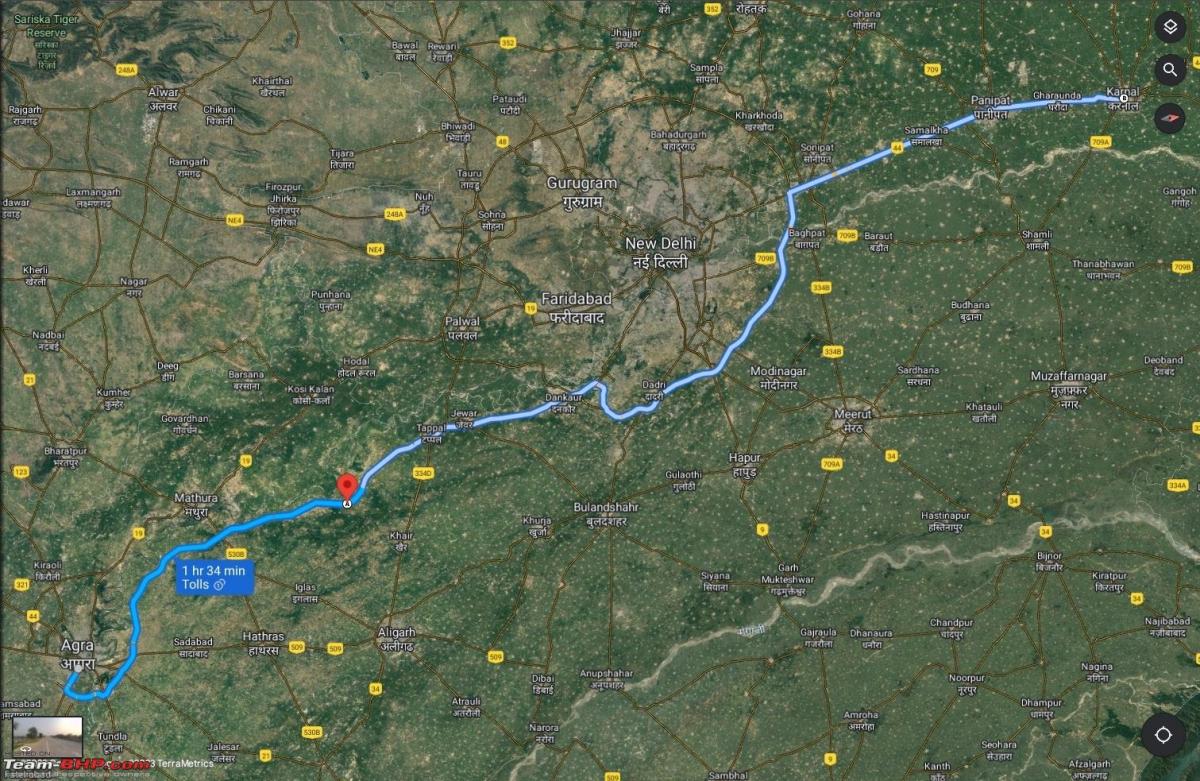 Karnal to Theog
Actuals: 271 km in 7 hours 40 mins.
Route used: Karnal – Ambala – Panchkula – Solan – Kandaghat (Shimla Bypass) – Chail – Fagu – Barog – Theog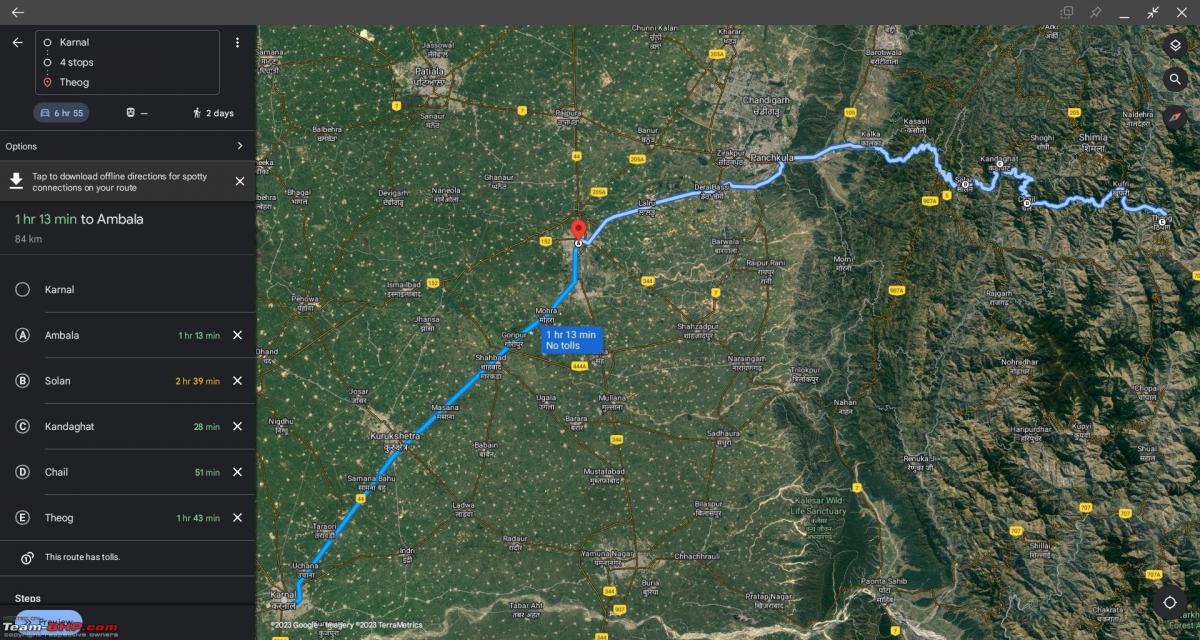 Theog to Kalpa
Actuals:195 km, 7 hours.
Route Used – Theog – Narkanda – Nogli – Kache – Kushpo – Tapri ( we thought we should have some tea here ) – Rekong Peo – Kalpa
Kalpa to Kaza
Actuals: 220 km 7 hours 15 mins
Route used: Kalpa – Ribba – Pooh – Nako – Sumdo ( blizzard, blizzard, and some more blizzards ) – Lapcha – Tipta – Tabo – Dhar – Kaza.

The Hotels
Agra – Hotel Taj Resorts ( 6/10, the only good thing about this place was its proximity to Taj's Gate )
Karnal – Hotel Jewels ( 7/10, Parking is scanty, you might need to park outside the campus, although it seemed safe )
Theog – De Exotica Crest Resort & Spa ( 8/10, near the highway although away from the hustle and bustle )
Kalpa – Grand Shambhala ( 9/10, great staff, parking is fun on black ice, parking is scanty )
Kaza – Jigmey Homestay ( Cant rate this, the family hosting us was very hospitable, although the power supply is a mystery )
Shimla – LaRisha ( 8/10, the drive up the hotel was steep and fun, and parking was in abundance )
Greater Noida – Crowne Plaza ( 8/10, nice hotel, lots of parking, gets the job done, the buffet was spread well )
My travels from Hyderabad since the 2019 Bhutan trip have been limited, with only a delightful visit to Kerala along with several round trips home to West Bengal and one visit to Vizag before moving to England. However, without access to my own vehicle here in England renting has become necessary through companies like Enterprise though it hasn't always proved fulfilling. These rentals were useful for trips around Snowdonia or the Lake District and South Scotland along with other destinations in England; however we often ended up renting hybrid KIAs or even getting seats in a Tesla Model X together (an experience that had its challenges). But discussing that tale can wait till later.
I was craving those crazy 24-hour nonstop drives, I was craving to drive the Duster AWD. I was missing my Duster. Samba and I have known each other for over two decades now, we connect often, one fine day I was informed that there MIGHT be a winter Spiti trip. On discussing the dates I came to know it was doable and of course once in a lifetime drive. I was coming to India in January so why not make the best out of the time?
Approvals from the office and the entire drill began from the month of October. Everyone was excited. My kid started daydreaming about white-washed snow, and so did I. We used to spend hours on video calls planning for the trip. He is just 8 years old but he had better plans than I did on how to enjoy the trip. He is crazy about Tintin, Bengali Detective Feluda, and the lot, he went into a different zone altogether.
Eventually, my wife agreed as She was worried about our kid, who however has done Bumla Pass and several other passes in his last 7 years.
Wife: You must be very excited about this trip.
Me: Absolutely, with all these years of driving on the Himalayas and southern hills and practice, I would get to apply all thAt knowledge on a Snow drive.
Wife: For you, it's a trip in a trip.
Me: Inception of trips.
Going back home after a long time is always exciting, this Winter Spiti was literally icing on the cake.
Upon my arrival in India, I was struck by the sweeping changes that had transformed the entire landscape of Hyderabad, particularly the HiTech city. The concept of infrastructure as a service took on an entirely new meaning, and I found myself gazing out the window in utter amazement. The level of development and growth was truly breathtaking, and it was clear that the city had undergone a remarkable transformation. What's more, I was pleased to note the absence of rash bike riders and auto drivers, a sure sign that things had changed for the better. All in all, it was a wonderful and eye-opening experience to witness such beautiful progress firsthand.
My wife had already checked the Great Wall of China off her bucket list, but she had yet to see the Taj Mahal. So, I decided to make that a part of our itinerary. To prepare for the trip, we did some shopping at Decathlon, which made it all the more exciting. What's amazing is that Hyderabad has more than five Decathlon outlets, and even home delivery was quick and convenient. I was pleasantly surprised by the speed of grocery delivery services like BigBasket Instant and Blinkit in Hyderabad. Compared to Tesco, Lidl, Iceland, and Sainsbury in England, which requires a minimum order of £40+ and additional fees to book a slot, Hyderabad was a breeze. On one occasion, I was in the middle of cooking chicken curry when I realized we were missing some essential spices. I ordered them through Blinkit, and they arrived at our doorstep in a lightning-fast 6.5 minutes. It seems like everyone takes online payments these days, including our local cobbler. Hyderabad has truly become a hub of fast-paced living, and I'm sure the situation is similar in other major cities.
Beautiful Hyderabad

The Planning
The planning had already begun even before arriving here. However, it was all a matter of putting meat to the bones. I had bought and brought a few of the winter materials from Primark / Superdry etc. I was under the impression they would get the job done. Well, I was partially wrong.
Over the past 18 months, my trusty Duster had barely seen the light of day, having clocked a meagre 460 kilometres during my absence. Prior to embarking on the trip, I gave the car a thorough checkup and servicing, which included replacing the radiator intake manifold hose pipe that had given up along with its O-ring. However, while driving in the city, I experienced misfires in two different instances, with no errors detected by my OBD2 tool. I tried running diagnostics on my own but to no avail. As luck would have it, the classic injector issue that plagues Duster 110ps had finally caught up with me, I wondered, causing the vehicle to jerk just before the gear indicator appeared for an upshift.
Issue #1: Despite a week-long stay at the authorized service centre, they couldn't find a solution as the error was not replicable. With an unsolved issue looming over my head, I took the car on Hyderabad – Bangalore highway, bashed it a bit, and fortunately, the error code reared its head. I immediately took a screenshot and sent it to the service centre. After picking up the vehicle, they identified the issue as a faulty solenoid valve and promptly replaced it. A few test drives on ORR later, I was finally content that the issue had been resolved.
Issue # 2: The duster had been running in 2wd mode for the last 6 months, the entire propeller shaft was removed remotely with help from ASC as the driver was a young lad and had thought of the AWD as the AC adjustment knob. There were U-turns and some sharp turns made with AWD lock. The guys at the ASC said it's not a major issue, but I could see errors popping up on my OBD2 sensor. I was not ready to take any risks with my family in such harsh weather. Ordered the part and got the entire differential unit replaced. The young driver was explained through youtube videos and he understands the concept of AWD/ 4WD now. I have heard good things about the driver from my parents
With the Duster all ready to rock, I was in a much better place mentally. Also, this was my long trip in a group, that too with two other dusters. I carried two spare injectors and a fuel pump just in case. Luckily none of us needed to use any spare parts at all, except one spare tire at Needle Rock points.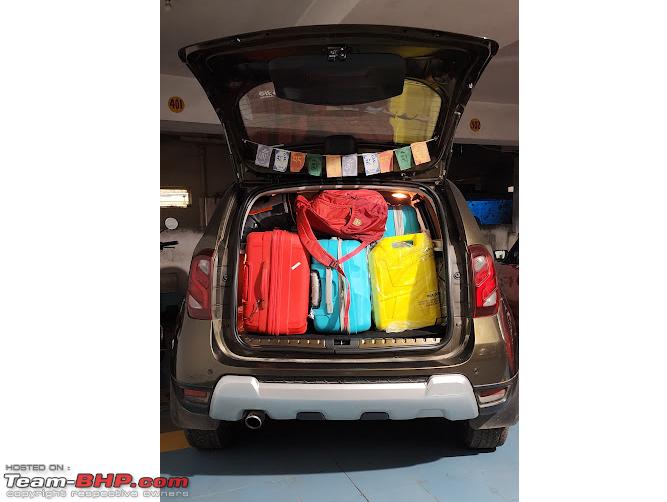 Continue reading BHPian ARAY's travelogue for more insights and information.
Source: Read Full Article