It is far better than Xylo and most cars in the "less than 20 lakh" segment in India. Once you get used to it, you will love it.
BHPian rajeshsundaram recently shared this with other enthusiasts.
For the record. I bought my Innova Crysta in 2022, but I was not able to finish writing the purchase experience and review on time in 2022. After a long delay, I was able to finish in Oct 2023. So making this post – a Purchase experience summary + Review + 23K update.
This post is divided into two parts.
Starting from – The Xylo and us
I own(ed) a Xylo E8 mEagle – 2013 model. (Sold in 2023 March). I was a happy owner.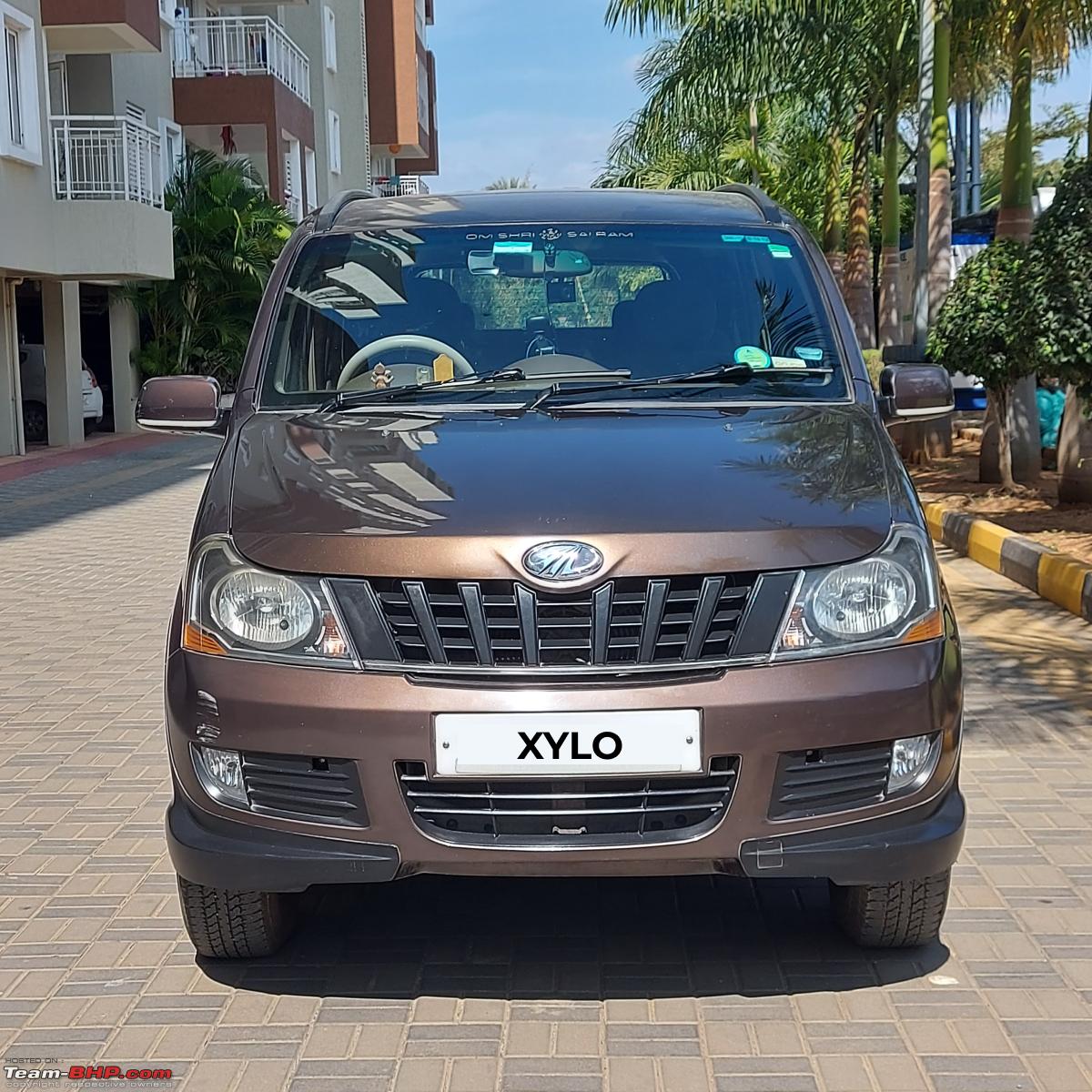 The E8 is good on features for its time. It has ABS, Airbags, Parking sensors, Puddle lamps, chiller AC etc. The mEagle engine, which I believe is based on a Bolero block, produced 112bhp/240NM. It was a relaxed engine tuned for moving a 1.7-tonne vehicle with 8 people on board. Unlike the mHawk, the younger sibling mEagle, is not a performance scorcher. It had adequate power to cruise at 100+ speeds on highways. The vehicle is mostly stable, but it will nose dive if you brake hard. The ride quality on city roads and pothole-ridden roads was average. The parts and body are well put together. I did not hear any rattles from the dash or body structure till I sold it to a Mahindra Mechanic in mid-2023.
The only gripe is the ride quality. It is bouncy. We learned to live with it.
Xylo is a workhorse. It can haul almost any household thing and any amount of luggage. I have moved the following items in my Xylo with the last row folded forward.
A Top Loading Washing Machine.
A Bluestar Split AC unit
A Voltas Window AC
A Diwan (Middle row and last row folded)
A Disassembled Damro Queen size cot (Middle row and last row folded)
I am not joking. The below pic is proof. It is a Damro queen cot, dismantled and loaded into the Xylo. The photo was shot during the loading. I ensured all parts of the cot, panels etc were tightly secured before the journey started to my home town.
Xylo is a good example that Mahindra can build not-so-good-looking passenger vehicles with good build quality, fairly okay on service costs and works well till today. Till I sold my Xylo in mid-2023, it ran 1.5L km with 70% of the run between Bangalore and Erode on highways.
The Taste of Automatics
In 2014, my sister bought a Nissan Micra CVT. Micra is pretty zippy to drive even today. The CVT is pretty good and has served well till today. My sister still owns that car. After driving Micra regularly, I started inclining towards automatics. The sheer amount of convenience offered by automatics in the city is phenomenal.
The Conversations on Highway drives
Over the recent years, some conversations between me and my wife during our highway drives touched on the subject of upgrading our car in future. Since I have an inclination towards automatics and some back pain, the discussion would touch on various points about our future car with automatic transmission.
Soon we both agreed on the following points.
The next upgrade should be an Automatic.
The next upgrade should be a spacious 7 or 8-seater.
The next upgrade should be more reliable and more powerful than Xylo.
Whenever we touch upon this subject on highways, an Innova will overtake us or an Innova will be seen ahead of us or we will end up seeing an Innova soon. Some crazy coincidence. Our subconscious minds registered: The next upgrade is a new Innova.
Time kill Experience at the Anamalais Toyota – Erode
Earlier in 2022, around January, Wifey and I were travelling to Erode.
Few Innovas crossed us. As usual, the upgrade subject came up. When I reached my home town, I thought of visiting the local Toyota showroom. Nothing significant but a time kill. That's all. The next evening, we took my sister's Nissan Micra out for a drive.
The following conversation ensued:
"Hey, shall we go and check Toyota Innova?" I asked my wife.
"What? Innova? Why?" She was puzzled.
"Just a thought. We have been talking about upgrading cars for quite some time. Why not go and check out the Innova?" I replied as I pressed the START button. Micra's engine came to life.
"Are you planning to buy?" She locked the seat belts on. She had curiosity in her eyes.
"Well…I don't know … You see, I don't know if we can afford an Innova now. It was sold for 15L when we bought our Xylo in 2013. Now I read that Crysta costs closer to 24 lakhs on the road."
I put the gear to D and Micra rolled on.
"24 lakhs My god. So expensive." She commented.
"Yeah. Expensive. You know? Yesterday I thought of checking out Innova just for the fun's sake. So, Let's go and kill some time". Micra picked up speed.
Wifey did not object. I know she was interested too.
Soon we reached Erode-Perundurai road and drove towards Aanamalais Toyota showroom. They are the only Toyota dealer in Erode.
We reached the showroom and the security guided us to park the car in front of the showroom. We walked in and noticed there were two Urban cruisers, one Glanza and one Innova Crysta on display in the showroom.
As we walked in, we were greeted by Vinoth. I told him, that I owned a Xylo and walked in just to check the Innova Crysta interiors for some comparison. I also told him that currently I am not looking to buy an Innova and added that – even if I decide to buy an Innova Crysta, that would be in Bangalore – because that is where I work and not in Erode.
I waited for a moment to see his reaction.
He replied, "No problem sir. I would be happy to show you the car". He invited us to sit in the display Innova Crysta.
"Hey interior'laam supera irukku" was my wife's first comment (In English – "Hey interiors are super").
She sat on the front passenger seat and tried adjusting the seat. Vinoth helped with seat adjustment. Meanwhile, I sat in the driver's seat – with my hands on the steering wheel. Like how they show in movies, my hands touched the logo, the gear lever, the dash etc al to get the feel. LOL. I liked the interiors of Innova Crysta. Though it was designed around 2016/17, the quality and feel are pretty good even today. At that moment, I wished I could buy an Innova. And in reality, I do not know if I can afford such a costly MUV.
Vinoth was pretty good with all the details. I liked the fact that he did not go overboard, did not bash Xylo, and did not say "We are Toyota. Toyota reliability, bla bla blaah". He focused only on the product and the features we were interested in. We checked out the car. Front row, middle row and last row. We both got down. Wifey was pretty impressed. She was all smiles.
And I? Well… I am sold already. But my practical mind was thinking about the ownership aspect. The cost. The loan. The EMI. The stretch. Yada yada…Out of curiosity, I asked him about the on-road price of the G variant with auto transmission. He quoted that it would be approximately between 23L-24L depending on the accessories we choose. I noted it. We spent another 20 minutes checking out other display cars. Throughout our stay at Anamalais Toyota, Vinoth stayed with us, explained the features and answered the questions with patience. He gave us his card and asked us to contact him anytime for any help even if we were buying the car in Bangalore. I took that as a good sign. Vinoth was in all smiles from the minute we met, till we departed. He was also very professional. Even though we felt like we wasted 30-40 minutes of his time – he appeared to not think so. We thanked Vinoth and walked out.
The experience was contrary to what I experienced in Ambal Maruti, Erode in 2016. Showroom experience was 3/10. This was again contrary to the experience my friend and I had at Trident Hyundai, Indra Nagar Bangalore in Dec 2021. Showroom experience was 5/10.
Going to Nandi Toyota, Whitefield.
Returned to my scooter and drove for a few minutes until I saw the Whitefield Nandi Toyota building. Only then did I notice they have a showroom as well? Until that moment, I assumed it was only a service centre. Intrigued, I stopped for a moment. Why not go inside and ask the price of Innova Crysta? Kill some time. eh?
Till today I seriously do not know why I thought of walking in. Had I not walked in that day, I would be still driving the Xylo. I parked the scooter in the parking area and walked in. Being a bit early, the showroom was void of visitors. There was an Innova on display and an Urban Cruiser. The showroom was actually kind of small. Not a big one like their Bommanahalli branch. I looked around. there were no personnel on the floor. Strange. I looked around again and noticed that a housekeeping guy was sitting in the extreme corner of the showroom. He noticed me, got up and walked towards me. He greeted me with a Good Morning.
I said, "Good Morning. I am here to inquire some details about Innova Crysta".
He informed me that the sales team was attending the daily meeting on the first floor and requested me to take a seat and wait till one of the folks attended me. He offered Coffee/Tea. I politely refused. I sat on the chair and waited. After 5 minutes, Santosh, a salesperson walked down. After the initial greetings, I informed him that I was there to check the pricing of Innova Crysta. He immediately offered me the price list and took me to the section behind the showroom where both G and Z variants were parked. He asked me to check out the cars. Though I already experienced the cars in the Erode showroom, I did not mind checking out Crysta once again. As I started checking the interiors, I told him that I did not have any plans to buy a Crysta, but it was just my pure curiosity to check the price at the moment. His body language did not change hearing that. But he continued his job with a smile. He explained the features, and the variant details, and also asked me if I would like to go for a test drive. I politely refused stating I do not have plans to purchase and hence, I am not interested in a Test drive.
He asked about the car I am driving now. I replied that I currently own a Xylo which is almost 9 years old and serving me well. He asked me why not upgrade to a new Innova. I told him that even if I wanted to buy a new car, there are a few issues like Aadhaar card address issues and things like my financial bandwidth to pay the EMI the car loan demands. He understood but still insisted I check out the Z variant too. During the conversation, Santosh offered to bring a test drive car to my home the next day. I politely declined.
After checking out the cars at the back I asked him what would it take for a person who does not have proper address proofs to buy and register a new car in Bangalore. He suggested I register the car in my wife's name if she has address proofs in the current address. Then it struck me. The LPG connection is in my wife's name with the current address. Santosh said he was not sure about the LPG bill. But he can check with his team and let me know if the LPG bill is okay enough to register the car.
Suddenly my curiosity rose.
Santosh called his associate who handles loans. The loan guy told me that he could check with the RTO team and let me know if the LPG cylinder bill will be accepted as address proof to register the car. Then he told me that I would be facing a hurdle when I took a car loan in my name in Bangalore, because banks need proper local address proofs in Bangalore.
My curiosity crashed.
I scratched my head again for the second time in the day. I told myself 'Okay. Without my Aadhar card updated with my current address, it will be impossible to get a loan. Or, it would take a lot of effort to get a loan with other valid address proofs. A lot of time and hassle. Oh, wait, before everything else… What if I read my address proofs, but the EMI is beyond my affordability? Okay. Let me ask these folks what would be the EMI amount first.
I asked the loan guy how much would be the EMI if I went for an automatic G variant. He got my initial down payment number, did some calculations and came up with an EMI value which was actually within my bandwidth.
My curiosity skyrocketed now.
"Well, well, well…What about the EMI if I buy the Z variant?" I asked the loan guy.
"Manual or Automatic sir?"
My Back pain thoughts came up. I replied, "hmm.. Automatic".
He did the calculation and the ballpark EMI value came up. The value was a little outside my comfort zone. But If I could stretch a bit, I can manage the EMI.
My brain went on overdrive now. Looks like I can buy a Crysta Z Automatic. Wow! But I decided to stop for the day and leave. Too many things in my mind. Got up and thanked them. Santosh gave me his card and asked me to call him anytime. He still offered me a test drive the next day. Again I declined.
@ Home
Returned home and showed the numbers to my wife. She asked, "What are you doing? Are you planning to buy a new car now?". She took out the wet clothes from the washing machine and put them in the bucket. We both walked to the balcony to hang the clothes to dry.
"I don't know. On one side it looks like I want to buy. On the other side – I don't know if I can pay the EMI"
She looked at me for a moment. "But you said the EMI is not a big stretch. Then what?"
"Well…" Suddenly my heart wanted to buy the car. But my mind was sceptical about the EMI.
She smiled. "Don't eat my head. If the EMI is manageable, just go ahead and buy the Innova. I know you love cars. Deep inside you have been wanting to buy a new one for quite some time. Buy the Innova and be happy"
I simply looked at the hanging wet clothes and did not say anything. I walked out of the room and saw my mother sitting in the hall watching TV. I told my mother about the Innova inquiry. She was surprised and echoed my wife's words. I indulged in deep thinking with a filter coffee in my hand.
The Test Drive, The Booking and The PDI
LOL. It feels very surprising when I recall the events that unfolded in the following days. A couple of days later I called Santosh to ask for a test drive. That's when he dropped a bomb. Toyota increased the price again. I guess it was around 60K (not sure) for the Z Innova Crysta. I sighed. I said "That's okay Santosh. Can you get me a Crysta AT to test drive tomorrow?"
"Sure sir. I will do".
I shared my Google Maps coordinates with his WhatsApp. The next day, true to his words, Santosh reached my apartment's guest parking lot with a white Crysta Z with an automatic transmission.
Myself and wifey hopped in and drove it through Borewell Road, Brookefield Main Road, Varthur Main Road and then back to Borewell Road.
The ride quality was super-good compared to Xylo. Except for the space on offer, Innova Crysta excelled in everything else. The Torque converter gearbox was pretty good and adequately responsive. It is competent, yet it is not super quick like a ZF gearbox. I found the automatic transmission is nicely tuned towards comfortable cruising. The ECO, Normal and POWER drive modes offer flexible driving modes. I liked the POWER mode above all. After we returned to our apartment, Wifey was all smiles. She felt the Z variant interiors looked better than the G variant. The leather seats, faux wood panels etc appealed to my wife. Appealed to me as well. Seeing our bright faces Santosh was in smiles. Lead changed to Potential. Deal confirmed.
It was a no-brainer then. We decided to book Innova Crysta Z Automatic. After making up my mind to buy a new Innova Crysta, I finally figured out an easy way to update the address in Aadhar and did it. Aadhaar was ready in 9 days. We visited the showroom on Tamil New Year (mid-April 2022), paid 50K and made a formal booking. I got a very small discount on the total price.
The color chosen was AvantGrade Bronze. The model was – Z with Automatic Transmission. During booking, Santosh informed us that it would take usually 4-5 weeks for delivery. We agreed.
The following day, the loan papers were submitted to SBI for processing. The loan was approved in the next two days. A WhatsApp group was formed by Nandi Toyota that included myself, Santosh, the Sales Lead, the Accessories guy, the Loan guy, and other relevant folks. The communication was good and prompt. The accessories list was shared with me but they did not push or nag to buy accessories. For accessories I opted for the OE side steps, OE boot mat and dealer procured PU full floor mat. In my opinion, the OE accessories are way expensive though. I was okay with it. On the 5th day, Santosh called me and said that there were a huge number of dispatches from the production plant. So I can expect my car by end of the April month itself. TBHP car sales analysis showed that Toyota dispatched close to 6K+ Innova Crystas for April. I told him to send me the VIN number. Two days later, the VIN number was shared with me. I verified the VIN and it was an April 22 manufactured car.
Once all pending payments were done and accessories were fitted, I paid a visit to their Bommanahalli branch and did the PDI.
Everything was good. No issues. No scratches, No dents, No spots. I opted for a fancy number and the same was arranged by their RTO guy. The cost of buying a preferential/fancy number is now 25K. I agreed to take the delivery on May 6th 2022.
The Delivery Day – Surprise for a few
The thing is – My sister and my niece were not aware that I had booked an Innova. I wanted to reveal it as a surprise news to them later. On May 4th I called Santosh and set the delivery time between 9:30 am and 10:30 am on May 6th. After fixing the delivery day and time, I invited my Sister, my niece and my friend Peri to my home on May 6th morning. Among those three, only Peri knows that I am taking the new car delivery. My niece reached my home the night before. She was confused, and like why I invited her to a shopping around 9:30 in following morning. My sis arrived from Dharmapuri by 7:30 am in a cab.
By 8:30 am we finished our breakfast. Niece again asked us "This is so early. Who goes shopping around 9:00 am in Bangalore?" She was quite puzzled at my super-early shopping idea.
I managed to get everyone ready and started travelling in two cabs. Looking at me booking a cab, Niece asked "Why don't we take the Xylo for shopping?" I again managed to say to avoid parking issues bla bla. She did not buy any of those reasons. We hopped into the cabs soon. We reached Nandi Toyota by 9:20 am and stepped out of the cabs. My sister and niece had big question marks on their face. As I exited the cab, I noticed my AvantGarde Bronze Innova was parked near the delivery bay.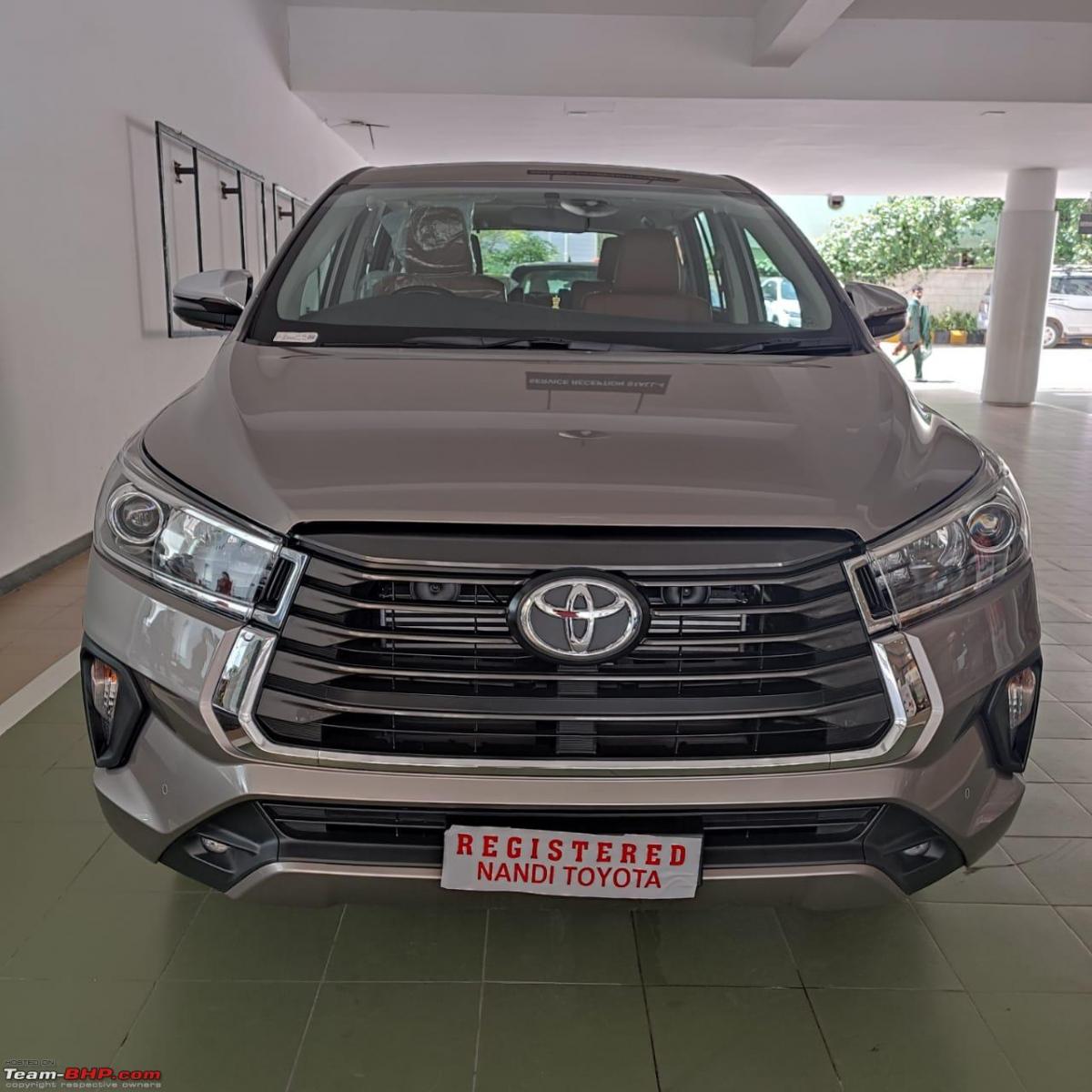 "Mama, why are we here?" My niece asked me. It was time to break the suspense.
"Do you see that Bronze colour Innova Crysta there?" I pointed to that car.
"Yeah." She replied.
"We are taking delivery of that car today".
Her eyes widened. My sister was in shock. With puzzled faces, they followed me into the showroom. Santosh greeted us, and we were seated in the lounge. Once my niece and sis realised that I was not joking, they were all smiles. SMILES.
Coffee was offered to us. There were two other cars ready to be delivered between 9:30 and 10:30. Santosh brought the files and we completed all the pending delivery formalities.
After collecting the papers, we drove back home in the new Innova Crysta Z-AT.
Conclusion
So that is the summary of events that led us to buy a brand new Innova Crysta Z – AT. I must agree that the showroom experience in Erode and Whitefield was pleasant throughout. I am not endorsing any showroom here, or advertising them. But I felt the sales were pretty good, if not outstanding.
Alternatives considered
None. Because, back in our minds, we knew that Innova was the next logical upgrade to Xylo. Also, only Innova matched all the 3 conditions we had.
Continue reading BHPian rajeshsundaram's Innova Crysta review for more insights and information.
Source: Read Full Article