I was expecting a fuel efficiency of 15 km/l and above, but managed just around 12 km/l.
BHPian VRJ recently shared this with other enthusiasts.
The inevitable addition to the garage happened. Took delivery of a Pearl White ZX(0) on May 29. I'm already inching closer to 1000 km. Fortunately, I did not have to wait a ridiculous 12-18 months to acquire one.
When the launch happened, I was very occupied with work. After the price reveal, I knew this would do well and I was expecting wait times to be around 3-4 months. I wanted to buy one in the 2023-24 financial year, so I thought I'll book later. To my surprise, the demand was way over the production capacity of Toyota. I've read online that they stopped taking new bookings. I thought this was a marketing gimmick and drove to the showroom to book one. Surprise surprise SA did not take my booking. He said even if I take your booking, I have no idea when I can deliver the car. Walked away in disbelief.
The next day, I test-drove the Kodiaq and was really impressed with every aspect of the car, apart from the efficiency. Test drove on my usual route and the car returned 6.9kmpl. It was a bit hard to digest considering my running is going to significantly increase from the next year. A diesel kodiaq would've been nice.
Moving on, a good friend of mine booked the ZX(0) Pearl White on launch day. His delivery was going to be around mid-May. He knew that I wasn't able to book one. He called towards the end of the first week of May saying he was planning on cancelling his booking and wanted to get the Fortuner instead. He asked if I was willing to take delivery next week and of course, I said YES. Hycross is the first car we've purchased without even sitting in one, let alone test drive the car. Sorted my finances quickly and Mody Toyota was nice enough to transfer the booking to my firm's name. Did the PDA on May 20. I was a bit sceptical to buy the pearl white. When we purchased our Fortuner in 2018, I was confused between the two whites. Luckily, both of them were in their yard. The pearl white had a yellow hue to it. None in the family liked it and we booked the super white. I asked the SA if I can get the super white hycross and he gave me a look I can never forget. It felt like I was getting the first corona vaccine in the world. Soo precious. Such was the buildup given by the SA. Tbh, I still can't believe a 40L car has an 18-month waiting period. Fortunately, the pearl white of the hycross is a shiny white. I liked the pearl white over the super white this time. Damn, I got lucky with the delivery and the colour. PDA done. Everything was good. All set and sorted. Took delivery on May 29.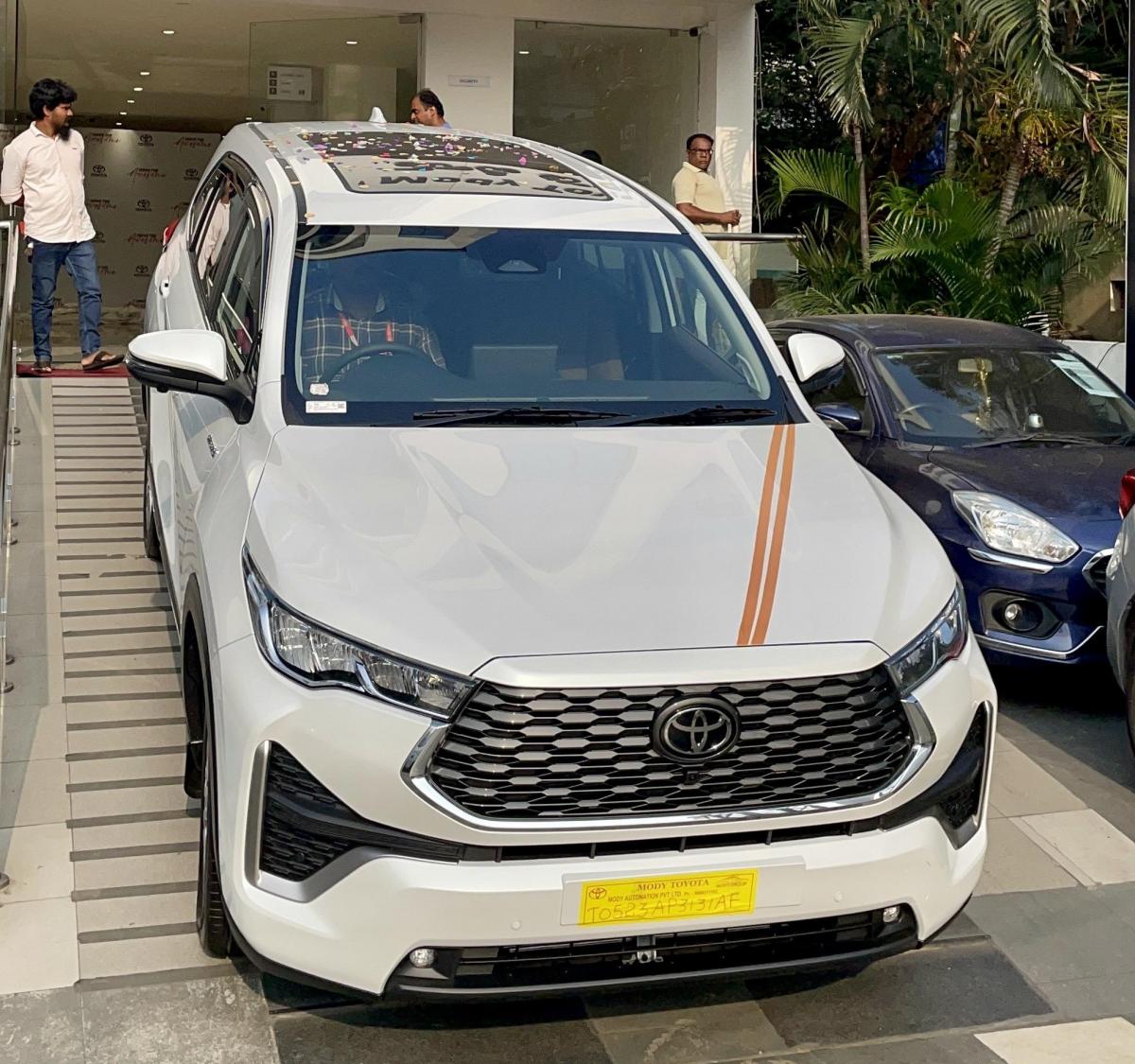 Other owners of the Hycross in this thread have already mentioned everything one needs to know. Efficiency has been in line with the Autocar results. The first full tank gave me an average of 12.xx km/l. Tbh, I was expecting more than 15 considering other owners have been getting 18-20 km/l in the forum. Usage has been 100% city with a bunch of late-night drives where the car showed 18 km/l. Of course, the AC is switched on all the time. You have to be mega gentle with the throttle for the car to drive in EV mode. The more you coast, the more efficient it is. I feel one has to be a very sedate driver to achieve high-efficiency numbers. You just cannot drive the hycross like a regular ICE. I have a 700 km drive planned to Vijayawada next week. Curious to see how the CVT performs on highways.
I'd really appreciate it if someone can tell me how to switch off the damn ADAS. Almost caused an accident by steering the car towards a biker. Lane control is switched on by default. How can I use regular cruise control? I've always wanted to start my own thread and my ownership of the Hycross will be my first. Will get into detail in my thread. Thank you.
Check out BHPian comments for more insights and information.
Source: Read Full Article