Our previous car was a Ford Fiesta 1.6 Sxi that was with us for nearly 15 years and served us well for 1.25 lakh km.
BHPian Torque123 recently shared this with other enthusiasts.
Starting this thread to welcome my new drive The Crystal Blue Skoda Slavia 1.5 TSI DSG & to give a detailed update on the buying, initial ownership & driving experience.
The Blue Tiger
Likes
MIND-BLOWING, segment-first, Crazy & TREND SETTING 1.5 TSI engine. You will not feel the dearth for power at any point of time in this car
Sporty roar of the engine when driven in S mode
Suspension is the best in the segment (its neither very stiff nor too soft) with the best ride & handling characteristics both on good & bad roads
Quick, accurate & butter smooth 7 speed Direct Shift Gearbox (DSG)
Paddle shifters which compliments the crazy power the engine has to offer
ACT (active cylinder technology) is awesome & very effective to improve the FE on long drives with speeds <120 kmph
Excellent safety package (6 airbags, ABS with EBD, TCS, ESC, Hill Assist, MKB, Brake disc wiping, EDS, XDS+, ISOFIX mounts)
Awesome braking capability, I did not feel the need for rear disc brakes at all
A classy looking exterior with attention-grabbing ability. Projector LED headlights & DRLs, Good looking alloy wheel design & creases all over the body gives a masculine look
Paint & build quality is top class with no uneven panel gaps whatsoever
Pleasing & spacious interiors with spot on ergonomics, very good front & rear legroom, adjustable center armrest & lots of storage areas
Sturdy & eye catchy 2 spoke steering wheel with full steering mounted controls
Futuristic, Beautiful & user-friendly fully digital 8-inch instrument cluster in the segment
Smooth & intuitive 8-inch infotainment system with Android Auto & Apple car play
Loaded with features like front ventilated seats, slanted wireless charging layout, sunroof, auto headlights, rain-sensing wipers, 4 C type charging ports, rear adjustable headrests etc, simply clever features like ticket holder on front windscreen, mobile pockets on the back of rear seats
Height adjustment for front passenger seat too
Backseat comfort has been given a double thumbs up (excellent) by my family especially during long drives as they are the ones who use it more
A slight press of the fuel lid releases the same the when doors are unlocked & eliminates searching for the remote fuel lid opener on the floor of the car
Huge & practical 521 Liter boot space & sensor-based auto release of the boot lid if it is closed with the key fob in the boot
60:40 foldable rear seats which increase the boot space to ~1050 liters
Awesome 179 mm ground clearance. One can almost say goodbye to scraping speed breakers
Full size 16″ spare wheel
Standard 4 Yrs/1 lakh KMS warranty + 2 Yrs/1.5 lakh KMS paid extended warranty & 4 Yrs paid SMP infuses confidence to own a Skoda car
Dislikes
1.5 TSI DSG is not provided in the mid (Ambition) variant. I would have surely gone for it.
Not providing insulation/Damping under the hood for a car that costs INR 20+ lakhs is not acceptable
Very slight body roll (compared to very good handlers like Fiesta 1.6) is felt during hard cornering probably due to higher GC & slightly softer suspension
Quite aggressive start/stop system may reduce battery life
Though the steering weighs up very well at higher speeds for EPS standards, the steering feedback doesn't satisfy me as I was driving a Fiesta 1.6 for 15 years straight
Height adjustable seat belts should not have been skimped upon as it is a boon for a lot of people
The stock Ceat tyres set to be good but rubber from a better brand would have been highly appreciated
Skimping on LED indicators, fog lights & trademark Skoda horn is not acceptable at the price point the car is sold
ORVMs could have been a tad wider
Rear visibility could have been better but I guess this gets limited as the size of the car increases. Will have to get used to it.
Hard plastics in certain areas of the interiors like the top area of the dashboard, door panels could have been minimized at the price point at the car is sold
The real estate of the 8″ instrument cluster could have been used fully/better to accommodate circular speedometer & RPM meter in one view
The front cup holders could have been a tad wider
A mobile phone like the size of Oneplus 8 cannot be placed fully horizontally in the storage area behind the wireless charging pad
The parking/hand brake lever looks like it's activated even when not in use.
Rear headroom for people >6 FT in height might be an issue
Touch-based AC system & the fan noise at even minimum speeds is annoying
Piano black finish areas are tough to maintain
Fuel opener should have been on the left side instead of the right side
Adaptive guiding lines feature missing as a part of the reverse parking camera package
INR 60K price increase during mid of 2022 on a car which according to me was already overpriced by INR 1 – 1.25 lakhs during the launch & reducing the infotainment screen size from 10.1″ to 8″ (no matter what the reason is)
There are a few moments in everyone's life which remain etched in the heart forever. There are very few people, places, automobiles, animals (because am a wildlife & pet lover) etc which will be closest to your heart even without you realizing it. Every car that one owns has loads of memories behind it. With age comes ambition, experience, maturity, emotions & practicality.
Here was one such situation in my life which made me experience that very sad feeling that I hope no automobile enthusiast should ever come across. I had to bid a heartfelt adieu on 12th Jan'23 to my trustworthy, 1.25 lakh KMS driven & 14 years-11 months-22 days old companion Panther Black Ford Fiesta 1.6 Sxi which has seen a lot of good/bad times & stood by me during this time. The cycle of the NEW replacing the tried, tested & ever dependable is painful but inevitable in all walks of life.
There was a lot of joy & happiness of a new companion becoming a part of my family but those last 15 to 20 minutes spent before parting with my Fiesta cannot be expressed in words. The sight of tears rolling out of my daughter's eyes almost made me do the same thing. Did not have this feeling when I bid adieu to my 2006 Swift VXI with ABS probably because I owned it just for 18 months with 28k on the ODO & was too young to value emotions. The sole reason to let go of the Swift was the performance of the car while AC was running & the rattles. I used to call the AC button of the Swift as the NOS button because of the difference in the performance of the car with the AC on.
The Rear of Slavia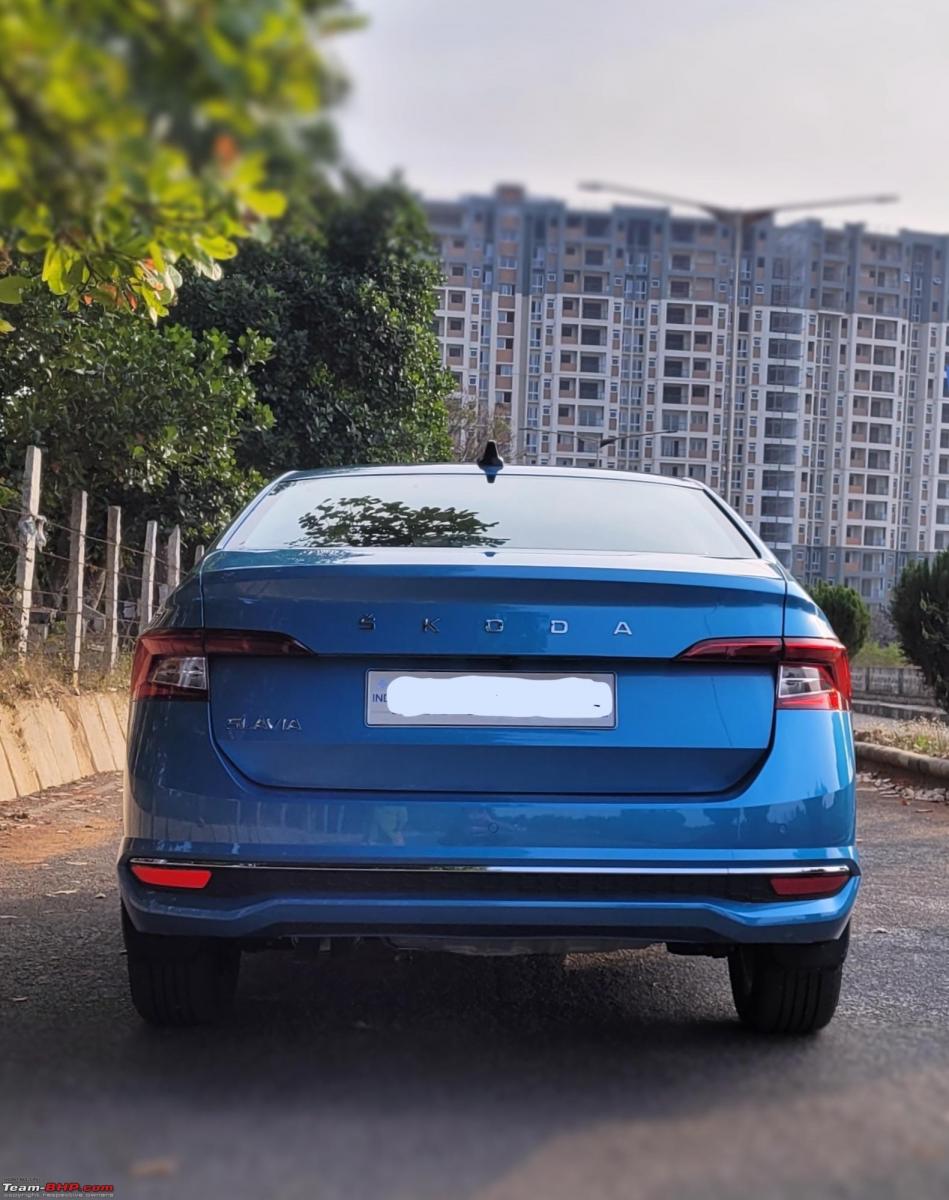 Flashback
The itch to change the car had been troubling me post 5 to 6 years of owning the Fiesta. Thanks to GTO's thread on "Your 5 Yr old car – Keep, upgrade or swap" made a lot of sense & I was able to put the plans away for a few more years. Why fix something which ain't broken? I was seriously considering the Linea Tjet at that point in time. A lot had changed from 2008 to 2015. Cars with more futuristic designs, and technology had been launched by existing & new players in the Indian market. My heart kept supporting the thought of changing the car during these years but my mind always said not to.
The Fiesta kept me happy & finding a proper replacement for it under 10-13 lakhs budget was the real task. Yes, I am one of those unique people in today's era who will stick to sedans >4 meters forever where CSUVs & SUVs are the mantra & seem to be more practical. There was kind of a draught in the sedan segment once CSUVs hit the market. There were very limited options in the market for the C1 & C2 sedan segments at that point as I was more inclined towards petrol sedans in an era where turbo diesels dominated. There were barely any proper 4-cylinder turbo petrols available in the budget I could afford with the Vento TSI being an exception (that was also a stretch for me at that point in time). The only options were the NA City, Verna, Rapid, and Vento.
Was never a fan of Verna petrol & the rest of the cars in NA petrol avatar did not feel like an upgrade to me when compared to the Fiesta 1.6. They looked better (interiors mostly) with newer iterations but were not satisfactory in terms of outright performance when compared to the Fiesta 1.6. The power, handling, ride quality, steering feedback of the Fiesta was unparalleled by its rivals in that segment. However, I always fancied the Rapid/Vento TDI for its outright torque & performance but wished the NVH levels were even more refined. In fact, I was almost about to go for the Rapid at one point in time. Yes, the resale value of the Fiesta 1.6 (market was crazy about diesels at that point) kind of put a hold on the purchase which was disappointing but puts a big smile on my face now when I recollect the perfect driving pleasure it offered till the end of my ownership.
The desire to change the car seriously caught up with me in the last year or two. Repairs for gearbox bedding, front suspension, steering rack, power windows & full car painting were expected in the near future for the Fiesta. But still, the car effortlessly managed not to give any problems till the last day of ownership except for the mid stages of steering rack issues. I used to read every word of the team-bhp official reviews of all cars launched (sedan or not). Never took any test drives of any cars in all these years except for Rapid TDI because I have the habit of buying something immediately if I visit the respective showroom/store. However got a few chances over the years to drive the swift petrol, City petrol, Fiesta Classic TDCI, Rapid & Vento TDI (all MT's), new safari (TC AT) & Passat, Q3, X5 (all DSG/DCTs) owned by a couple of close friends & relatives for long distances during trips. My requirements for the next car were simple & pretty straight forward as laid out below.
The Critical Requirements
Had to be a =>1.4 four-cylinder turbo petrol sedan with DSG/DCT only
Should be performance-driver oriented car & a hoot to drive
Budget of <20 Lakhs on road
A little more spacious than the Fiesta which can comfortably accommodate 4 adults as 99% of the times it will not be more than 3 people including me traveling in the car
Minimum of 4 Airbags, ABS with EBD, ESC/ESP, TCS was a must
FE of 9-11 KMPL in city & 13-14 KMPL on highways (with AC always ON)
Better instrument cluster than Fiesta – semi-digital with basic output of info like DTE, Trip A & Trip B will do
Ground clearance as much as the Fiesta had, pleasing yet simple interiors, Auto AC, Electrically adjustable & folding side mirrors, auto-dimming rearview mirror, basic 1 or 2 din audio with Bluetooth & USB, steering-mounted audio controls
16 or 17-inch alloys & a full-size spare wheel
Minimum of 400+ liters of boot space as me & my family travel quite a bit
Cars considered
Skoda Slavia 1.5 DSG & Virtus 1.5 GT as these were the only two >4 meter sedans meeting my main requirement of =>1.4 four cylinder turbo petrol with DSG/DCT in the budget/segment I was looking for.
In the second half of 2021, visited the Skoda dealership along with a friend who wanted to buy the Rapid 1.0 TSI. We took long test drives & I was impressed by the drivability of the engine. It looked awesome externally in the blue color with the alloys offered of the Onyx variant but I felt the interior was just only a way little better compared to my Fiesta.
By now I had accepted the fact that the era of hydraulic steerings had ended quite a few years back & I will never ever come across a car in future which will provide a steering feedback like the Fiesta. Hoping for one would only be like expecting petrol prices would retail at INR 50 per liter again. It was a time when it was well known that the production of the Rapid would end soon & Skoda was launching a bigger sedan with a 1.5 TSI to replace the Rapid. But the discounts offered during Nov-Dec'21 on the outgoing Rapid were mouth-watering. My friend ended up buying the new Tata Safari & after knowing the launch of a 1.5 4-cylinder turbo petrol in the near future I decided to postpone the purchase.
The Left Side Profile
The Slavia was launched in Q1'22 with all pomp & glory which was closely followed by the as always perfect team bhp official car review. It was clear that there was no other sedan which was better than Slavia (performance-wise) in that segment. Like the majority of the crowd, I too felt the car was overpriced by INR 1 to 1.25 lakhs & was skeptical about the early EPC & AC issues etc in Kushaq. Was also well aware of the DQ200 & Skoda service horror stories covered extensively in this forum. Probably I felt the Slavia was overpriced because I was so keenly waiting for it to get launched & was sold on the looks & 1.5 TSI engine.
Call me old school, I am not a gizmo guy & for me the mechanical specs of a car matter the most. The car is kitted well with the gizmos which really didn't matter to me. I knew the 1.5 TSI would not be launched as an option in the basic or mid variant based on the Kushaq launch but I was being over positive & expecting it in the Slavia Ambition trim. This was another disappointment too.
In May'22 came the news of deletion of some features & a price hike. I didn't care about the feature deletions as I have already mentioned I am not a gizmo guy but the price hike really irked me & made me lose interest in the car. In the meantime, the VW Virtus was also launched at a not-so-premium over the Slavia. Virtus appealed to me more on screen than the Slavia. I just wish VW/Skoda had launched a car with the front of Slavia & the rear of Virtus. It would have probably been the perfect design at least for me. Had seen a few Blue, Red & white Slavias on road by now but was yet to see a Virtus on road. Had been reading & viewing a lot of stuff on Virtus & Slavia online & wanted to see the Virtus in flesh.
Few more months passed & one day I saw a red Slavia & white Virtus parked almost opposite to each other in my office campus parking lot. This kind of gave me the ideal opportunity to decide which one looked better. It was the Slavia (my personal opinion). The only other car I was kind of considering in my budget was the 1.5 NA 4-cylinder petrol Honda City (not a fan of 3-cylinder Turbo petrols across brands though they have been tried/tested & proven to be very good performers) which was also out of the wish list post the launch & subsequent official reviews of Slavia & Virtus 1.5 TSI.
After driving a petrol sedan for 15 years with an annual average running of 8.5k KMS, I am used to 9-11 KMPL in the city & 12.5 to 14 KMPL FE on highways of the Fiesta 1.6 (AC always ON"). The updates on FE from Slavia 1.5 TSI owners in this forum were also of great real world insights on Slavia's FE. So I was sure for my driving style, if not better, I would certainly achieve the same or +/- 1 – 1.5 minimum FE with the 1.5 TSI compared to my Fiesta 1.6 which I was okay with.
The test-drive, booking & delivery experience
It was mid of Dec'22 & the Fiesta 1.6 was due for FC sometime in Jan'23. My appointment for the FC was fixed for the 07th of Jan'23. The entire process of waiting in the queue & final inspection of the car lasted for about 40 minutes. FC was approved & I knew I can be at peace for the next 4 years. It was around 1.45 PM & being a Saturday, I decided to visit one of my friends. By now it was around 4.30 PM & after a couple of coffees & chit-chatting I was heading back home. Saw a white Slavia on the way & abruptly decided to take a test drive. I am still not able to figure out what made me take the decision to test drive the Slavia.
On the way, stopped at PPS Skoda (Jakkur) showroom at around 5 PM. Was greeted & attended to by the front desk personnel as soon as I entered the showroom. I told them that I was there only to have a look at the Slavia & nothing more (not even for a test drive) to know what their reaction would be. Was warmly welcomed & led towards a Red Slavia 1.5 DSG that was on display. As I was offered some water & requested to have a look at the vehicle, a sales rep was assigned immediately. I was impressed by the prompt & courteous behavior as the sales rep approached me within a few minutes while I was having a look at the exterior of the car. I again reiterated to him that I was here only to have a look & nothing more.
The Right Side Profile
I sat in the driver's seat to get a feel of the interiors of the car with the sales rep sitting in the front passenger seat explaining the specs, features & pricing of the car. For a person whose car upgrade is after 15 long years, the interiors of a car which costs >20 Lakhs today, the difference will be like day & night. During the conversation, he then kind of indirectly asked me which car I own (for exchange purposes in case I wish to purchase) for which I pointed my finger at my Fiesta in the parking lot & told him it is a 1.6 Sxi (before he could ask if its a diesel) & asked him how does that matter as I have no plans of buying the Slavia now. My initial thought was "Here starts the prejudiced & arrogant Skoda attitude".
His reply for that really amazed me & kind of started changing my perception of Skoda sales/customer service positively. He politely said "Sir, as you own the Fiesta 1.6, I am sure you are looking for the 1.5 TSI & not the 1.0 TSI. If it is 1.5 TSI, are you looking for the MT or DSG?" When I told him I was interested in 1.5 TSI but not sure on MT or DSG, he was proactive enough to ask me if I wanted to test drive the 1.5 TSI DSG right away & also informed that they don't have a 1.5 TSI MT test drive vehicle. It's now around 5.30 PM on a Saturday when everyone might be in hurry to wind up for the day but this gesture really impressed me especially when I didn't even pitch in asking for the test drive.
I agreed to the test drive within a heartbeat & told him I would like to pick up my spouse & daughter on the way for the test drive. I stay 5 mins away from the showroom. So called my family & told them to wait at the apartment gate in 10 mins & that we would go for a test-drive. I could hear my wife uttering these exact words to me & my daughter as I was on the call – "Why, What happened? Forget it, You are as always crazy. Paapu lets go, daddy is buying a car". She was as excited as I was & we both knew the car change I was postponing for a few years now was finally going to happen the very same day. To keep it as a surprise I did not tell them on the phone which car we were going to test drive.
The Elegant Dashboard Design & View
We took a pretty long test drive in the crowded streets of Yelahanka New town, jam-packed Hebbal Flyover, as well as on the blissful airport road. In fact, I did test drive twice in the crowded streets & Hebbal flyover to get a feel of the engine's drivability at lower RPMs. I felt the drivability of the Slavia at low RPMs or crawling speeds is very good & the DSG was doing its job very well. Only once or twice did I feel some jerkiness when the DSG tried shifting from D1 to D2 & vice versa during the bumper-to-bumper drive on the herbal flyover.
Out in the open on the airport road is where I was blown away by the performance of the Slavia with the exception of two major disappointments though compared ONLY to the Fiesta 1.6. The 2 major disappointments for me were handling & steering feedback. It's because I found minor body roll on curvy stretches where as the Fiesta was rock solid & a road hugger without any of the high-tech stuff like ESC/ESP, Traction control etc. The HPS of Fiesta was like your hands are talking directly to the wheels & roads.
I will need to concretize the fact in my mind that EPS is here to stay forever & cannot hold a candle infront of an HPS & the HPS days are long gone & buried. Not getting into the detailed comparison of the Slavia with the current cars in the same segment as it is well covered in various other threads. According to me, if you compare the performance of Slavia 1.5 TSI DSG with the current generation of cars in that segment then it is a 9/10 for Slavia as it's the best in that segment in almost all aspects. Below are my ratings for some of the key parameters ONLY between Slavia & Fiesta 1.6 where 10 being the best/highest & 1 being the worst/lowest. Not comparing the interiors & lot of gizmo features as it is not fair enough to compare 2 cars which have a gap of more than 15 years when launched.
Ride quality on bad roads – Slavia: 9.0 \ Fiesta: 8.0
Ride quality on good roads – Slavia: 9.0 \ Fiesta: 8.0
Handling – Slavia: 8.0 \ Fiesta: 10.0
Steering Feedback – Slavia: 6.0 \ Fiesta 10.0
Power delivery/Top speed – Slavia: 10.0 \ Fiesta: 8.5 (I know its not an apple to apple comparison as it is TSI Vs NA)
Build Quality – Slavia: 8.0 \ Fiesta: 9.0 (purely from the gauge of sheet metal used perspective. Again not the right way to judge)
Fit & Finish – Slavia: 10.0 \ Fiesta: 8.0
Paint Quality – Slavia: 9.0 \ Fiesta: 8.0
Safety – Slavia: 10.0 \ Fiesta: 7.0 (note that Airbags were not even provided as an option when I got the Fiesta)
Ground clearance – Slavia: 10.0 \ Fiesta: 8.0
Suspension – Slavia: 9.0 \ Fiesta: 9.0 (Giving equal points as Slavia's set up is good for ride & Fiesta's set up is good for handling)
NVH – Slavia: 9/10 \ Fiesta: 8/10
Braking – Slavia: 10/10 \ Fiesta 8/10
Ergonomics – Slavia: 9/10 \ Fiesta 9/10
The 16″ Alloy Wheel Design
Post the test drive, I requested the sales rep to spare me a few minutes & he was more than happy to give us sometime. I gave a quick overview to my family on how similar the Slavia & Virtus are. Showed them the images/videos of Virtus too & I was willing to take them to a VW showroom if they wished to see one in person. However, my family gave me a big thumbs up to go ahead with the Slavia as they liked most aspects of the car like exterior & interior looks, comfort, cabin & boot space. Some features like the infotainment, sunroof etc were like the icing on the cake for them. They also told me their color preference (Red) as they knew for sure I was going ahead with the booking formalities. My color preference though was either red or blue.
I then spoke to the sales rep & told him that I was willing to go ahead with the booking of a Red Slavia 1.5 TSI DSG & enquired about the offers, waiting period etc. This might have been one of the easiest & quickest sales he has ever made. I was told that for an MY23 car, there were no offers in Jan & the waiting period was 2 months. As it was the first week of Jan, I kind of had a feeling that they might have some of the MY22 stock which I was okay with provided it was a Q4'22 manufactured car with a good cash discount, color of my choice & immediate delivery.
The sales rep confirmed that they had 1 Red, 2 Blue, 2 white & 1 silver MY22 1.5 TSI DSG in stock with a cash discount of INR 97K & delivery by 13th Jan or a day after the complete 100% payment was received by them. Unfortunately, the 1 MY22 red Slavia they had in stock was booked by another family who was still in the showroom & had taken the test-drive just before us. Hence booked the Crystal Blue which I was in favor of by paying a booking amount of INR 10k. The sales rep said he would be able to provide the VIN details by Monday. So the booking was done with a condition that I will cancel the same if the car is not a Q4'22 manufactured car which he obliged to.
After several rounds of negotiations on the same day, the final discount agreed upon was INR 1.15 lakhs + 15k off on insurance (comprehensive + elite package) + 12k (basic accessories). Total on-road price after all discounts was coming upto INR 22,01,315 including 2 Yrs extended warranty & 4 Yrs SMP vs the initially quoted on-road price of INR 23,43,315. Got the VIN details on Monday & using the VIN decoder thread on team bhp I found that it was Sep'22 manufactured car which I was okay with. PDI was done on 11th Jan. Me & my friend found the car to be perfect with no abnormalities & gave a green signal to the sales rep for registration formalities. All loan formalities were done & the balance downpayment & loan disbursement from the bank was completed by EOD 11th Jan. I had managed to find a new home for my fiesta & we bid a very emotional adieu to her on 11th Jan'23 only to realize next day morning she wouldn't be there to drop my daughter to her school.
The Classy Look
On one side there was a gloomy feeling in the house on 11th & 12th Jan as we were all missing the Fiesta but on the other hand, there was impatience & excitement of getting the new Slavia home in a matter of few more hours. The registration was done & I received the details like the number etc via sms on the morning of 13th Jan. I had specifically told the sales rep for keeping the car ready for delivery by 4.30 PM on 13th Jan.
We reached the showroom at 4.45 PM sharp. Did the final inspection using the team bhp recommended pre-delivery checklist, completed the paperwork & was handed over the keys to our Crystal Blue Slavia 1.5 TSI DSG aka The Blue Tiger. The DTE showed 280 kms by which I assume there were at least 25 liters of fuel in the car. Sales rep recommended me to use 95 octane fuel as much as possible & use the regular 91 octane only in case of emergencies. Handed over a small gift to the sales rep as a token of appreciation for all his efforts. I would rate the experience at PPS Skoda as very good & would give a 8.5/10 rating.
Post taking the delivery of The Blue Tiger, drove straight to the nearby temple. Completed the puja, went for a short drive on the airport road & then headed back home. Spent the next 1 hour or so getting used to the instrument cluster & infotainment system. Left the car for a full body PPF at Xpert car care on 14th Jan at around 10 am. I am happy with their work & would rate them 8.5/10. Received the car back on 17th Jan afternoon.
First photo of the family with the new family member
Initial experience after driving for 1100 KMS
Have driven 1100 Kms till date which includes city driving of around 200 kms & 2 highway drives of 600 & 300 kms respectively. Below is a break up of the FE achieved during the 2 highway drives. Route taken for the 1st trip covering 582 kms is Bangalore – Nelamangala – Bellur cross – Mysore – HD Note – Kabini – Bavali – Kaatikulam – Kutta – Hunsur – Mysore – Mandya – Ramnagara – Nice road – Bangalore.
FE achieved based on tankful to tankful method is ~14.92 & ~14.20 based on MID. Around 40 km of the total distance consisted of very bad pothole-ridden forest roads between Antharasante to Bavali & then from Murkal/Metikuppe junction to Veeranahosalli where the car was driven mostly in D2 & D3 with an occasional D4.
As per MID, the onward journey from Bangalore to Kabini showed an FE of ~15.7. As I was diligently following the engine break in period of upto initial 1000 kms, I consciously maintained speeds between 85 – 105 KMPH not revving past 3K RPM. What I observed was the ACT (Active Cylinder Technology) gets activated (The "Eco" light glows on the bottom of the MID) & the engine runs only on 2 cylinders for longer distances if I use cruise control & maintain a speed of 90 to 95 KMPH with very minimal/no braking involved.
Over a period of time, I will have to learn the trick of getting it activated in D mode with cruise control off by altering my driving style whenever/however required. It also gets automatically deactivated on inclines & declines sometimes though the speed of the car shows constant & no braking is involved either. I achieved an FE of 16.4 as per MID by following the above in the tolled stretch between Nelamangala to Bellur cross. Overall I was happy with the initial FE numbers which I assume will improve further (not drastically though) once the car crosses the 1500 or 2000 km mark on the ODO.
The "ECO" signal is circled in red in the image below
The ride quality is fantastic & takes care of the road undulations etc without breaking a sweat. More than me my daughter in the backseat could feel it more & appreciated it. Acceleration/Power delivery is amazing & reaching the 100 KMPH mark is easy & effortless even in D mode. I felt the turbo starts kicking in at ~1650 – 1700 RPM & not 1800 RPM as mentioned in a lot of reviews post which the car turns into a monster. The power delivery is almost linear with a slight push back into the seat effect.
I may be feeling this push back effect as I was used to an NA engine. The DSG gear shifts are quick, butter smooth & accurate. A quick manual downshift just before overtaking only makes the manouver easier only if you are not in the turbo band. If you are in the turbo band then a gentle dab on the gas pedal is more than enough for overtaking manouvers. I somehow like the sporty engine note of the Fiesta more than the Slavia for now. I will keep my final decision reserved on this until I do a minimum of a 250 km long drive in complete S mode where in I will touch the 5K+ RPM mark more frequently. I did use the paddle shifters for some distance but I feel I can do a much better job with them. Some learning to do in this area which another 1 or 2 long drives will fix.
Brakes are just awesome & their bite I feel is perfect to handle the power/speeds this engine & transmission generates. It's definitely way superior to the braking ability of the Fiesta 1.6 & I did not feel the need for rear disk brakes at all.
During the twisty roads I came across from Mananthavady to Kaatikulam, I found the handling of the Slavia to be very good & better compared to other cars in its segment but not as good as the Fiesta 1.6 as there was a slight but controlled body roll. I could kind of feel the ESC/ESP doing its job. Maybe the higher GC & little bit softer suspension of the Slavia is the culprit here.
The steering feedback going by current EPS standards is very good. It's a breeze to use it in the city & it weighs up pretty well post 80 KMPH. However as mentioned earlier, nowhere close to the Fiesta 1.6.
The Steering & mounted controls
Have encountered quite a few huge speed breakers but the Slavia has effortlessly passed them all with flying colors. I am rest assured that the Slavia will never scrape any speed breakers based on my fair share of such instances in the Fiesta 1.6.
NVH levels are great & there are zero rattles or squeaks for now (Fingers crossed & hope for it to remain this way forever). Threw in 4 one liter bottles (1 in each of the 4 doors) along with some other small stuff, loose change in the center armrest, glovebox etc & no rattles or sounds. There was zero wind noise & negligible tyre noise (with audio system turned off) infiltrating into the cabin.
Above average size glovebox
There are a lot of concerns online regarding the AC of Slavia. I always keep the temperature at 22 in Slavia & did not find any issues with the cooling at all. This was even after the car was parked under the hot sun & when I started my return journey at 1 pm. Yes, the blower/fan noise is quite loud even at speeds of 2 & 3 to my liking & when the music is off but there are no cooling problems whatsoever.
The audio quality of the 6 speakers is good enough & I found it definitely better than the ones in Fiesta 1.6. But audiophiles would surely go for an upgrade. The 8-inch Panasonic screen is very smooth & user-friendly. It is the same unit used in the current generation Fabia & Karoq globally. For me, it is more than adequate but for people who have been using more recent infotainment systems may prefer a bigger & knob-free screen. In fact, I prefer the knobs on the screen. Adjusting the volume, switching it off & on becomes easier for the front passenger if required. Bluetooth connectivity is too good & did not face any connectivity issues. The steering-mounted controls are well-placed & intuitive. The scrollers especially are something I liked more. The wireless charging does its job but the phone gets heated up during longer charging periods only.
The 8″ infotainment system
The 8-inch fully digital MID is a treat to the eyes & is a big upgrade for me. Yes, like everyone I would have preferred Skoda using the real estate of the 8-inch MID more efficiently so that the speedometer & RPM meter both could have been displayed side by side. Other than this all other basic data is clearly displayed with bare minimum toggling.
The eye catchy 8″ instrument cluster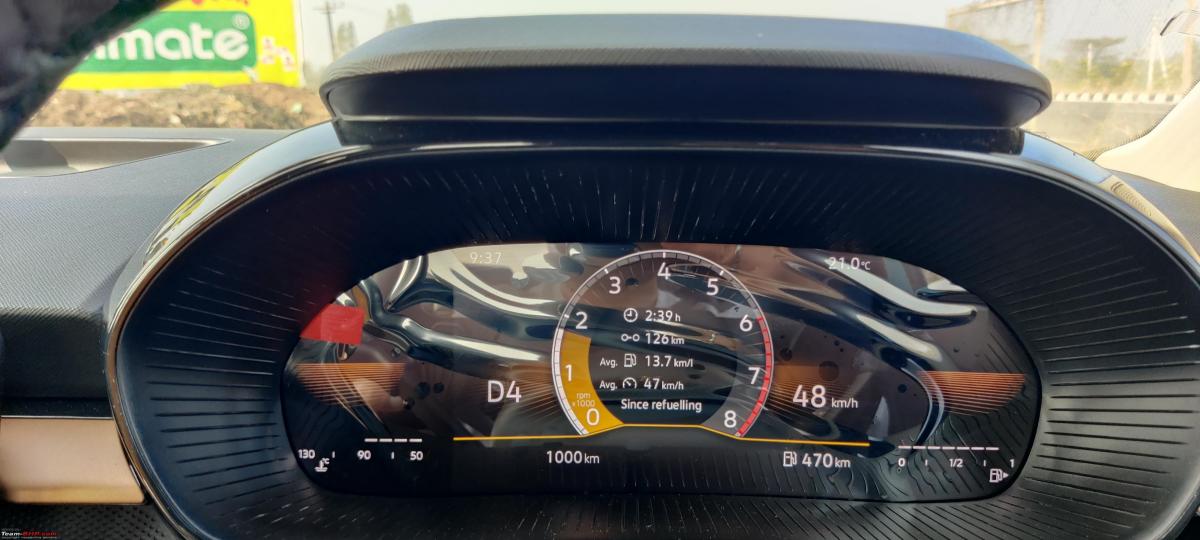 The material used for the horn pad could have been a tad softer.
The led projector headlights (low & high beam) are great. I don't think an upgrade is required. However, I am yet to check their effectiveness under moderate to heavy foggy conditions.
Low Beam
High beam
The seats are plush & provide good under-thigh support. They kind of hug you well too. I was able to adjust the seats to my preferred driving position without any issues. Thanks to the rake & reach adjustable steering, it made the job even easier. But yes, as someone had pointed out in the official salvia review thread, I too feel the gap between the armrest cushion on the driver side door & driver's right hand is a little more. The front center armrest though is perfect & felt it was a boon. Using it to rest your left arm makes driving so relaxing.
I am 5.9 in height. With the driver seat adjusted to my liking & the from passenger seat slides all the way back, below image will give you an idea of the space available for rear passengers. The leg & knee room are very good for 2 adults in the back seat.
Rear Leg/Knee room
The length & placement of the dead pedal is perfect but could have been a little wider. I think people with slightly wider feet will agree with this.
The Dead Pedal
The ambient lighting is calm & soothing. I wish the Piano black finish inside the cabin could have been replaced by something which is equally elegant because it is a scratch, dust & finger print magnet. No doubt it enhances the beauty of the interiors but has more downsides. The ambient light strip color on the dashboard of the passenger side could have been a different one for my liking. It does look good though at the night.
The boot easily gobbled up 1 full-size camera bag (which can hold 2 DSLR camera bodies, one 400 mm f.28 lens, one 70-200 mm lens), 1 big trolley bag, 1 medium trolley bag, 2 bag packs & there was still I would say 20 – 25% free space available in the boot.
The 521 Liter Boot
I like the interiors to be spic & span. The slightest amount of visible dust really irritates me. That's the reason why I hate sunroofs though it has some advantages too. I used the sunroof during the drive only on the HD Kote road stretch where traffic is sparse & dust is minimal. Yes, it works great & gives an airy/roomy feeling inside the cabin when opened but I am not a fan of it.
There is no inspection required by the service center post reaching 1K on the ODO. The service center visit will be only when the car reaches 15K or 1 Yr from the date of the delivery. I will be monitoring the engine oil levels though as TSIs are known for engine oil consumption.
Blue Car under Blue Sky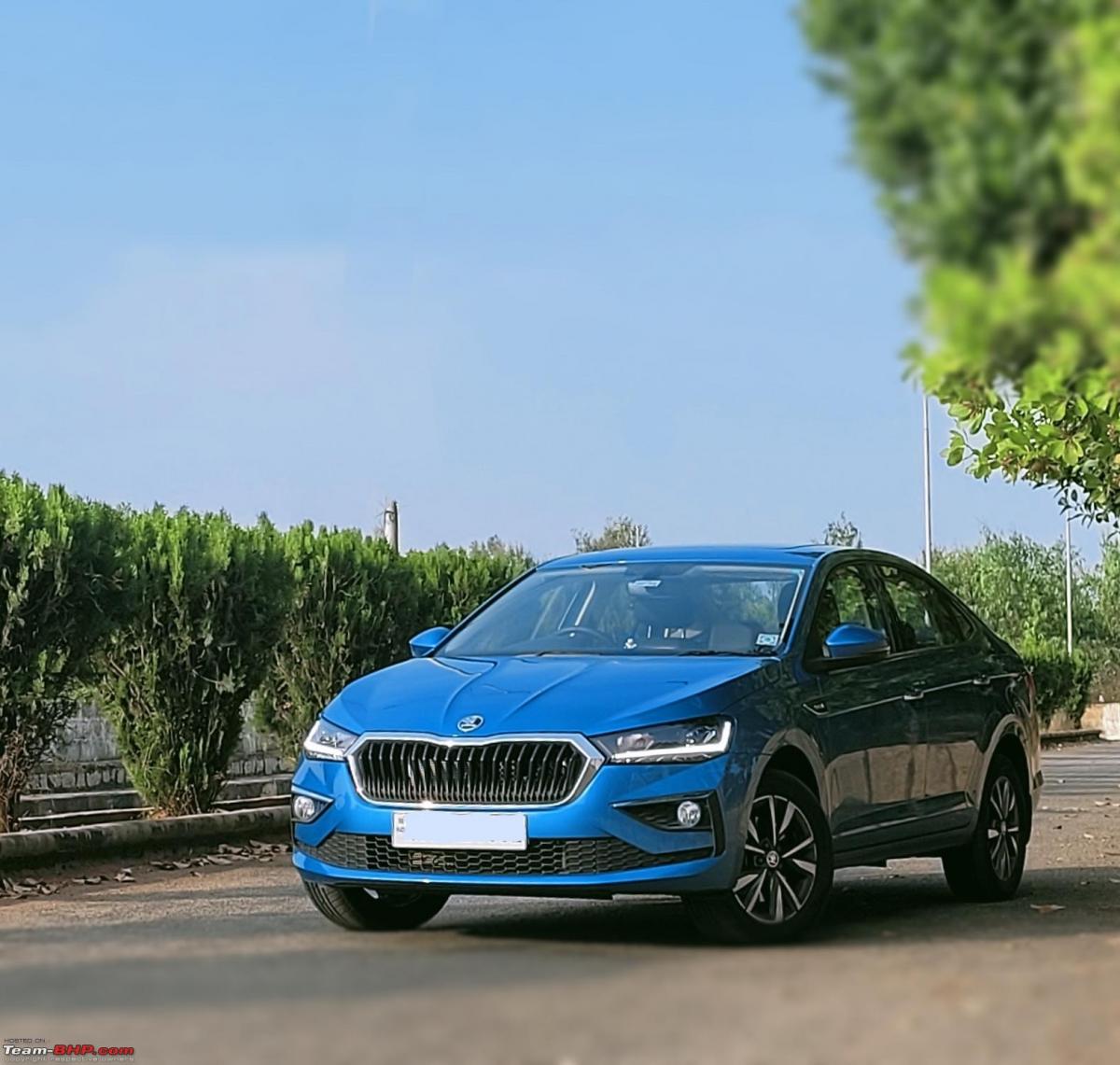 Route taken for the 2nd highway trip covering ~307 kms was Bangalore – Vijaynagar – Kengeri – Mandya – Mysore – Mandya – Ramnagara – Nice road – Bangalore. As I had already driven the car close to a total of 800 KMS since taking the delivery of the car & before the start of this trip, there was a lot of spirited driving in S mode & M mode using paddle shifters but did not cross 4.5k RPM.
The MID was showing an average FE of ~13.5 KMPL with still 240 KMS showing under DTE. Will be refueling the car after driving it for a minimum of another 125 kms in the city. This will tell me the FE achieved based on tankful to tankful method with a mix of highway & city driving (60% highway & 40% city). I kept the temperature at 22 in Slavia for this trip as well & did not find any issues with the cooling at all. This was even after the car was parked under hot sun & I started my return journey at 2 pm. Yes, the blower/fan noise is quite loud even at speeds of 2 & 3 to my liking but there are no cooling problems whatsoever.
Overall I am very happy with the new car in all major aspects & couldn't ask for more as it is quite a big upgrade for me from the Fiesta. The experience with Skoda as a brand & with PPS motors Jakkur has been awesome till now.
That's it for now. Will do my best & update this thread on regular basis.
Last but not the least, Will I miss the Fiesta 1.6? Absolutely, from the handling capability & steering feedback perspective only but change is inevitable as no car is perfect irrespective of the brand.
Am I a satisfied Ford customer? 100%, if Ford ever returns to India & launches a => 1.4 turbo petrol sedan which has the DNA of the Fiesta 1.6 then I will surely go for it.
Check out BHPian comments for more insights and information.
Source: Read Full Article